Considering an Afternoon Tea Delivery in the UK but unsure which one to order from and who is delivering locally to you.
We have compiled a list of the best afternoon tea delivery that the UK can provide, so if you are looking for the perfect afternoon tea with friends, a romantic valentines afternoon tea, a mothers day afternoon tea treat for your mum, a fathers day treat for your dad or just a special treat for yourself, in the comfort of your own home, check out:
Afternoon Tea Delivery Options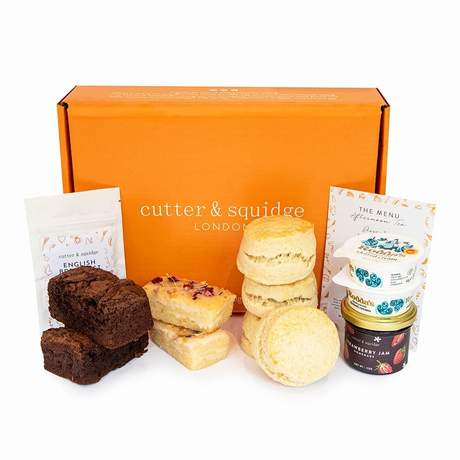 20 Brewer Street, Nr Chinatown, London
Portioned for two, each Afternoon Tea at Home box from London based Cutter & Squidge contains two brownies, two mini lemon drizzle cakes, four plain scones, two pots of Rodda's clotted cream, one pot of jam and one pouch of fine loose leaf tea.
Price at £29.90 Delivery to Mainland UK.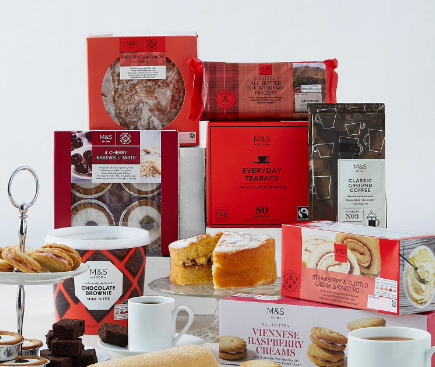 The Ultimate Afternoon tea experience from high street favourite Marks & Spencers includes: Victoria sponge cake, Viennese raspberry creams, chocolate brownie bites, Bakewell tarts, shortbread fingers, ground coffee and teabags.
Priced at £20
Delivery: to Mainland UK.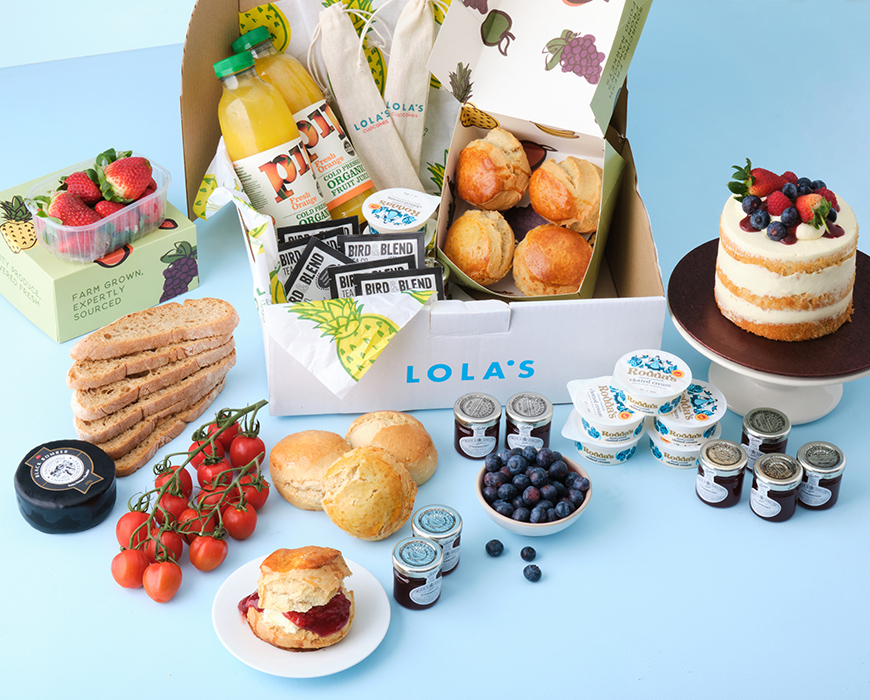 Packed with special products to serve 12 people, including fresh scones, sponge cakes and berries, alongside cream, jam, orange juice and tea bags, you'll also enjoy vine tomatoes, West Country cheddar cheese and bread to make your own sandwiches.
Priced at £59.99
Delivery to London, Slough, Reading, Guildford, Stevenage and Birmingham
Delivery from £6.99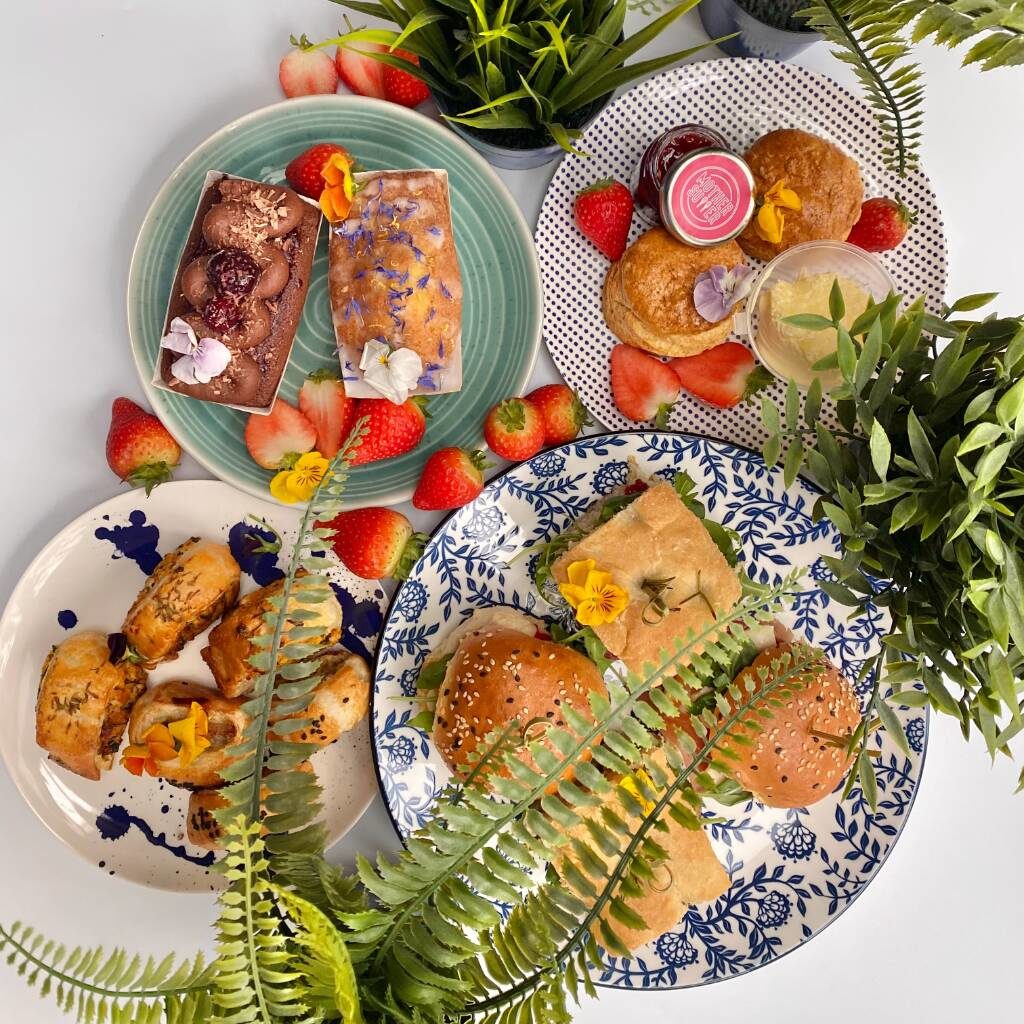 Mother Supper's fresh and flavoursome selection is beautifully presented and finished with edible flowers. You'll enjoy delights such as cajun chicken focaccia, serrano and parmesan bun, chilli jam and cheddar jam bun, sausage and leek pastries, feta pastries, cherry and chocolate cake, lemon drizzle, three scones, clotted cream and jam.
Priced at £55.00 Delivery to Mainland UK.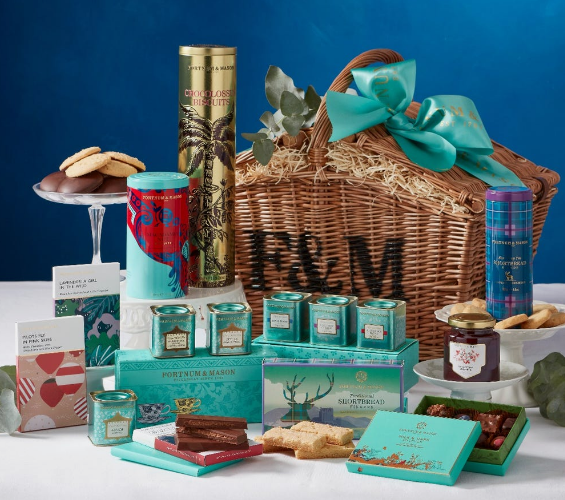 An expensive treat best saved for a very special occasion. Enjoy a selection of flavoured biscuits, chocolates and shortbread, Fortnum's strawberry preserve, mini classic world teas, white chocolate strawberry and black pepper bar, milk chocolate lavender bar and a dark chocolate bar served in the iconic wicker basket.
Priced at £150.00 Delivery to Mainland UK Delivery from £5.95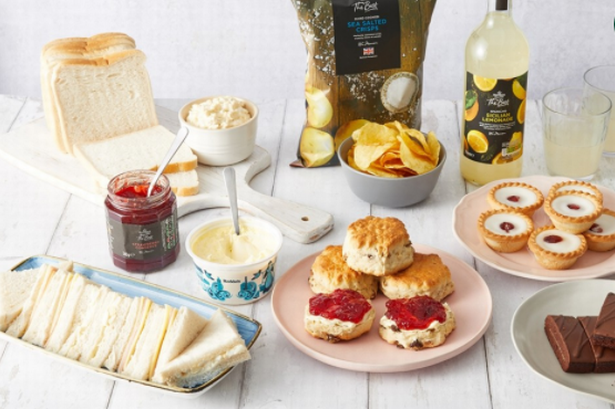 Grab a bargain from Morrisons. There's a loaf of bread to make your own classic sandwiches, you can choose from a selection of fillings and lightly salted crisps. There are traditional sultana scones with cream and jam, cherry Bakewells and chocolate slices washed down with tea for the grown-ups and lemonade for the little ones.
Priced at £20.00. Delivery Nationwide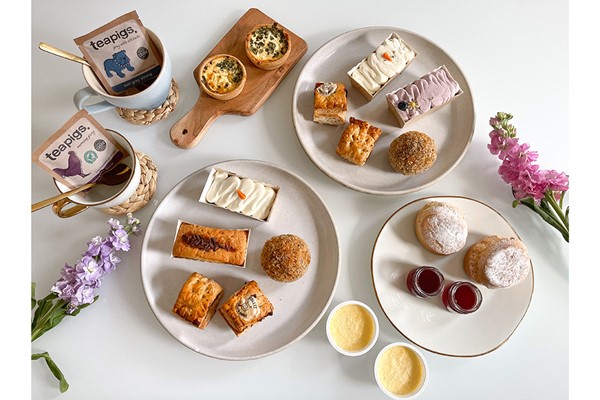 Piglet's Pantry offers a fresh selection of sweet and savoury bites for meat-eaters, veggies and vegans alike. You'll receive a selection of cakes, scones with jam and cream, scotch eggs, sausage rolls and quiches alongside tea pigs tea bags.
Price at £30. Free delivery to Mainland UK.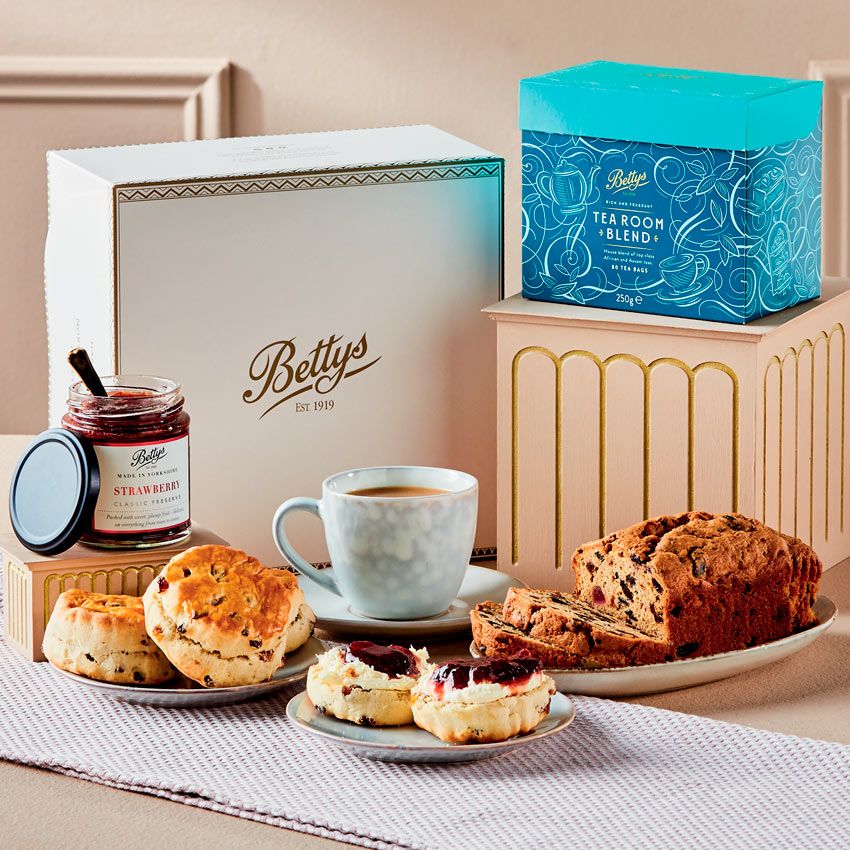 The lovely Betty's gift box contains moist fruit scones, strawberry jam and a classic tea loaf. You'll also receive 80 tea bags. The scones are freezable for a longer shelf life, pop scones in your freezer for up to a month and enjoy later.
Priced at £16.50 Delivery to Mainland UK.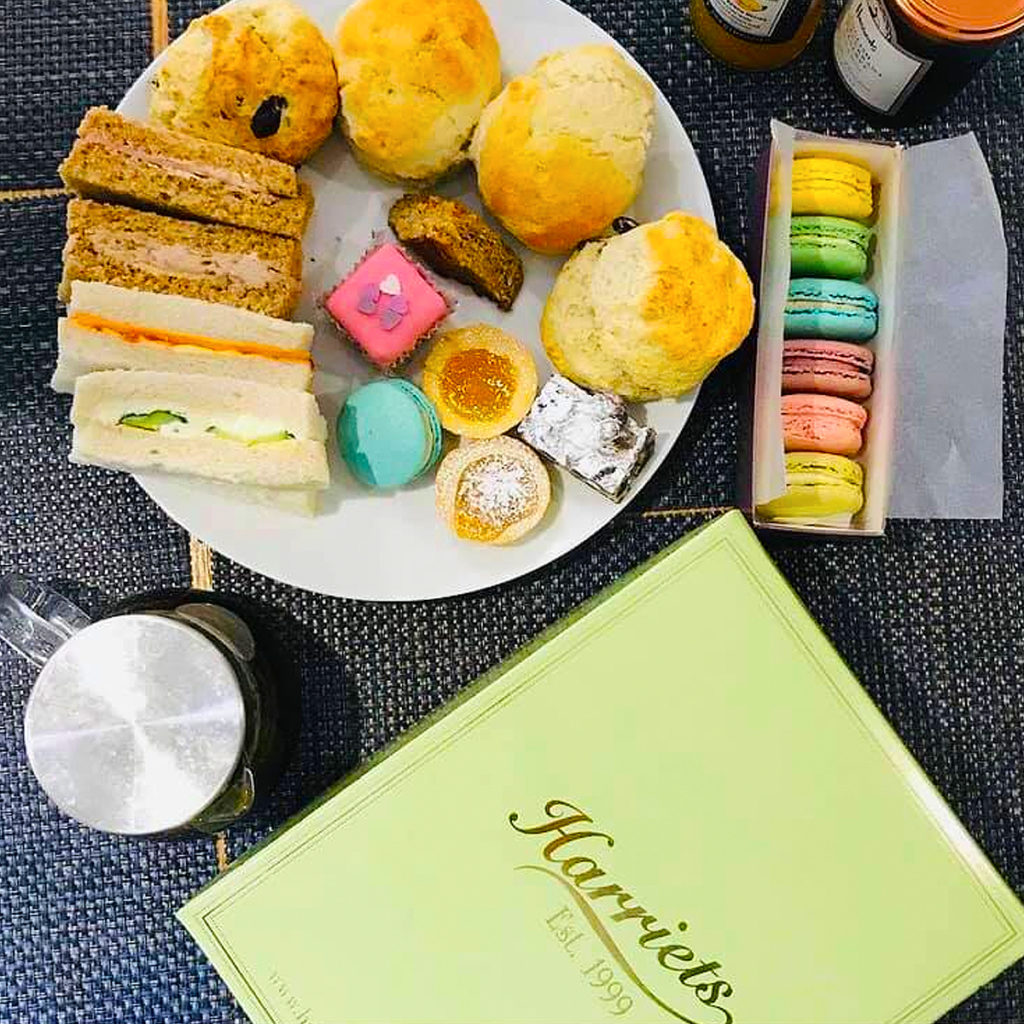 Harriets Afternoon Tea is now available throughout the UK beautifully packaged for your convenience. It includes a variety of finger sandwiches, two freshly baked scones with clotted cream and strawberry jam, three patisseries and Harriets Loose Leaf Tea.
Available in boxes for one, two, three or four. Priced from £19.50 to £32.50. Nationwide delivery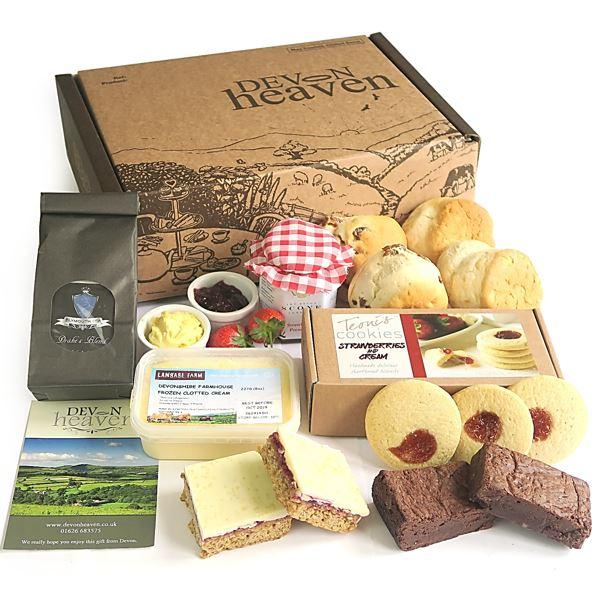 Xpressway Business Park, Chudleigh, Newton Abbot TQ13 0FJ
A delicious Devonshire afternoon tea hamper with locally sourced ingredients. This afternoon tea hamper provides a nice feast for two or can be shared amongst a family of four.
The scones are made by a local chef and come with clotted cream and strawberry jam, you'll also get chocolate brownies, flapjacks and shortbread alongside a selection of tea.
Priced at £30. Free delivery Nationwide.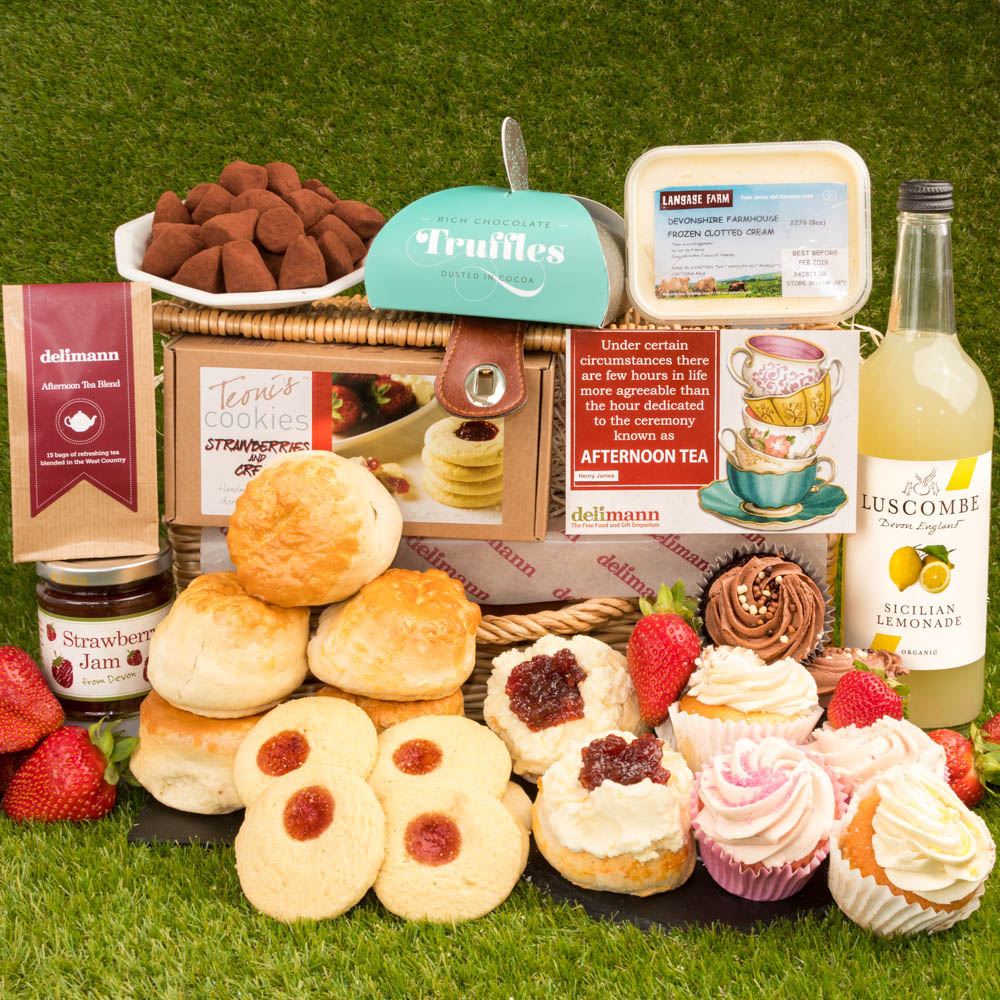 Mardle Way, Buckfastleigh, TQ11 0NS
A fabulous collection of cupcakes, cookies, rich chocolate truffles and all the trimmings of a delicious Cream Tea, making a true picnic feast!
With this hamper box you can make your picnic a really special occasion to share with friends, family and loved ones.
Free delivery Mainland UK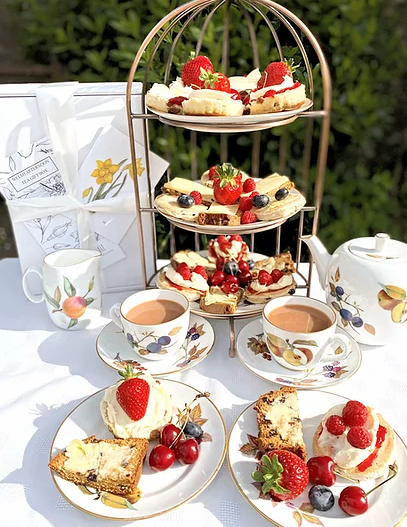 Ceirios Lon Uchaf, Pwllheli LL53 6AL
Break away from the traditional and sample a mouthwatering array of Welsh teatime treats. Based on the beautiful Llyn Peninsula in the foothills of Snowdonia.
The brand's recently launched clotted cream and own brand raspberry compote are included in the afternoon tea box, along with award-winning bara brith from Popty bakery, Welsh cakes, scones, Welsh mature cheddar, salted Welsh butter and fair-trade tea bags.
Free delivery Mainland UK.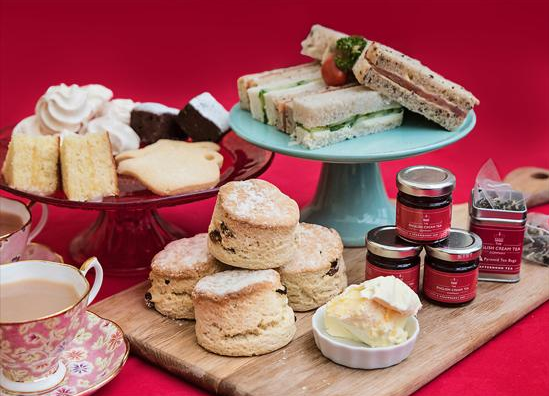 Bramley House, Chelmsford Rd, Dunmow CM6 1RF
This is a delicious Afternoon Cream Tea Hamper with smoked salmon and cream cheese with cucumber sandwiches (real butter), scones, clotted cream, jam, cakes, shortbread, brownies, meringues, and of course tea. There are also other options including a Banoffee edition.
Delivery Mainland UK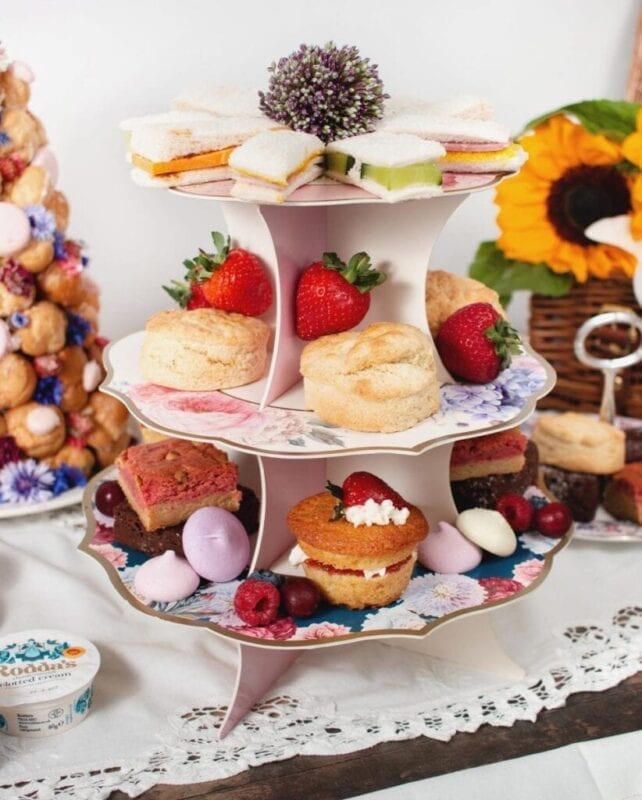 Brook Hollow, Bridgnorth WV16 4SG
Enjoy a gorgeous traditional Afternoon Tea in the comfort of your own home. This Afternoon Tea comes with a range of traditional finger sandwiches, tasty savoury treats, cakes and scones.
All of the teas are created using the best local ingredients and the cakes and scones are all homemade. You won't find any pre packed, processed meats or cakes in any of their packages.
Free delivery to Mainland UK
London Afternoon tea Delivery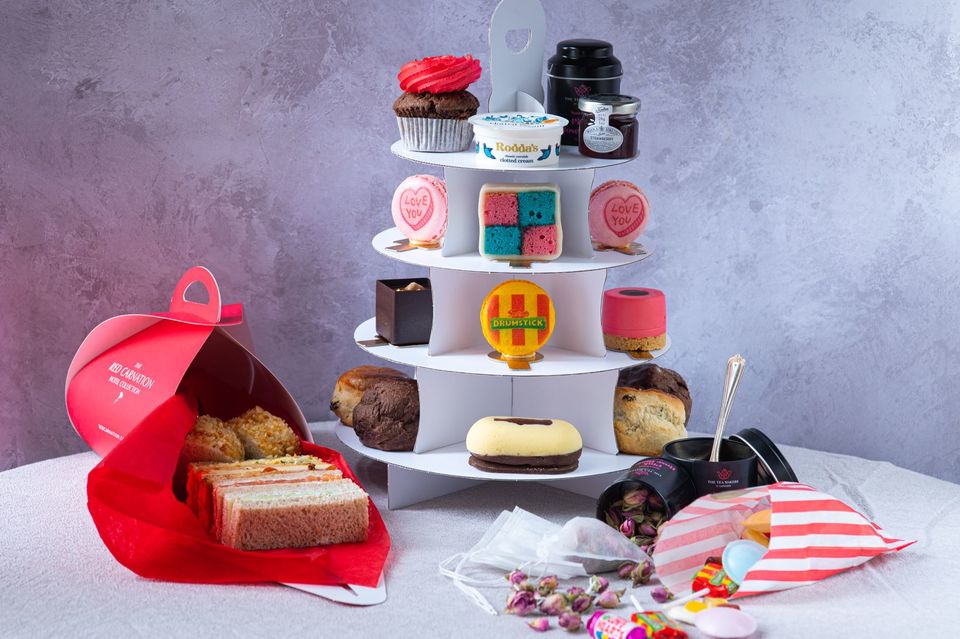 35 Charles St, London W1J 5EB
The Sweet Shop afternoon tea from Mayfair's Chesterfield hotel is inspired by Hardy's Original Sweetshop.
There's Coca-Cola slices, Drumstick macaroons, blue raspberry Battenberg and raspberry cheesecake Liquorice Allsorts. Accompanied by a selection of finger sandwiches, scones, jam and cream, plus your choice of six different tea blends.
This delicious takeaway Afternoon Tea is available for collection or delivery to London postcodes in Zone 1 – 4.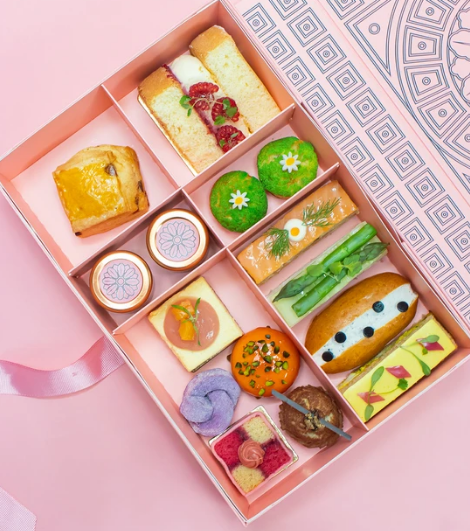 9 Conduit Street, London W1S 2XG
You can have sketch's afternoon tea delivered to your door, packaged in a  powder pink box, the MMmm… Afternoon Tea includes a selection of finger sandwiches, petits gateaux, a choice of sultana or plain scones with jam, and wedges of Victoria sponge cake and cranberry Battenberg.
Vegetarian, vegan, pescatarian and gluten-free variations are available.
Visit the website to check that they deliver to your area.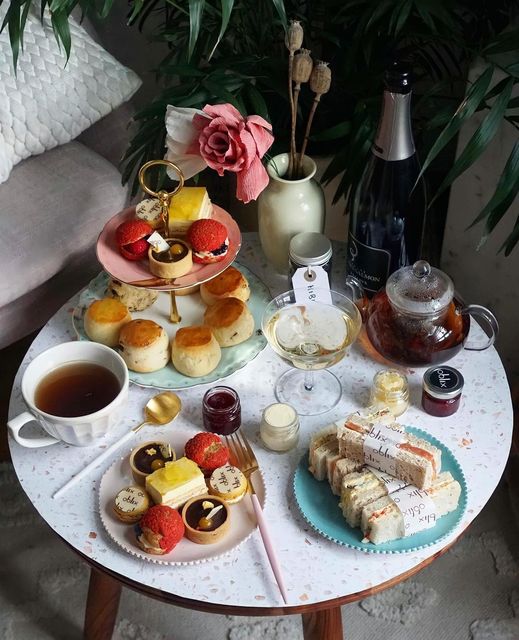 The Shard, 31 St Thomas St, London SE1 9RY
A modern twist on a classic afternoon tea, including sandwiches filled with wagyu beef and horseradish, egg with lobster mayonnaise and truffle, and smoked salmon and cream cheese.
There are also a range of sweet treats and pastries including chocolate tarts, cheesecakes, and lemon macarons as well as freshly baked scones with jam, honeycomb and clotted cream.
The Oblix Afternoon Tea Delivery within a six mile radius.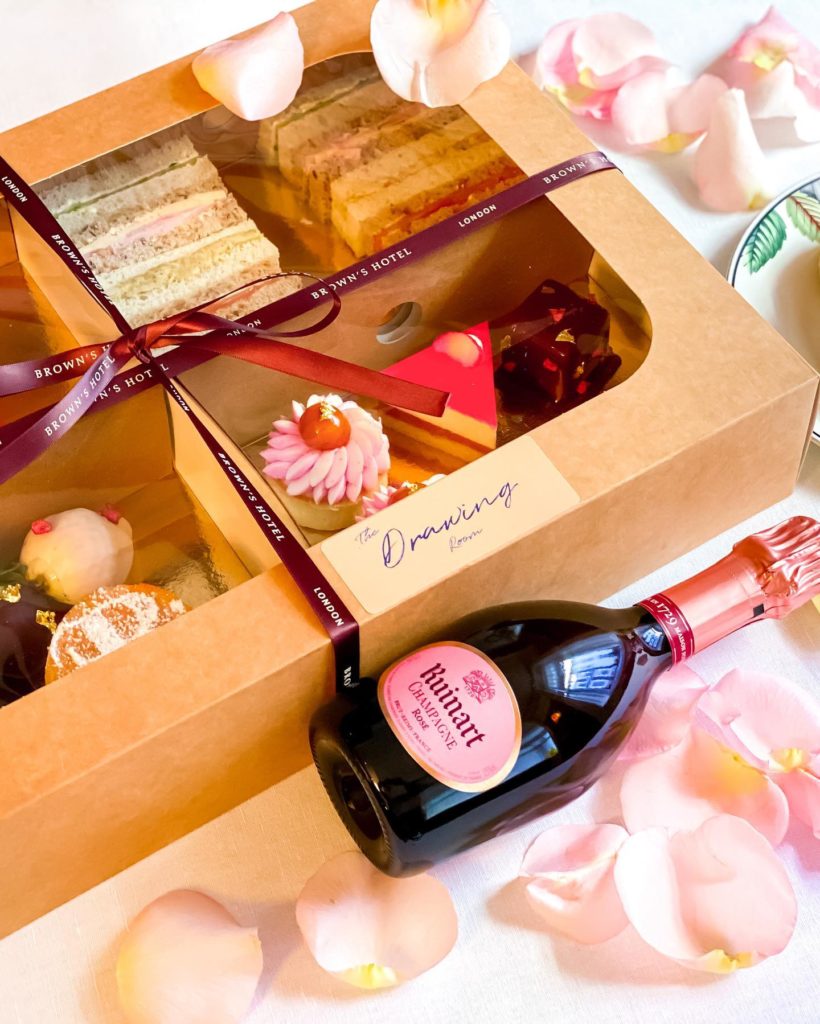 33 Albemarle St, London W1S 4BP
The classic afternoon tea offering includes hand cut sandwiches with seasonal fillings, elegant pastries and plain or orange zest and cranberry scones with jam and clotted cream. There's also Jing loose leaf tea to wash everything down.
'Brown's at Home' afternoon tea is available by collection or delivery in the Greater London area.
Contact [email protected] to book