Looking for the Best Afternoon Tea Manchester can offer? You will be spoilt for choice with so many places for Afternoon Tea Manchester has endless hotels, restaurants and Cafes all offering an individual, unforgettable experience, and with many of them offering vouchers or deals , there is no excuse for you not to treat yourselves.
43 Afternoon Teas Manchester Has to Offer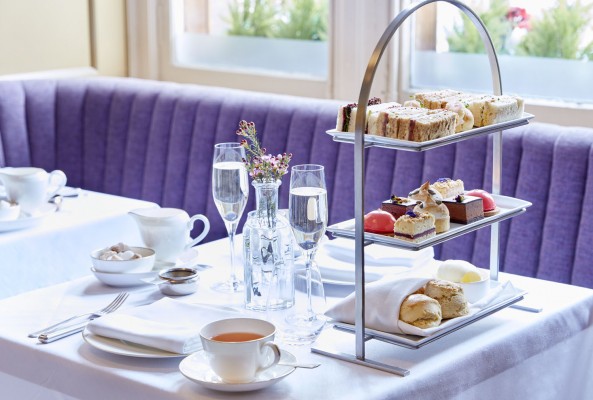 Midland Hotel, Peter Street, Manchester, M60 2DS
Manchester's longest standing seller of the British afternoon tea, the classic Midland Hotel boasts its own dedicated tea room at the front of the hotel on Peter Street, with a whole range of offerings. The Tea Room works closely with local suppliers and takes pride in sourcing the highest quality ingredients. Guests can choose from an extensive selection of bespoke loose-leaf tea served with finely cut sandwiches, freshly baked scones with jam and clotted cream, and a range of delicate cakes and pastries.
Prices from £28 for traditional afternoon tea, Royal afternoon tea (with champagne) £38, children's afternoon tea is £13.50, vegan and vegetarian options available.
Served from 1pm to 4.30pm Monday-Friday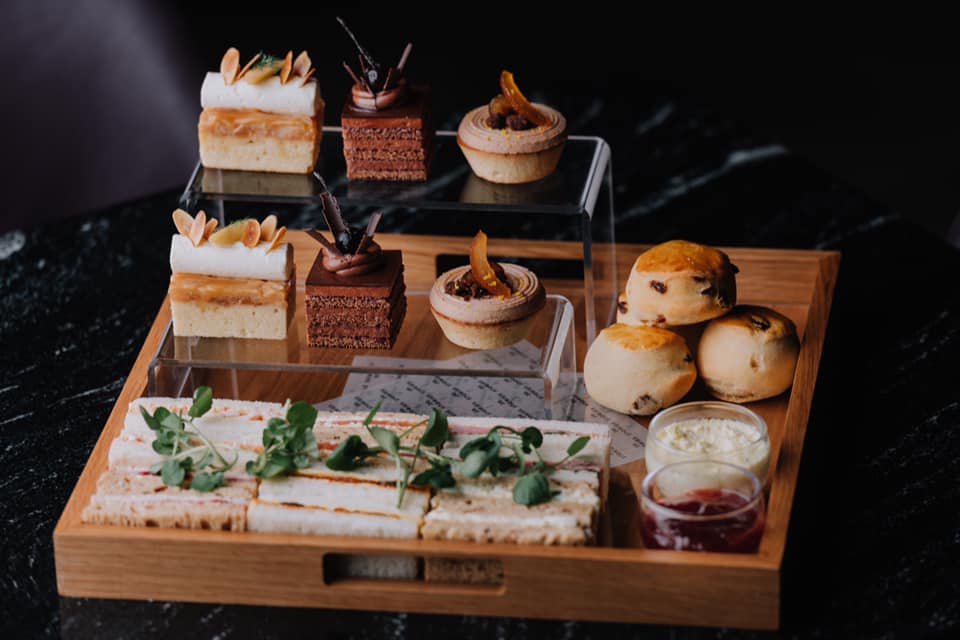 NO 1, 1 Hardman Square, M3 3EB
If you fancy tea up in the clouds with a spectacular view across Manchester, then this is the place for you. The fine dining restaurant has afternoon tea which is just as stylish as the venue, served on glass stepped trays, and sandwiched between books. Packed out with tiers of tasty sweet treats and a scone selection – again, replicating the traditional afternoon tea. Each offering can be enjoyed with tea, or paired with cocktails for a boozier affair.
Prices from £20 per person.
Served Monday to Thursday 2pm – 4.30pm.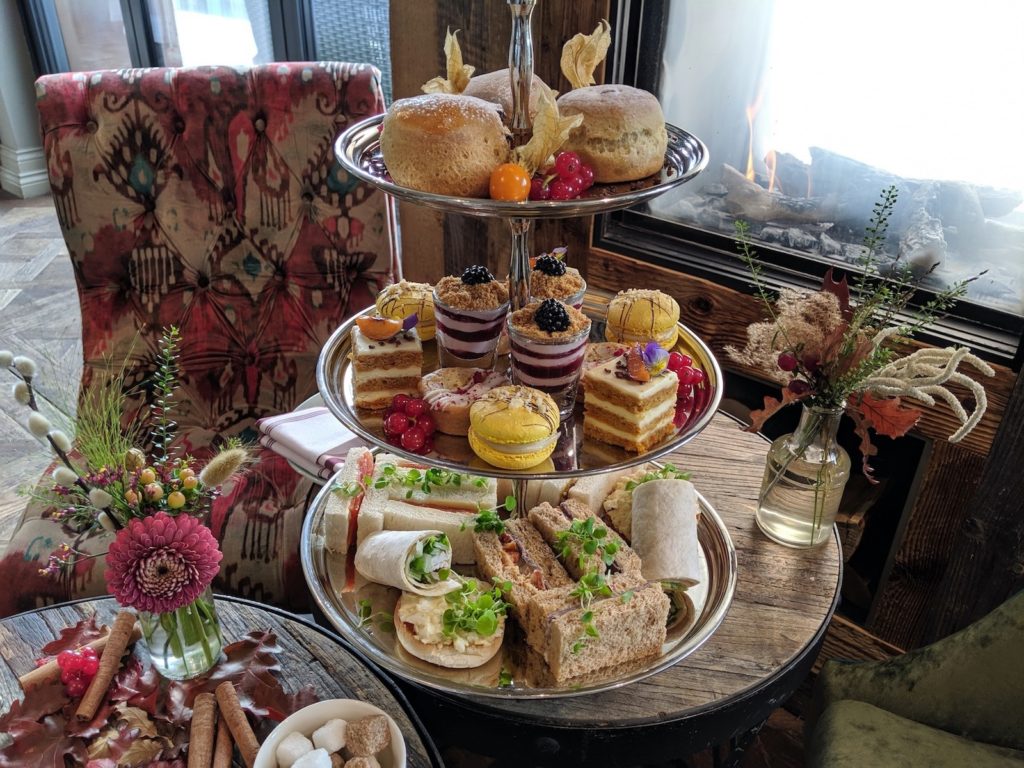 Great John St, Manchester, M3 4AW
The luxury boutique hotel serves up its fabulous afternoon tea offering in its downstairs Oyster Bar, Library, or subject to availability, up on the Rooftop Playground (which you need to request at booking). Choose from an amazing array of sandwiches and cakes. The venue is also famous for its gentlemen's afternoon tea – swapping out sandwiches for some wholesome canapés.
Prices from £24.50, with champagne £33. Gentlemen's afternoon tea £25, children's afternoon tea £12.50.
Served daily from 12 noon – 5.00pm.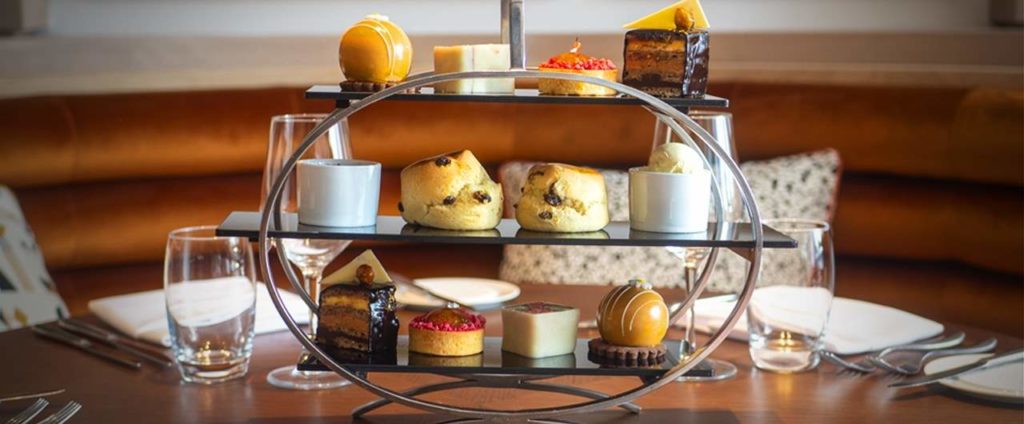 50 Dearmans Place, Salford M3 5LH
Enjoy afternoon tea at the luxurious Lowry Hotel, where they offer a whole range of new afternoon teas – including the gin afternoon tea and a Bellini version too. There's a choice of savouries and cakes, all served in The Lowry's stylish signature presentation stands.
Afternoon tea for two £39.00
Served Monday to Sunday 12 noon – 4.00pm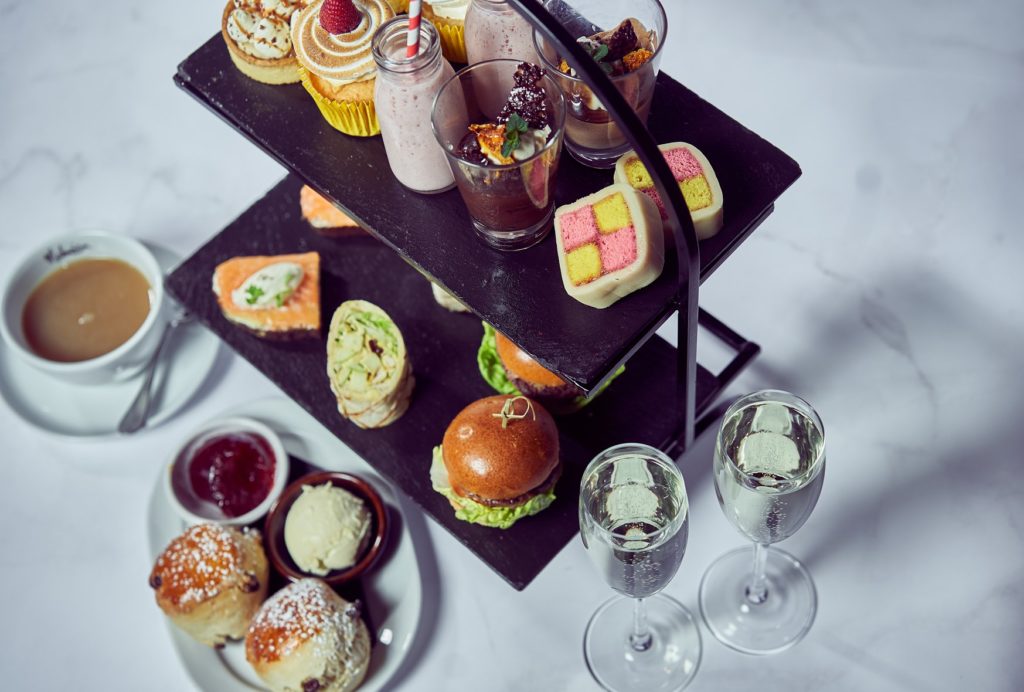 Malmaison, 1-3 Piccadilly, M1 3AQ.
Malmaison serve a boozy afternoon tea where you get to choose from four of their signature cocktails alongside their quirky take on the afternoon tea, complete with mini burger sliders. There's also the option of prosecco or champagne afternoon teas.
Prices start from £12 per person, cocktail afternoon tea £27, prosecco afternoon tea £25, champagne afternoon tea £27.
See website for opening times.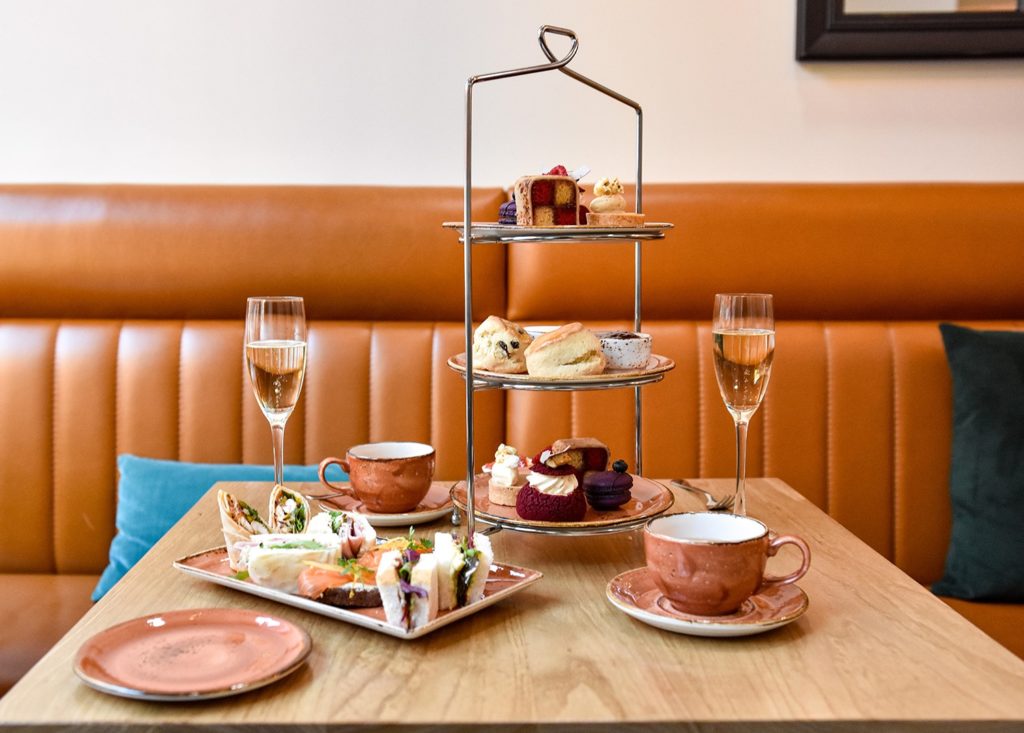 Mamucium, 6 Todd Street, Manchester M3 1WU
Mamucium has had an impressive start since launching inside the splendid setting of Hotel Indigo. Their Mancunian-themed afternoon tea is proving a popular addition boasting Vimto macarons, a Manchester tart and bee-adorned orange cake, and the price makes it one of the best values around.
Prices start from £14.95, upgrade with a glass of fizz for £4.50.
See website for opening times.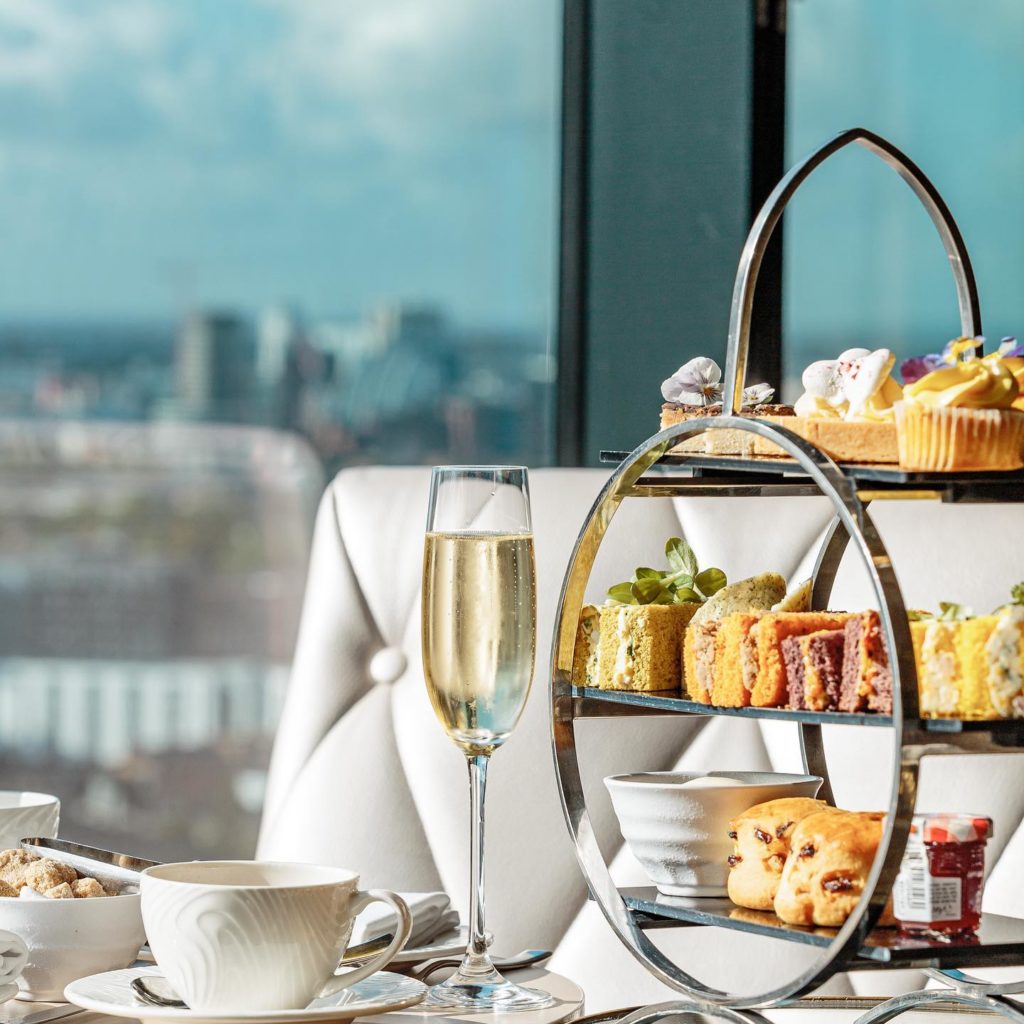 303 Deansgate, Manchester, M3 4LQ
Go sky high and indulge in this expertly crafted afternoon tea on the 23rd floor of the Hilton Hotel with fabulous views of the Manchester skyline.
For champagne lovers there's the option of a rose champers or you can even go for Bollinger. With a lovely savoury selection as well as plenty of sweet treats there is plenty to tickle your taste buds.
Prices start from £25.00.
See website for opening times.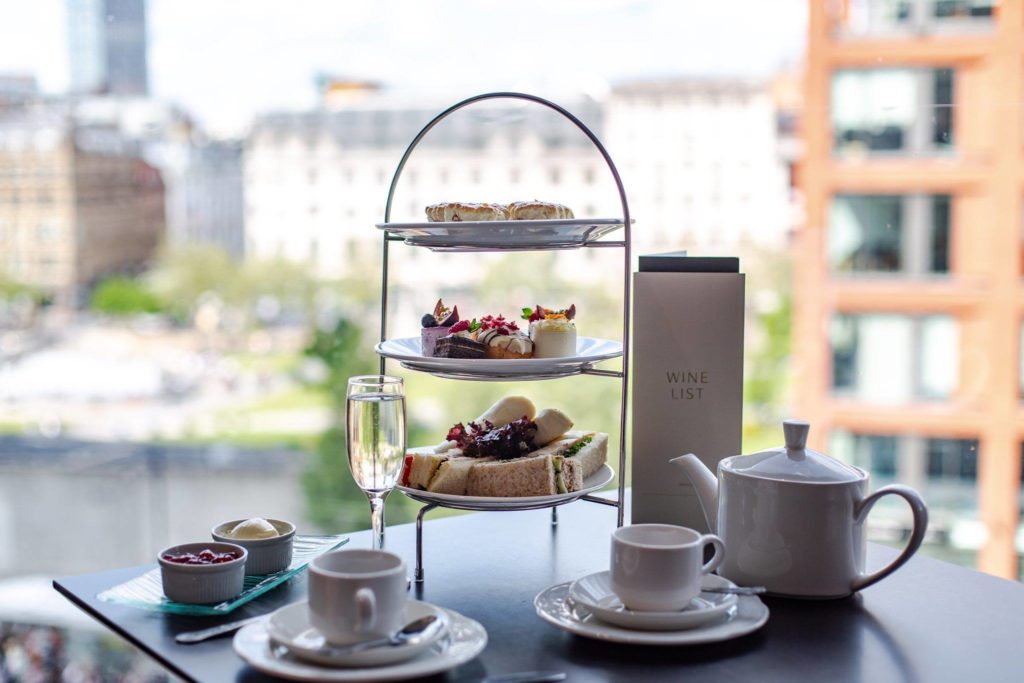 Level 3 at Mercure Manchester, Portland St, Manchester, M1 4PH.
Over at the Mercure Piccadilly Hotel, they have some of the best views of Manchester up on their Level 3 restaurant. Their ladies afternoon tea comes with a glass of prosecco, while the gents' version comes with a pint of beer or vice versa whatever your preference.
Prices start from £17.50, ladies or gentlemen's afternoon tea £24.
See website for opening times.
107 Piccadilly, Manchester, M1 2DB.
Relax and enjoy the great British tradition in the stylish setting of Brasserie ABode inside the ABode Hotel on Piccadilly.
Their afternoon tea includes immaculate finger sandwiches, delicate pastries and of course wonderfully fluffy scones.
Prices start from £19, champagne afternoon tea £26.
See website for opening times.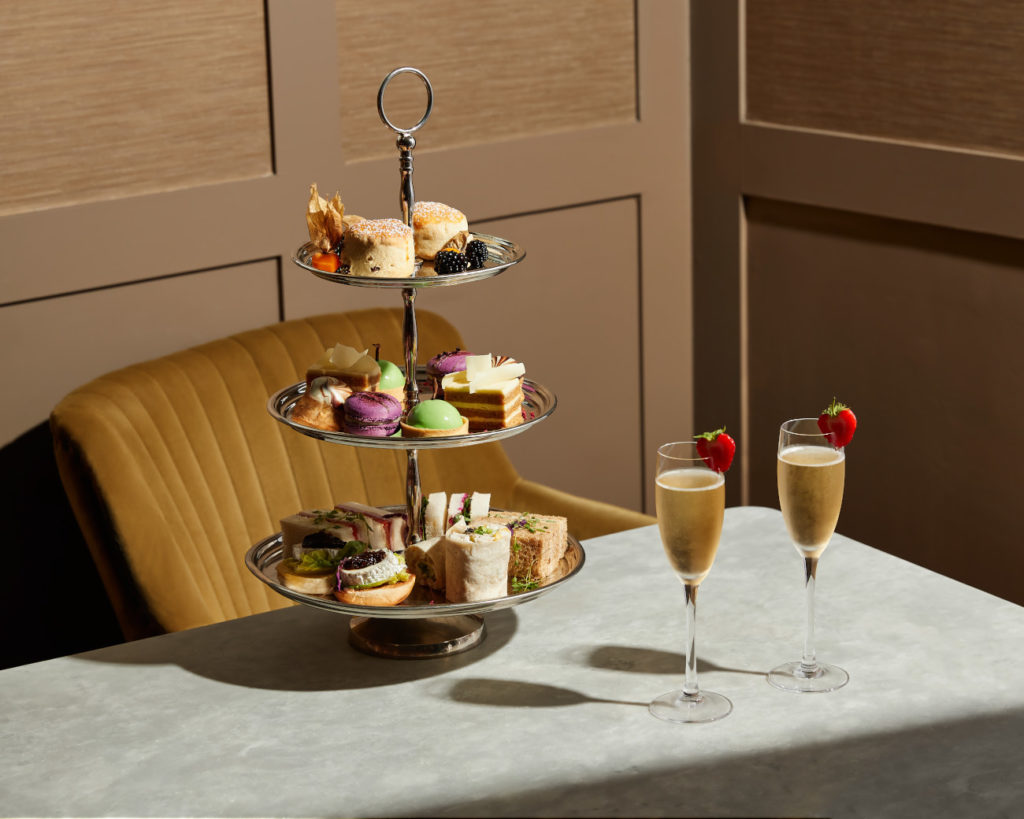 King Street Townhouse, 10 Booth St, M2 4AW.
In the heart of the city, the King Street Townhouse Hotel offers an elegant location for a traditional afternoon tea, served in their ground floor King Street Tavern. The traditional option is served with an array of sandwiches, scones, cakes and pastries, but for those looking for something a little different – there's a Gentleman's Afternoon Tea to choose from, too. With this one, guests will receive canapé-style treats such as slider burgers, fries, sweet treats served with cocktails and fine wines
Prices start from £24.50, with champagne £33. Gentlemen's afternoon tea £25, children's afternoon tea £12.50.
See website for opening times.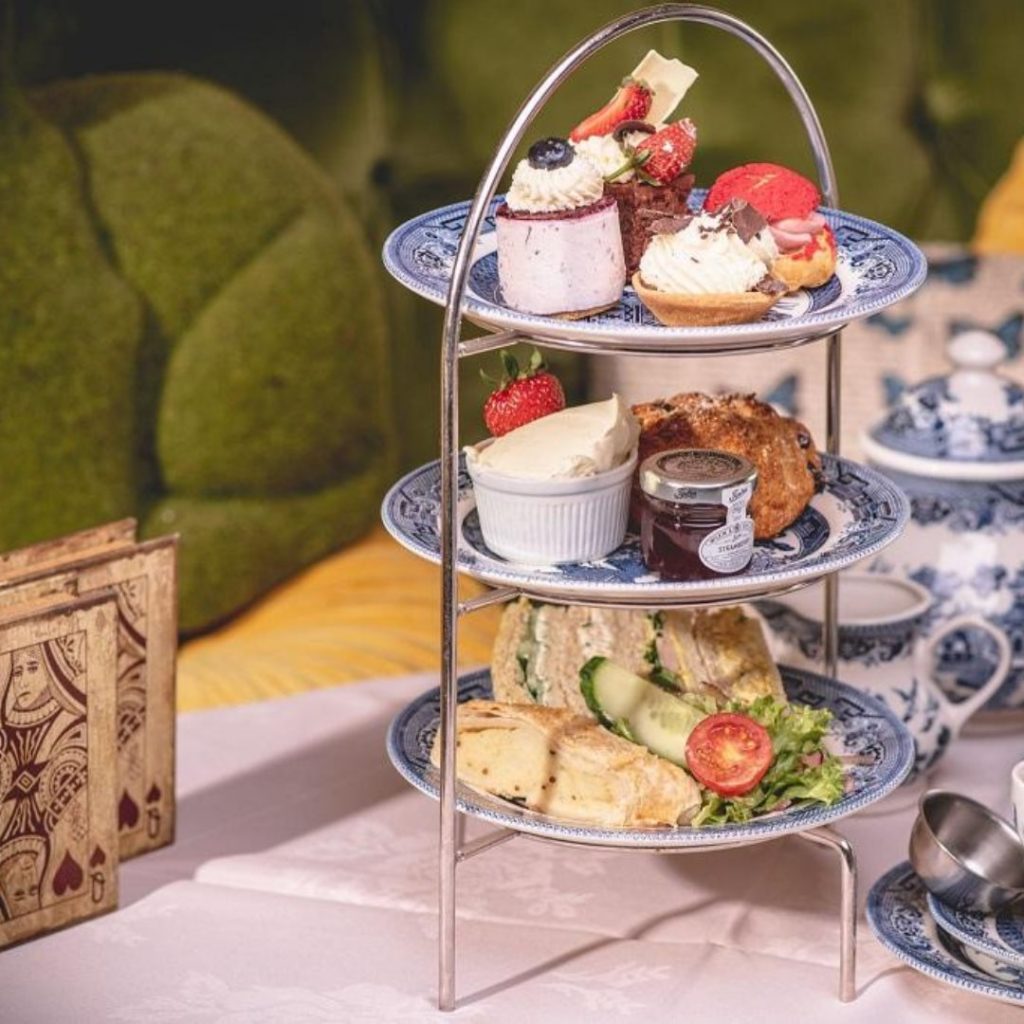 Richmond Tea Rooms, Richmond Street, Manchester, Manchester, M1 3HZ
One of Manchester's quirkiest venues for afternoon tea, you can escape down the rabbit hole at this Alice in Wonderland themed tea room. The afternoon tea menu is also Alice in Wonderland themed – and caters for men, women and children among the group as well as those with a smaller appetite – and there are also vegan and vegetarian options.
Prices start from £11.95, queens tea £20.95, Richmond tea and gentlemen's tea £26.95, Alice Tea (for children) £7.50.
Served all day long.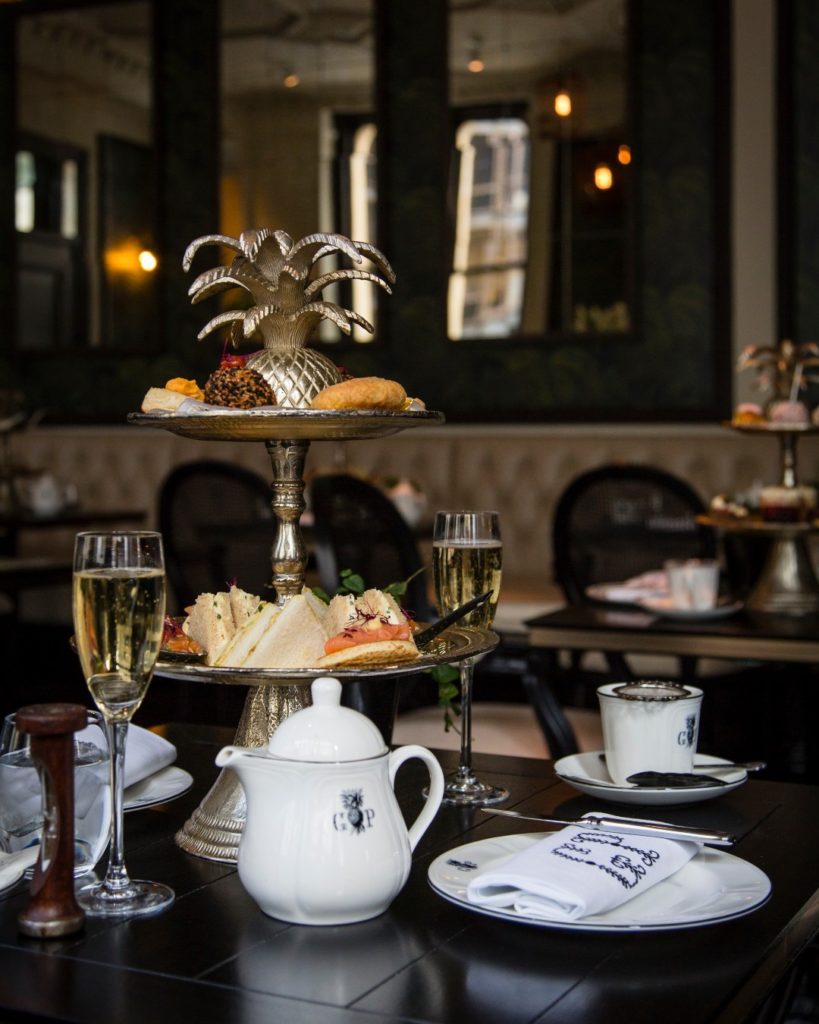 Grand Pacific, 50 Spring Gardens, Manchester M2 1EN.
Among the most glamorous dining rooms in Manchester, the Grand Pacific also turns on the style for its high tea, served on its signature golden pineapple cake stand. During the summer time you can enjoy their strawberry summer high tea.
Prices from £23, cocktail or sparkling rose high tea £29, champagne high tea £30.
Served 12 noon -5.00pm Wednesday to Saturday and 12 noon-3.30pm Sunday.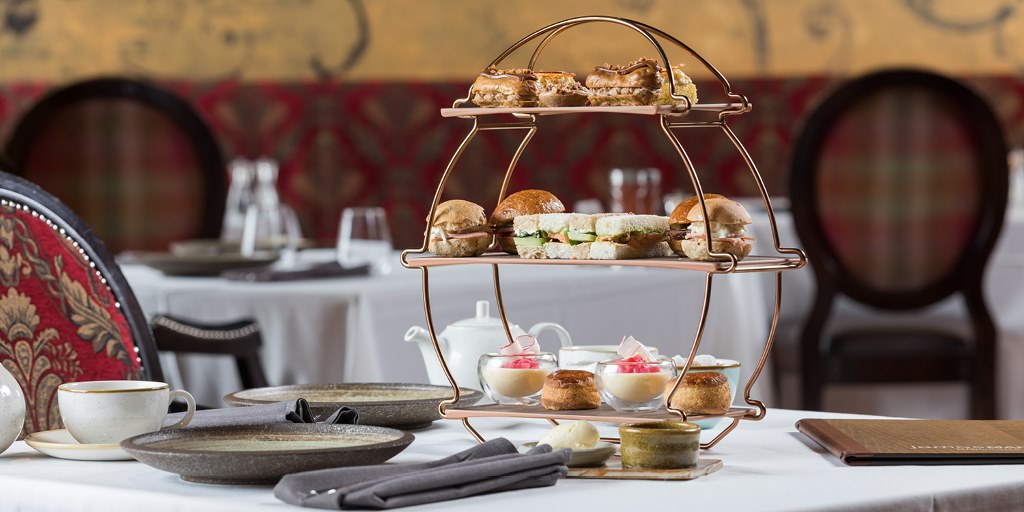 2 Watson Street, Manchester M3 4LP
Enjoy savoury and sweet treats by celebrity chef James Martin. Using James' original scone recipe and using the freshest ingredients including his homemade jam, they've also roasted their own ham using pork from Redhill Farm, salt cured and spiced their own pastrami using Cumbrian Beef and Hot smoked their own Scottish Salmon.
Prices from £19.95, afternoon tea with three taster gins £34.95, champagne afternoon tea £29.95
Only available on Saturdays currently, so you'll need to book in advance.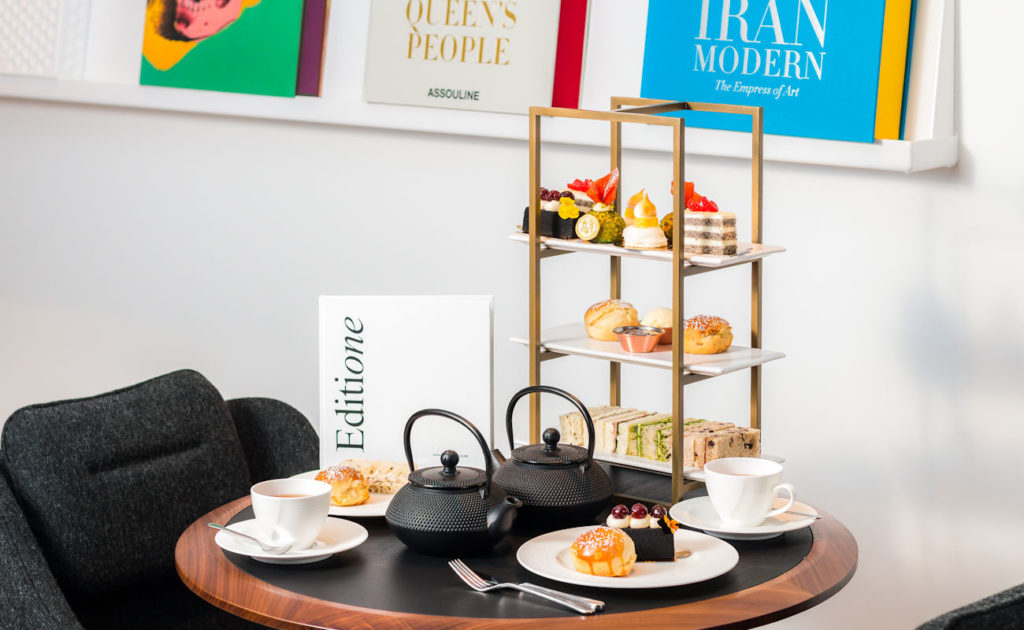 Peter Street Free Trade Hall, Manchester M2 5GP
Experience a one-of-a-kind high tea in the 5-star Edwardian Manchester Hotel where you'll enjoy champagne infused sweet treats, patisserie, fresh scones and homemade finger sandwiches.
Prices from £28.
Available Monday to Sunday.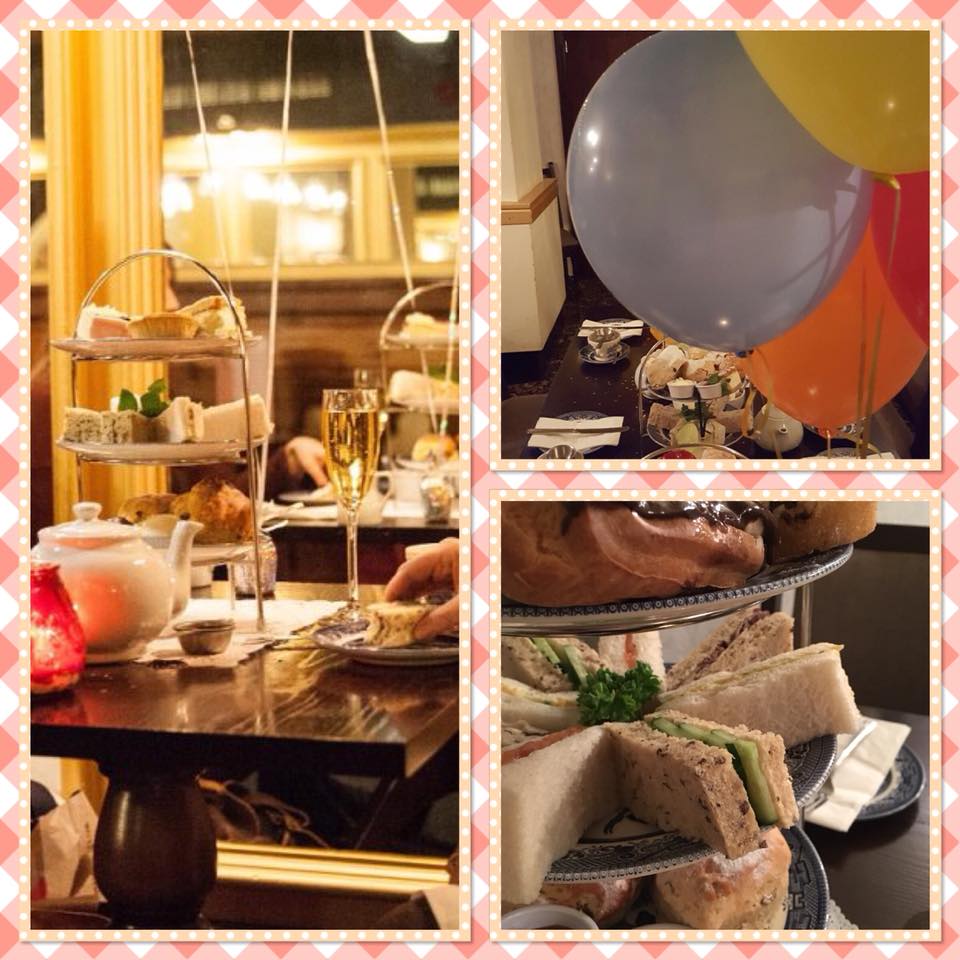 5 Old Bank Street, The Royal Exchange, Manchester, M2 7PE.
A homely Brtitish restaurant from Coronation Street star Jennie McAlpine and her partner which is described as "The Rovers Return meets The Ivy." Dine out in style with finger sandwiches, some delicious cakes from Victoria sponge to a fruits of the forest tart, and finish off with a delicious scone served with clotted cream and strawberry jam.
Price: £19.95 per person or £24.95 with champagne: £19.95 per person or £24.95 with champagne.
See website for opening times.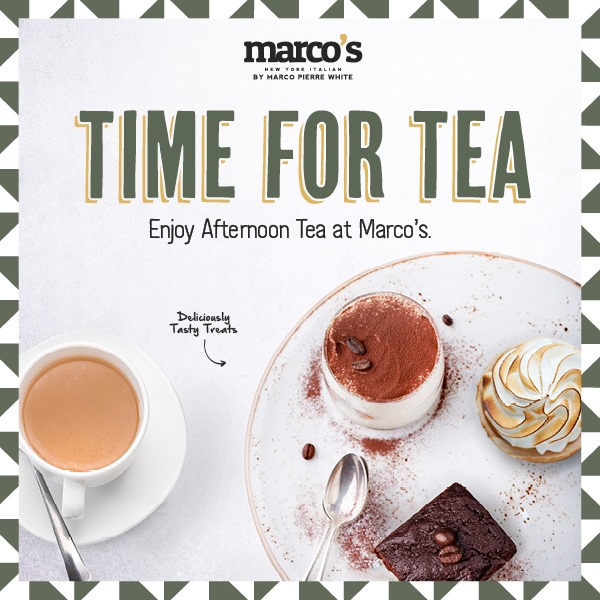 Holiday Inn, MediaCityUK, Salford, M50 2EQ.
Celebrity chef Marco Pierre White offers a taste of his Italian heritage. Enjoy a selection of sandwiches, homemade scones, sweet treats and tea or coffee. Italian afternoon tea is also available with Parma ham, Bruschetta and olives.
Prices start from £15.95
Available Wednesday to Sunday.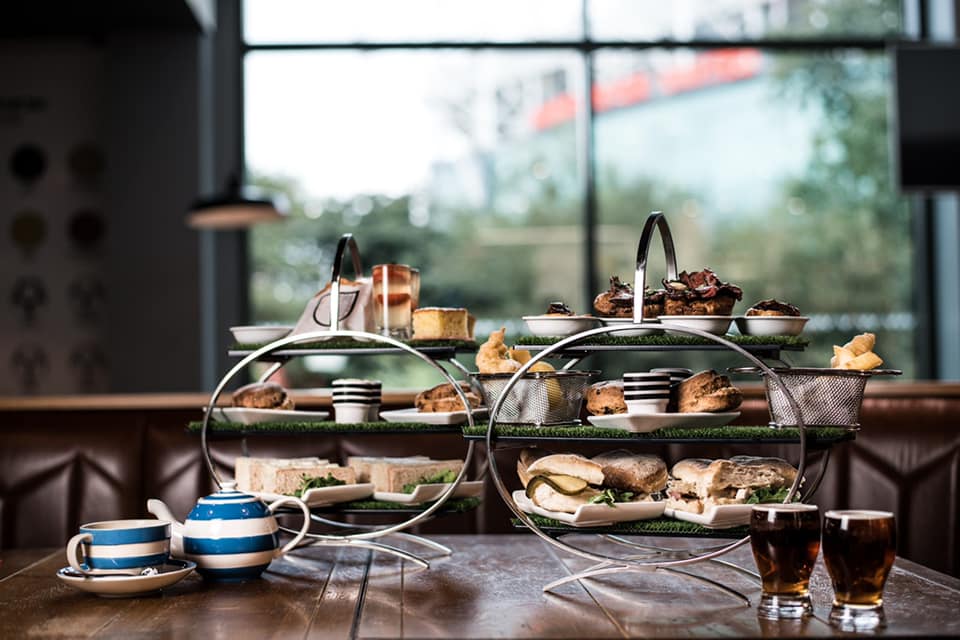 99 Sir Matt Busby Way, Manchester, M16 0SZ
A casual restaurant from Manchester United legends Ryan Giggs and Gary Neville, the cafe is located on the ground floor of the hotel next to Old Trafford Stadium. Enjoy a not-so traditional afternoon tea overlooking the canal. The menu includes fish & chips, sausage roll swirl, churros with chocolate, cherry bakewell sqaure and homemade scones.
Prices from £19.50.
Served Monday to Sunday but not on match days.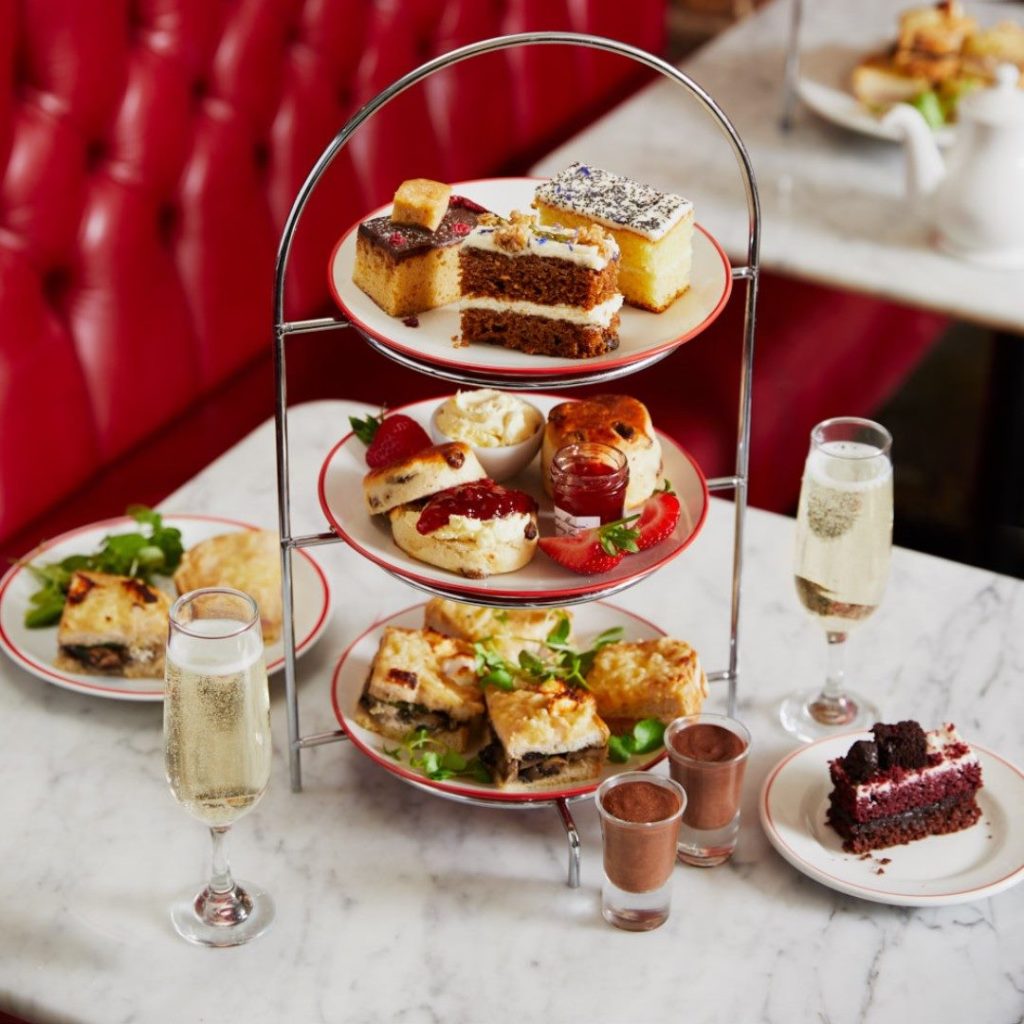 Unit G40B, The Lowry Outlet Mall,Salford, M50 3AZ
Enjoy a classic afternoon tea from Cafe Rouge including a savoury and sweet selection and refillable tea, coffee, infusions and hot chocolate.
Priced at £12.50 per person.
Available daily from 12 noon – 5.00pm.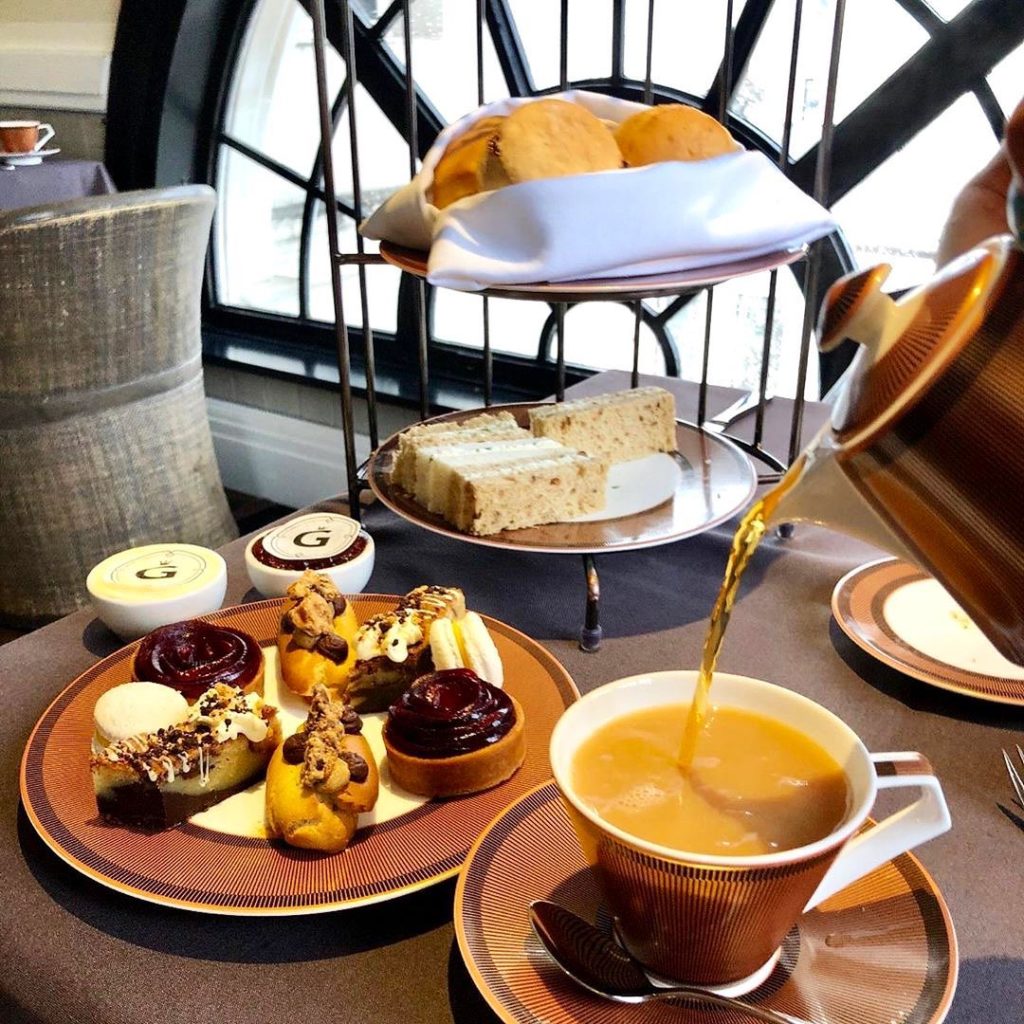 100 King Street, Manchester, M2 4WU
Afternoon Tea is served in the beautiful Honey Restaurant, located on the sixth floor of the hotel. The restaurant features decorative half-moon windows where you can enjoy the sensational views across Manchester whilst enjoying your Afternoon Tea.
The afternoon tea features a selection of finger sandwiches, freshly bakes scones with clotted cream and jam, and an array of cakes including a sallted caramel choux bun and marbled chocolate brownie. Guests feeling in a decadent mood can upgrade to include a glass of prosecco or champagne to make the occasion extra special.
Priced from £25.00 per person upwards.
Served from 12.30 – 5.00pm Monday to Sunday.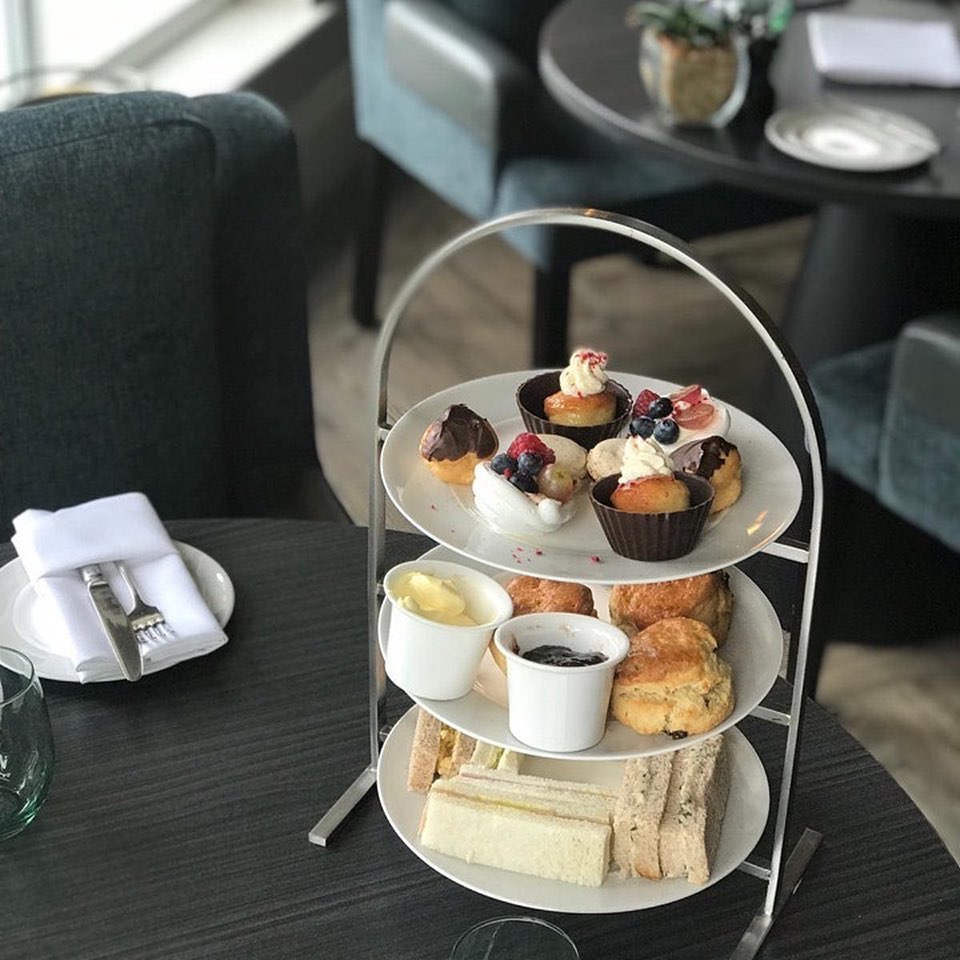 Bruntwood Park, Cheadle, SK8 1HX
There's no more of an authentic place to sip your afternoon tea in Cheadle or delicately munch on finger sandwiches than Oddfellows On The Park.
Devour a three-tiered stand filled with finger sandwiches, freshly baked scone with jam and clotted cream, and a selection of sweet treats. Enjoy a traditional afternoon tea served with a glass of Astoria Lounge, Prosecco.
Prices start at £22.00
Served daily 12 noon – 4.00pm.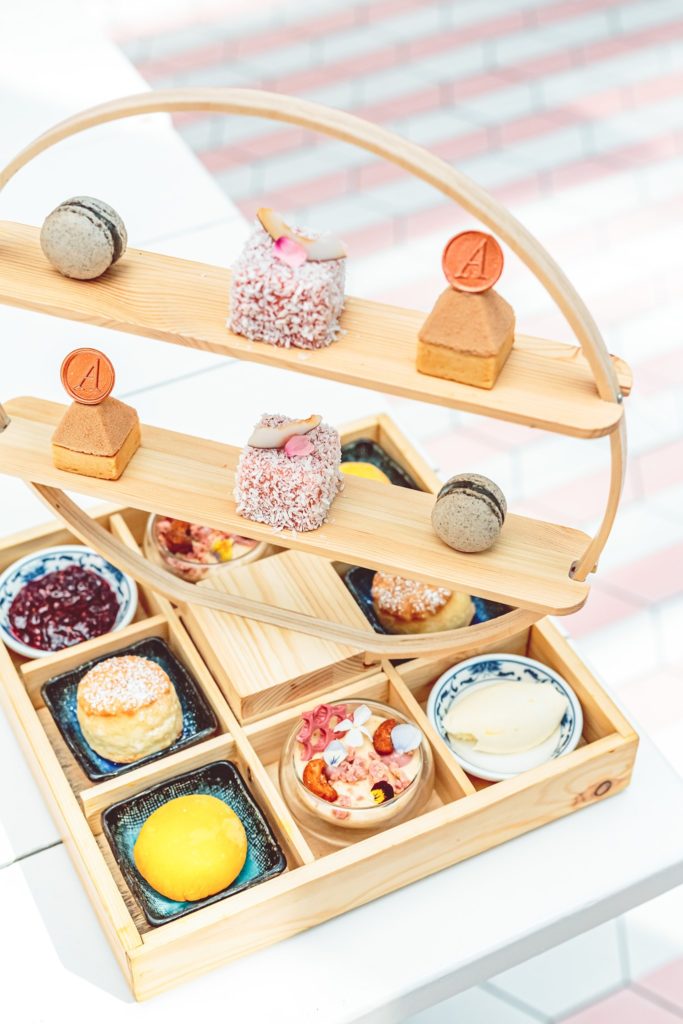 Sunset by Australasia, 1 The Avenue, Manchester M3 3AP
You might know Sunset by Australasia as the delightfully pink restaurant that's home to Asian bento boxes and slushie cocktails. But they also boast an afternoon tea complete with desserts, pastries and cocktails. The Sunset menu features exotic afternoon teas, delicious small plates, sushi and robata grill favourites as well as individual Bento Boxes and an indulgent dessert sharing selection.
Prices from £22.50
Available from Monday to Sunday from 12pm until 5pm.
Browns Manchester, 1 York Street, M2 2AW
Set in the stylish and suave Browns Brasserie & Bar on York Street this afternoon tea comes in at under £19. The meal includes raspberry shortbread, black cherry mousse, and Devon crab sandwiches amongst other delights, plus you can add champagne for under £6.
Priced at £18.50
Served daily 2.00-6.00pm, Saturdays 3-5.00pm.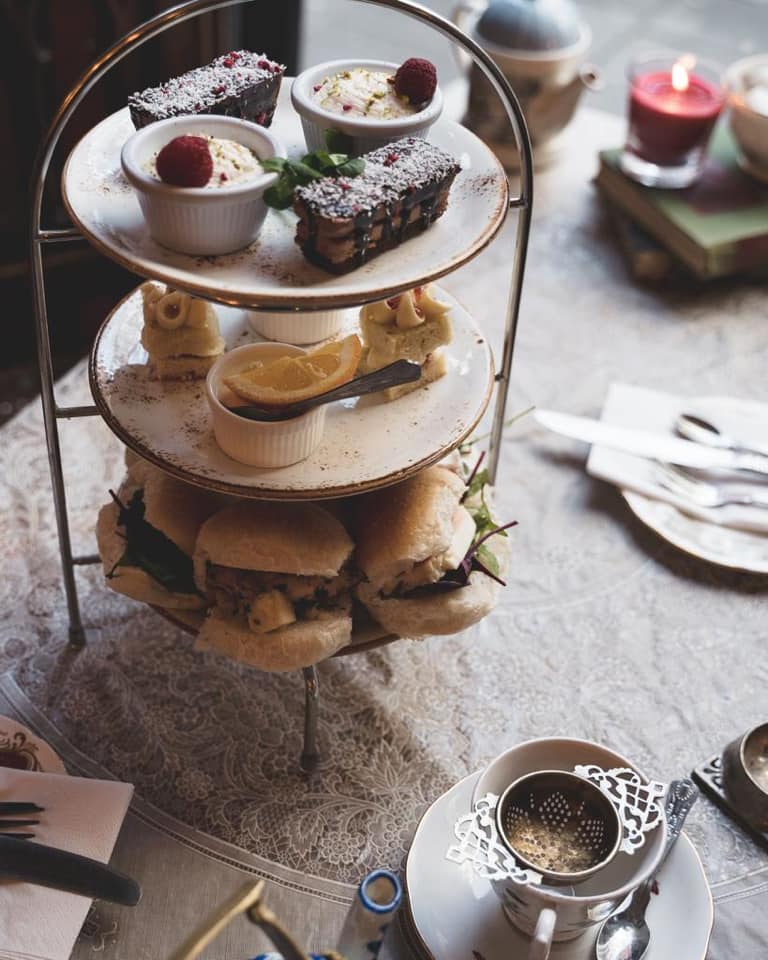 60 Tib Street, Northern Quarter, Manchester, M4 1LG
Take a trip to Sugar Junction where you'll find vintage wallpaper, mismatched crockery and plenty of nostalgia. There is a selection of mini open muffin sandwiches with a fruit scone, clotted cream, jam and a selection of four in-house baked cakes and treats. Plus a pot of your favourite loose leaf tea or coffee.
Priced at £22.95. With a glass of prosecco £24.95. With a vintage cocktail £25.95. Cream Tea for One (v) £8.50.
See website for opening times.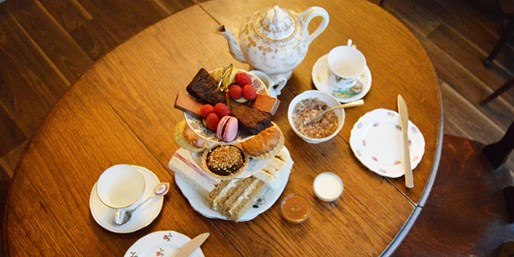 Burton Road, Manchester, M20 1JQ
As you might have gathered from the name, Cocoa Cabana has got a penchant for all things chocolate. Their afternoon tea, coming in at a very reasonable £22.00 per head, is no different. You'll get the usual finger sandwiches and the like, but the sweet treats offer brownies, mini-ganaches, mini-choux and more.
Price: £22.00 per person
See website for opening times.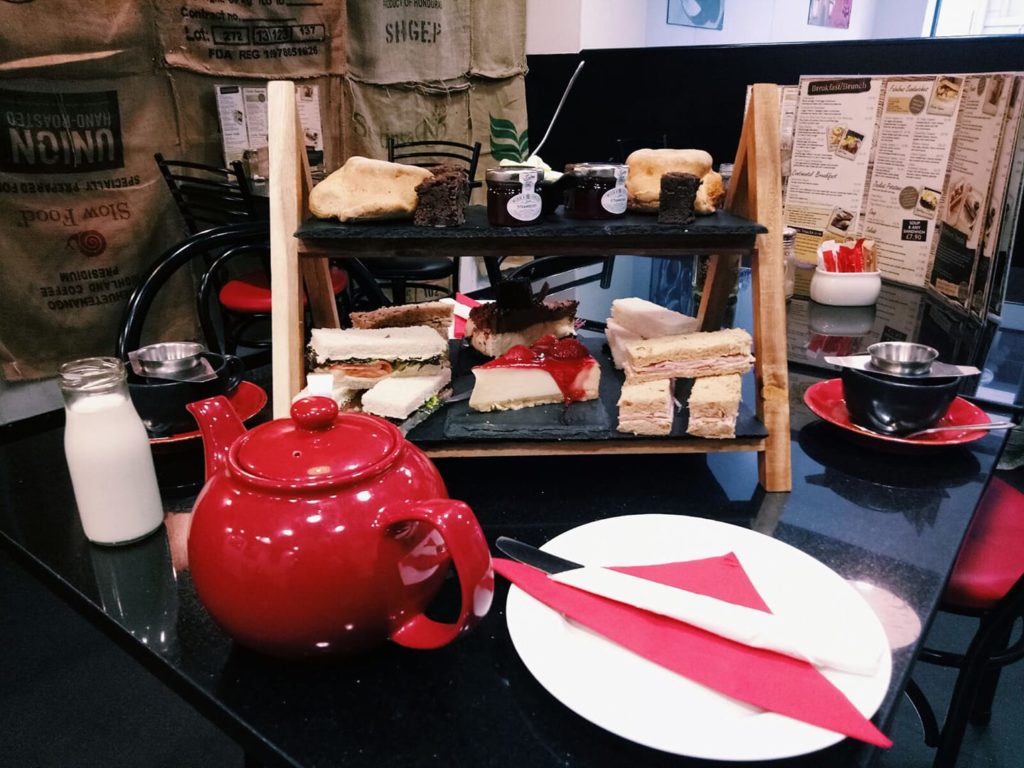 74 Mosely Street, Manchester, M2 3LW
For a touch of Austrian romance in the heart of Manchester city centre, try Vienna Coffee House. Drawing influence from the Kaffeehaus scene, this city-centre café is a low-key gem. On the menu you'll find all the traditional favourites.
Priced at just £14.90
See website for opening times.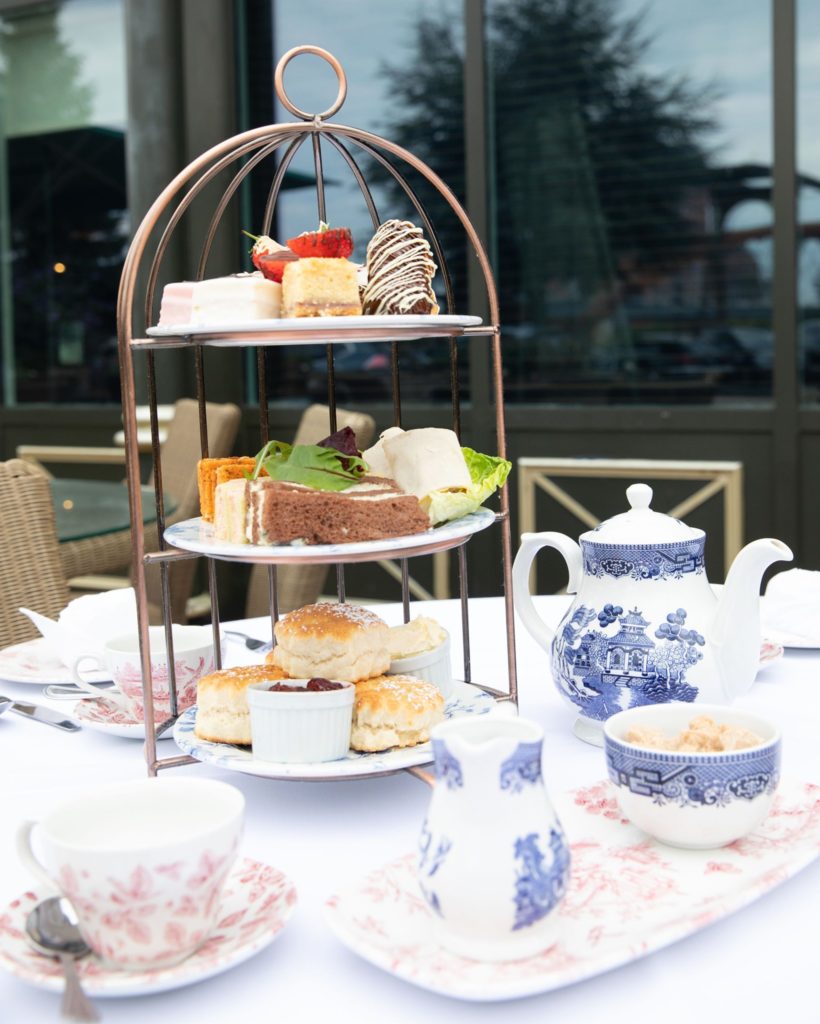 Water Street, Manchester, M3 4JQ.
Afternoon tea for two includes a choice of cocktail each. Tuck into a selection of sandwiches including brie and caramelised onion on tomato bread, poached salmon with dill and cream cheese on lemon bread and traditional egg mayonnaise with watercress on granary bread. Then move on to scones with Devon clotted cream and strawberry jam, plus delicious desserts like chocolate French fancies, luxury vanilla slice and fresh cream chocolate eclairs.
From £19.00 per person.
Afternoon Tea 1:30pm to 4pm Monday – Sunday.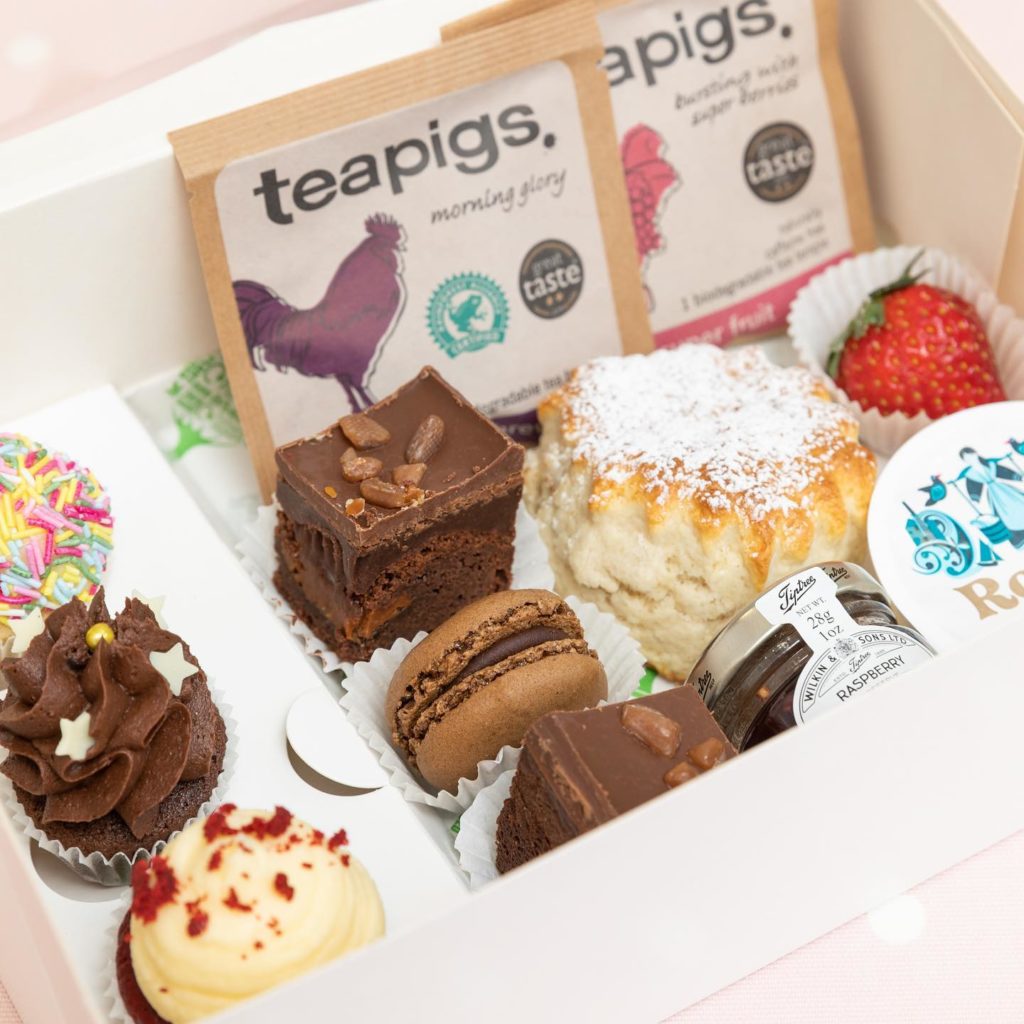 2 Hardman Street, Spinningfields, M3 3HF.
Opened in 2010, this specialist shop in Manchester City Centre prides themselves on creating beautiful cupcakes, baked fresh daily using the finest locally sourced ingredients. Their delicious cupcake afternoon tea includes cupcake shaped finger sandwiches, a scone with clotted cream and jam, mini cupcakes, chocolate covered strawberries and a choice of drink including a selection of Teapigs Teas.
Priced from £14.50
Afternoon Tea 12pm to 5pm Monday – Sunday.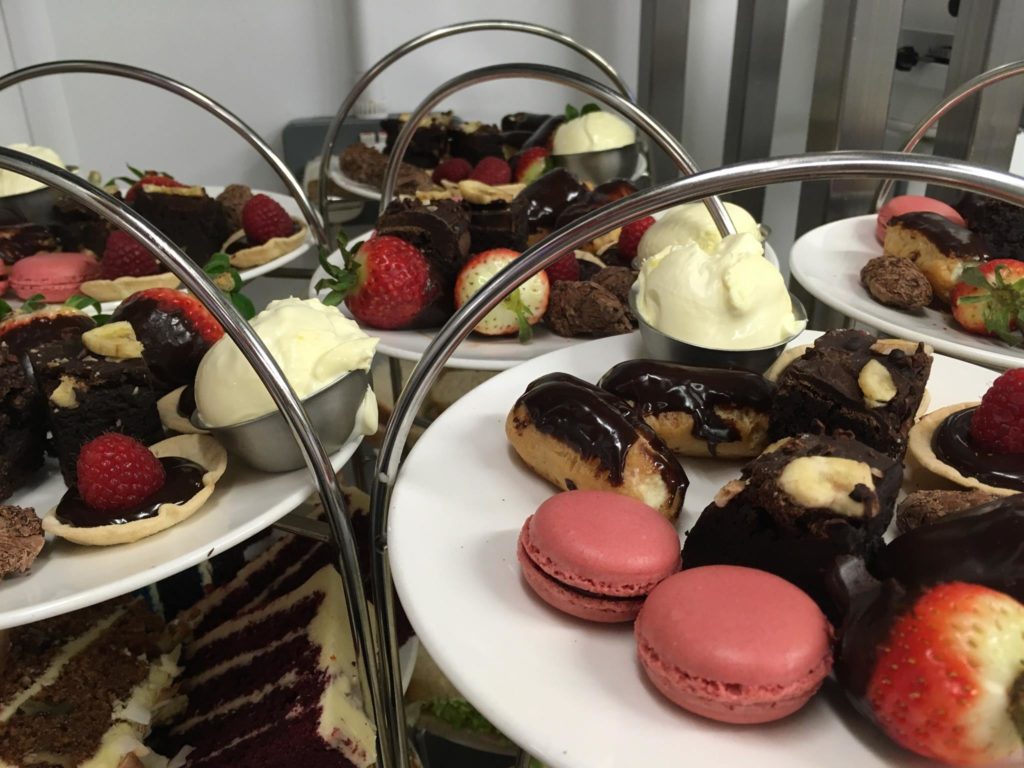 53-55 Thomas St, Manchester M4 1NA.
Teacup excels in traditional British delights. Afternoon Tea is served from midday each day, comprised of three tiers of homemade finger sandwiches, savouries, miniature cakes, scones and fruit tarts served with pot of loose leaf tea or glass of bubbly. The afternoon tea selection change seasonally. Current favourites include a crisp and tangy cheddar & smoked pepper quiche, and a zingy passionfruit-meringue tart.
Priced from £16.00
Available 12 noon to 5.00pm Monday – Sunday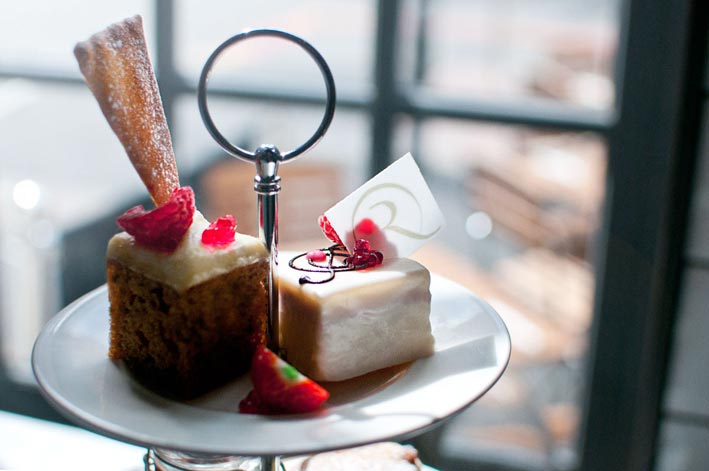 RosyLee
11 Stevenson Square, Manchester M1 1DB
Away from all the commotion of the city centre, located just at the edge of the Northern Quarter is Rosylee Restaurant and Lounge. Rosylee is all about honouring the English heritage, the menu uses local produce from the fantastic living larder that is the north of England. The beautiful afternoon teas come with homemade scones, tasty cakes and mouthwatering sandwiches.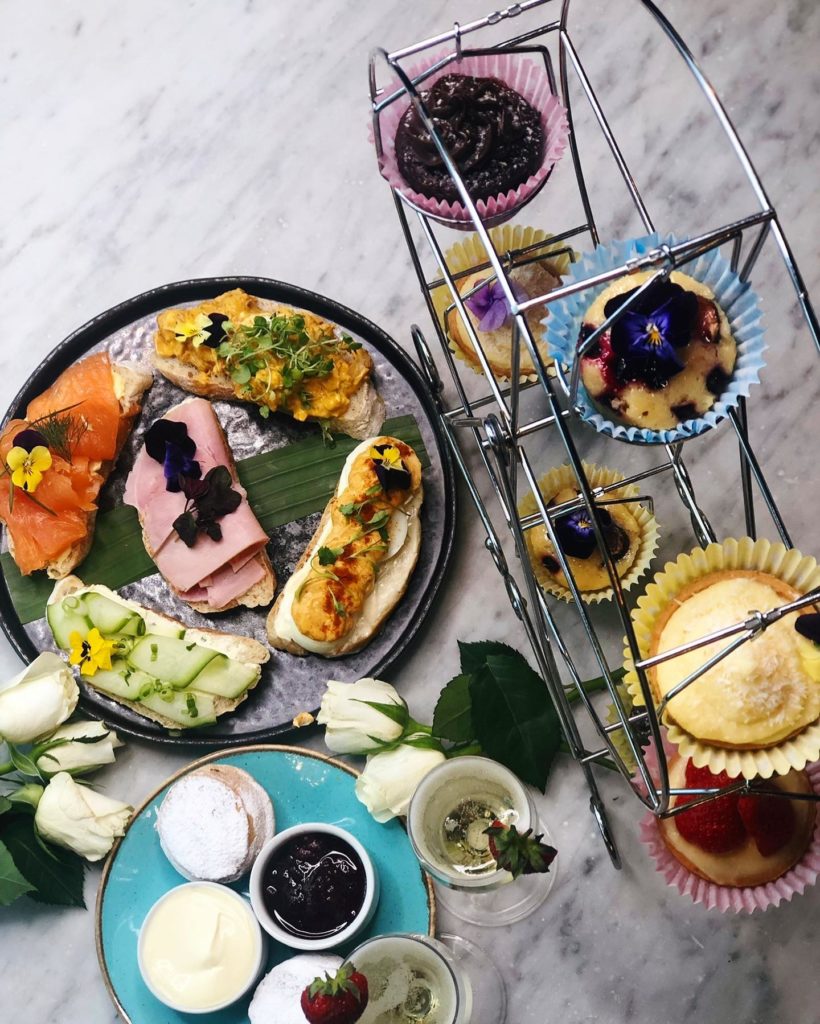 New Bailey Street, Salford, M3 5JL
Menagerie have upped their afternoon tea visual game serving dashing ferris wheels full of edible delights, from scones to brownies.
Prices for Menagerie or traditional afternoon tea, £23 per person, or £33 with a glass of champagne.
See website for opening times.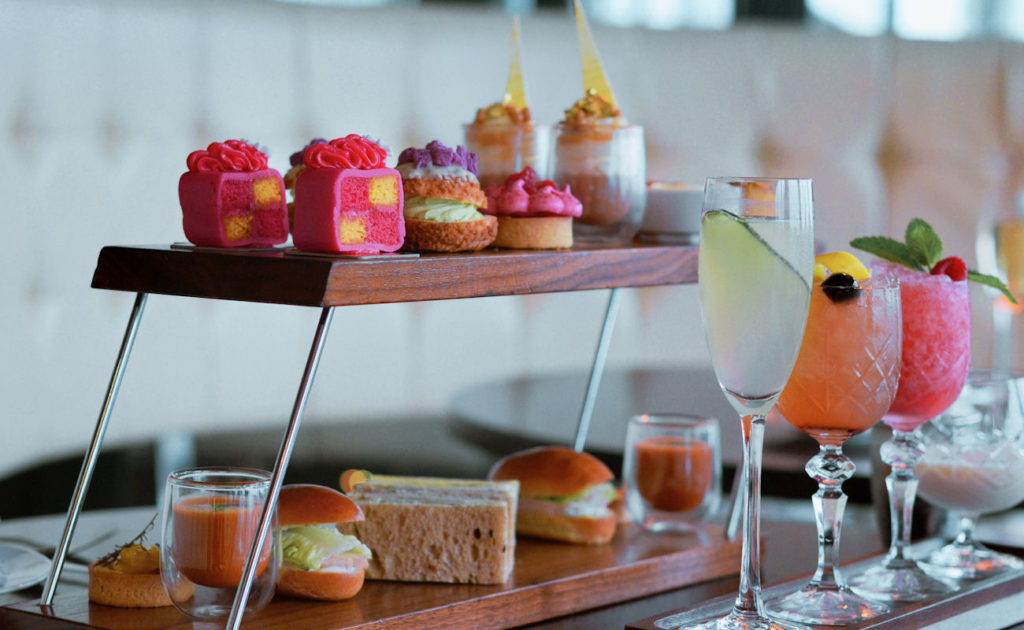 18-22 Bridge St, Manchester M3 3BZ
Served in the lounge on the 12th floor, the menu consists of a range of dishes to complement the flavours of its cocktail flight such as a Millionaire's "shot" of Manjari chocolate mousse with tonka and vanilla panna cotta, caramel and gold as well as rose and grapefruit Battenberg plus a new take on the iconic Manchester Tart featuring raspberry meringue and custard.
The savoury selection includes both classic sandwiches and gourmet delights, such as hot bloody Mary demi-tasse with bison vodka jelly inspired by the popular cocktail.
Afternoon tea can be paired with the matching cocktail flight, a range of loose leaf teas or champagne.
Priced from £25.00 per person.
Available from 12 noon – 6.00pm Tuesday to Saturday.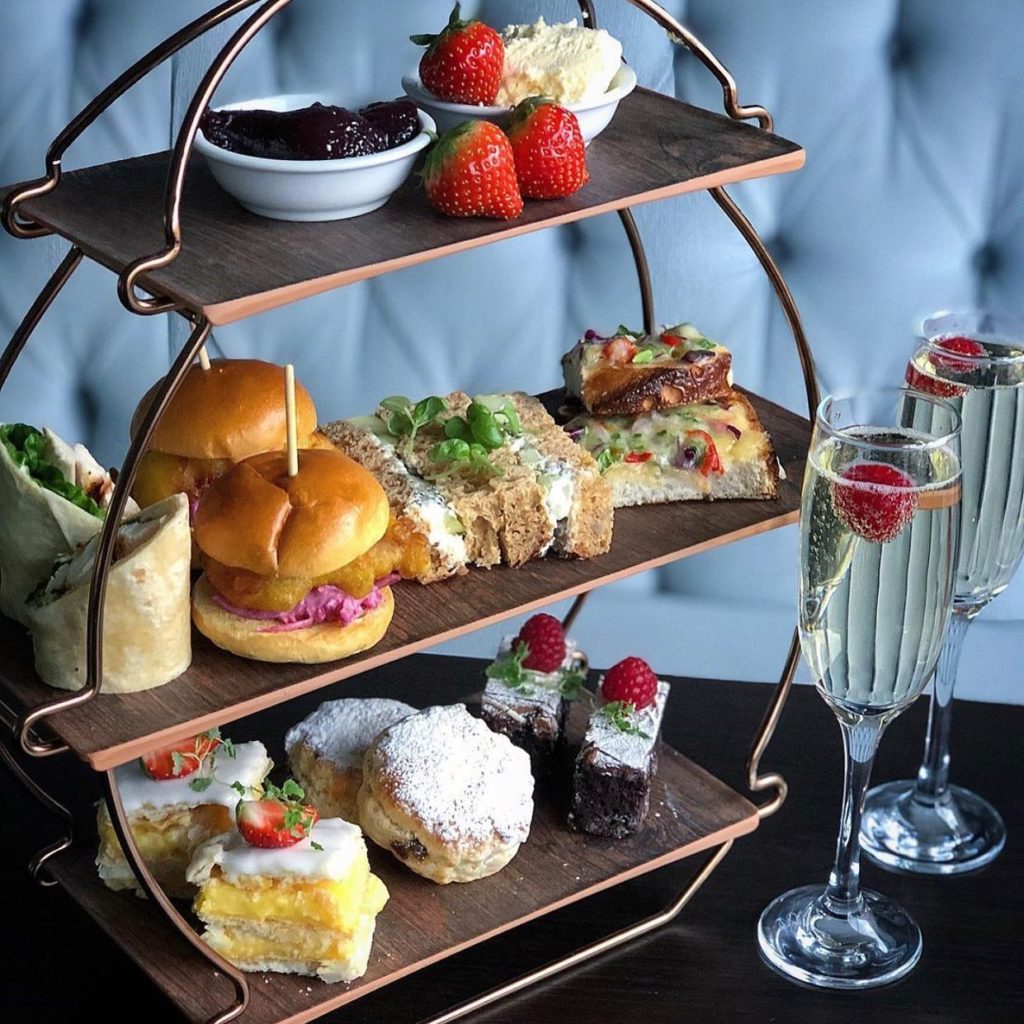 188 Bury New Rd, Whitefield Manchester M45 6QF
One88 is the perfect spot for afternoon tea. For the laid-back, you've got a traditional prosecco version. If you're not into bubbles you could go for for the gin and tonic tea. Then there's a gents tea too, that swaps out delicate sandwiches for pork pies, sausage rolls and more.
Priced from £15.00 per person
See website for times.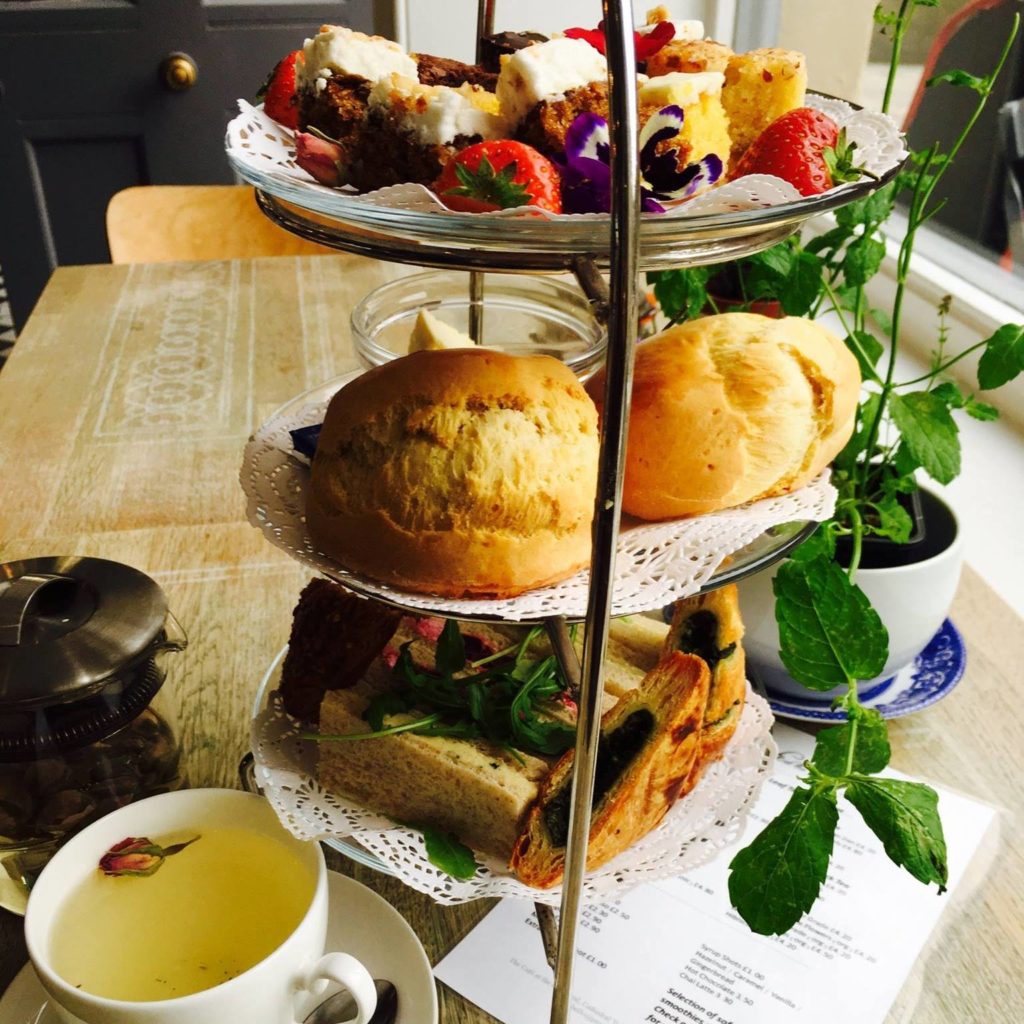 10 Cateaton Street, Manchester, M3 1SQ
Altered Café offers a contemporary take on the traditional British tearoom, serving a selection of loose leaf teas alongside fresh homemade meals and hand crafted cakes. . Afternoon tea is served each day, comprised of three tiers stacked high with homemade sandwiches, savouries, miniature cakes and scones served with pot of loose leaf tea or glass of bubbly.
See website for opening times.
Opening times Monday to Friday 9.00am – 5.00pm, Saturday 9.00am – 6.00pm, Sundays 9.00am – 5.00pm.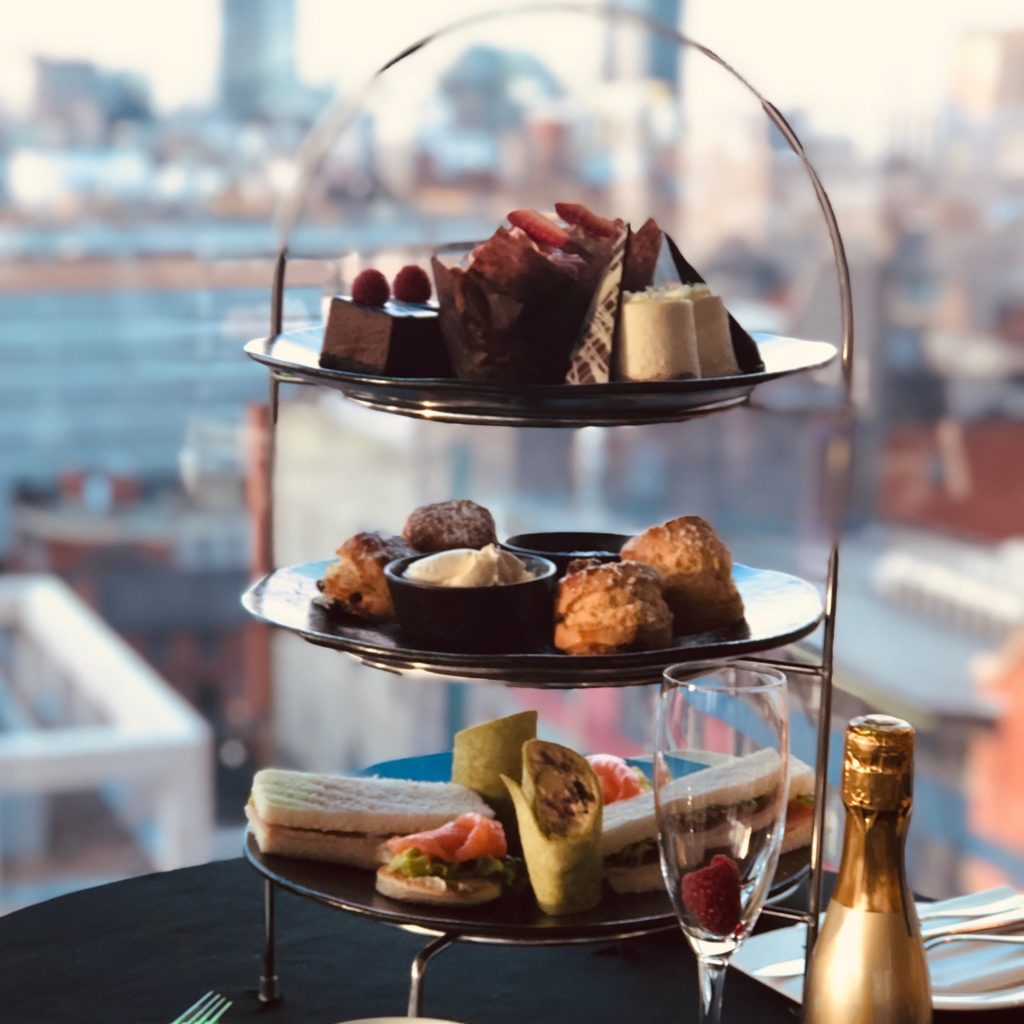 1 Auburn Street, Manchester M1 3DG
The Piccadilly hotel serves up elegant and reasonably-priced afternoon teas in its City Cafe. As well as its classic spread, it also offers special children's teas, featuring its signature chocolate chip cookies, jelly and ice cream, a gingerbread man complete with a decorating kit and a milkshake to wash it all down with.
Price at £16.50 per person for the classic afternoon tea, £19.95 with prosecco or £9.95 for the children's option.
See website for opening times.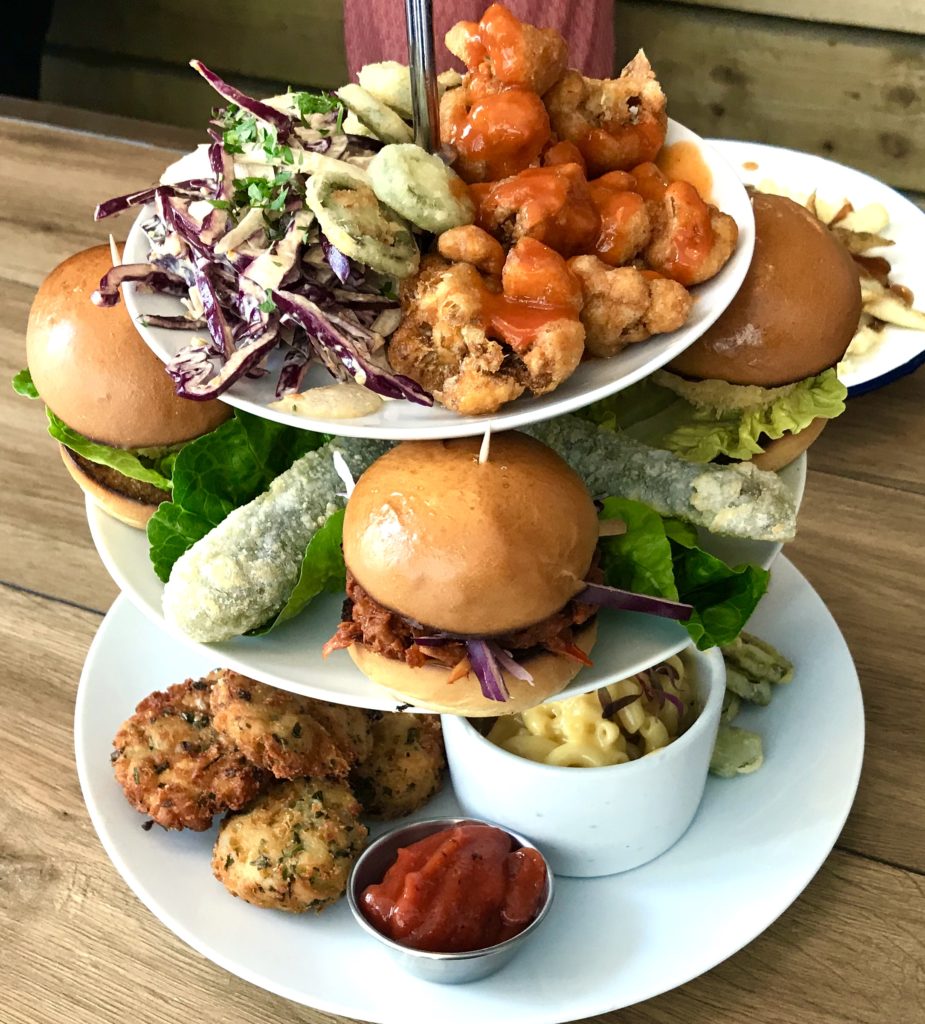 Brewski, 58 W Mosley St, M2 3HZ
Home of the Mad Platters Tea Party, Brewski is the place for an extraordinary afternoon tea in Manchester. Expect three tiers of steak, chicken, pulled pork sliders, mac n cheese, halloumi fries, frickles and their signature poutine.
Priced from £25 per person
Open from 12 noon Monday to Saturday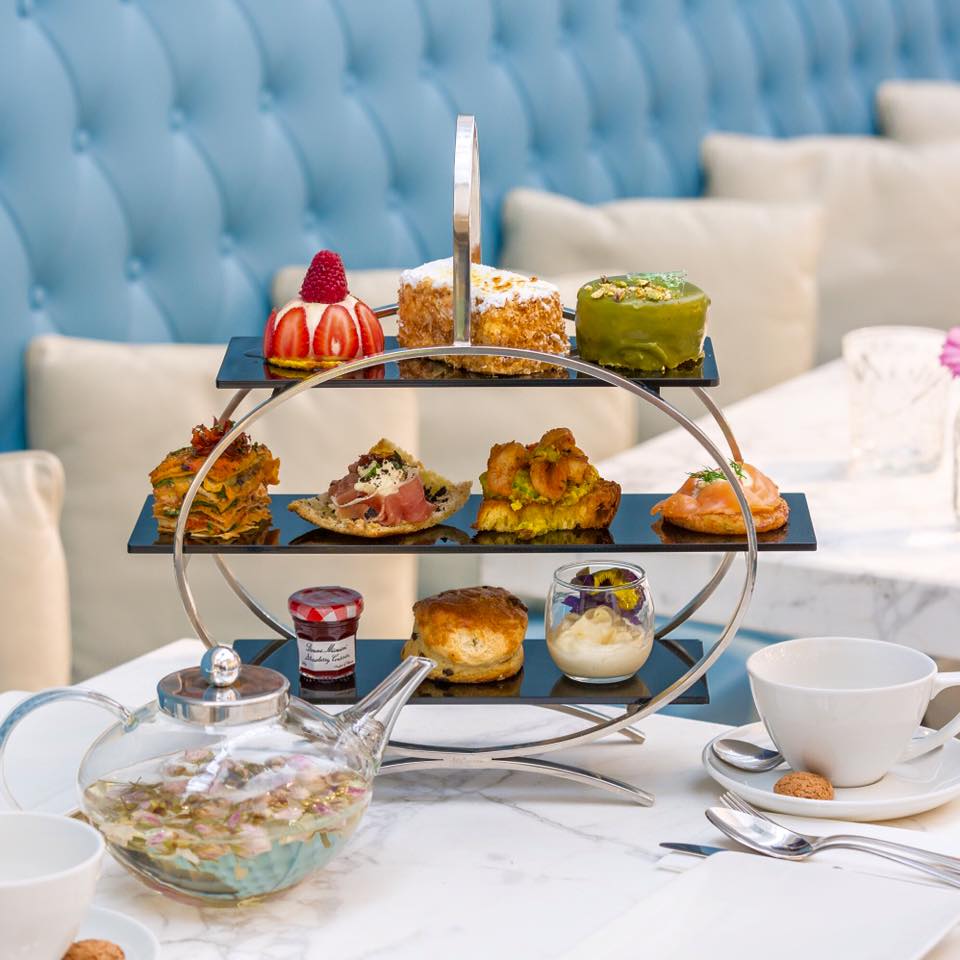 40-42 King Street West, Manchester, M3 2WY
One of the best places for afternoon tea in Manchester, San Carlo is offering delicate cakes, moreish sandwiches and luxurious scones topped with all the British classics. Head here for a tasty time in Insta-worthy surroundings.
Prices unavailable
Open daily during store opening hours.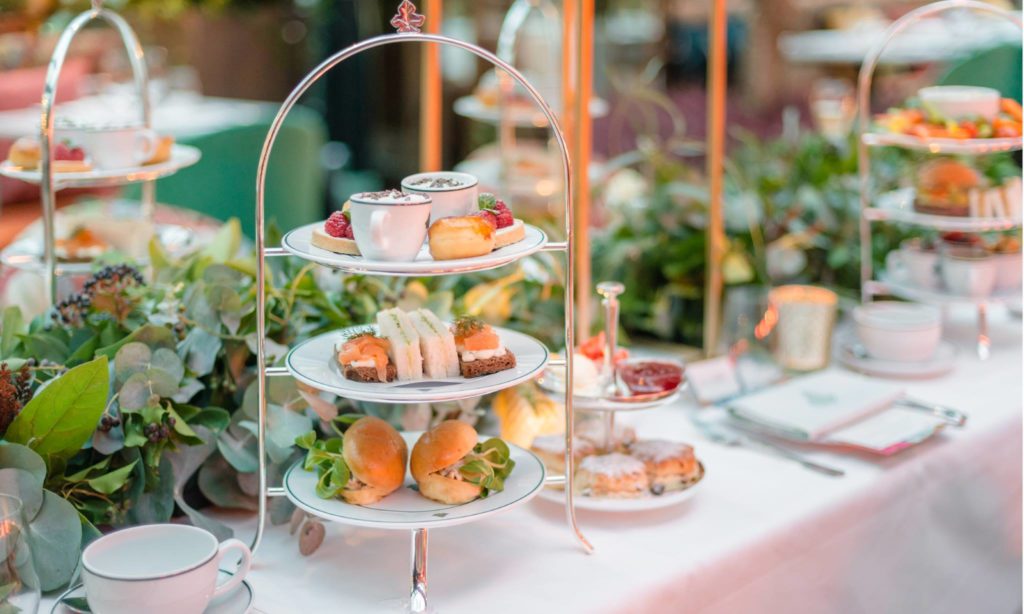 The Pavilion, Byrom St, Manchester M3 3HG
A fashionable and sociable affair it is the perfect mid-afternoon indulgence. Delight in afternoon tea in a beautiful setting with charming treats of sandwiches, savouries, cakes and scones created and presented to excite the taste buds and all served with a choice of teas or coffee.
Tea for Two £44.00
See website for opening times.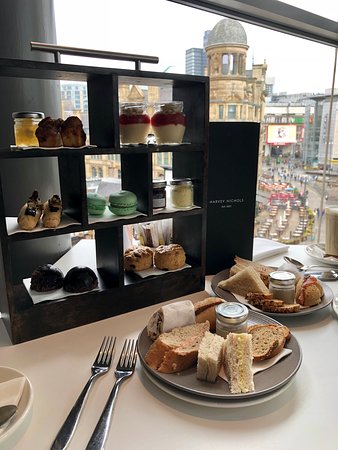 21 Cathedral Street, M1 1AD
Harvey Nichols' second-floor brasserie has quietly established itself as a place to escape the bustling city centre. The floor to ceiling windows deliver glorious views over the city. Enjoy all of the usual favourites you'd expect from a classic afternoon tea.
Priced at £39 for a Luxury Afternoon Tea for two with a cocktail each.
Open daily during store opening hours.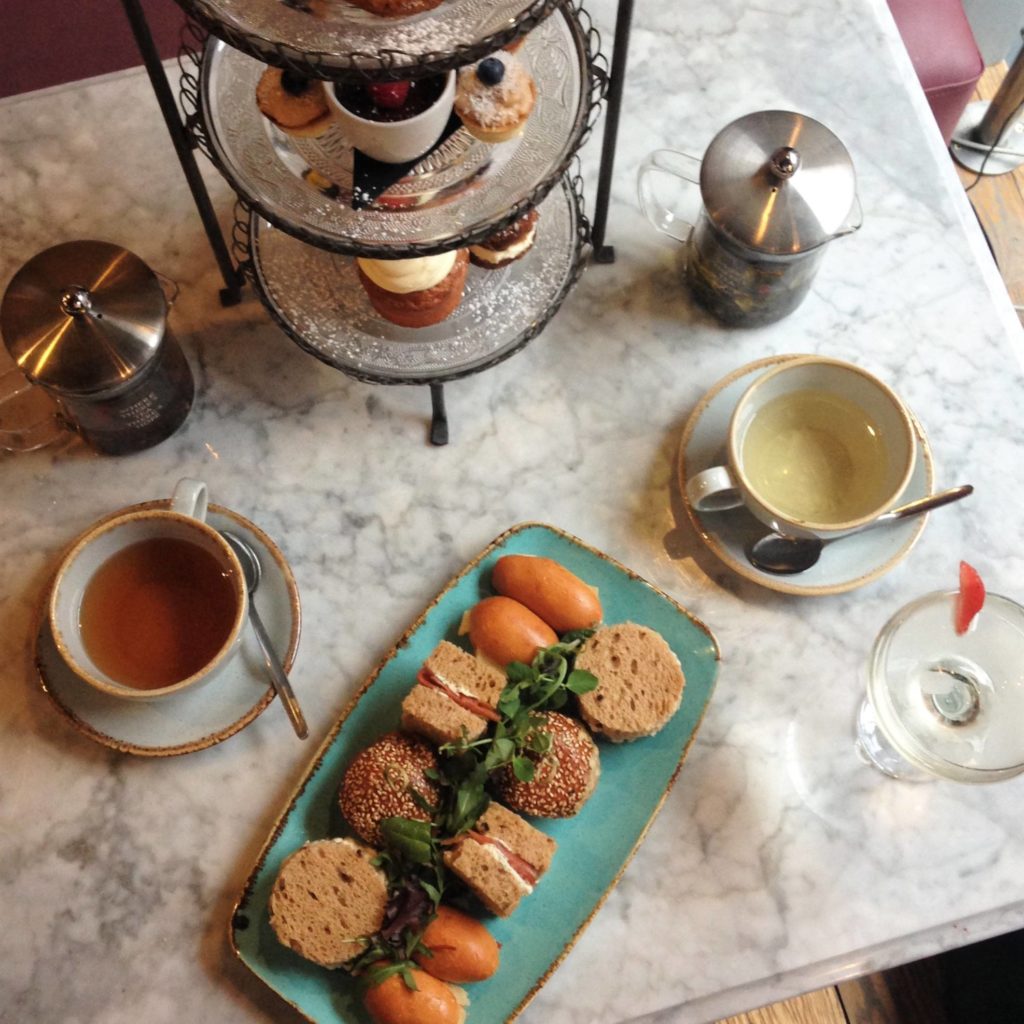 13–115 Portland St, Manchester, M1 6DW
Head to LEAF Manchester for wholesome food, award winning loose-leaf tea and a great drinks menu. Their afternoon tea offer includes a delicious selection of sandwiches and homemade cakes which is served with unlimited tea. Perfectly positioned in the heart of the bustling Manchester city centre, LEAF is housed in the former CUBE gallery and RIBA building, providing a unique and intimate space to enjoy afternoon tea.
Prices unavailable.
Afternoon tea is served daily 12.00 – 16.00.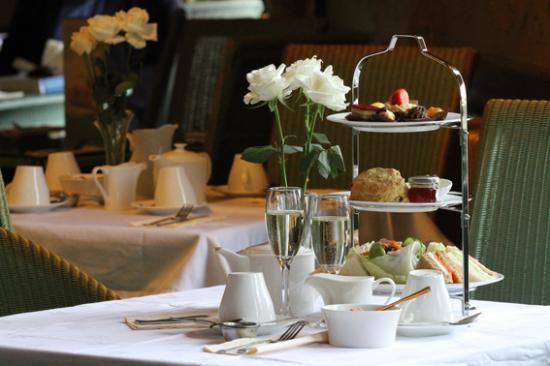 The Plaza Super Cinema and Variety Theatre, Mersey Square, Stockport SK1 1SP
When Stockport's Grade II-listed 'Super Cinema began its restoration in 2000, it took nearly a decade to be returned to its Art Deco glory. Afternoon tea here feels like stepping back in time, with waiters in tailcoats and waitresses in starched black-and-white uniforms. The tea is comfortingly traditional, with scones and clotted cream, and sandwiches with prawns and Marie Rose sauce. The Old Tom Tea couples crumpets and savoury scones with a bottle of sturdy Old Tom ale from local brewery Robinsons.
Prices unavailable.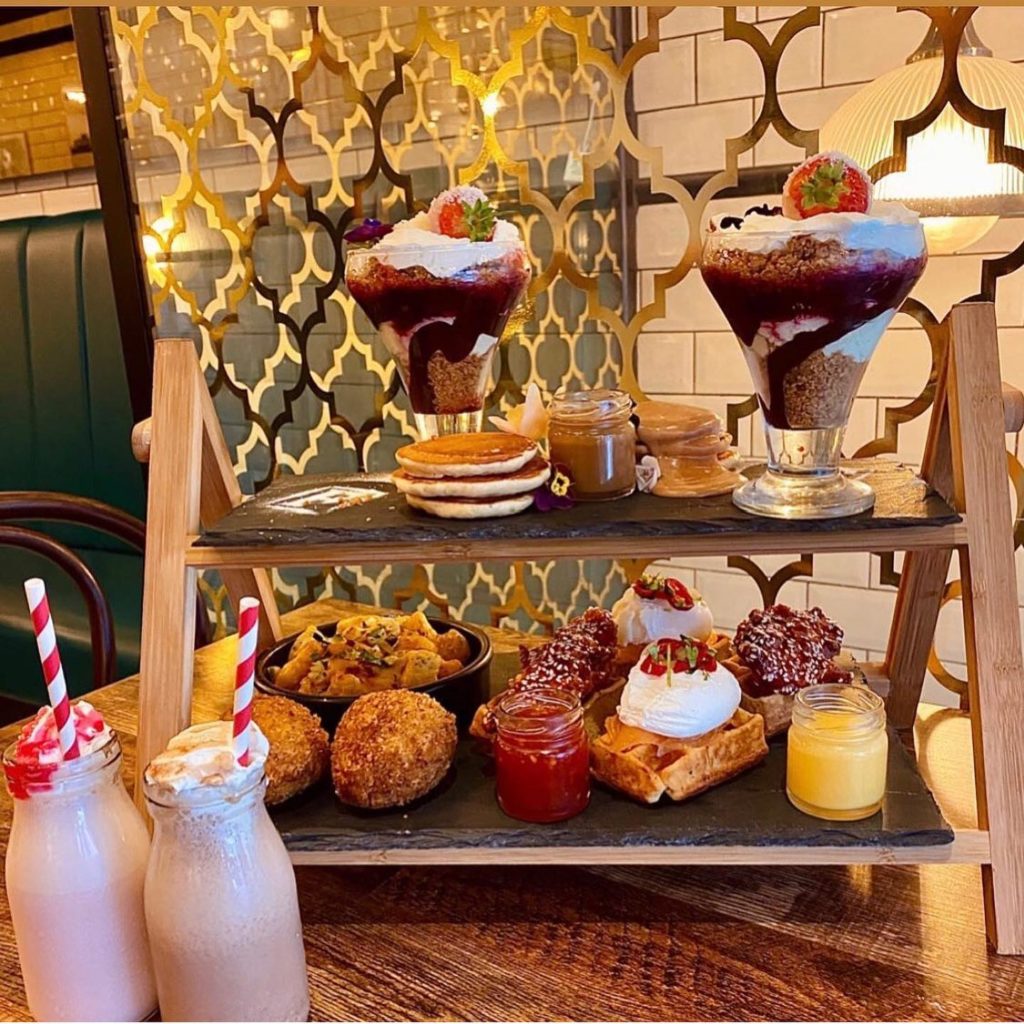 62 Oldham St, Manchester M4 1LE
The Fress afternoon tea is packed with all the sugary goodness. Start off with savoury treats such as chicken and waffles, before moving on to the huge layered cheesecakes, pancakes and milkshakes.
Priced at £20 per person.
See website for opening times.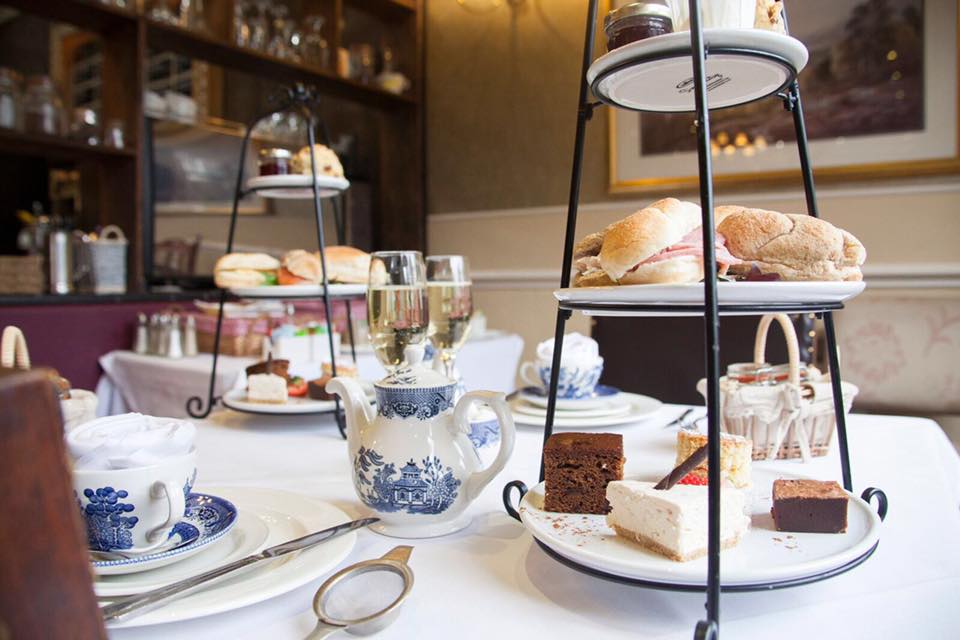 Hollinwood Ave, Oldham, Chadderton OL9 8DE
Part of an 1800's Victorian manor house that got converted over the years, Mr. Brown's is a newly refurbished restaurant within The Victoria Hotel.
Afternoon Tea comprises of various tea choices, a complimentary glass of prosecco per person, freshly baked scones with clotted cream, strawberry and raspberry preserves, a selection of freshly prepared sandwiches and an assortment of cakes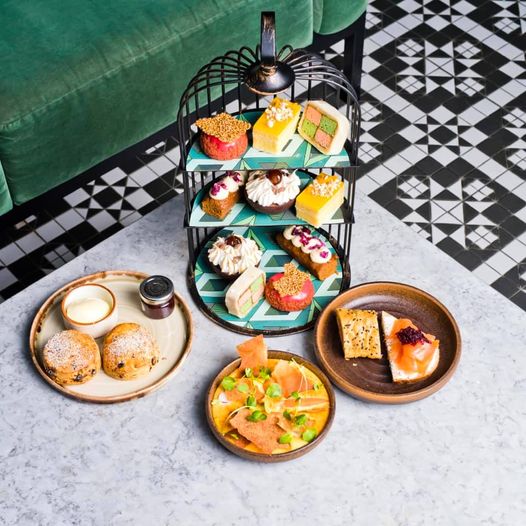 Oxford St, Manchester M60 7HA
Expect a classic affair with a contemporary twist, featuring savoury treats, scones and three-tiers of sweet treats. The new afternoon tea menu at The Refuge is available every Tuesday to Thursday, served from 1pm to 4pm, from Tuesday 20 July.
For savoury treats, there's a Cheddar cheese custard with flatbread crisps, baby carrots and radishes; a fresh Oak-smoked salmon with beetroot chutney, labneh and pumpernickel; and a punchy Pork and kimchi sausage roll. To follow, there's buttery Date and sour cherry scones, accompanied by clotted cream and strawberry preserve.
But the showstopper is a three-tiered cake stand, featuring Fig Battenberg, Passion fruit and white chocolate opera cake, Spiced carrot cake with cardamom and rose petal, Yoghurt, honey and tahini choux bun, and a Black Forest gateaux.
Do you have a favourite place to go for an Afternoon Tea?