Considering an Afternoon Tea in London but unsure which establishments offer afternoon tea and which are the best places to go.
We have compiled a list of the best afternoon tea London can provide, so if you are looking for the perfect afternoon tea with friends, a romantic valentines afternoon tea, a mothers day afternoon tea treat for your mum, a fathers day treat for your dad or just a special treat for yourself, check out:
80 Best Afternoon Tea London Has To Offer
Afternoon Tea in The West End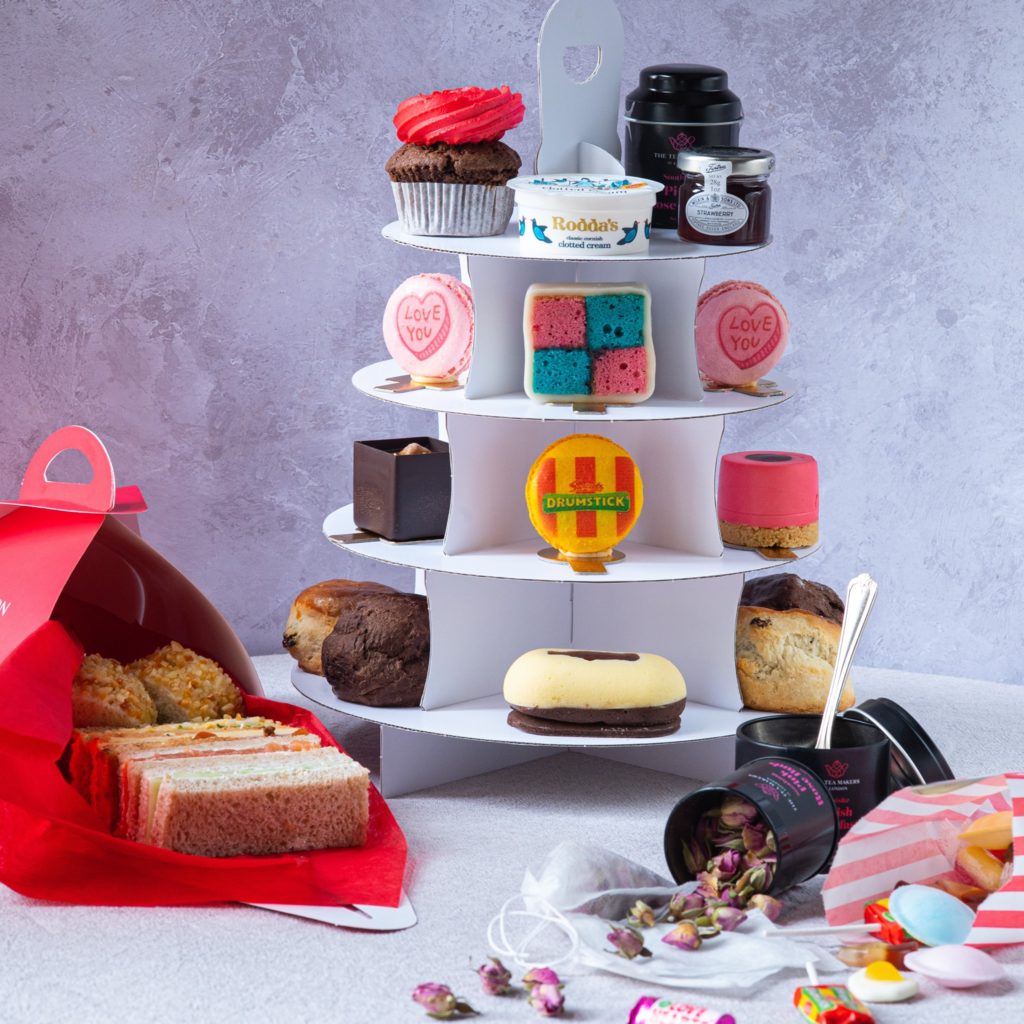 35 Charles St, Mayfair, London W1J 5EB
From the theatrical smoking pink lemonade, to the surprising and delicious sweetshop-themed cakes this whimsical afternoon tea brings a playful, bygone area to life. Scrumptious chocolate scones and mouthwatering finger sandwiches such as finely-sliced smoked salmon on beetroot bread, are accompanied by a gloriously long tea list, or perhaps an indulgent glass of Champagne.
See website for prices
Served daily from 12.50-5.30pm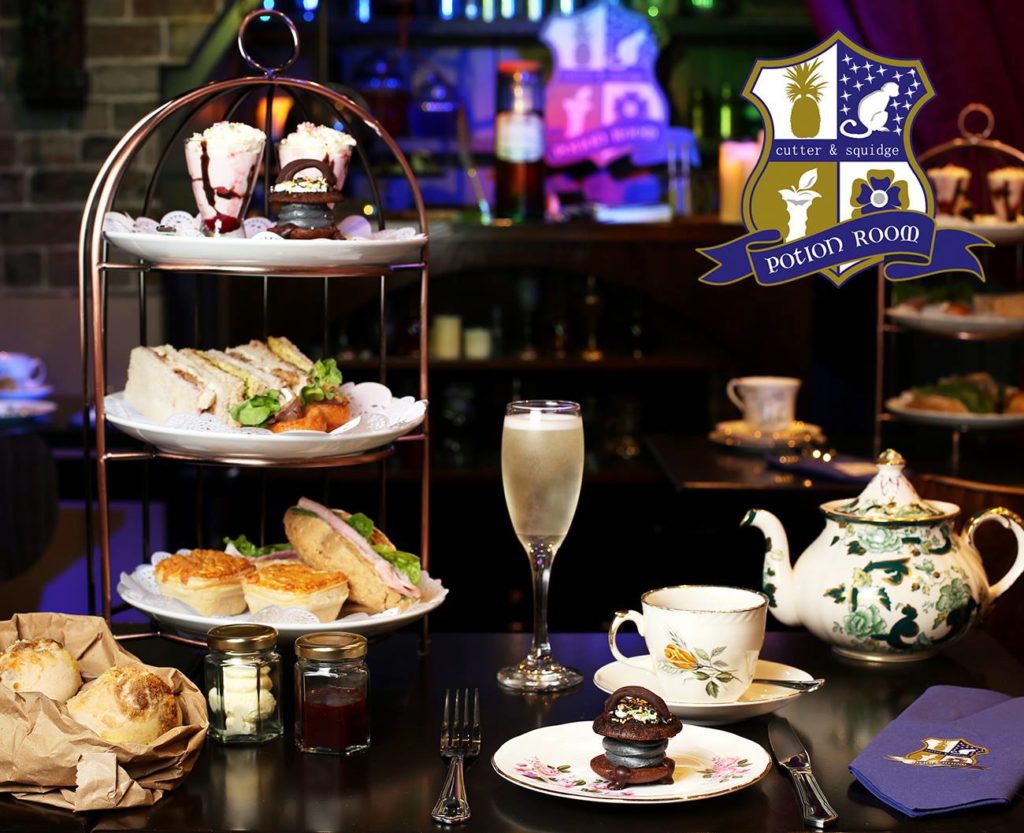 Cutter & Squidge, 20 Brewer Street, Soho, W1F 0SJ
Leave the busy streets of London behind as you descend downstairs into the potion class. Get cloaked up, and then take your seat at the school-style desks and await your Potions Master. During your 2 hour experience, you will be treated to a delicious sweet and savoury Afternoon Tea inspired by classic British flavours. Combined with the drinkable and edible potions you will be creating, will ensure that you are bubbling to the brim by the time your class ends!
Prices start from £49.50 for adults, £39.50 for kids
See website for opening times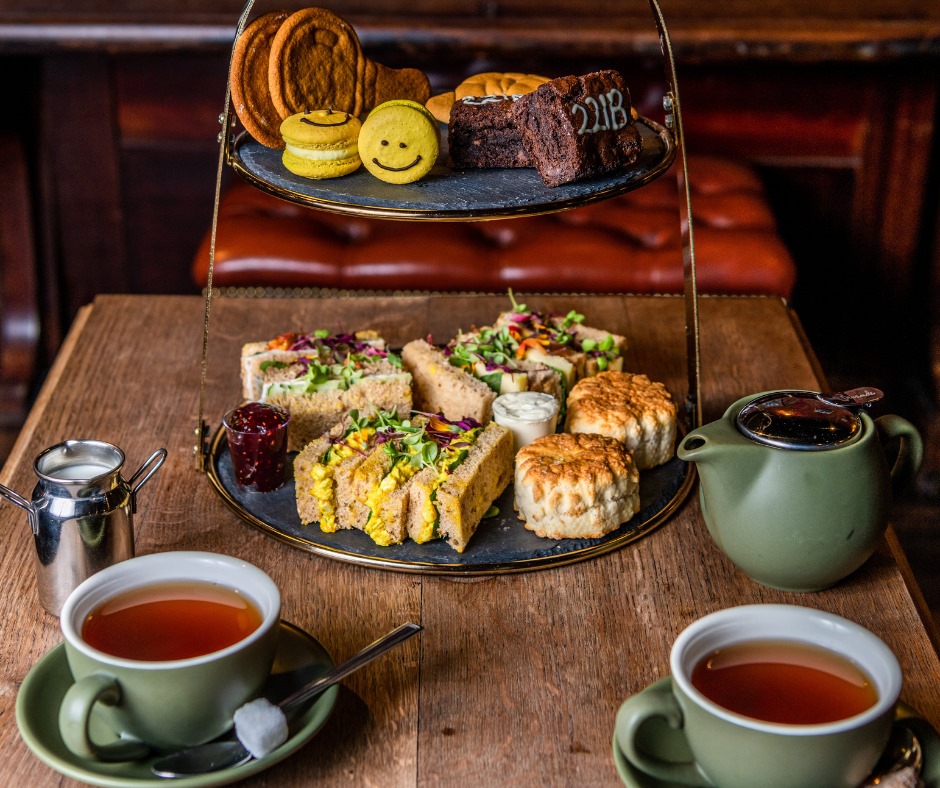 Doyle's Opticians, ground floor of the West 12 Shopping Centre, W12 8PP
As well as the bar's cocktail experience where you'll solve puzzles in return for booze, The Mind Palace also serves up a Sherlock inspired afternoon tea. Once you've solved the mini-mystery, you can tuck into a selection of freshly made sandwiches, scones served with cream and jam, and Sherlock-inspired sweet treats such as the 221B Brownie and a delicious Deerstalker Cookie.
Visit the website for further details of prices and how to book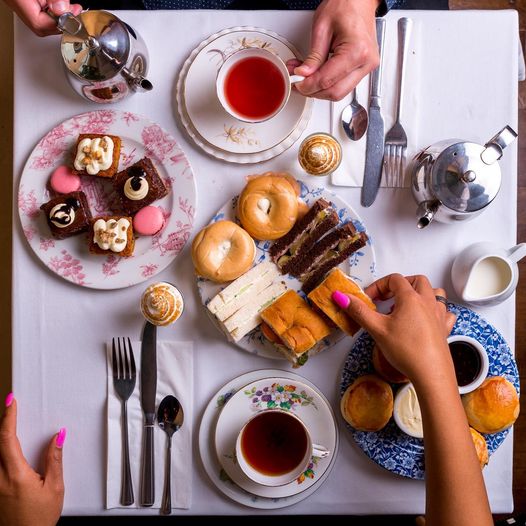 40 Wellington Street, Covent Garden, WC2E 7BD
Situated within the theatre district and only a short walk from the Royal Opera House, Boulevard Brasserie is perfectly located to enjoy an Afternoon Tea in Covent Garden.
Enjoy a choice of fine teas and coffees, accompanied by a selection of savouries, freshly baked scones with clotted cream and strawberry preserve and an assortment of homemade miniature cakes and tarts.
Traditional Afternoon Tea is £21.95 per person
Served Monday to Sunday from 12 noon to 3.30pm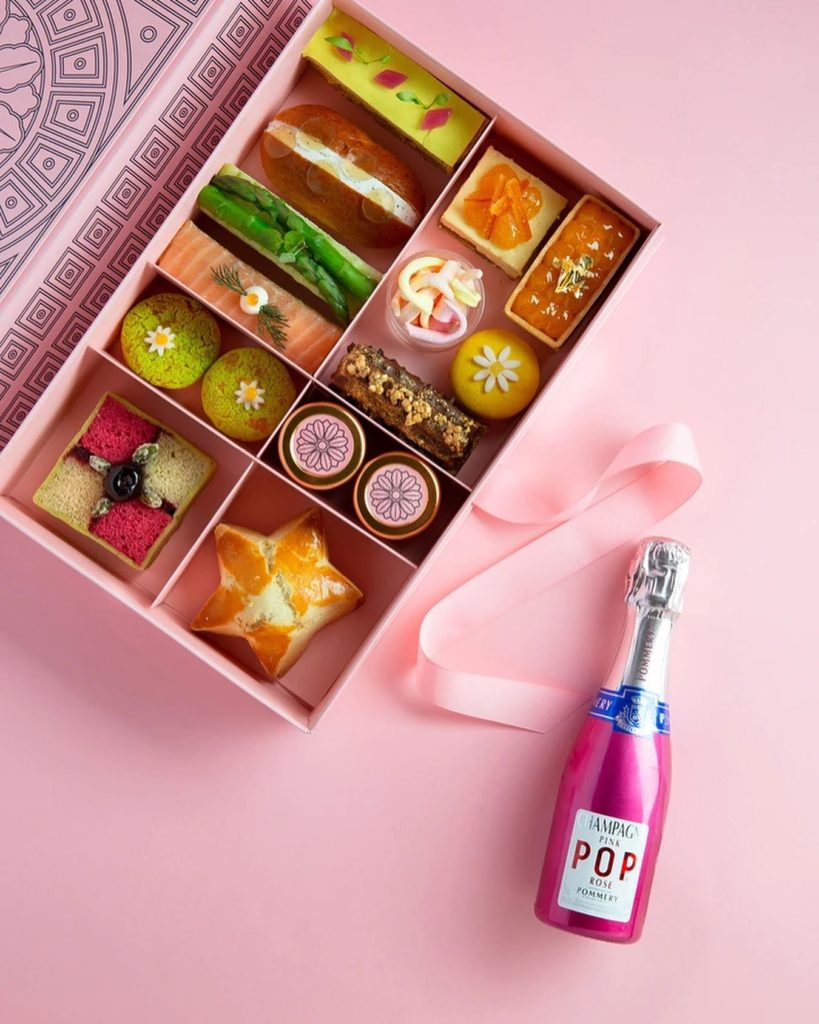 9 Conduit Street, Mayfair, W1S 2XG
Inside this 18th Century townhouse, you'll find the pretty pink Gallery, where afternoon tea is held. As well as being easy on the eye, the delightful treats, including quail's egg finger sandwiches, puffy macaroons and pastries are sure to delight you. Plus the whole place is an Instagrammer's dream!
See website for prices
Served daily 11am-4.00pm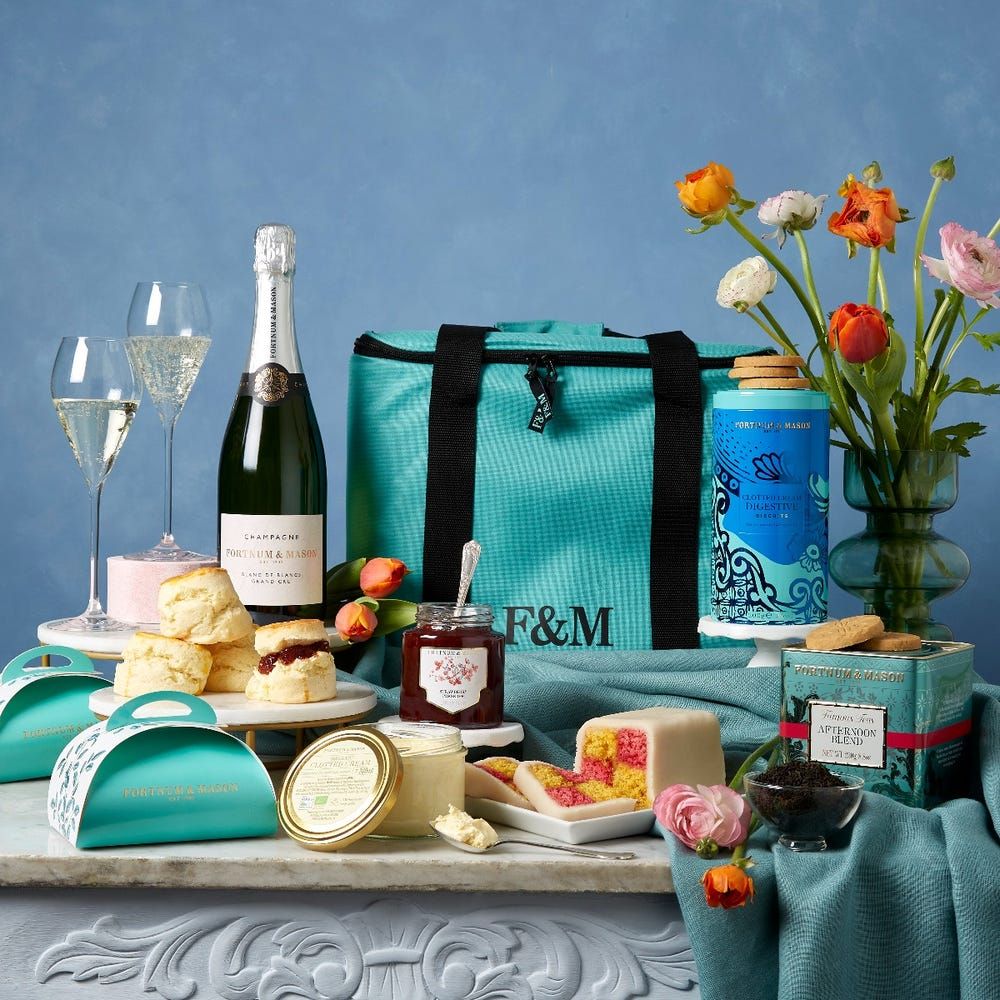 181 Piccadilly, St. James's, W1A 1ER
With a rich history of over 300 years producing and selling tea, there's arguably no better place for an elegant afternoon tea. It is served in the Diamond Jubilee Tea Salon, you'll note the running theme of F&M's famous pale blue and the selection of finger sandwiches and cakes is traditional.
See website for reservations and opening times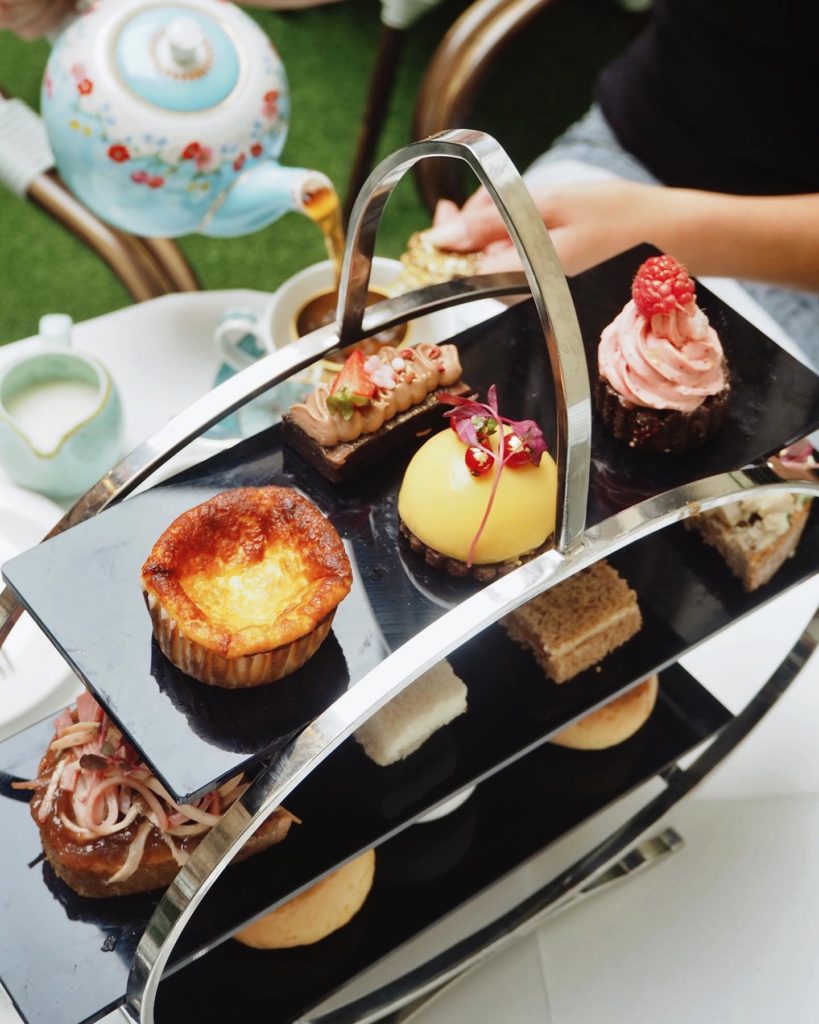 8 Lancashire Court, Brook Street, W1S 1EY
Hush Mayfair's 'Gin and Jam Afternoon Tea' provides the perfect mixture of traditional and new elements. You are welcomed with a drink, created with Hush's own boutique gin, before being served up an amazing array of sandwiches and sweets.
Visit the website for prices and opening times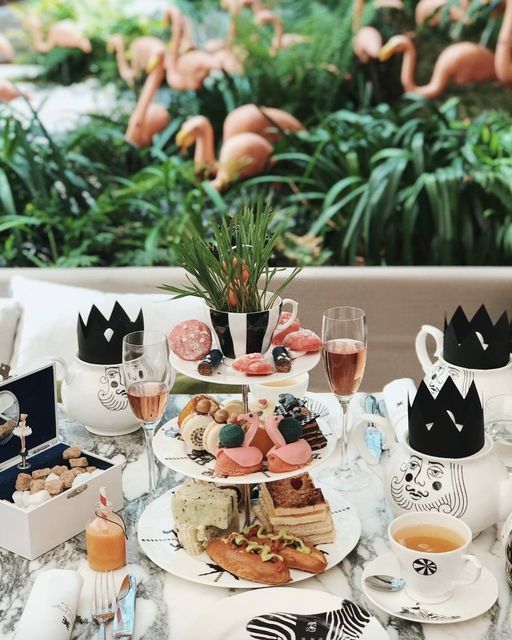 Sanderson Hotel, 50 Berners Street, Fitzrovia, W1T 3NG
Accompanied with teapots adorned with kings and queens, Mad Hatters Afternoon Tea is full of sweet treats and savoury delights to tantalise your taste buds, including an Alice's Exotic Fruits "Drink Me" potion. There's no excuse to be late for this very important date!
Mad Hatters Afternoon Tea is priced from £48 per person and £35 per child (for children 4-11 years old)
Served Monday to Saturday 12.30-4.00pm; Sunday 1.00-5.00pm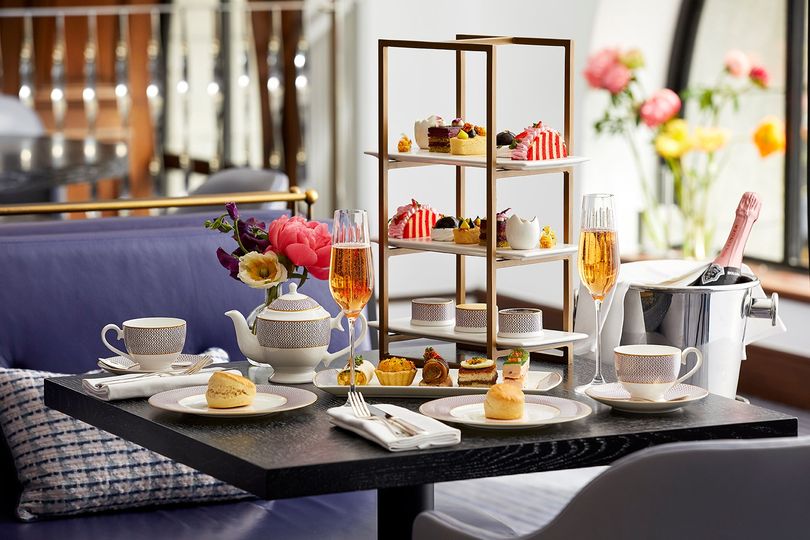 One Aldwych, Covent Garden, WC2B 4BZ
Fizzy lifting drinks, snozzberry jam, chocolate swudge milkshake mixed by waterfall… Indulge your inner child and adventure into the magical, mouth-watering world of Charlie and the Chocolate Factory with our enchanting afternoon tea – inspired by Roald Dahl's iconic story.
Afternoon tea – £52 per person
Wednesday to Friday 12 noon – 4.00pm; Saturday and Sunday 12 noon – 5.00pm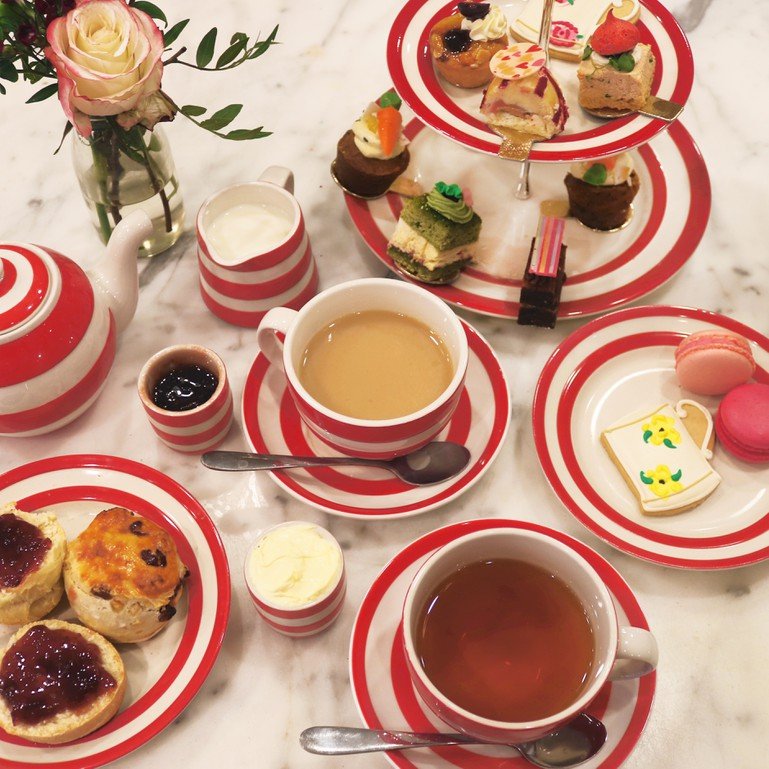 194 Kensington Park Rd, Notting Hill, London W11 2ES
Biscuiteers are the adorable iced biscuit cafés based in both Notting Hill and Battersea. The afternoon tea includes miniature versions of their most loved cakes and patisseries in beautiful flavours, alongside their famous iced biscuits.
£35 per person
Afternoon Tea is served between 11:00am and 4:00pm daily
160 Piccadilly, St James's London, W1J 9EB
The Wolseley is a lovely place to visit at any time of day. But it particularly comes into its own for afternoon tea, which comes with all the usual sweet and savoury trimmings. For a classic Afternoon Tea, enjoy our assortment of finger sandwiches, cakes, fruit scones with homemade jam and clotted cream, accompanied by a choice of our most popular teas.
Classic afternoon tea from £27.95 per person
Visit the website for opening times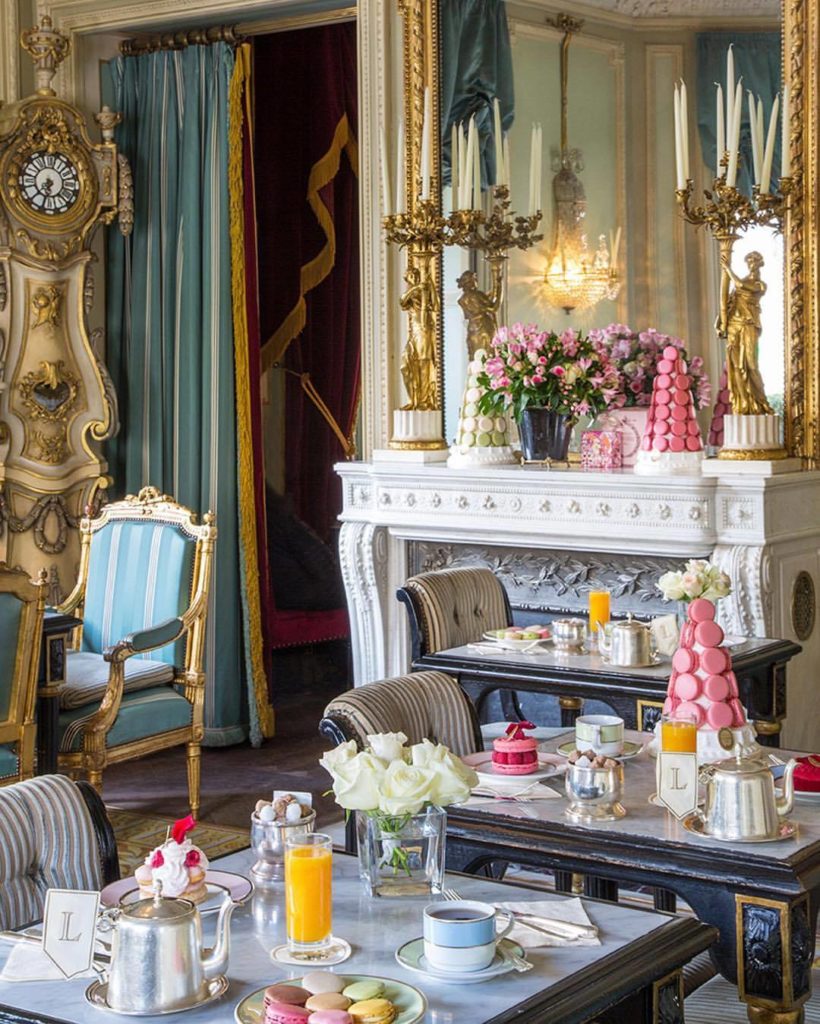 The Market, Covent Garden, WC2E 8RA
The warren of tea rooms here are painted in hues of pastel greens, blues and lilacs, and crammed with Louis XVIth furnishings. Tucked away in the rafters of Covent Garden market, they have the endearing feel of an eccentric granny's attic – angle for a spot on the colonnaded balcony for a rare view over the marketplace.
Visit the website for prices and opening times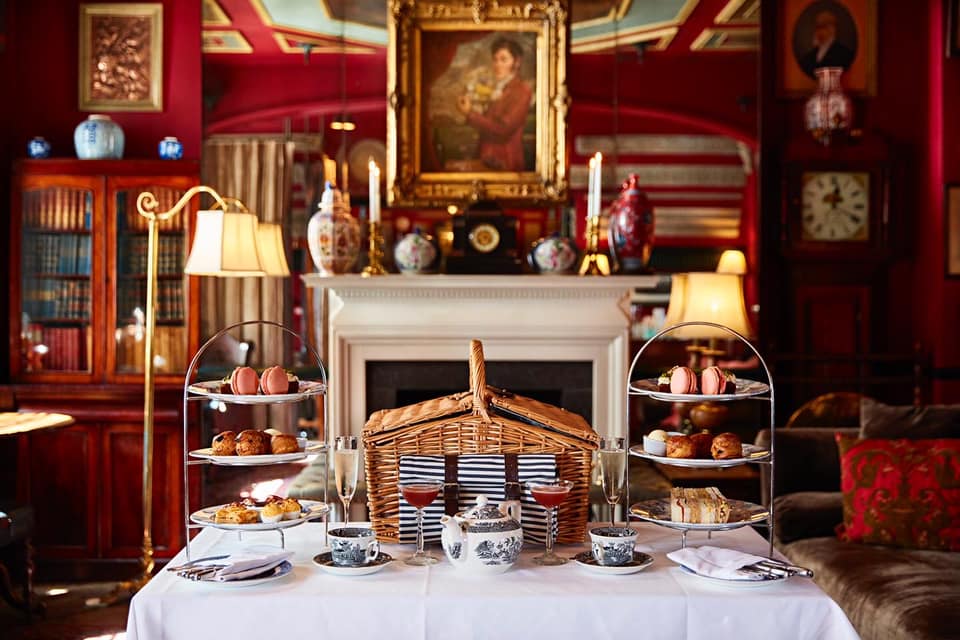 Seymour's Parlour, The Zetter Townhouse Marylebone, 28-30 Seymour Street, London, W1H 7JB
The Zetter Townhouse is a particularly atmospheric spot to take tea. There's two menus to pick from; Aunt Wilhelmina or Uncle Seymour – including traditional tea, and the latter a punchy platter of pasties, devilled eggs and truffled sausage rolls. Plus, you can even collect your afternoon tea in a picnic hamper to head off and enjoy in the park.
From £40 per person
Served daily 12 noon – 5.00pm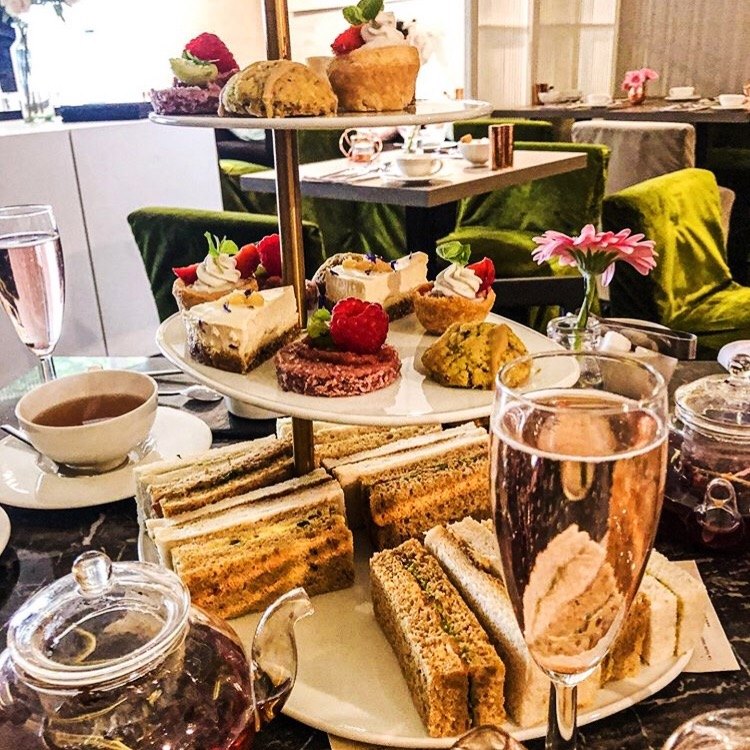 41-51 Inverness Terrace, Bayswater, London W2 3JN
Sleek hotel, La Suite West have stepped up to the plate, serving an all-vegan afternoon tea in the minimalist bliss of their private terrace by Hyde Park. They have a very large selection of fine teas served with finger sandwiches and scones.
From £35 per person
Visit the website for opening times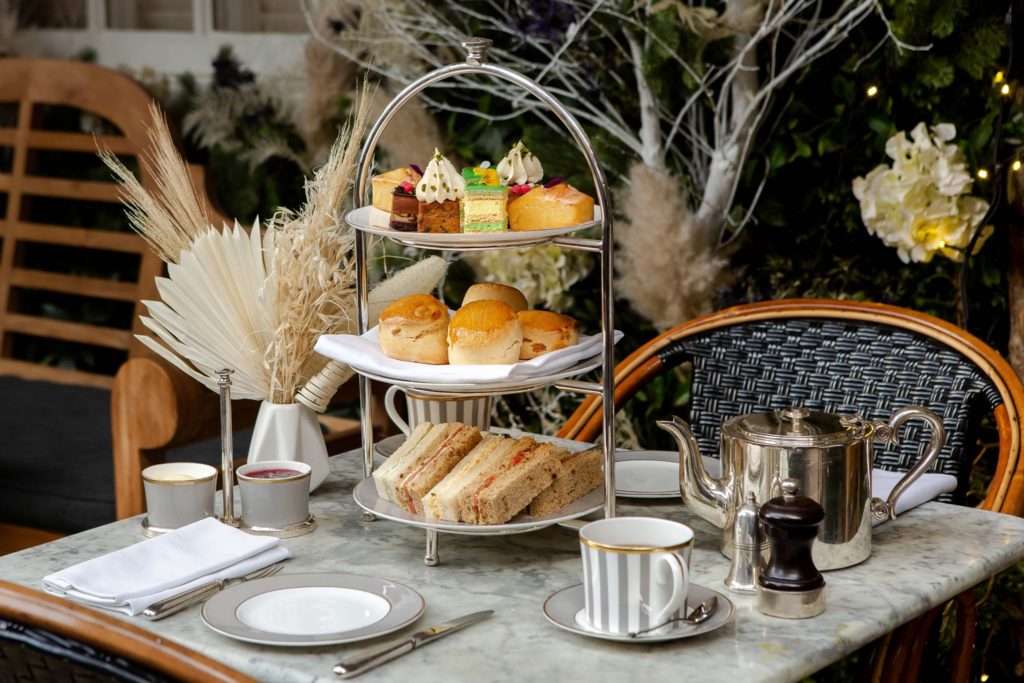 16-22 Great Russell Street, Fitzrovia, London WC1B 3NN
The Dalloway Terrace promises to shower you with smoked salmon and lemon creme fraiche sandwiches; golden raisin scones; yuzu and green tea opera cake; and a beautiful view of hanging flowers overhead.
Visit the website for prices and reservations
Served daily 1.00-4.00pm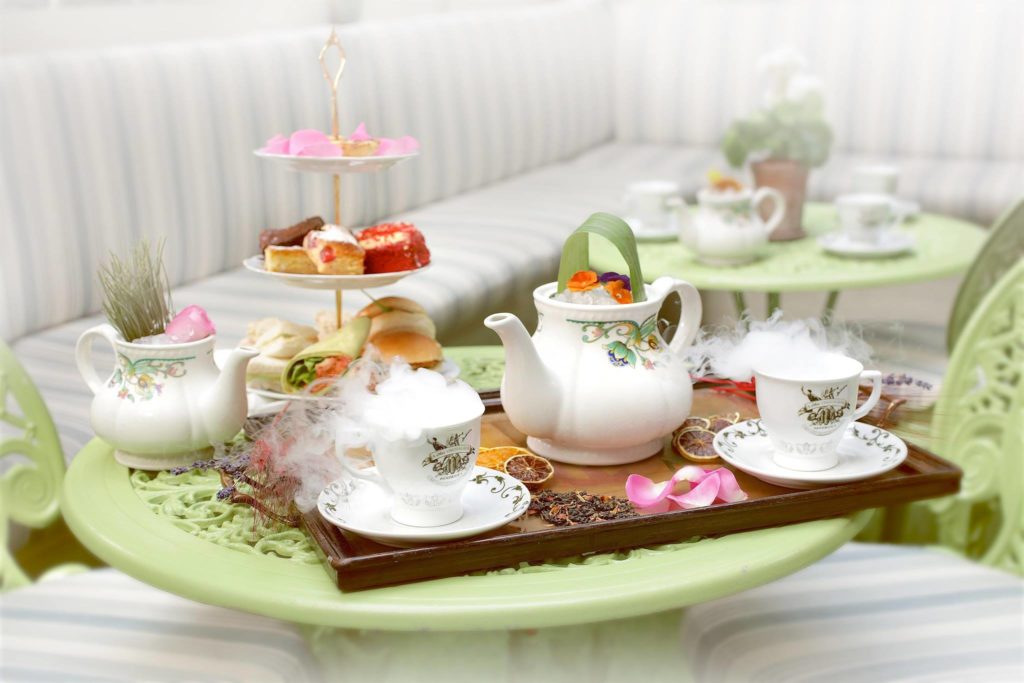 Mr. Fogg's (Mayfair, Fitzrovia, and Covent Garden) offer trays full of traditional sandwiches and cakes alongside not-so-traditional bottomless tea cocktails – something that will no doubt make the eccentric Victorian décor and all sorts of other weird and wonderfulness seem perfectly normal by the end.
Visit the website to select a venue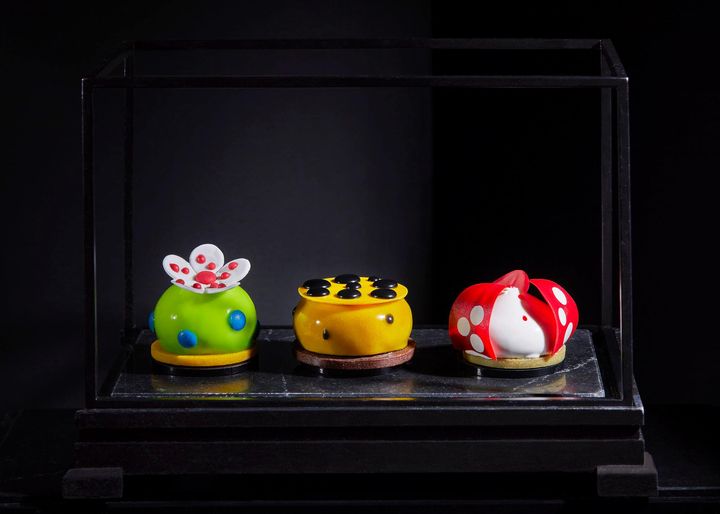 252 High Holborn, London, WC1V 7EN
Rosewood London's Mirror Room has won Best Contemporary Afternoon Tea for two years in a row – which makes sense, since it's inspired by contemporary art. The last inspiration for afternoon tea was Picasso.
Art Afternoon tea from £65
Visit the website for reservations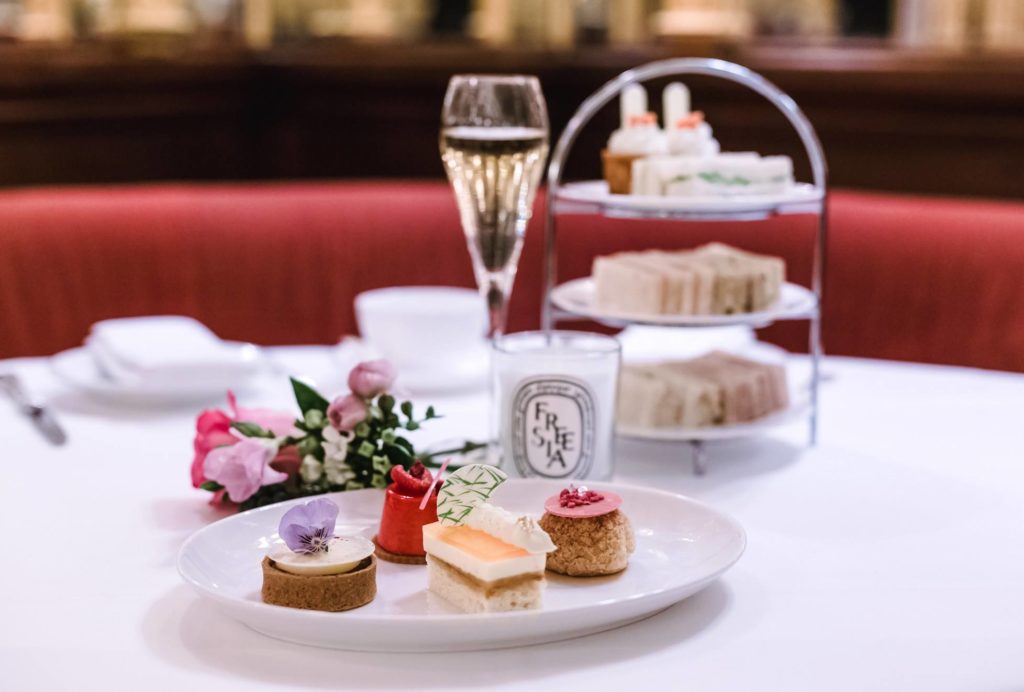 Hotel Café Royal, 68 Regent Street , London, W1B 4DY
The hotel's gilded, ornate dining room is now named in honour of one of its most famous patrons; Oscar Wilde. Gloriously extravagant, with ceiling frescoes and golden crockery, it's a fitting setting for their afternoon tea inspired by Queen Victoria – where you can enjoy coronation chicken sandwiches, miniature Victoria sponges, blancmange pastries and Victorian teas.
Visit the website for reservations and prices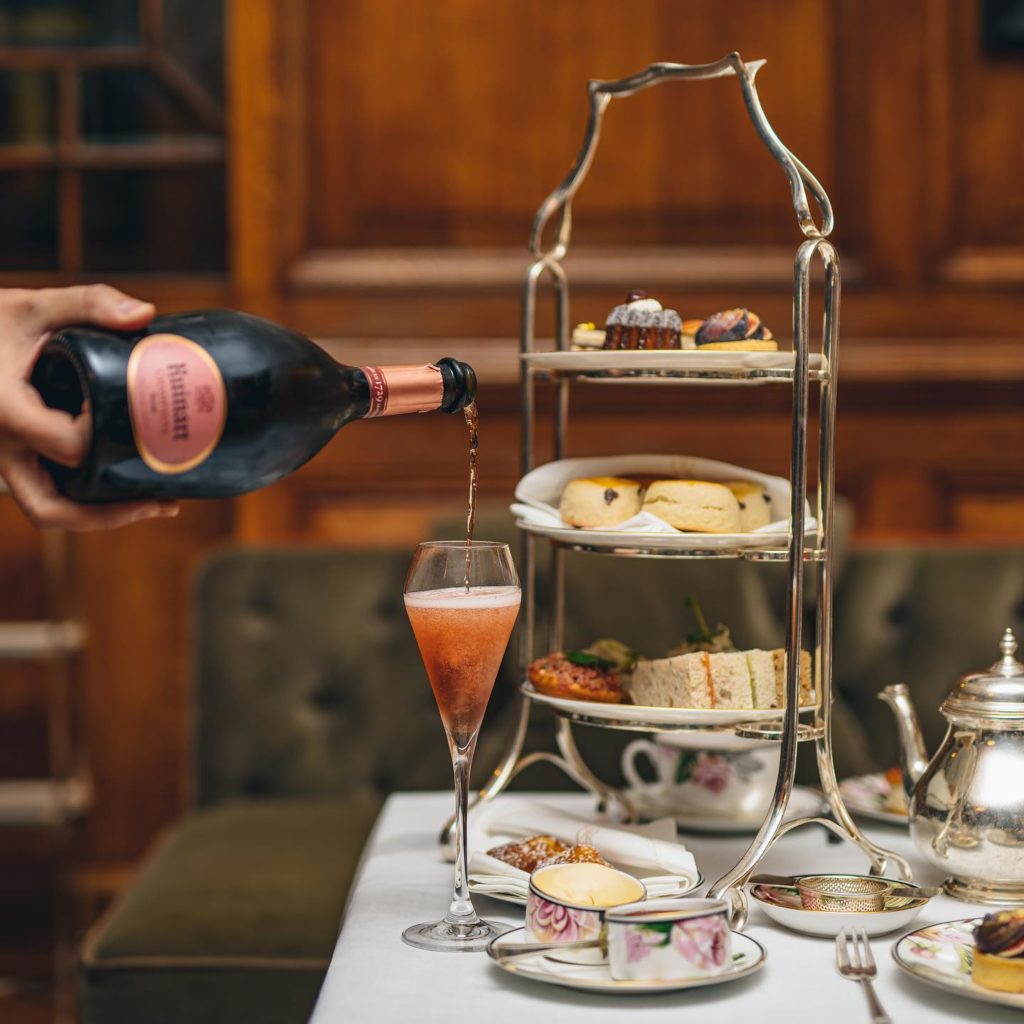 Ground Floor, 33 Albemarle Street, Mayfair, London W1S 4BP
The Drawing Room is secreted away in Brown's Hotel, a grand establishment taking up no fewer than 11 Georgian townhouses in Mayfair. You will enjoy a traditional style afternoon tea with dainty treats.
See the website for reservations and prices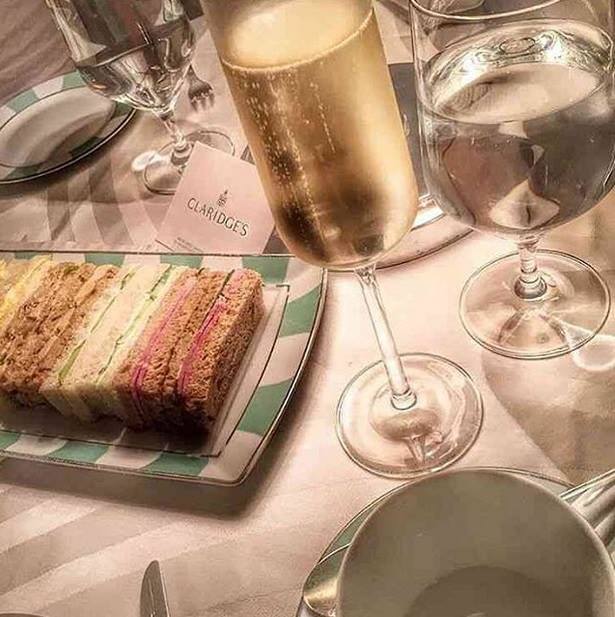 Brook Street, Mayfair, London, W1K 4HR
Claridge's is a classic for a reason – and that reason is a century-tested menu with deluxe takes on the classic finger sandwiches, cakes and scones. Their tea selection has been specially curated and the cutlery is all old-school glamour, designed to mimic the opulent art deco setting.
Visit the website for prices and reservations
Served daily between 2.45 – 5.30pm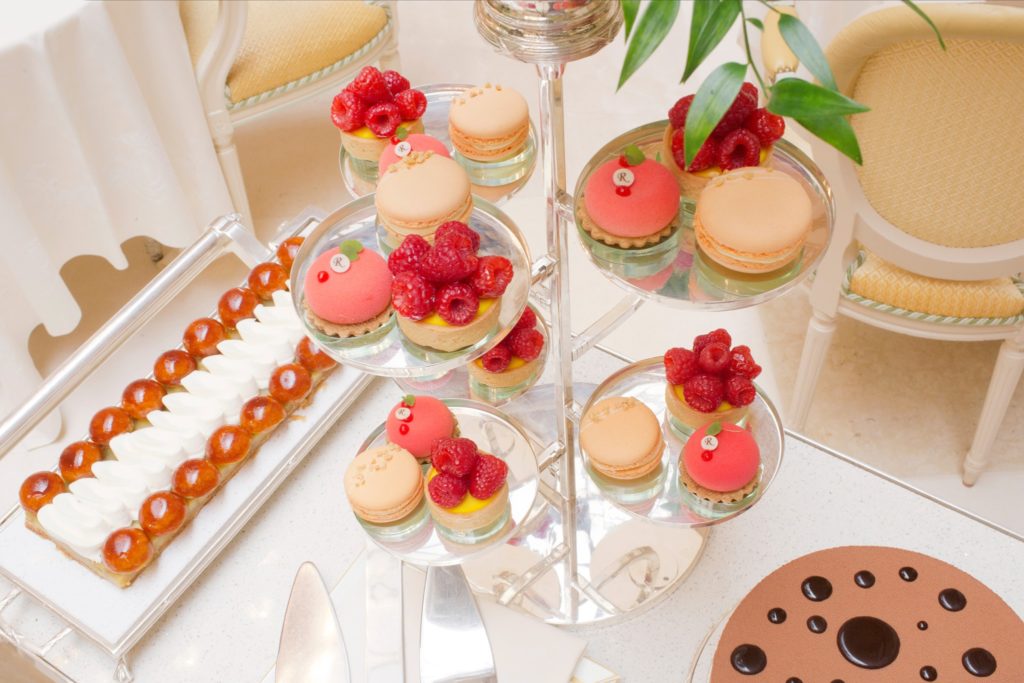 150 Piccadilly, London, W1J 9BR
Served in the spectacular Palm Court flanked by high walls of gleaming mirrors, romantic birdcage chandeliers and vibrant floral displays.
Enjoy finely cut sandwiches together with freshly baked scones served with Cornish clotted cream and strawberry preserve, followed by a selection of afternoon teacakes and pastries. There are also 18 different types of loose-leaf tea to choose from.
From £55 per adult; £35 for children
Served from 11.30am to 7.30pm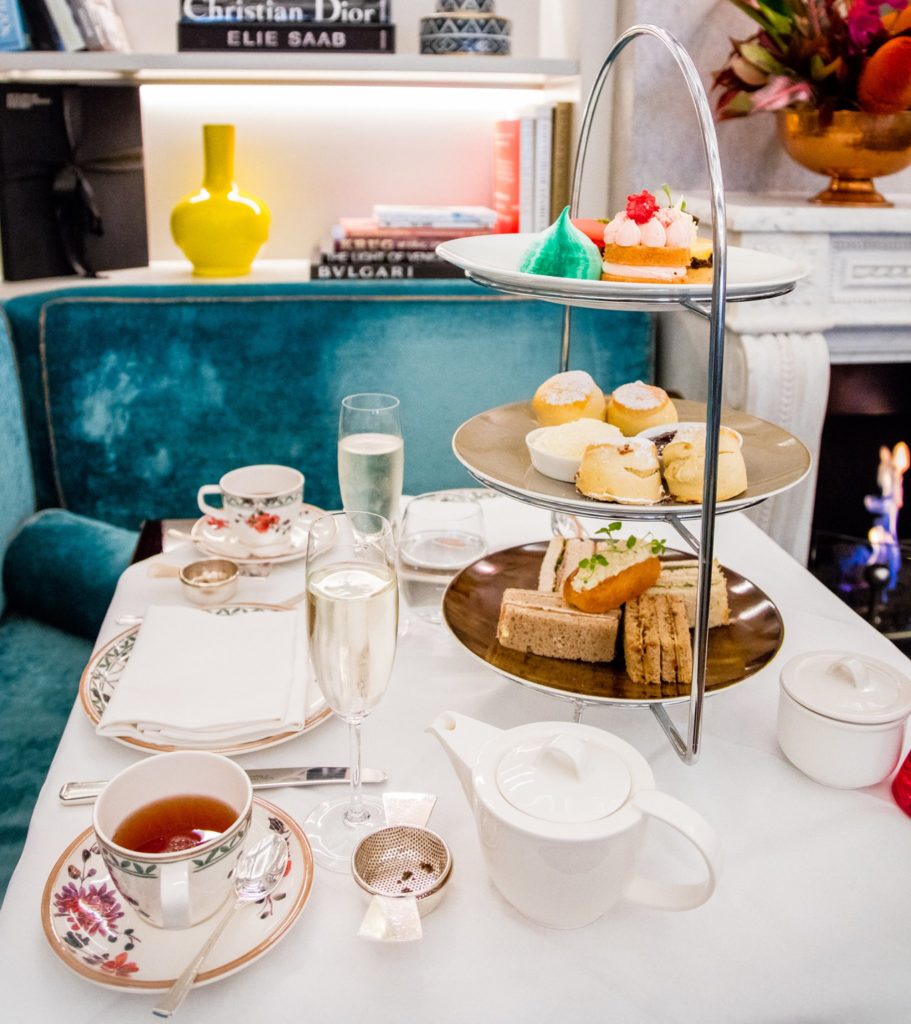 7-12 Half Moon Street, Mayfair, London, W1J 7BH
The Drawing Room serve a range of afternoon teas to suit your preference. Delicate pastries include the likes of chocolate financier and passion fruit ganache, Thai basil and lime macaroon, raspberry and rose pavlova and elderflower and orange marmalade-filled cones among others. Finger sandwiches feature the classic BLT or smoked salmon, lemon chives and cream cheese.
From £34.50 per person
served daily from 12:30pm – 5:00pm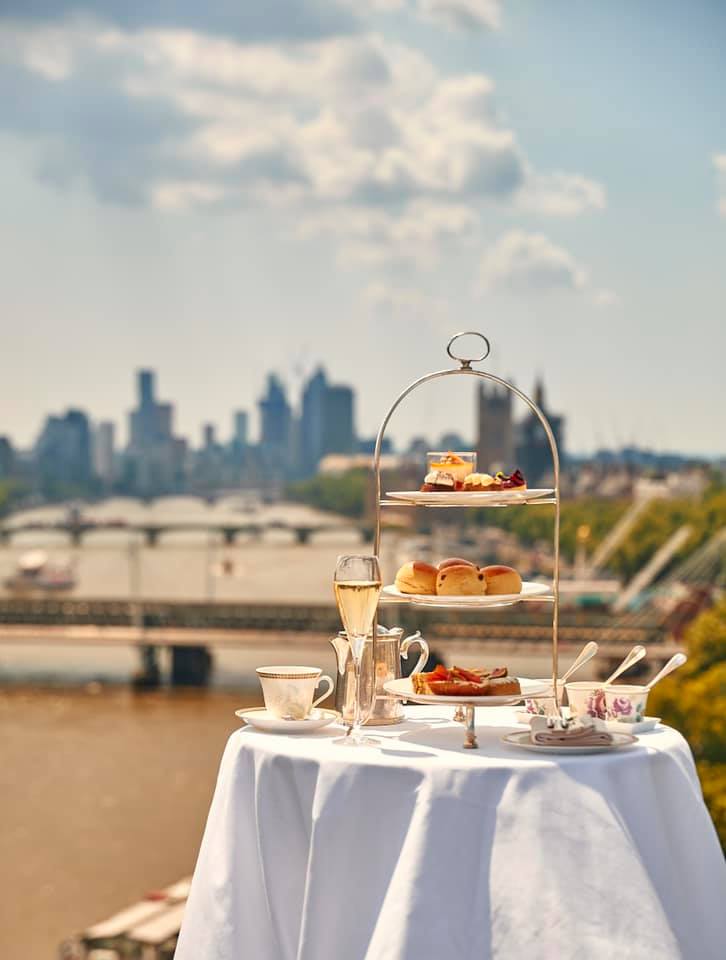 7-12 Half Moon Street, Mayfair, London, W1J 7BH
The Savoy's world-famous Afternoon Tea can be enjoyed in the Thames Foyer, the heart of The Savoy, where a stunning glass dome floods the room with natural light. Afternoon and High Tea favourites, including a range of JING teas served with finger sandwiches, homemade scones with clotted cream and jam – all served on tiered cake stands.
From £65 per person
Visit the website for reservations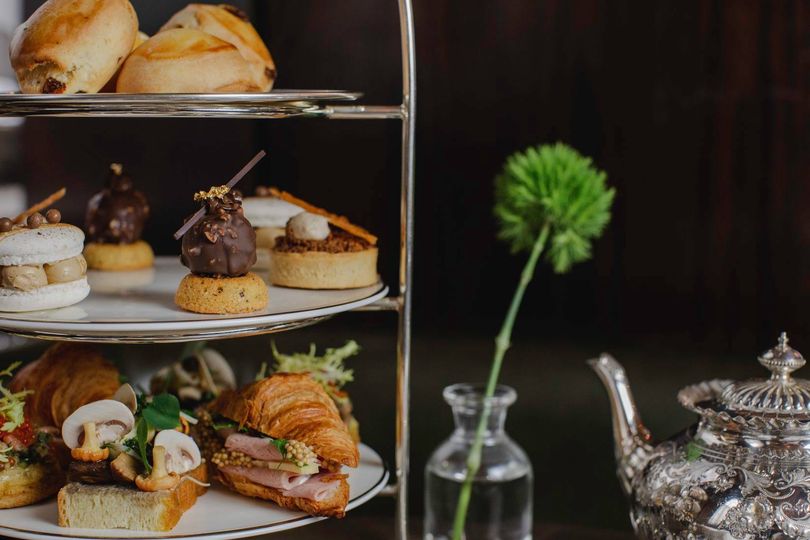 10 Berners Street, London W1T 3NP
With afternoon tea at the Berners Tavern you'll enjoy the likes of sunflower and poppy seed scones; Loch Duarte salmon tartare, pickled cucumber and crème fraiche. On the sweet side, you'll find chocolate and sesame tart with yuzu curd; raspberry mousse with meringue and pink peppercorn; and rhubarb and ginger macaroon with violet.
From £39.50 per person
Visit the website for opening times and reservations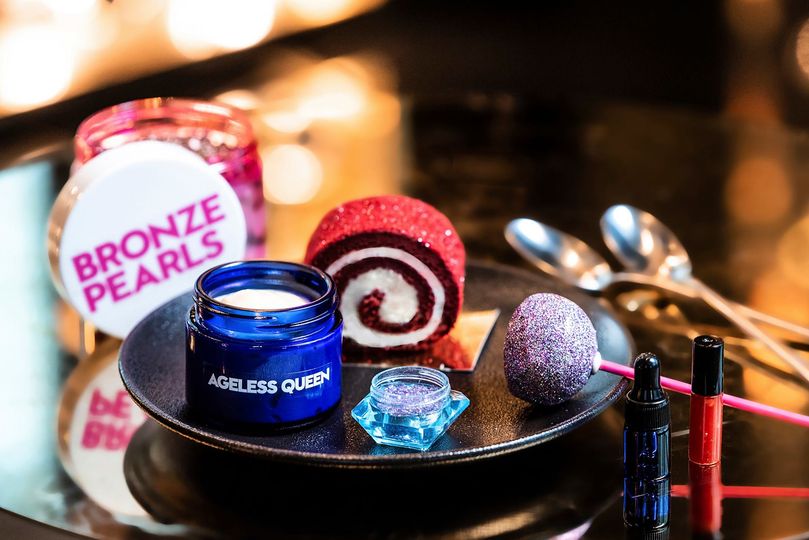 Leicester Square, 10 Wardour St, London W1D 6QF
Tuck into a delicious cosmetics bag full of themed sweet treats. Dip into Ageless Queen, a violet sugar-dusted pot of Crème Catalan or sink your teeth into Glitter Ball, a white chocolate-coated lemon and blueberry cake-pop. All inspired by drag!
From £39 per person
Visit the website for reservations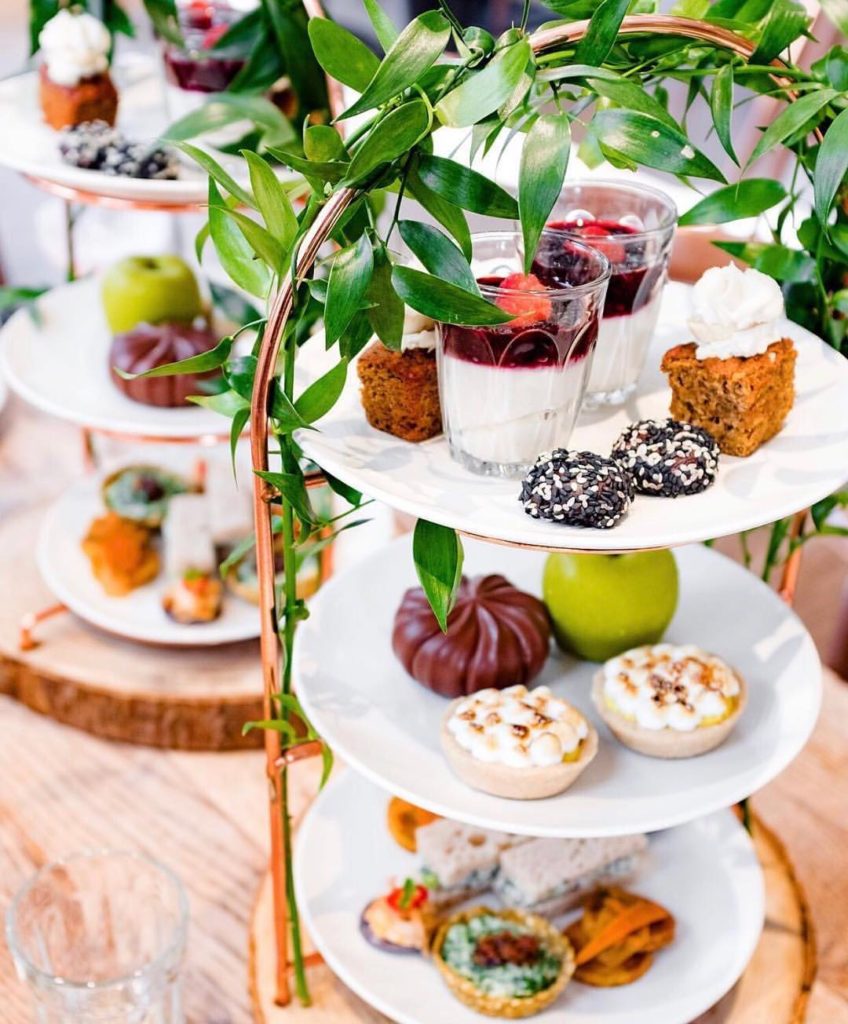 74-76 Westbourne Grove, London W2 5SH
Not your usual afternoon tea in London, Farmacy bring you a dose of CBD, a relaxing experience with hints of CBD oil, get to know this unique eatery on a whole other level.
Visit the website for further details
Served Friday to Sunday from 4.00pm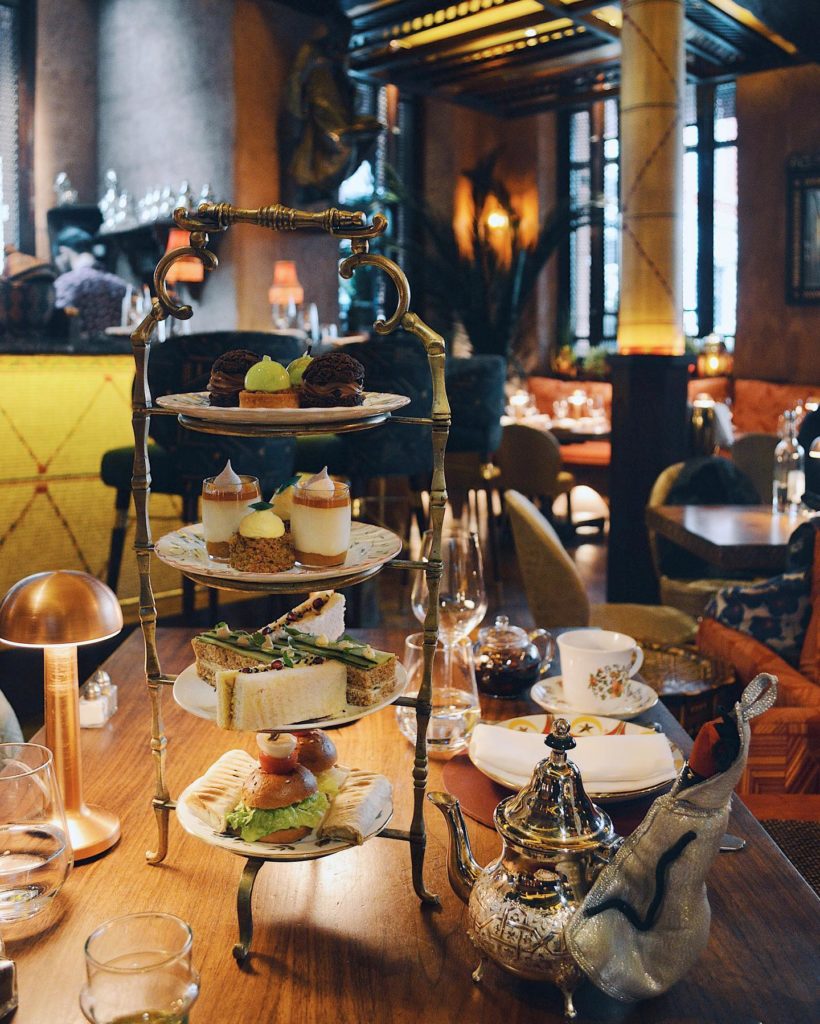 25 Heddon Street, Mayfair, London W1B 4BH
This low-lit café with an array of colourful trinkets is like an exotic bazaar. Bite-sized classics are given an exotic twist. On the sweet side, syrupy maghrebi pastries sit alongside choux buns and black forest gateau, but the real showstoppers are the lightly crumbling date scones paired with clotted cream, lemon curd and a quince and prickly pear jam. Wash it all down with Moroccan mint tea.
Visit the website for prices
Served daily 12 noon – 4.30pm.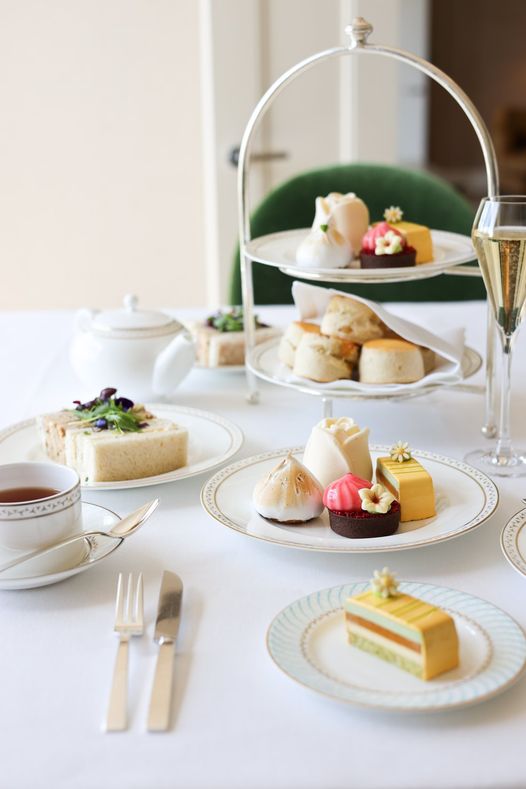 53 Park Lane, Mayfair, London W1K 1QA
Staff wear tailcoats and there is a piano player too at the elegant Dorchester Hotel. There are of course scones, finger sandwiches and pastries and a huge selection of delightful cakes.
Visit the website for prices and reservations
Served daily from 11.30am-5.30pm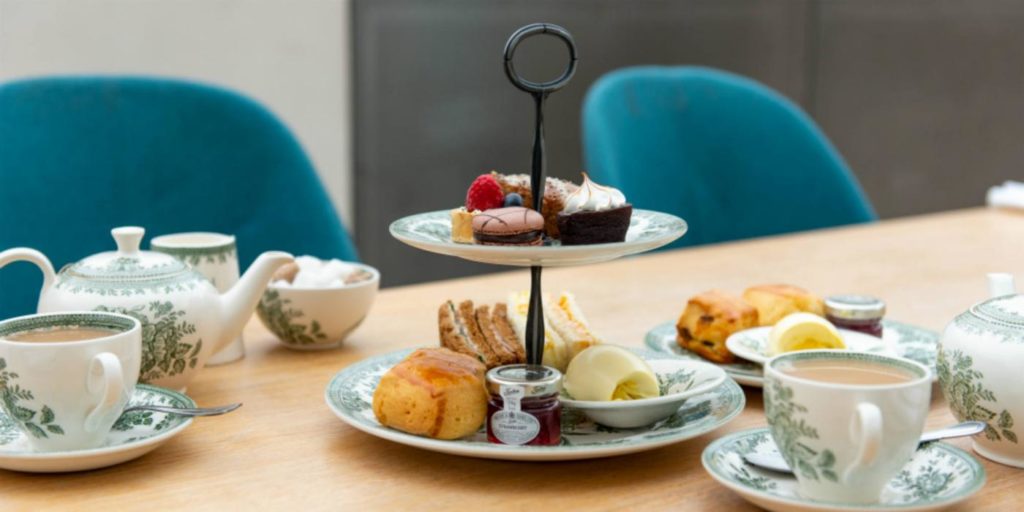 Great Russell St, Holborn, London WC1B 3DG
Dine under the magnificent roof of the Great Court. At the Great Court Restaurant, you can enjoy a refined dining experience with a casual feel. Its open kitchen shows a glimpse of the chefs at work. Perfect for marking a special occasion or treating yourself when you visit the British Museum.
Served daily 3.00-5.30pm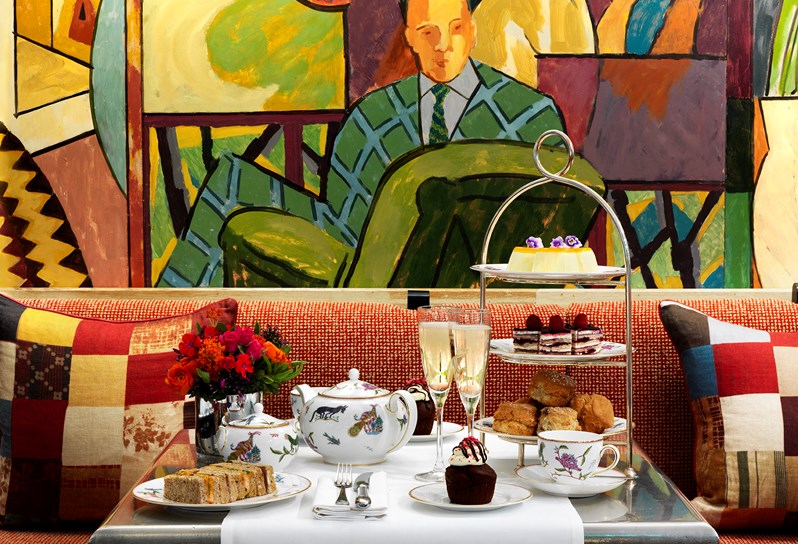 15-17 Charlotte St, Fitzrovia, London W1T 1RJ
Charlotte Street Hotel is a chic place to have Afternoon Tea. It is served all afternoon and can be taken in the Oscar Bar and Restaurant or the beautiful Drawing Room. There is a selection of both savoury and sweet menu items.
From £30 per person
Visit the website for opening times
Afternoon Tea North London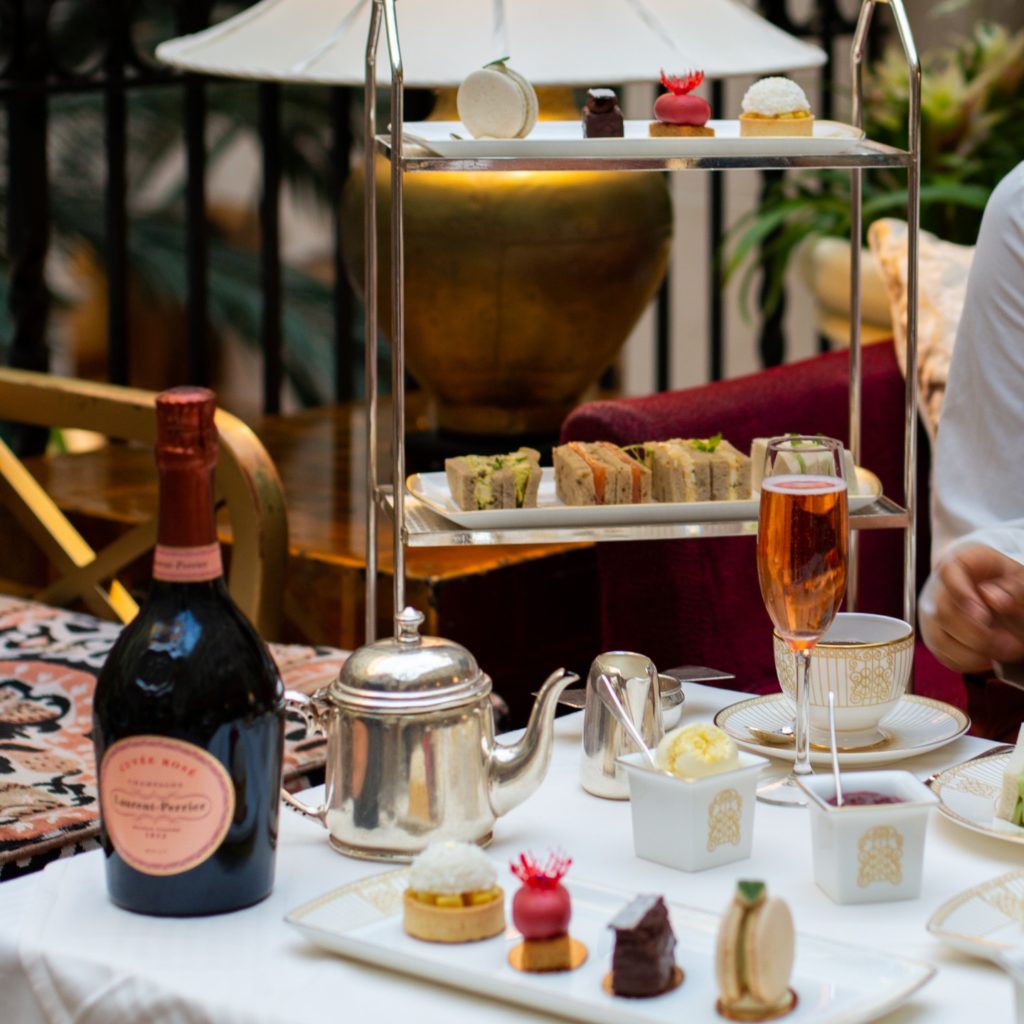 222 Marylebone Road, London, NW1 6JQ
London's most exquisite Afternoon Tea served beneath the elegant high palms of the famous Winter Garden Restaurant. The setting is serene and magical, the atmosphere relaxed and refined with the soft sound of piano and daylight twinkling through. Indulge in an assortment of delicacies, delicate finger sandwiches, freshly baked scones served with rich Cornish clotted cream and delicious preserves, along with a selection of crafted cakes and pastries.
From £52 per person
Friday 3.00-5.00pm; Saturday and Sunday 1.00-5.00pm

71 Hampstead High St, London NW3 1QP
Take a trip undersea to Fish cafe afternoon tea. The cafe have teamed up with a top-end caterer to provide creative cakes to match their theme from the vanilla mermaid tail cupcakes to macaroons with hidden chocolate pearl. Tea also Includes our favourites traditional finger sandwiches and homemade scones with Devonshire clotted cream.
From £36 per person
Visit the website for opening times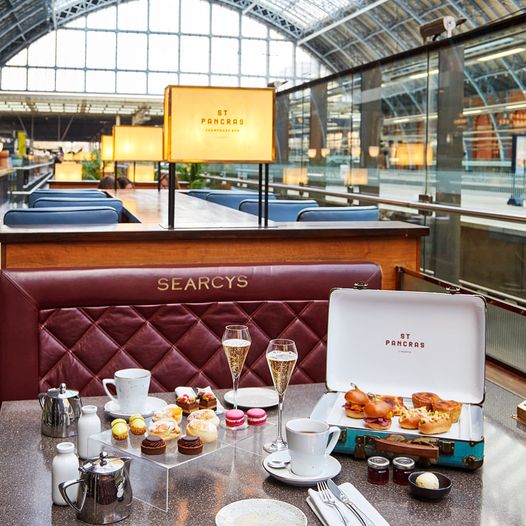 Kings Cross, London N1C 4QL
Served in a suitcase with a choice of tea and the option to upgrade to a glass of Veuve Clicquot, the afternoon tea includes a selection of savouries, freshly baked scones served with strawberry preserve and clotted cream, along with decadent sweet treats including a Passion fruit éclair, Yuzu chocolate tart and Pistachio cherry slice.
From £39 per person
Monday to Saturday 3.00-5.00pm; Sunday 3.00-4.30pm.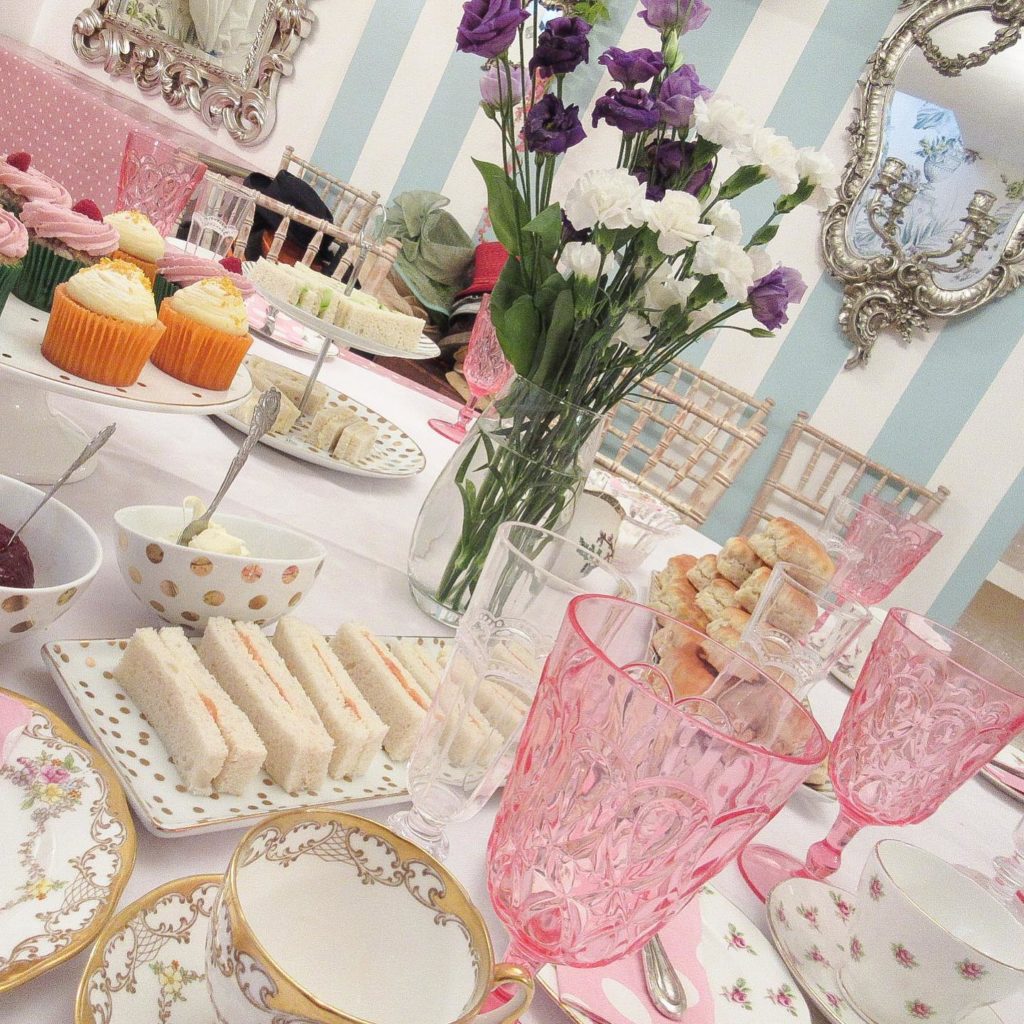 85 Fortess Rd, Kentish Town, London NW5 1AG
Tea Party is a unique and fabulous private venue just for tea parties! Sitting a minimum of 12 to 40 guests exclusively. You'll have the space to enjoy for yourselves! Choose a package of afternoon tea or brunch.
Visit the website for bookings and prices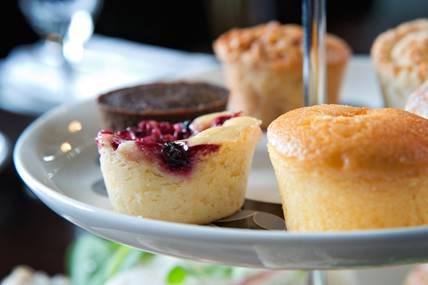 142-152 Cricklewood Broadway, Cricklewood, London NW2 3ED
You will enjoy a fine selection of cakes, scones, and sandwiches with the best of English tea and freshly ground coffee.
Clayton Crown hotel offers a splendid venue for your afternoon tea in North London.
Visit the website for prices and reservations
Served daily 12 noon – 5.00pm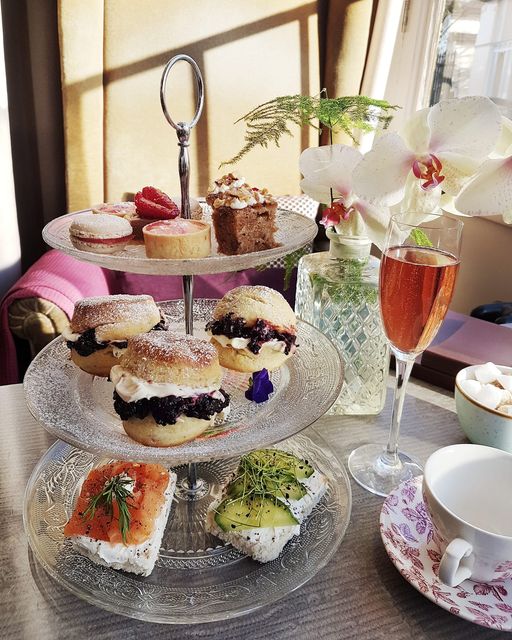 127-129 Parkway, London NW1 7PS
A beautiful regency townhouse on the edge of Regent's Park in London. A Gordon Ramsay restaurant offering great cuisine. The hotel is a former coaching inn dating back to the 1820's and has been wonderfully transformed.
Afternoon tea from £24 per person
Visit the website for opening times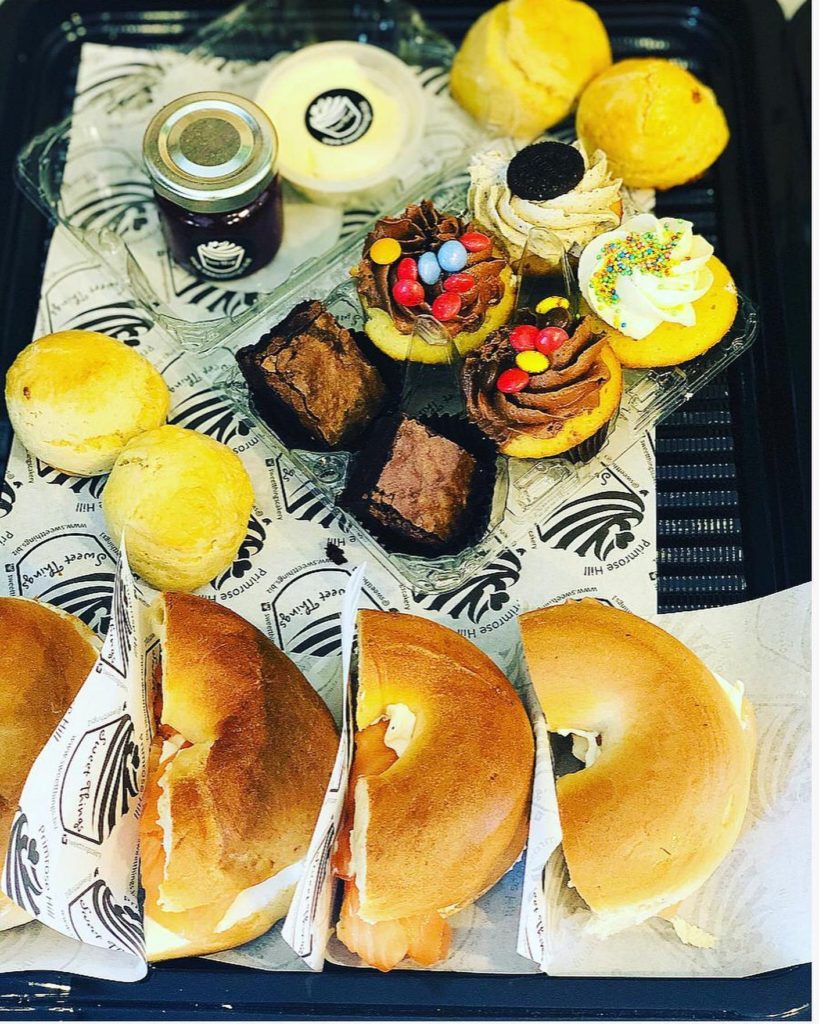 138 Regent's Park Rd, Primrose Hill, London NW1 8XL
This bakery serves a luxury afternoon tea set in trendy Primrose Hill. They serve up the most delicious cakes!
Visit the website for prices
Open daily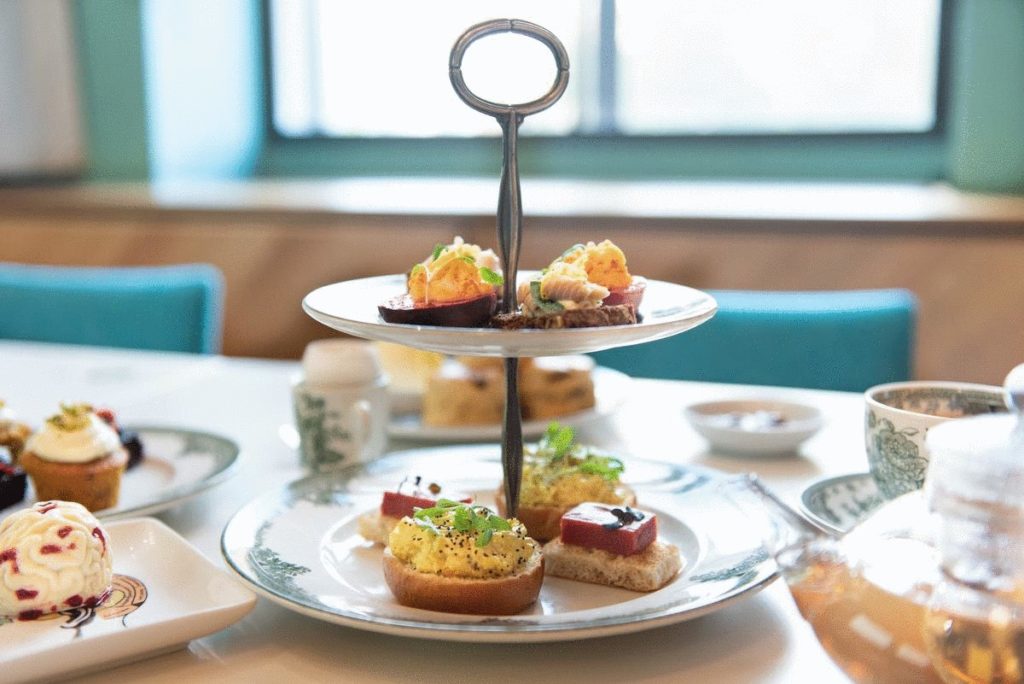 Wellcome Kitchen, 183 Euston Road, NW12BE
Another great value afternoon tea is available at this science-focused museum and library. Head to the Wellcome Kitchen for a selection of cakes, mini sandwiches and scones. If you're only mildly peckish, there's a Cream Tea instead — two scones, jam, cream and a cuppa.
Visit the website for prices and opening times
Afternoon Tea South West London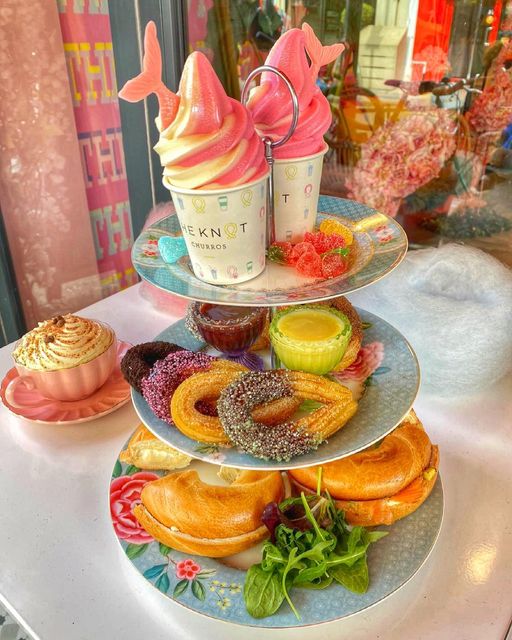 Knot Churros, 13 Bute Street, South Kensington, SW7 3EY
This magical dessert bar in South Kensington is certainly doing something never done before. Tuck into bagels, churros and dips, soft serve ice cream and even a tea slushie.
£20 deposit required. Afternoon Tea from £30
Visit the website for opening times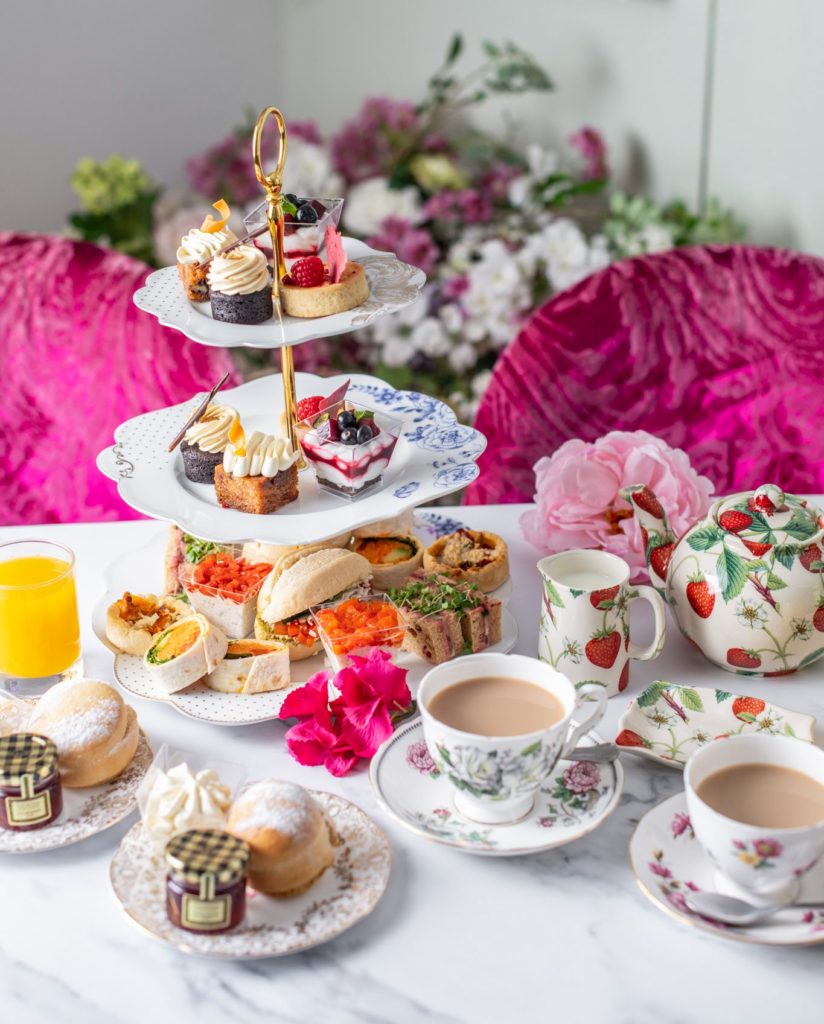 Victoria Coach Station or Trafalgar Square (depending on the day of your tour) and lasts around 90 minutes
It really doesn't get any more British than gin and afternoon tea on a red double decker bus. Jump on board, sip on gin cocktails and tuck into B Bakery's gin-infused bakes. The vintage Routemaster bus will drive past some of London's most iconic landmarks.
From £45 per person
Daily 12 noon to 5.00pm see website for further details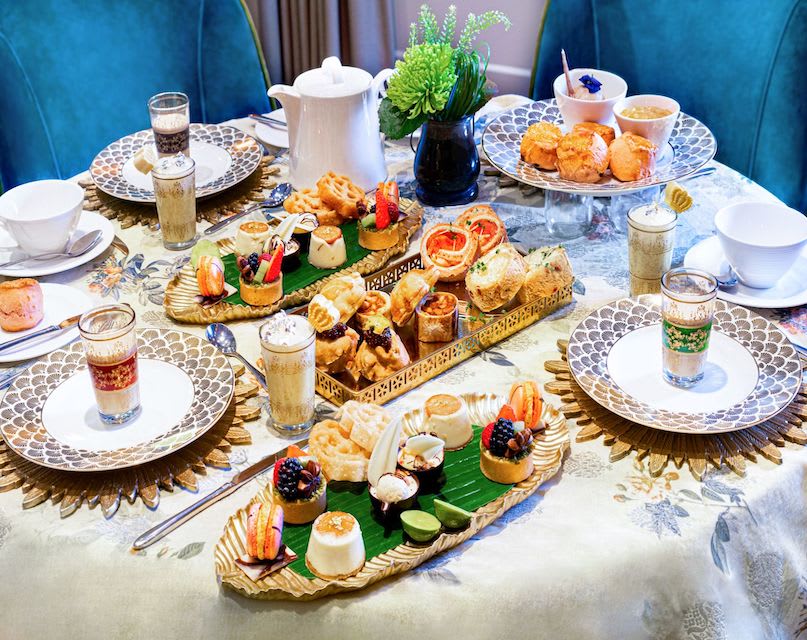 51 Buckingham Gate, Westminster, SW1E 6AF
Taj at 51 Buckingham Gate do a splendid Jasmine Indian afternoon tea enjoy a variety of sandwiches such as spiced creamed cheese, kachumbar pinwheel, followed by Gulab Jamun; deep fried milk dumplings and a selection of delicious cakes, scones and pastries.
They also have the Alice's Queen of Heart's afternoon tea where the savoury treats and scones are beautifully presented on fine china plates with Sir John Tenniel's original book illustrations from the Victoria and Albert Museum's collection, while the sweet treats preside over a glass checkerboard.
Visit the website for prices and further details
Afternoon Tea is served Thursday to Sunday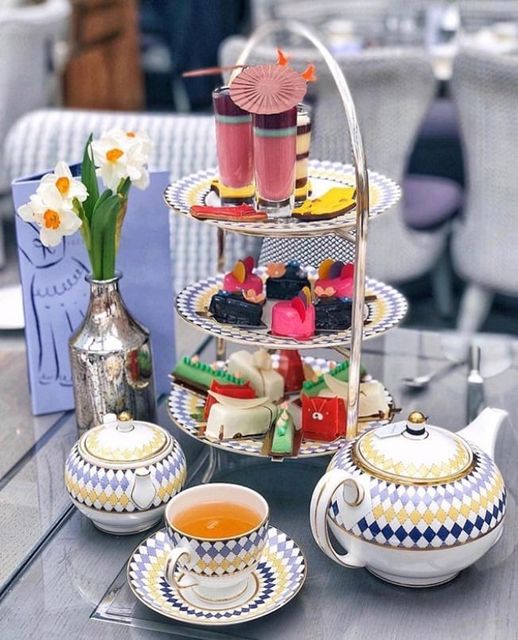 Collins Room at The Berkeley, Wilton Place, Knightsbridge, SW1X 7RL
Ready-to-wear becomes ready-to-eat with the haute couture afternoon tea, which makes a welcome return for the Autumn-Winter season after a creative break.
Vibrant and joyful, the collection is a tribute to the runway successes of the fashion world. your tea also includes elegant canapés and sandwiches, with a selection of loose-leaf teas from our extensive collection
Visit the website for prices and reservations
Afternoon Tea is served Monday – Sunday: 1pm – 5.30pm.
109-113 Queen's Gate, Kensington, SW7 5LP
Taking inspiration from London's most recognisable and historic landmarks, Town House at The Kensington's London Landmarks Afternoon Tea leads diners on a tour of the capital's architectural feats and culinary traditions, with tributes to London's most famed structures. Town House's new skyline of scones, sandwiches and sweets pays homage to the capital's iconic buildings and will be presented on a London Eye-inspired tea stand.
£42 per person or £54.50 with a glass of Champagne
Visit the website for reservations and opening times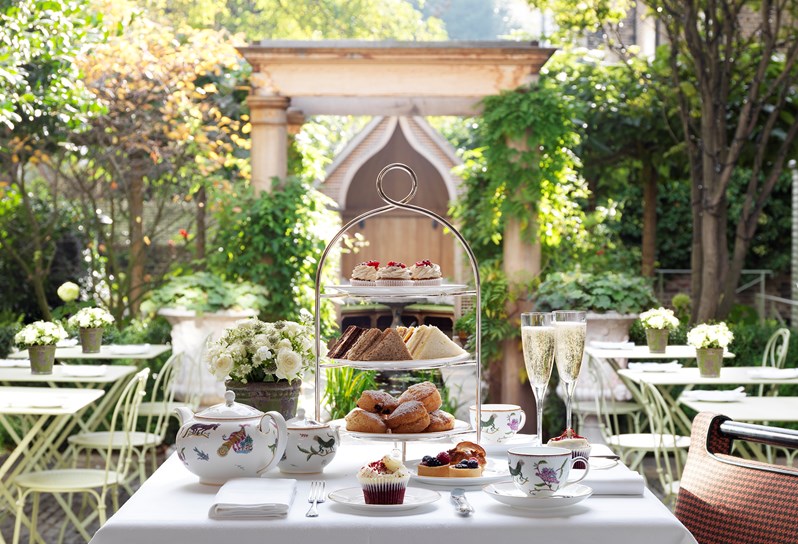 16 Sumner Place, London, SW7 3EG
Number Sixteen has an unbelievably beautiful orangery and garden. Enjoy a delicious selection of finger sandwiches, including smoked salmon on granary and cucumber and basil on white, alongside tomato and goat's cheese quiche, homemade scones with clotted cream and preserves and a selection of mouthwatering cakes, including carrot and walnut with cream cheese frosting.
From £30 per person
Served weekends only 2.00-4.00pm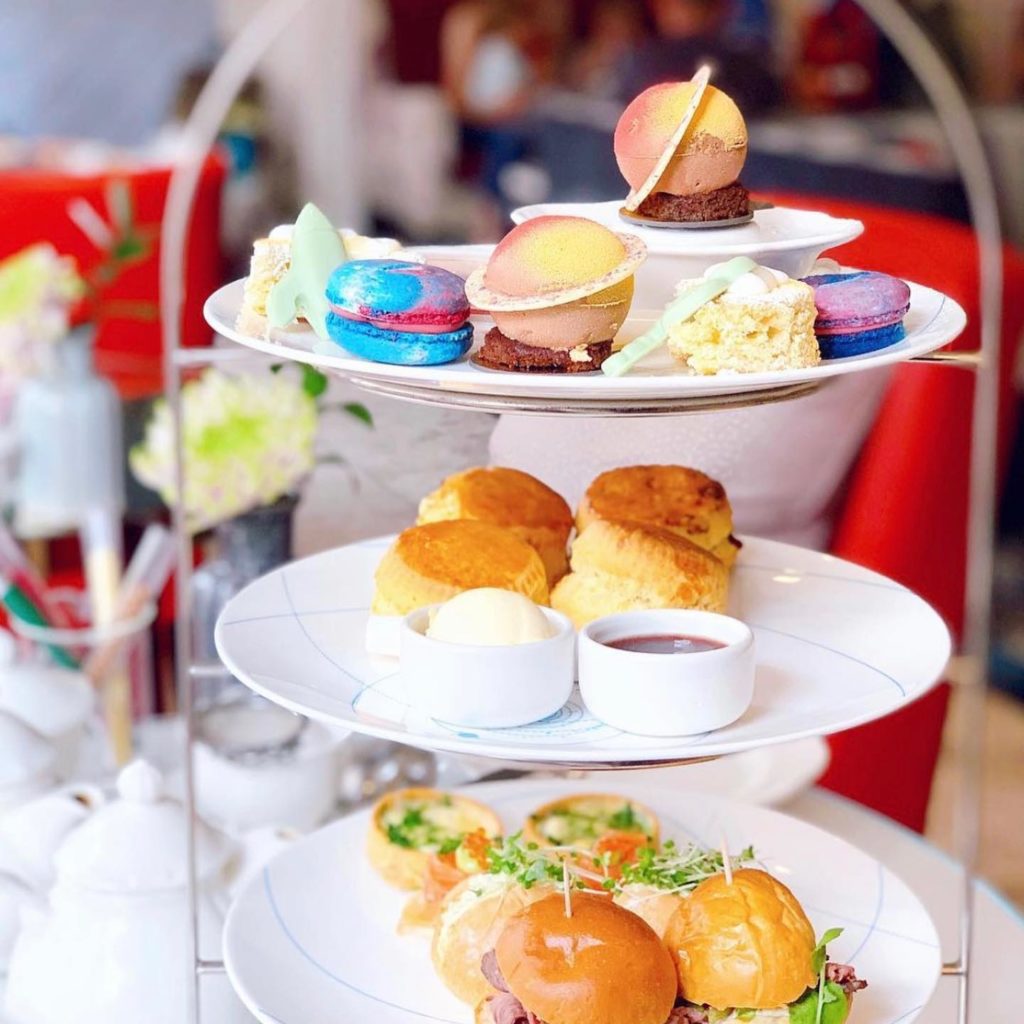 10 Harrington Road, London, SW7 3ER
Taking inspiration from the nearby Science Museum, their afternoon tea arrives in a cloud of dry ice, under which you'll find marbled 'planet' macarons; astronaut-shaped chocolates; dinosaur biscuits to excavate from chocolate soil; and teapot-tails to boot.
£44.50 per person
Served Monday to Friday 1.00-5.30pm; Saturday and Sunday 12 noon – 6.30pm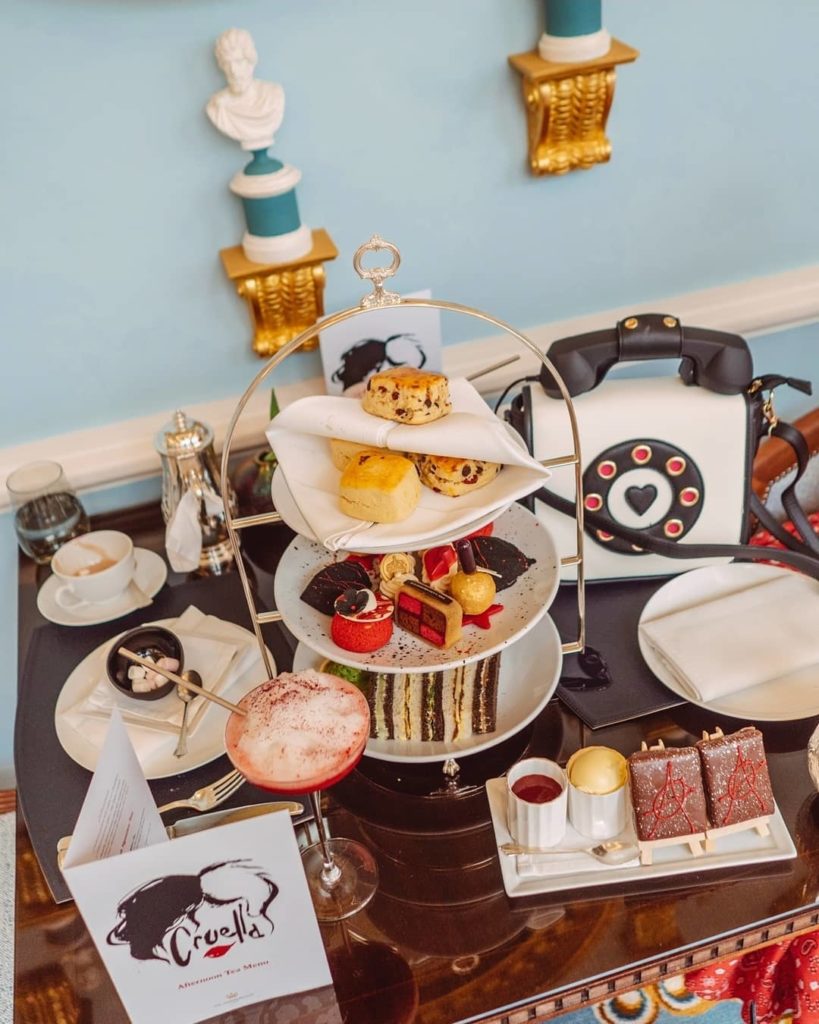 Hyde Park Corner, London SW1X 7TA
Created by the Pastry team and served daily in either the majestic surroundings of Celeste or the Withdrawing Room, the Peggy Porschen Afternoon Tea at The Lanesborough is wonderful. The menu is presented in Peggy's signature pastel hues adorned with floral features and vegetarian and vegan options, as well as a children's menu, are also available. Afternoon Tea service is accompanied by a live pianist daily.
Currently you can also get a Cruella Inspired Afternoon Tea.
See website for reservations and prices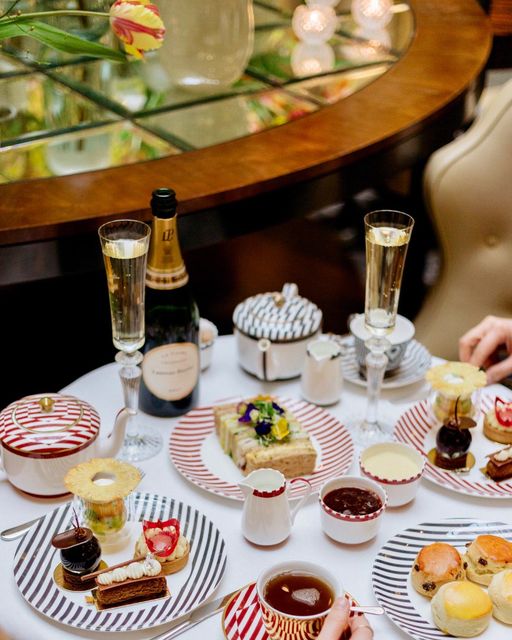 Whitehall Place, Westminster, London SW1A 2BD
Afternoon tea is taken seriously at Corinthia London. A delightful reminder that time is a luxury to be savoured. Afternoon tea is taken in a light-drenched lounge, illuminated by the warming glow of 1,001 Baccarat crystals.
From £60 per person
See website for prices and reservations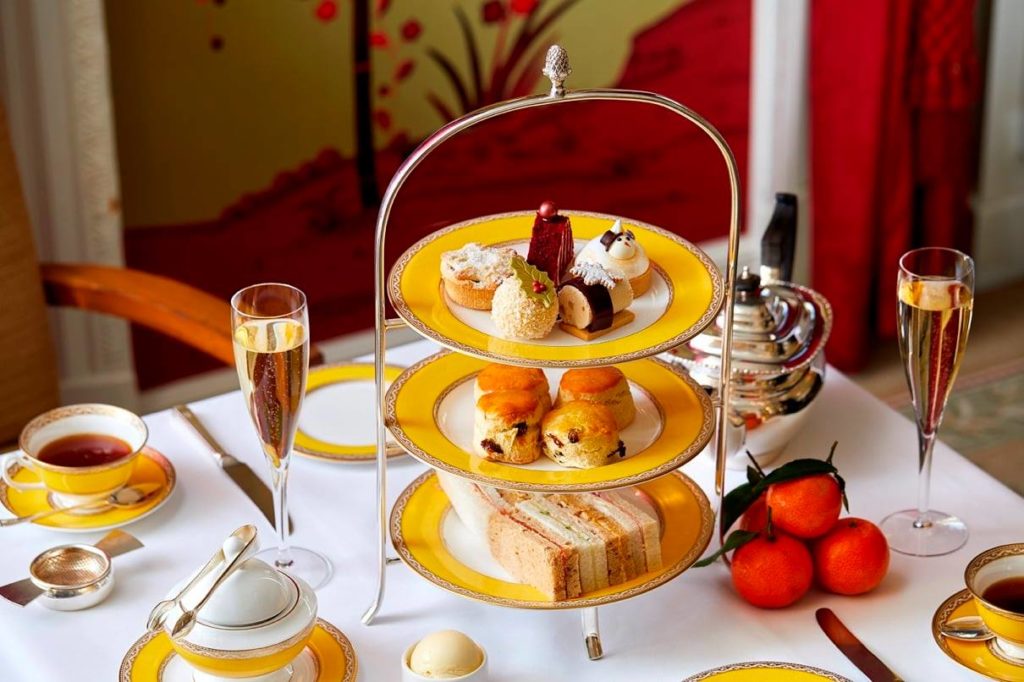 15 Beeston Place, London, SW1W OJW
The Goring has been perfecting the art of Afternoon Tea since it opened its doors over a century ago. As the holder of The British Tea Guild Council's Top London Afternoon Tea Award and The Award of Excellence, they continue to delight guests with delicious pastries, fruity homemade jams and high quality tea blends. The menu changes to offer the freshest, locally-sourced fruits in line with the season.
From £50 per person
Served Monday to Friday 3.40-4.30pm; Saturday 1.30-4.30pm; Sunday 1.00-4.00pm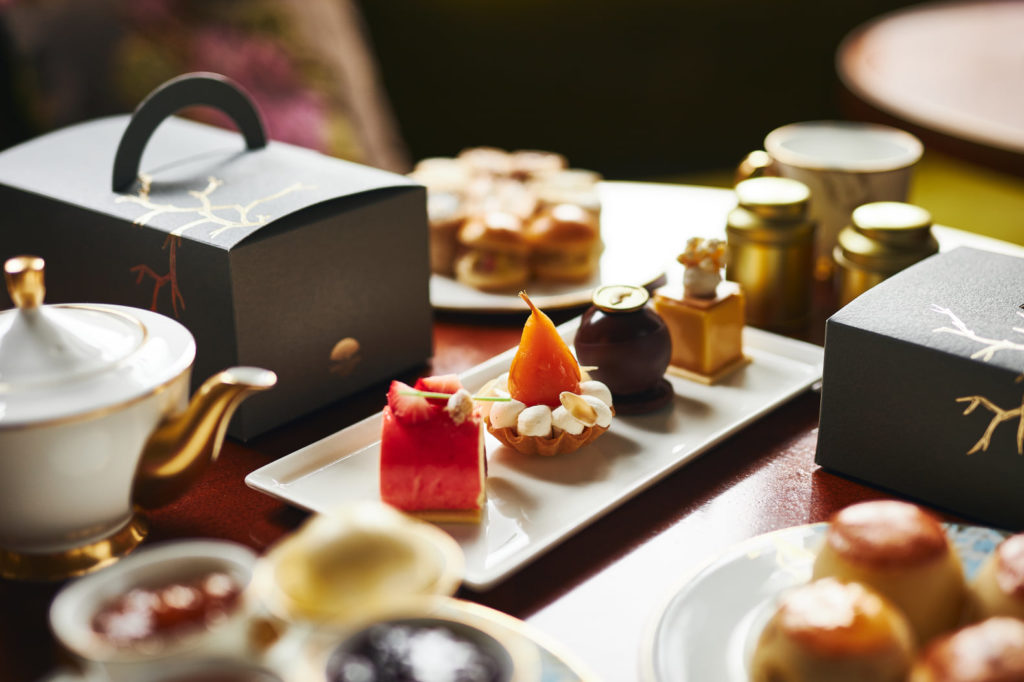 66 Knightsbridge Green, London, SW1X 7LA
To complement your choice of selected teas, a range of perfectly matched delicacies are served, created by an experienced team of pastry chefs. Set against a stylish, contemporary backdrop, Afternoon Tea in The Rosebery at Mandarin Oriental Hyde Park is a truly memorable occasion.
Visit the website for prices and opening times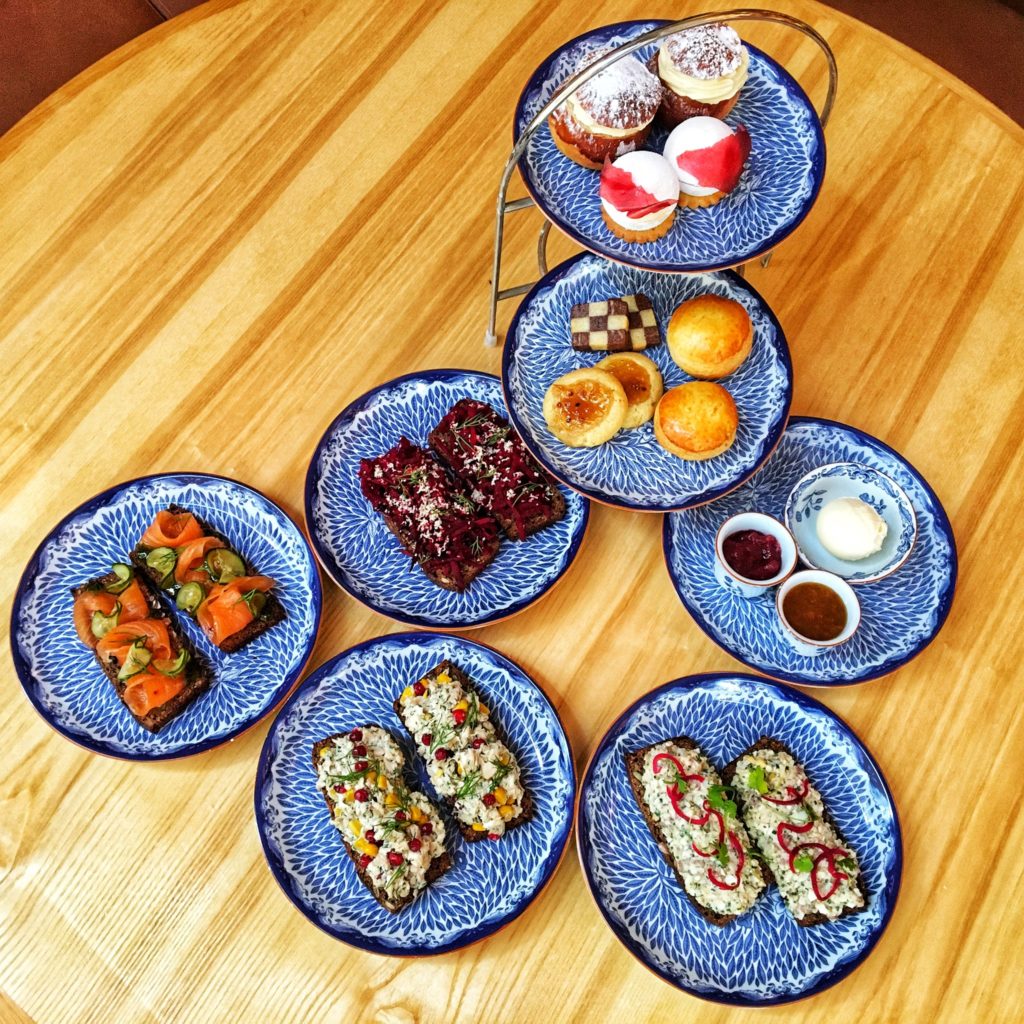 St James's Market, 1 Carlton Street, London SW1Y 4QQ
Aquavit London have their Nordic afternoon tea. Fusing the British tradition of afternoon tea with delicious Nordic cuisine. The sitting starts with traditional open sandwiches, the salmon gravlax is especially delicious and then moves onto Swedish pastries ranging from sweet and spicy cardamom buns and the delicious 'Mums Mums' which turn out to be an indulgent marshmallow based pastry.
The Fika Afternoon Tea starts at £27.50 per person
Visit the website for opening times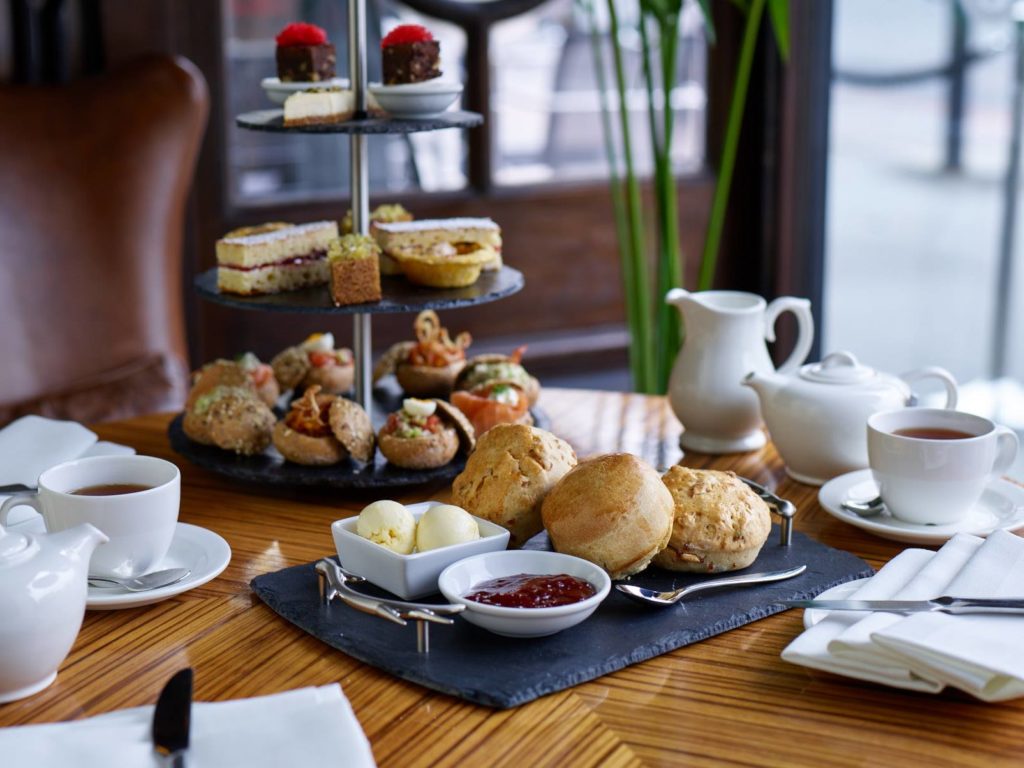 43 Buckingham Palace Rd, Westminster, London SW1W 0PP
Offering one of the quirkiest afternoon teas near Buckingham Palace, you'll enjoy delicious tiers of tiny sandwiches and sweet treats.
Visit the website for prices and reservations
Served 2.30-5.00pm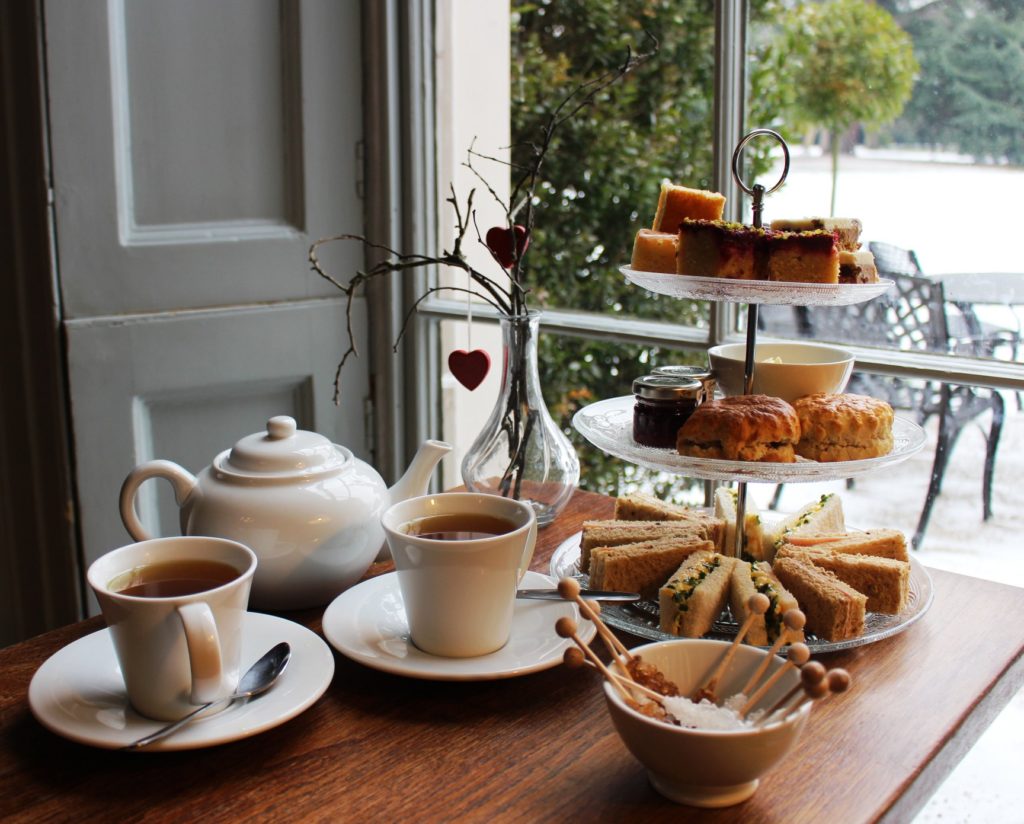 Bishop's Ave, Fulham, London SW6 6EA
Afternoon tea at the Fulham Palace Cafe includes finger sandwiches, luxury cakes and warm scones with jam followed by bottomless tea.
£14.50 per person (minimum of two people)
Served 12 noon – 3.00pm
Richmond, TW9 3AE
Have fine meals and afternoon tea in the elegant Botanical table-service restaurant, dramatically located with a view of the Palm House.
Visit the website for prices and opening times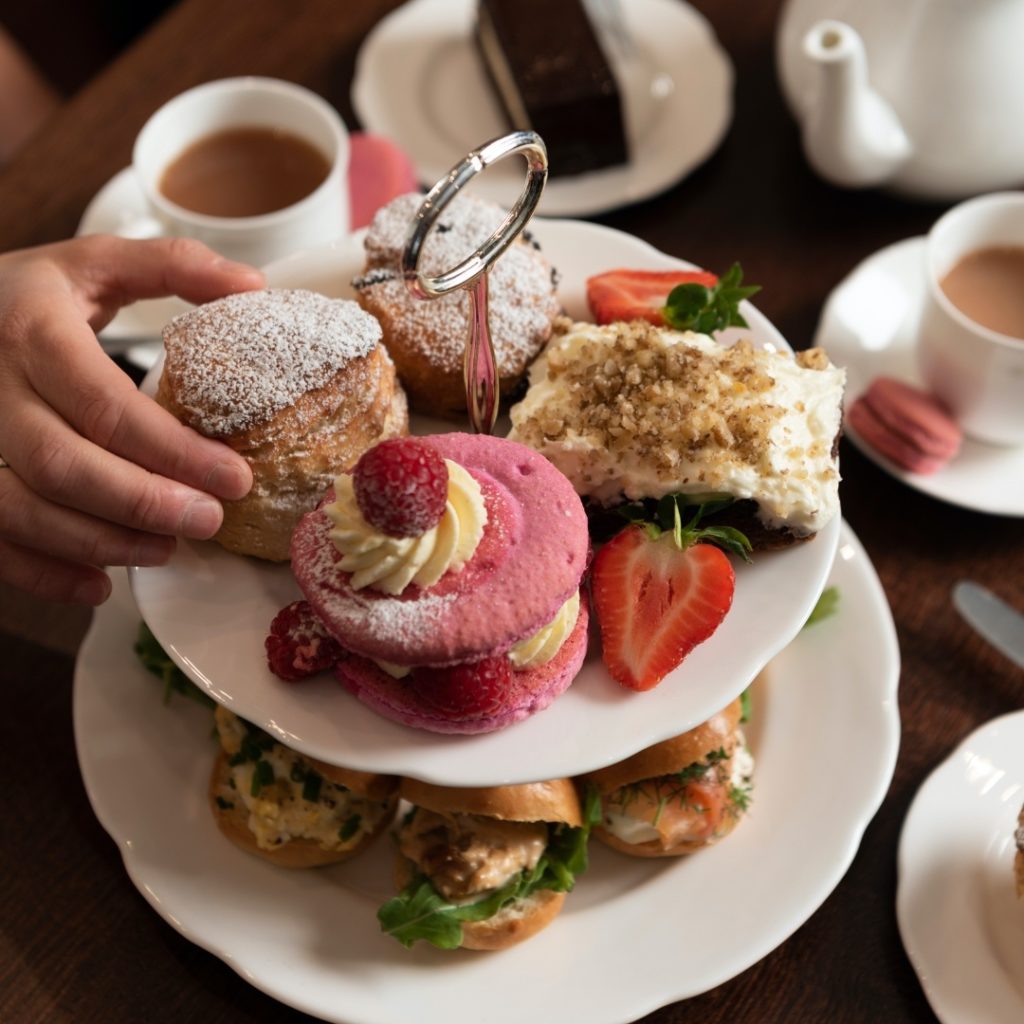 3 White Hart Lane, Barnes, London SW13 0PX
Served on a three-tiered cake stand adorned with freshly cut finger sandwiches, warm scones served with Cornish clotted cream and homemade jam, and a selection of mouth-watering homemade cakes to choose from. There is always a trained tea sommelier on hand to help you choose from the extensive tea menu and pots of tea are expertly brewed.
From £22.50 per person
Booking is essential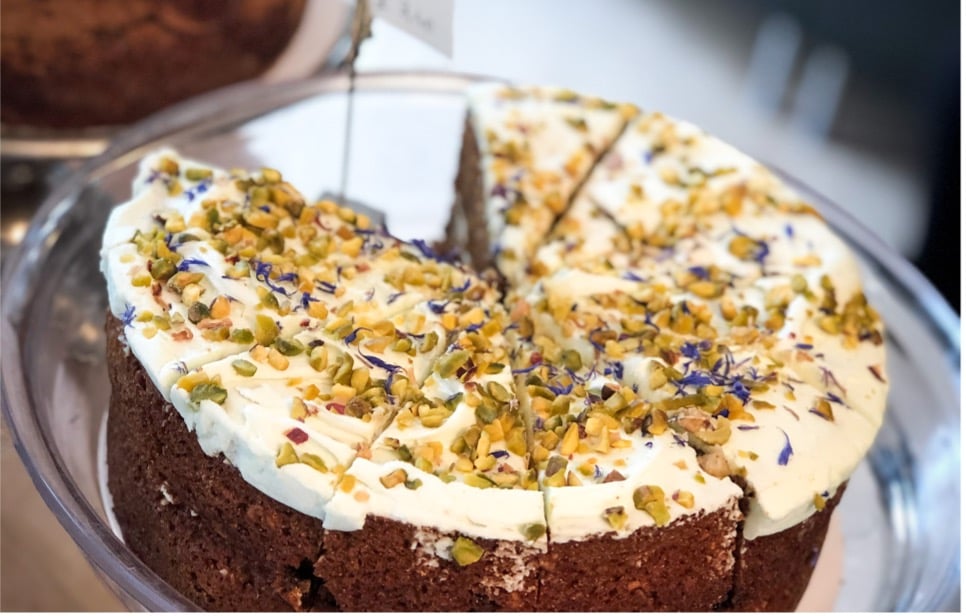 268 Waldegrave Road, Twickenham, TW1 4ST
The award winning Café occupies the ambient Great Cloister of Strawberry Hill House and enjoys glorious views across Horace Walpole's 18th century naturalistic garden. Take advantage of our range of Teapigs teas, Drury coffee and refreshing juices and soft drinks.
Open Sunday to Thursday 12 noon – 4.00pm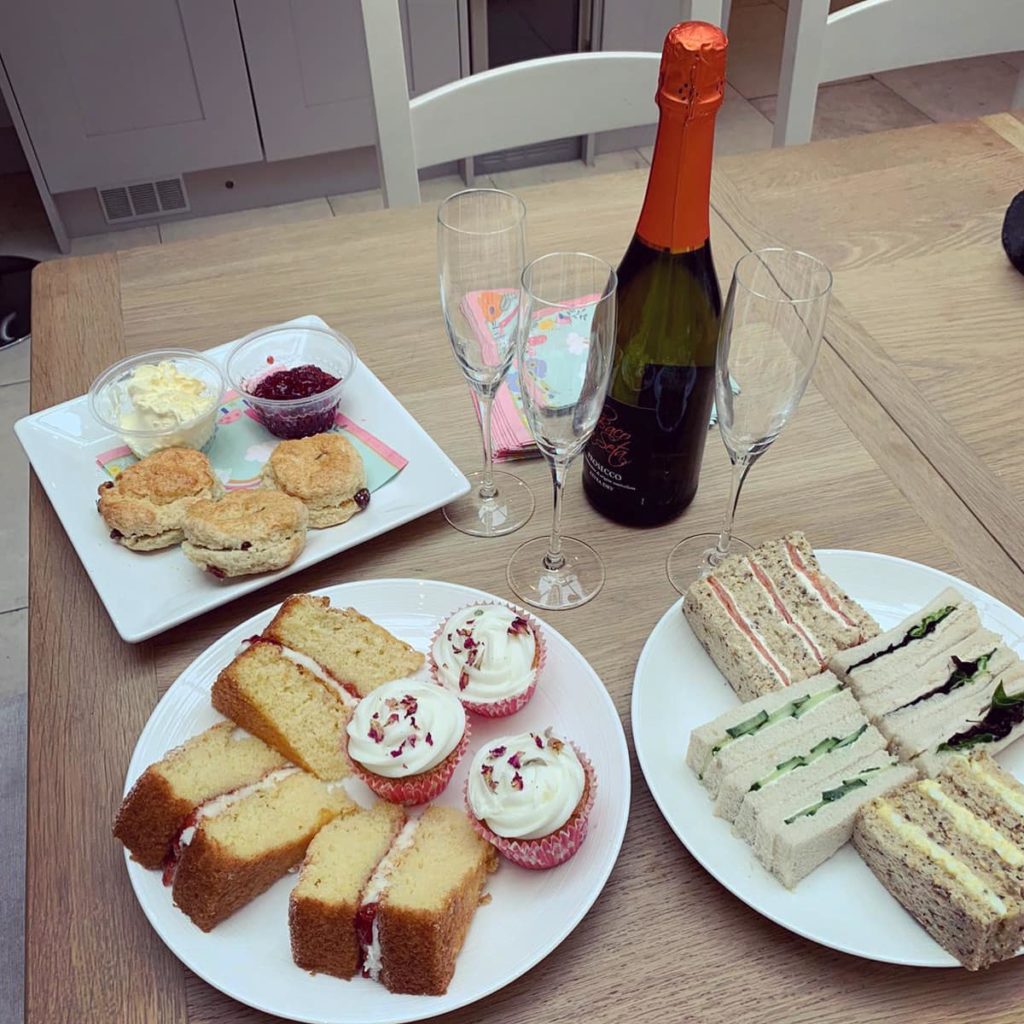 Unit 11, The Long Shop, Merton Abbey Mills, London SW19 2RD
Willow Bough tea room have become known for their fabulous and very filling homemade afternoon tea! They offer a variety of afternoon teas and have something to please everyone!
From £21.50 per person
Thursday to Sunday 11am-4.00pm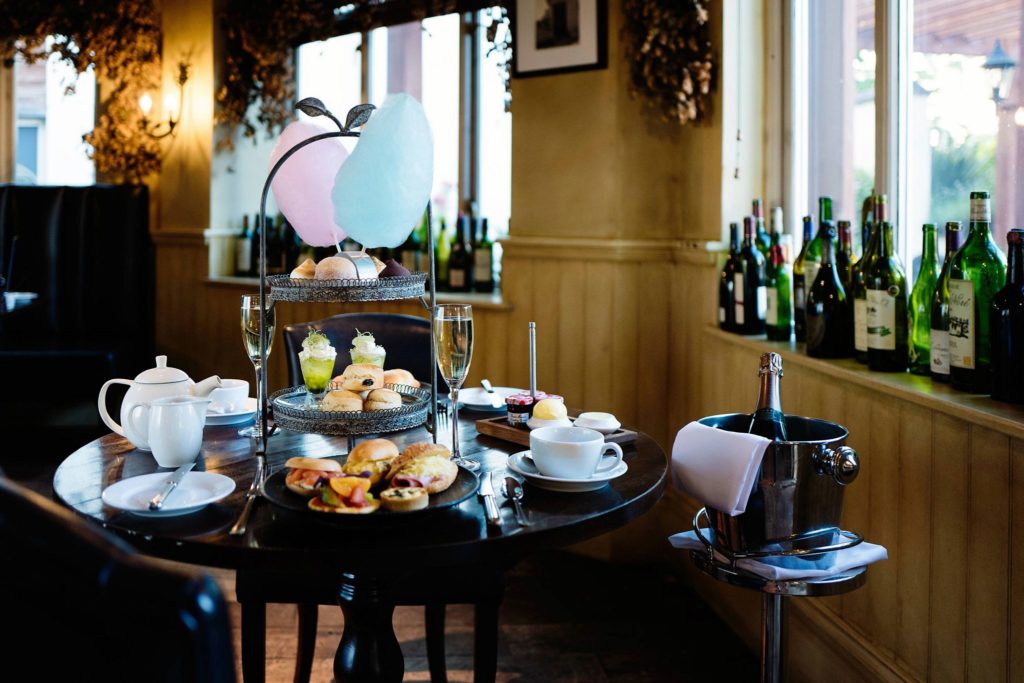 Cannizaro House, West Side Common, Wimbledon, London SW19 4UE
Finger sandwiches, scones, cakes and savouries are served with your choice of tea. If you're looking to put a bit more fizz in your afternoon, try their Champagne afternoon tea and relax in comfortable surroundings.
Visit the website for prices and opening times.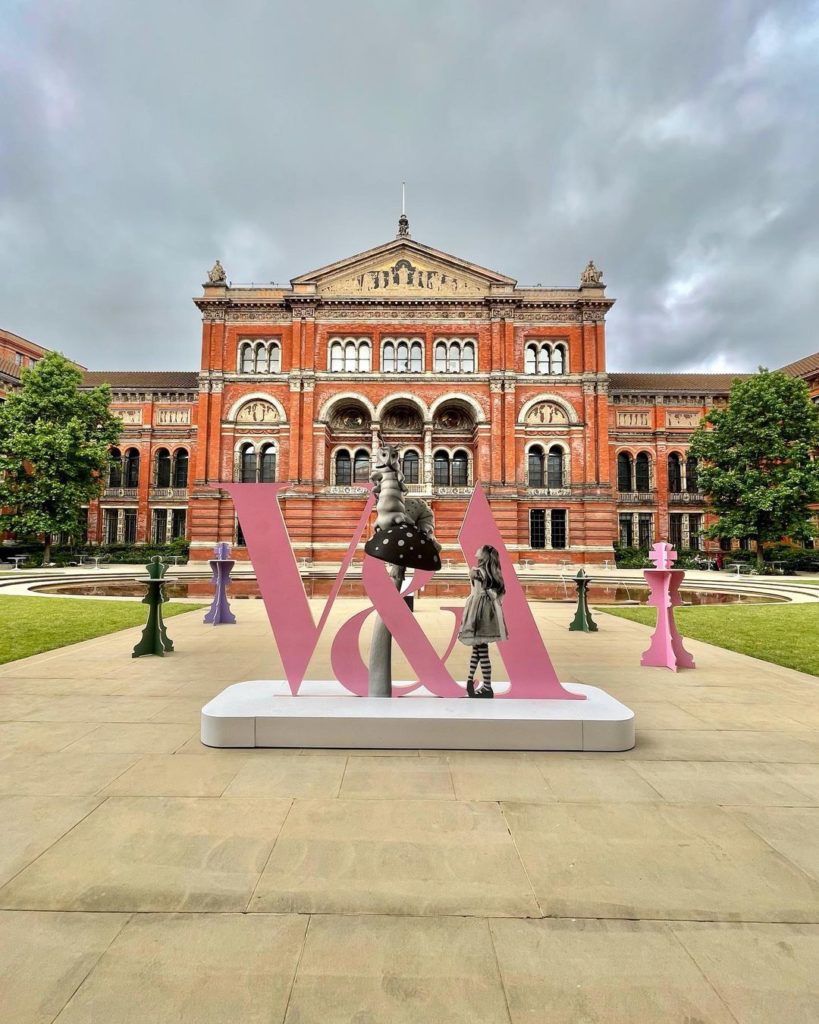 V&A Cafe, Cromwell Road, SW7 2RL
A lot of thought has gone into the menu of the V&A's afternoon tea, which was put together with the help of a food historian to reflect the food that Queen Victoria might have eaten. The menu includes nasturtium open sandwiches and asparagus and parmesan tarts. It's served in the museum's Morris Room, one of three rooms which constituted the world's first museum cafe when it opened in 1868.
Visit the website for prices and opening times
Afternoon Tea South East London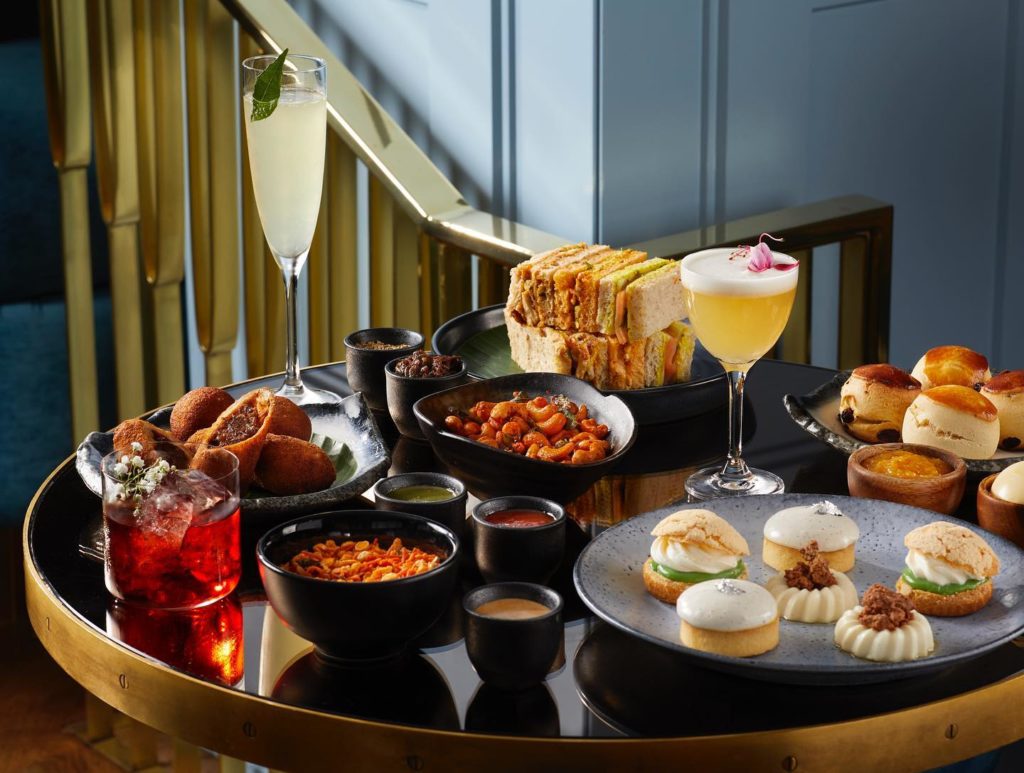 20 Upper Ground, South Bank, London SE1 9PD
Housed on the bottom floor of the Sea Containers London – with floor-to-ceiling windows, overlooking the river – Lyaness offers a twist on classics with a bold Lyan touch.
Guests will be served a menu of favourite English treats, from pickled cucumber, cream cheese and chives, and smoke salmon, dill and crème fraiche sandwiches, to decadent caramelised banana & chocolate éclair, and coconut panna cotta, berry compote & honeycomb, alongside perfectly matched cocktails using Lyaness' signature ingredients.
Spirited Tea is priced at £55 for the full tea selection
Served Saturday and Sunday, between 12pm and 5pm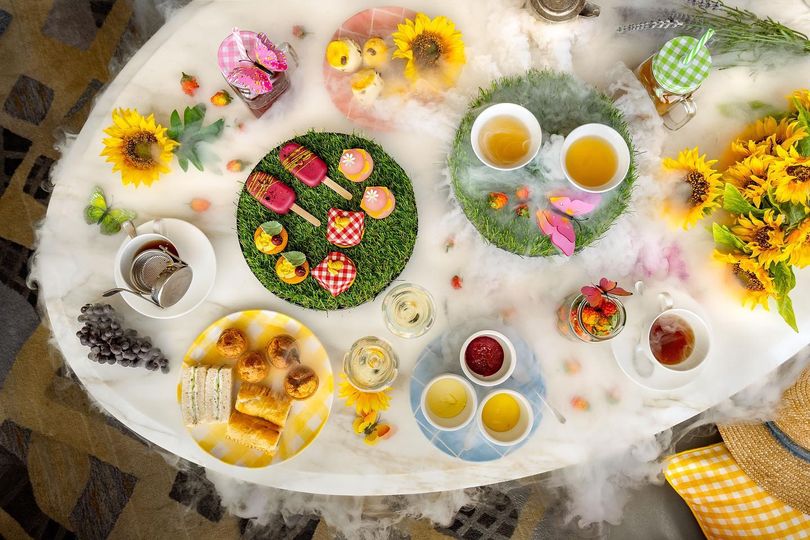 Shangri-La Hotel At The Shard, 31, St Thomas Street, London, SE1 9QU
Served in theatrical elegance, their afternoon tea celebrates the best of British classics and features a fine selection of delicious finger sandwiches, handcrafted desserts and freshly baked scones. The beautifully displayed sweet and savoury treats are accompanied by an exclusive selection of loose leaf teas, including a variety of Shangri-La signature teas.
From £59 per person
Served Monday to Sunday 12 noon – 4.00pm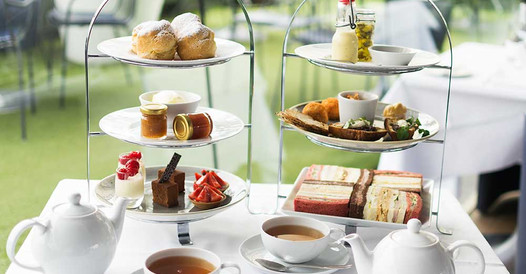 OXO Tower Wharf, Barge House Street, South Bank, London, SE1 9PH
The menu at the OXO Tower includes a delightfully pleasing selection of sandwiches, freshly-baked buttermilk scones and lemon Posset with a roasted plum compote and the quintessentially British chocolate cinnamon shortbread. All this against the backdrop of St Paul's and the Thames. Revel in this most British of British experiences.
From £32 per person
Served Friday to Sunday 3.00-4.00pm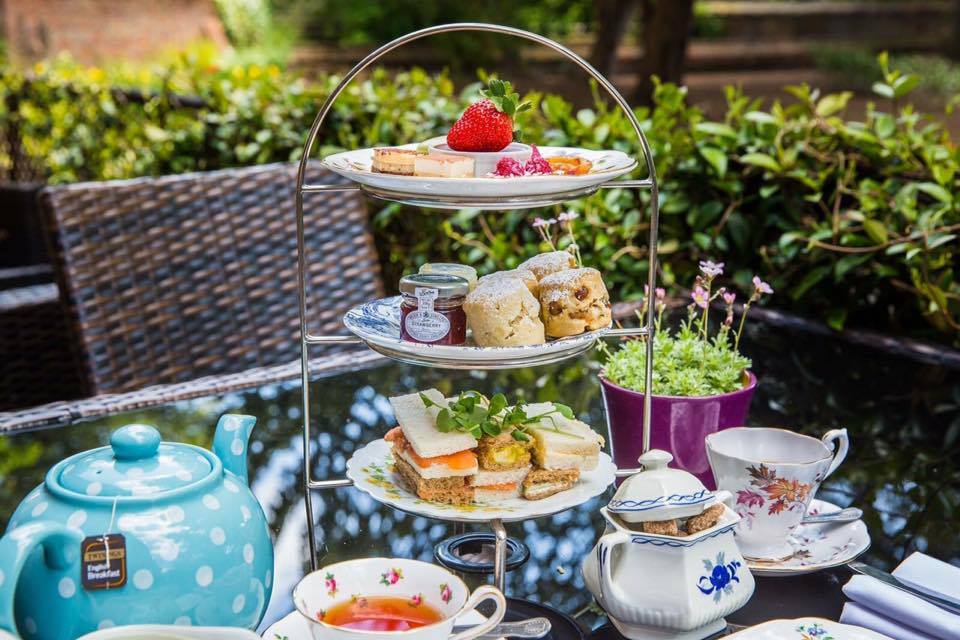 Well Hall Pleasaunce, Well Hall Rd, London SE9 6SZ
Tudor Barn Eltham is the last remaining Tudor Barn in London set in 13 acres of stunning parkland of Well Hall Pleasaunce. Enjoy an afternoon tea by the medieval moat in summer or get cosy in the gastro pub in winter by the fireplace.
The modern slider afternoon tea includes everyone's favorites scones and sweet treats as well as three mini slider burgers.
From £16.95 per person
Served Friday to Saturday 12 noon – 5.00pm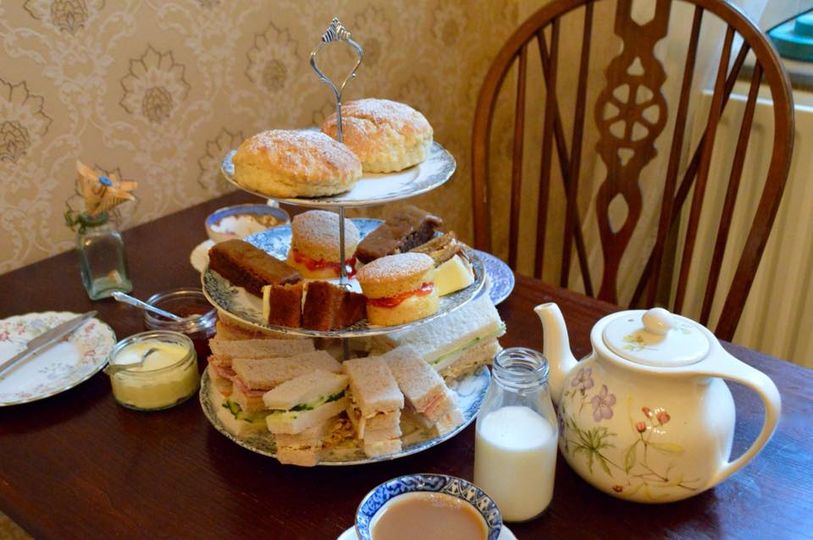 Stanley Halls, South Norwood Hill, South Norwood, SE25 6AB
Treat yourself to fresh finger sandwiches, freshly baked scones and homemade mini cakes and a pot of tea at this South Norwood cafe.
From £15 per person
Advanced booking is required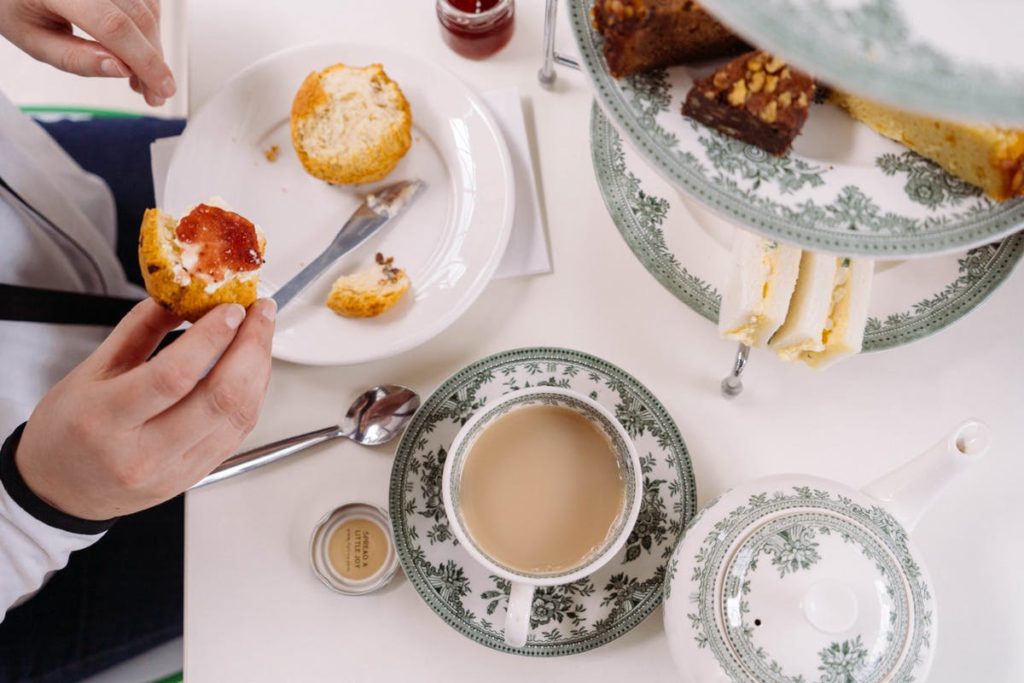 Cutty Sark, Greenwich
Enjoy stunning views of the Thames and London's skyline, and walk underneath the Cutty Sark's gleaming copper hull. After your visit, you can take your seats for a delicious afternoon tea, comprised of homemade scones, cakes and sandwiches, along with a pot of Cutty Sark tea.
Tea for two £63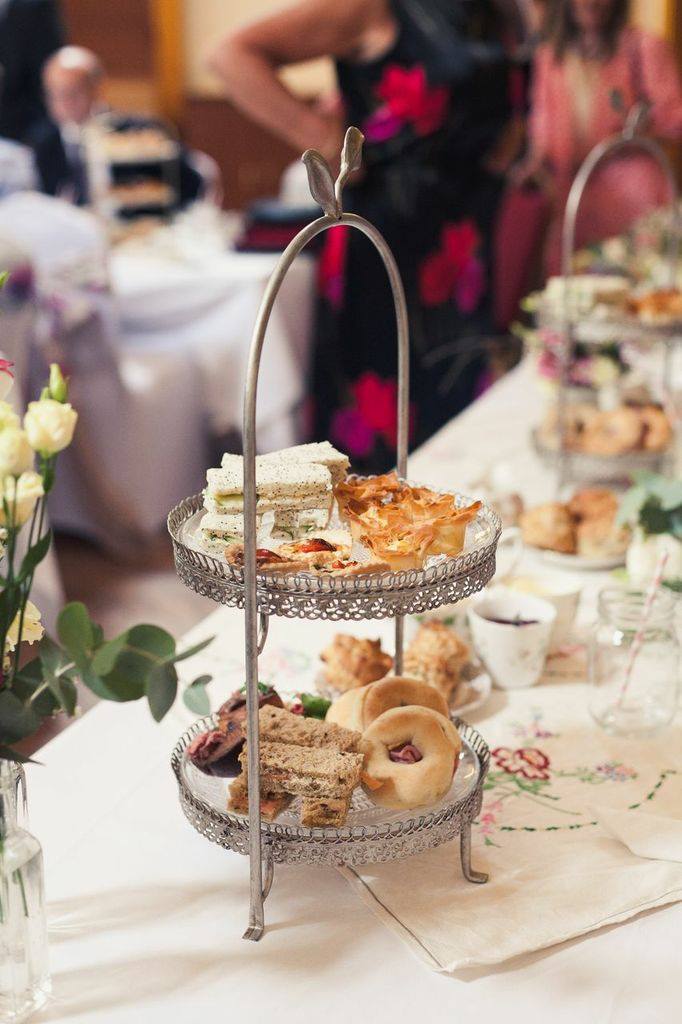 House Road, Charlton, London SE7 8RE
There is plenty to see and do at Charlton House & Gardens, with free entry, you can explore and learn all about the long and eventful history of the beautiful jacobean rooms. Stop at the cafe for a spot of tea afterwards.
See website for opening times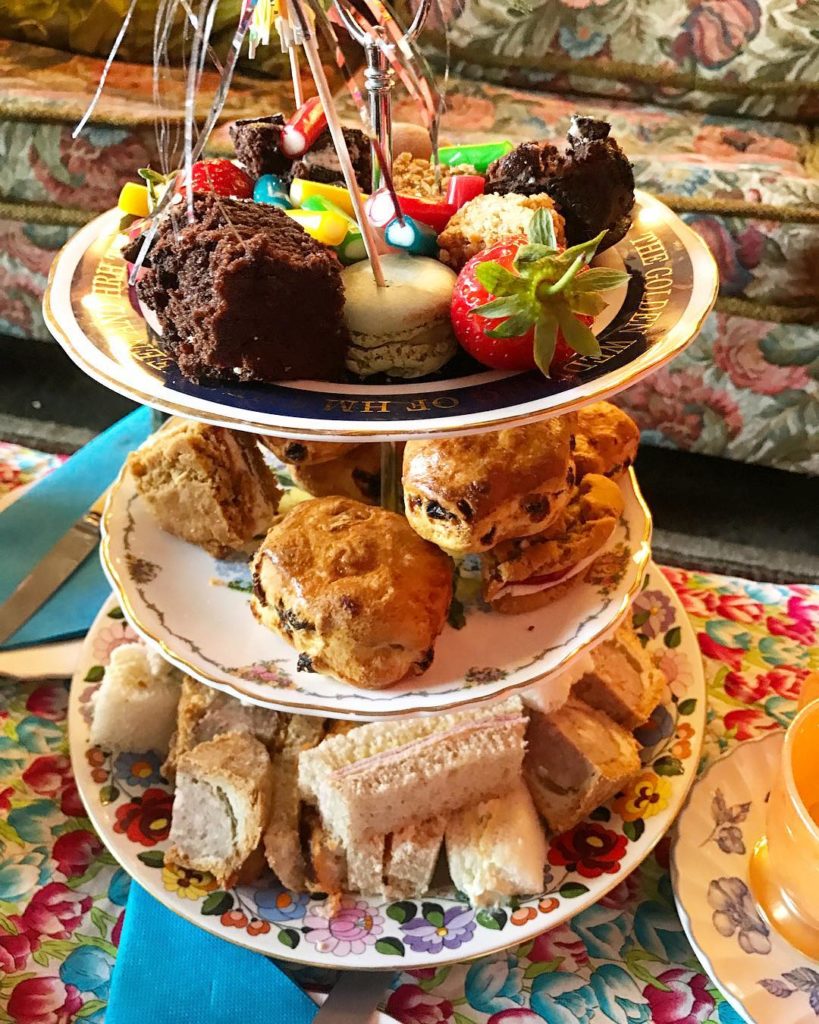 Deptford, London SE8 4BZ
The family who spoil you with the multi award winning travelling Little Nan's Bar in London now host Afternoon Tea with Teapot Cocktails. Guests are spoilt silly with home baked sweet and savoury treats (displayed on bespoke three tier cake stands) all made using Little Nan's secret recipes handed down from her daughter, Little Mum!
From £30 per person
Advance booking is a must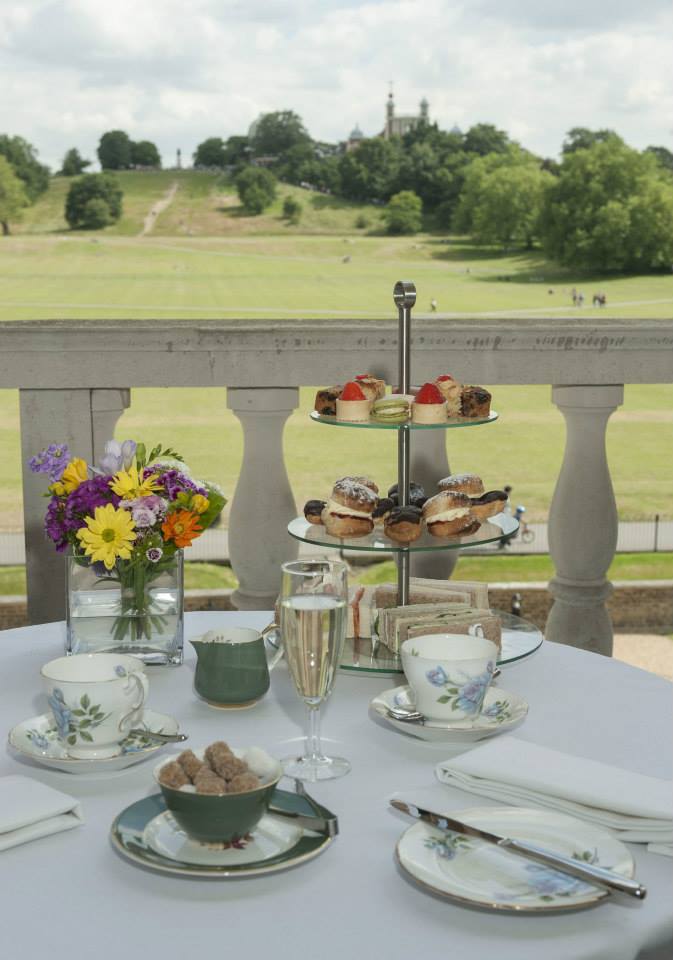 Parkside Cafe & Terrace, Romney Road, SE10 9NF
Royal Afternoon Tea. It's very British affair, with egg mayo sarnies, mini Victoria sponge cake and strawberry and cream tartlet on the menu.
You can visit the cafe without visiting the museum, so one to bear in mind if you find yourself peckish in Greenwich Park.
Visit the website for prices and opening times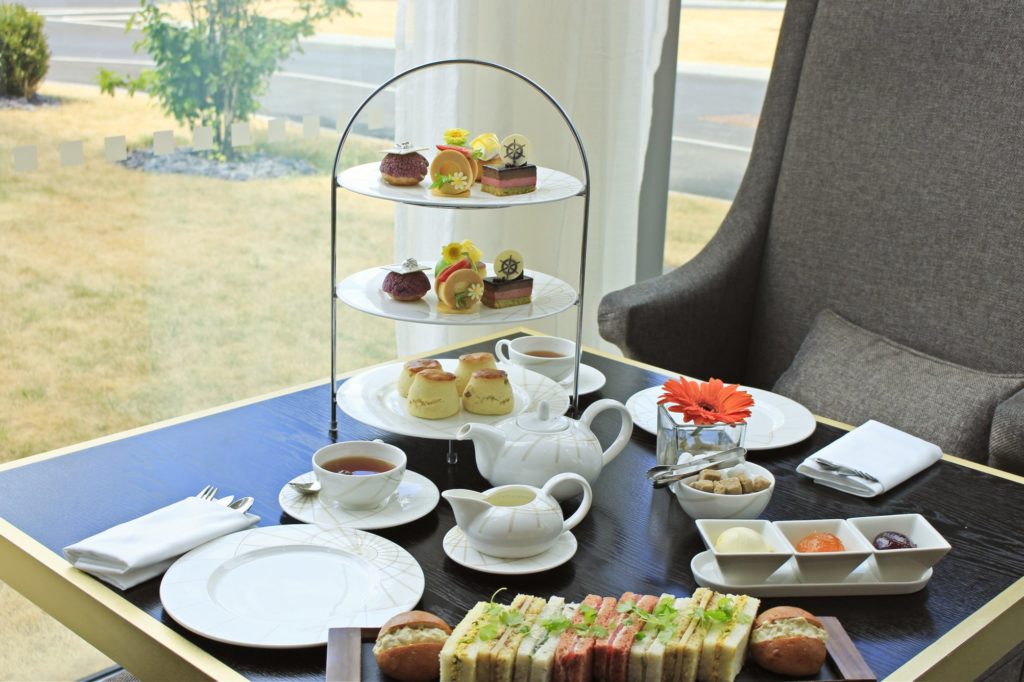 Waterview Drive, Greenwich Peninsula, London SE10 0TW
The Meridian Lounge offers ample space for relaxing, working, and Afternoon Tea experiences. Guests can settle down with homemade patisserie, fine teas, and specialty coffees in the elegant setting of the lounge or in the terrace.
From £42 per person
Served 12 noon – 5.00pm
Afternoon Tea East London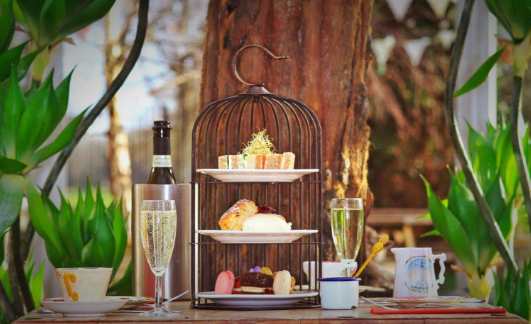 People's Park Tavern, 360 Victoria Park Road, E9 7BT
This afternoon tea in a secret garden the heart of Victoria Park is a brilliantly British affair. Settle down in this Hackney pub's heated marquee and enjoy tea served on fine china and sweet and savoury treats served in a gorgeous birdcage.
Visit the website for prices and opening times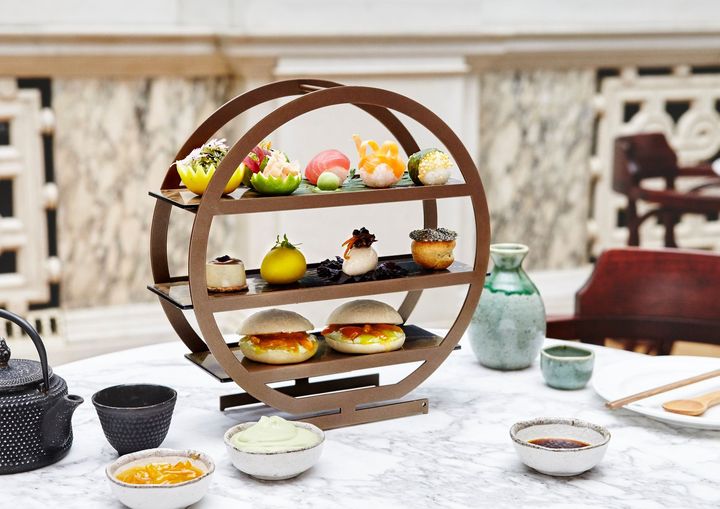 27 Poultry, London EC2R 8AJ
A Japanese-themed afternoon tea is served in the grand, marble-clad atrium of The Ned, and involves raspberry and lychee choux buns; temari sushi; and matcha-infused 'green' forest gateaux.
Visit the website for prices and opening times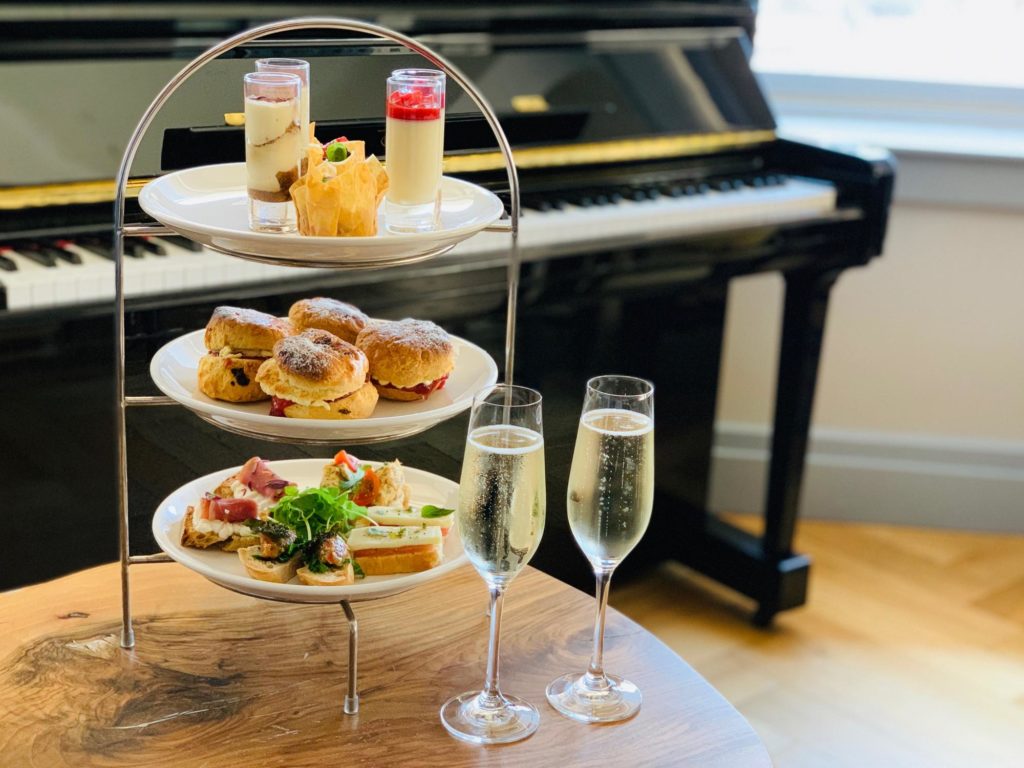 Silk St, London EC2Y 8DS
An actual jungle is hidden away in the Barbican Conservatory, a surprisingly vast glass hideaway filled with overhanging palms, fish-filled ponds and an entire section dedicated to cacti. You can enjoy an afternoon tea there!
Visit the website for further details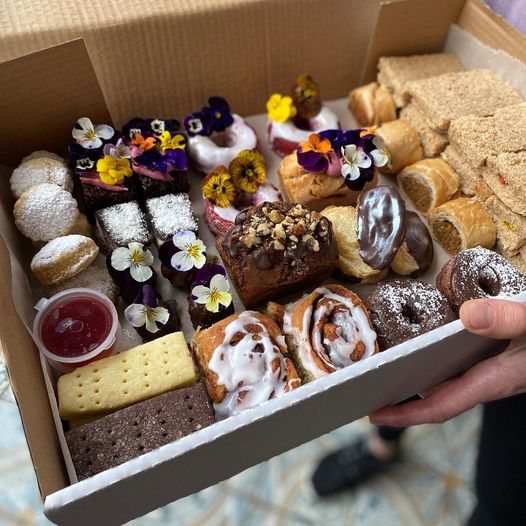 50 Lower Clapton Road, E5 0RN
Lele's have a great selection for vegans and aredelivering afternoon tea boxes all over London – the afternoon tea includes a selection of sweet and savoury treats including assorted baked doughnuts, lemon and blueberry cake, coffee and walnut cake, cookies, assorted brownies / sandwiches, savoury muffins, sausage rolls.
Contact them for prices and delivery times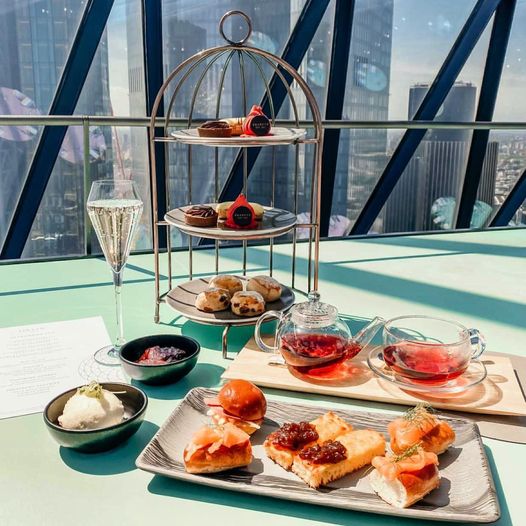 30 St Mary Axe, London EC3A 8EP
Take your afternoon tea in London to new heights at Searcys at the Gherkin. Located just a stone's throw from Liverpool Street. Enjoy a touch of sparkle while looking out at 360⁰ views over the City. Teas range from Classic to Prestige Extravagant, and each offering includes freshly baked scones with strawberry jam and clotted cream, alongside sweet treats of Victoria sandwich, Passion Fruit eclair and Caramel Craquelin.
Starting from £39 per person
Served Monday to Friday 1.00-4.00pm; Saturdays 2.30-4.00pm
321 Kingsland Rd, Dalston, London E8 4DL
MAP Maison is a cute neighbourhood bar in Dalston full of floral touches and vintage furniture. The East London spot serves up a quirky London afternoon tea in the form of cakes, pastries and the choice of either bubbles or one of their renowned cocktails.
From £25 per person
Served daily 1.00-5.00pm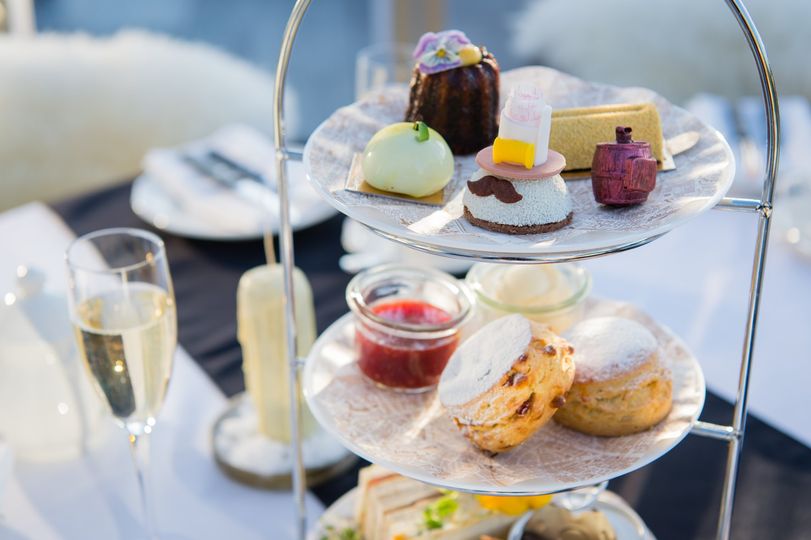 19-20 Garlick Hill, London EC4V 2AU
Head up to the roof terrace of Vintry & Mercer where they'll be serving up cakes and booze with views. Inspired by the guilds of the city, their tasty afternoon tea includes cakes, scones, delicious sandwiches and savouries and some plenty of drinks.
Visit the website for prices and reservations
335-337 Old St, London EC1V 9LL
Enjoy a deluxe Afternoon Tea in the Grade II listed Court House Hotel, in the Jailhouse Bar. Infamously this was once housed private cells where prisoners were held while awaiting trial, now turned chic and luxurious bar.
Enjoy a pot of your choice of loose leaf tea served with a selection of sandwiches, pastries and scones with raspberry jam and clotted cream, accompanied with the chef's choice of desserts.
From £19.75 per person
Visit the website for opening times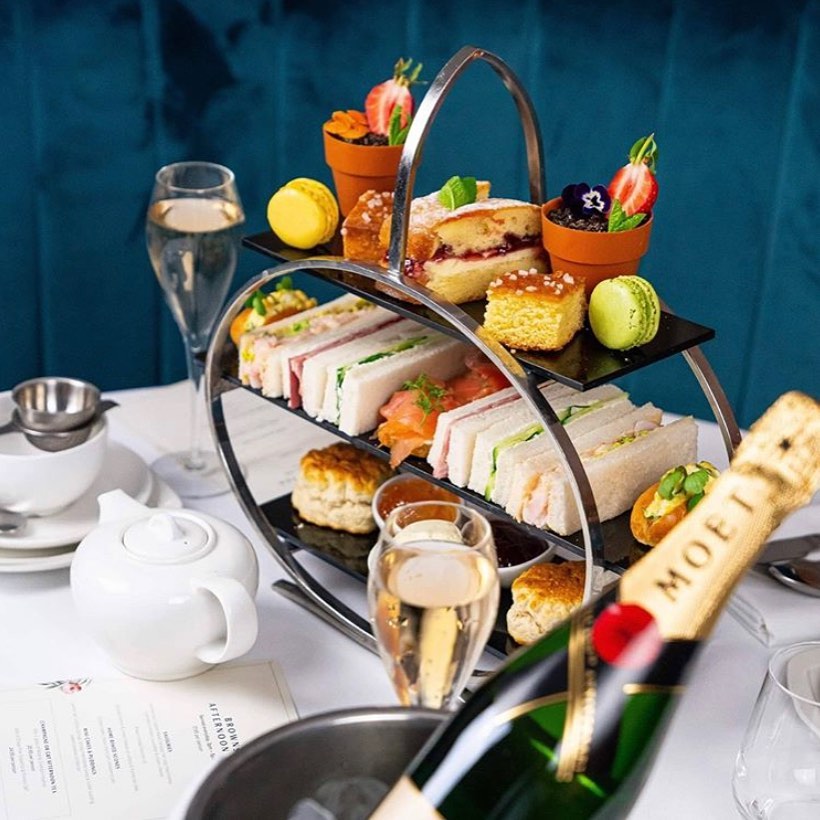 West India Quay, Unit A Hertsmere Rd, Canary Wharf, London E14 4AY
Treat yourself to a delectable assortment of savouries, warm scones with seasonal jams, and irresistible mini cakes and puddings.
Enjoy with hand-blended, Fairtrade teas, a perfectly chilled glass of Moët & Chandon Impérial, or a delightful boutique British G&T.
From £20 per person
Served daily until 5pm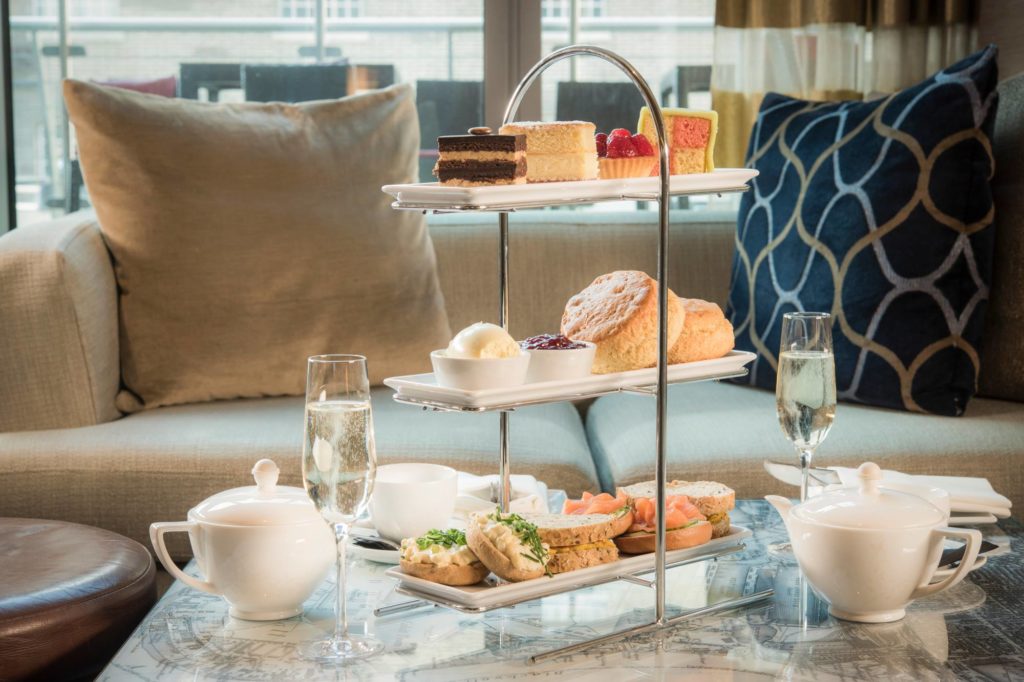 22 Hertsmere Road, Canary Wharf, London E14 4ED
Enjoy lunch, Afternoon Tea, after-work snacks and craft cocktails in Canary Wharf at G&Tea Lounge.
Visit the website for prices and opening times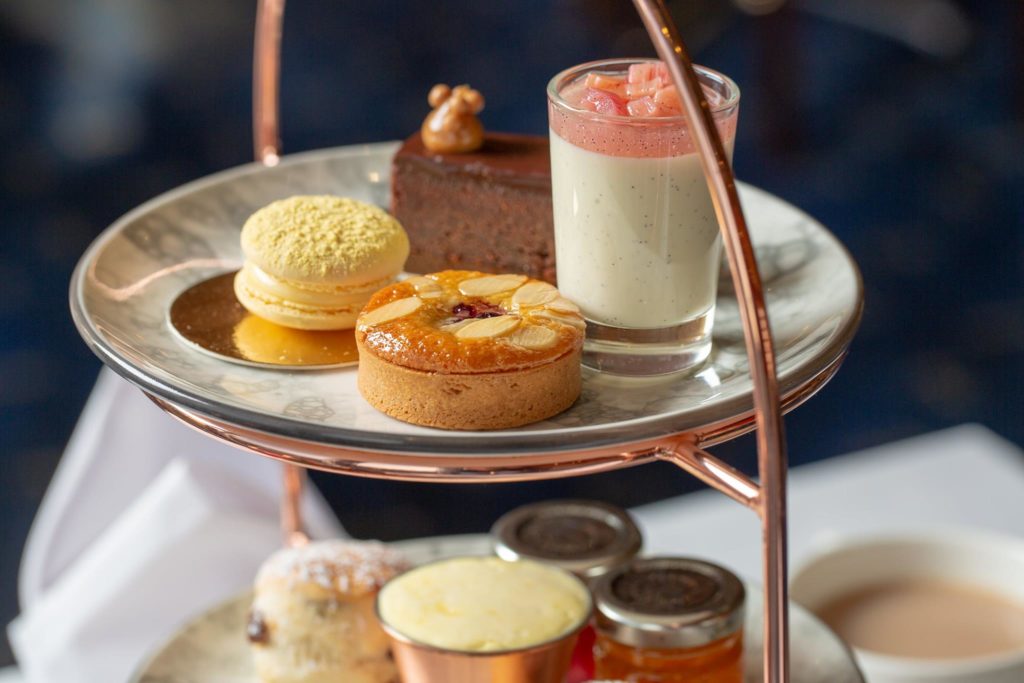 Royal Victoria Dock, Western Gateway, Royal Docks, London E16 1AL
For those of you on the lookout for the ultimate afternoon tea, during which your taste buds will be tantalised and your sense of adventure fulfilled, then look no further than Sunborn London.
Moored in the endlessly elegant Royal Victoria Dock, our beautiful super yacht provides the last word in timeless luxury, consistently striving to provide unforgettable dining experiences for guests who never settle for second best.
Visit the website for prices and opening times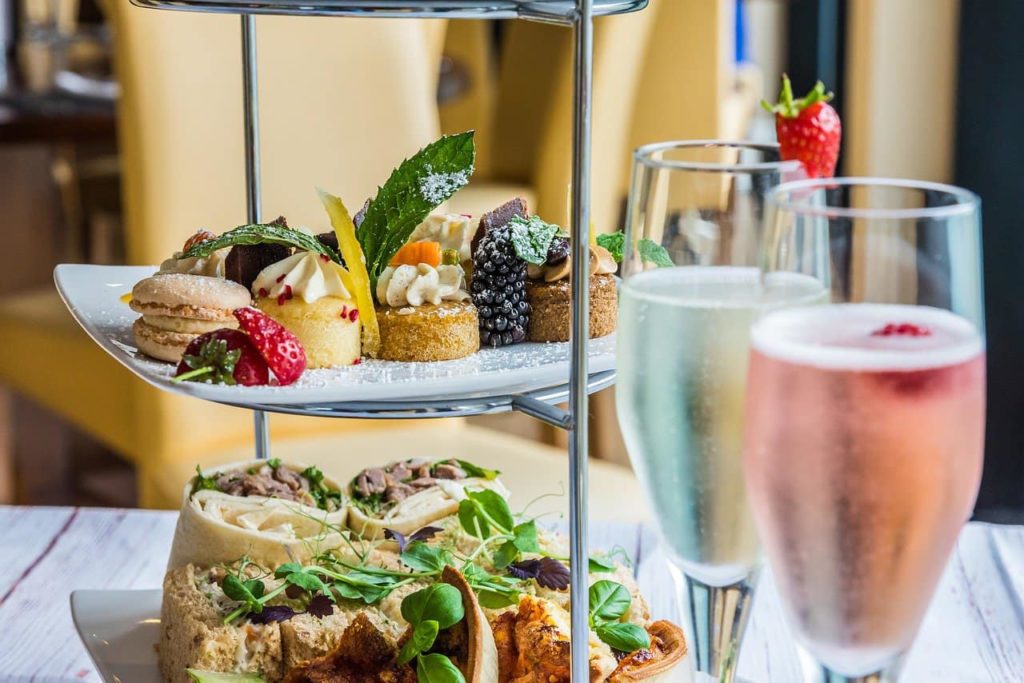 46 Westferry Circus, Canary Wharf, London E14 8RS
Quadrato Restaurant offers Italian inspired menus with flavours that are light, fresh and quintessentially Italian. The view of the garden and of the River Thames are best enjoyed from the elegant terrace or on colder days, the soaring windows of the restaurant.
From £25 per person
Served daily 12 noon to 5.00pm