Considering an Afternoon Tea in Liverpool but unsure which establishments offer afternoon tea and which are the best places to go.
We have compiled a list of the best afternoon tea Liverpool can provide, so if you are looking for the perfect afternoon tea with friends, a romantic valentines afternoon tea, a mothers day afternoon tea treat for your mum, or just a special treat for yourself, check out:
27 Afternoon Teas Liverpool Has To Offer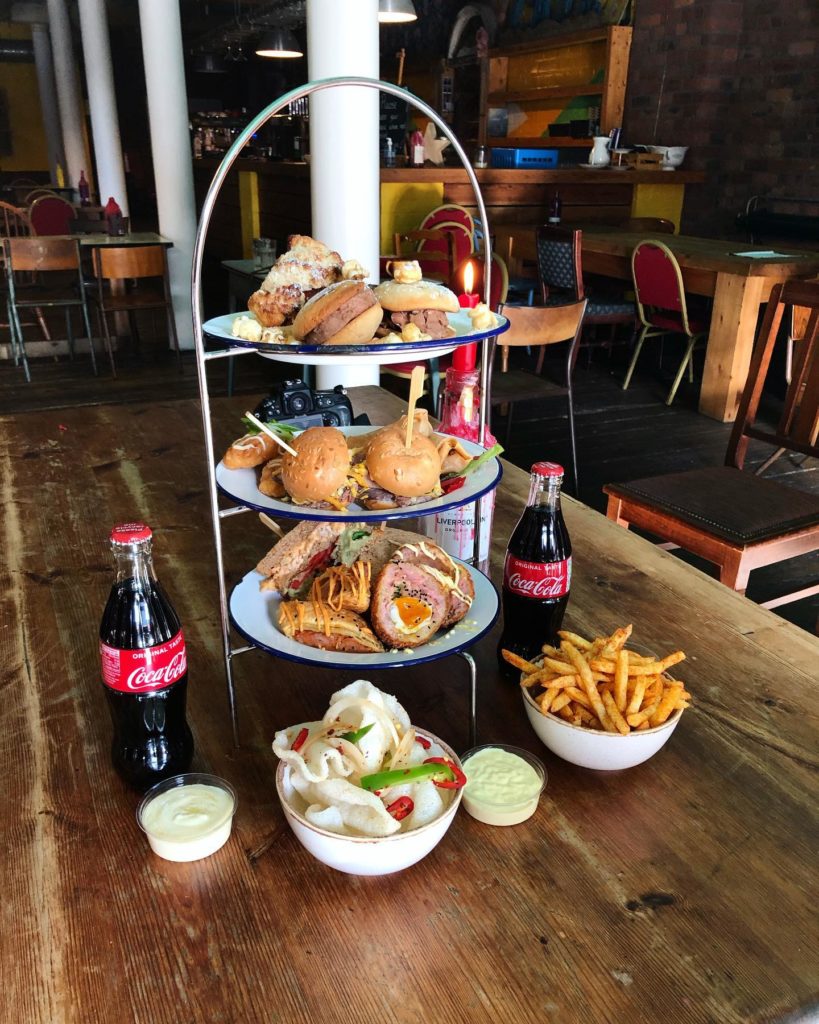 27 Parliament St L8 5RN
Baltic Social's Punk Afternoon Tea is scrapping the traditional and adding a bit of spice. Expect things like chilli nacho cups, salt and pepper halloumi bites and Malteser cookie sandwiches. There are veggie and meat versions and also some teacup cocktails! They're even offering a Punk Valentine's Tea delivered to your door during lockdown.
Contact Baltic Social via their website for prices.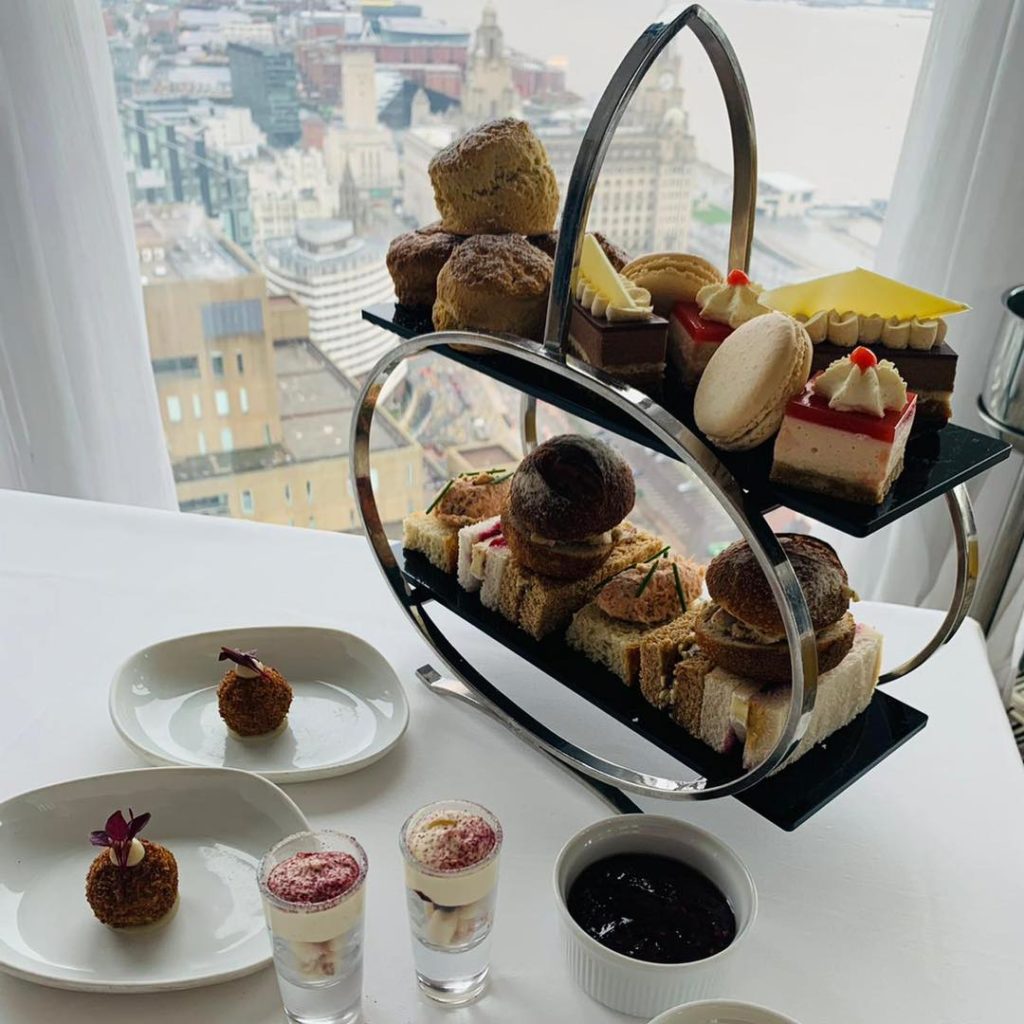 West Tower, Brook Street, L3 9PJ
Head 90 metres into the sky at Panoramic 34, one of the UK's highest restaurants. Their delightfully posh afternoon tea (including confit chicken leg sandwiches and blood orange and gingerbread cheesecake) is served with spectacular views of the city.
A luxury afternoon tea with an alcoholic drink costs £35 per person
Open every day from 12pm to 5pm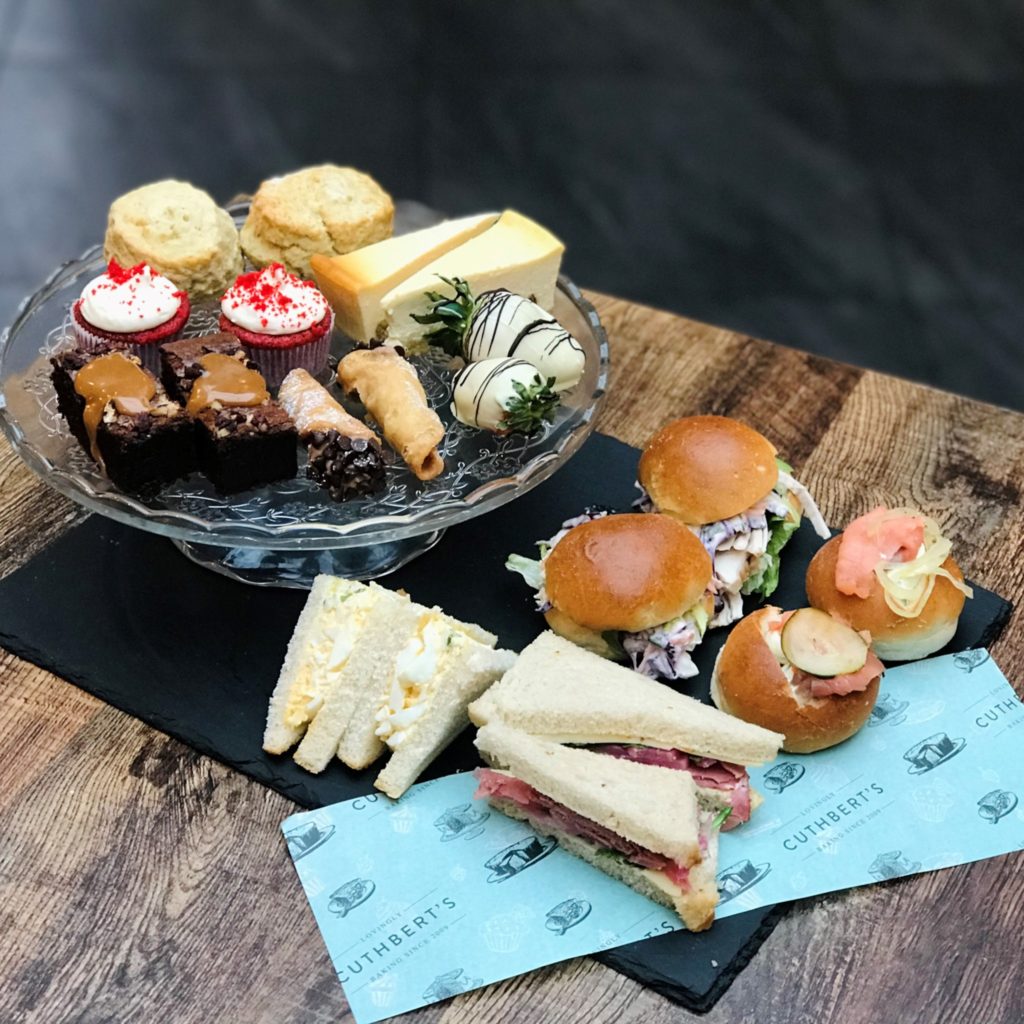 103 Mount Pleasant, L3 5TB
Though the Bakehouse's décor may be traditional its menu is impressively forward-thinking, offering up separate vegetarian, vegan and gluten-free selections, as well as a New Yorker version complete with mini-subs, hot dogs and cheesecake.
From £18 upwards for classic afternoon tea, £10 for children, £21 for the 'New Yorker', £20 for brunch tea.
Served Monday to Friday 2pm to 4:30pm, check website for set sitting times at weekends.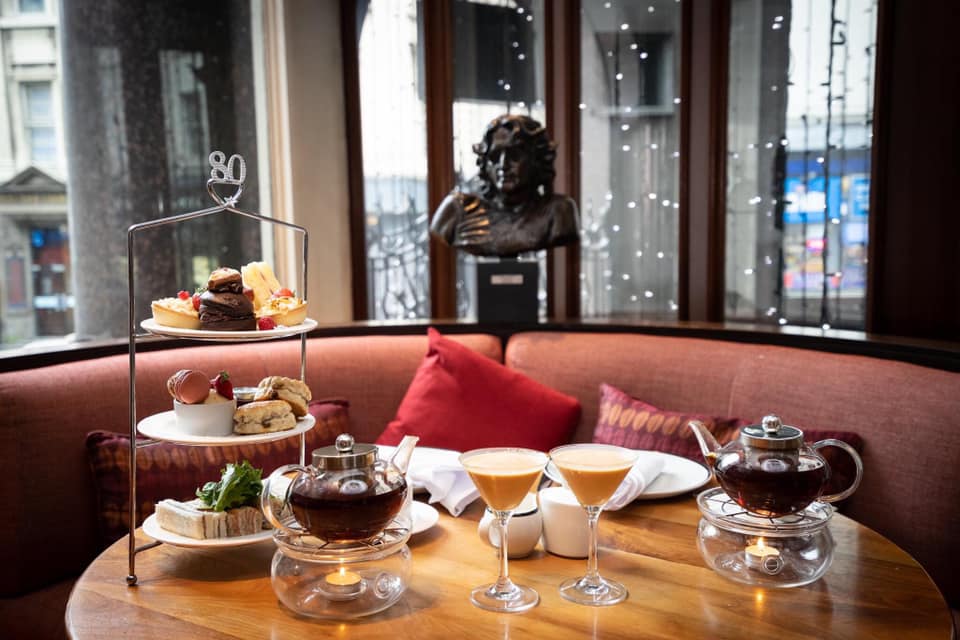 Central Buildings, North John Street, L2 6RR
The North John Street hotel is putting a twist on traditional afternoon tea and is offering upgrades to their extra special Sgt. Pepper's Afternoon Tea.
Traditional afternoon tea costs £14.95 and comes with finger sandwiches – including British beef and horseradish, smoked salmon and citrus cream cheese, glazed ham with grain mustard mayo and classic cucumber – fruit scones, clotted cream, preserves and an assortment of cakes.Upgrade to Sgt. Pepper's Afternoon Tea by adding prosecco for £3.95 or champagne for £5.95, with more options available. The Hard Day's Night Hotel also offer Children's Afternoon Tea for £8.95.
See website for opening times.
.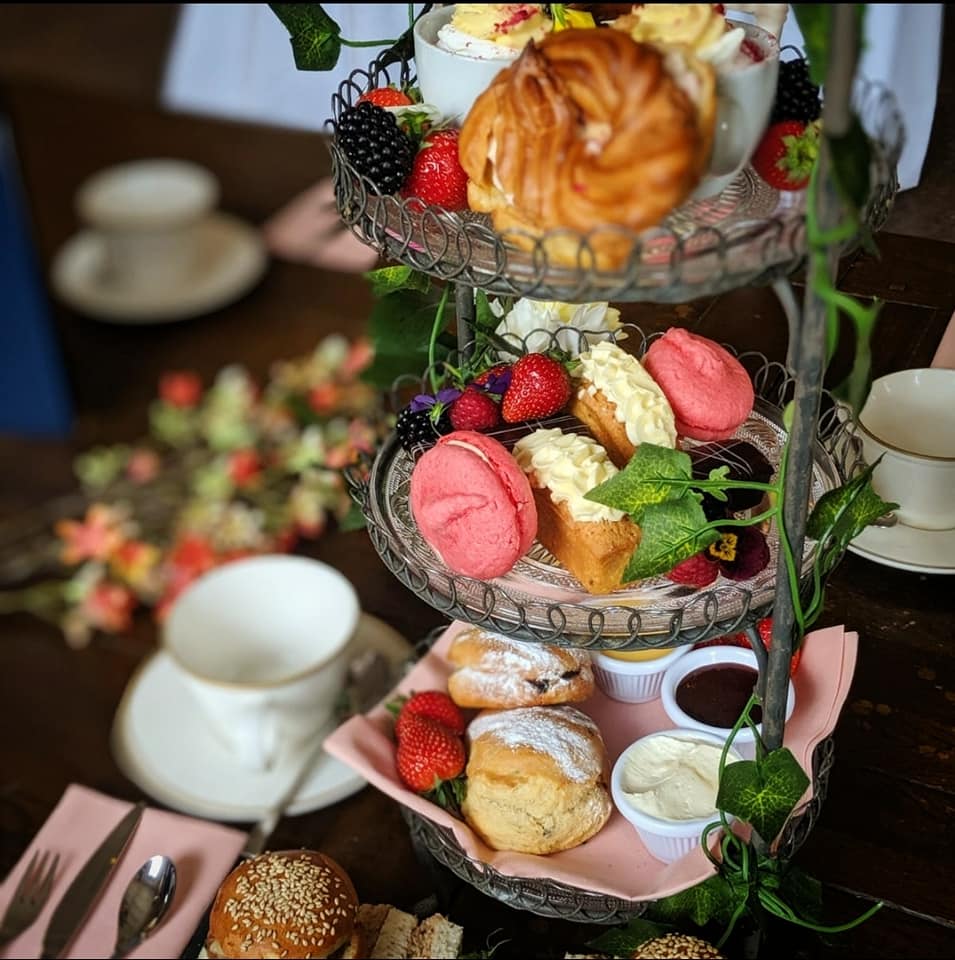 West Africa House, 25 Water Street, L2 0RG
Oh Me Oh My has already built a reputation as a classy venue for weddings and other big events. The cafe evokes the heyday of Parisian café culture. Their afternoon spread is also classically minded, with a French twist, throwing in dainty brioches and a white chocolate crème brûlée alongside finger sandwiches and almond cake.
Prices start at £19.95 for standard, £24.95 with Prosecco, £27.50 with a cocktail or Champagne
Monday to Friday, 12pm to 2:30pm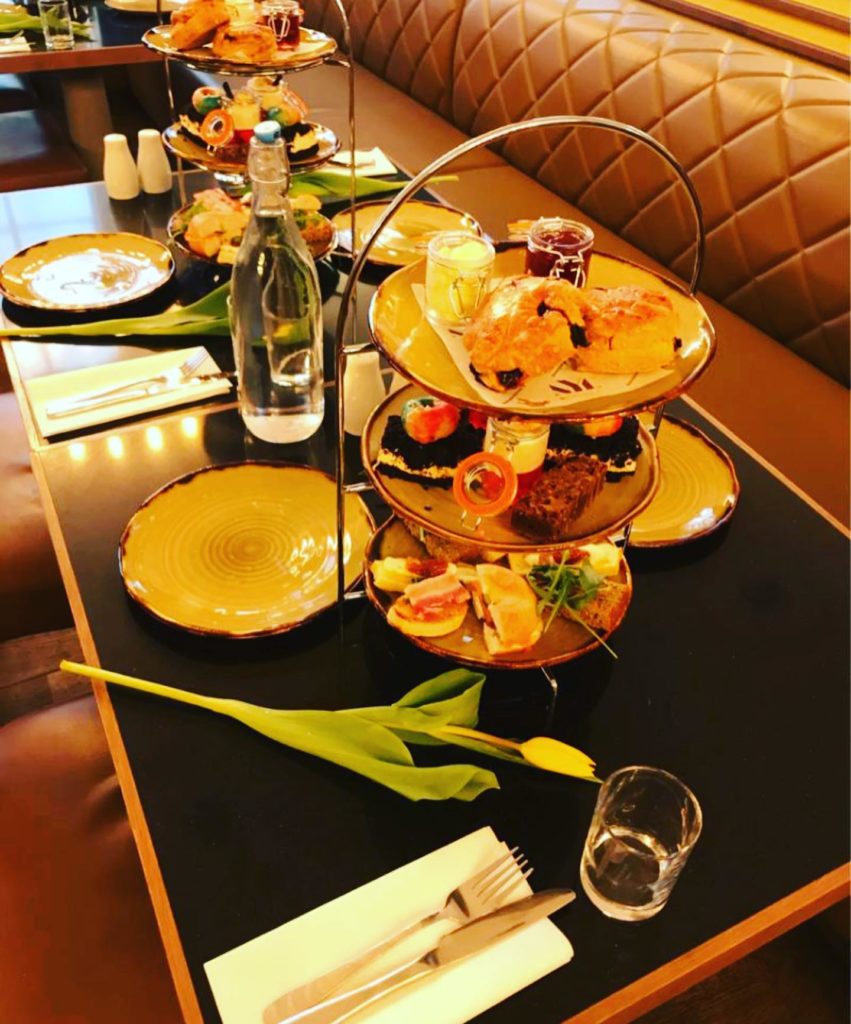 1 North John Street, Liverpool, L2 5QW
At NYL, the clue's literally in the name. Short for New York Liverpool, this stylish bar and restaurant aims to blend the vibrancy and bustle of New York with its own home town. Here, you'll find mini American classics (including doughnuts, bagels and even a BBQ pulled pork slider) served alongside some classic English favourites.
See website for prices.
Served from Wednesday to Sunday, 12pm to 5pm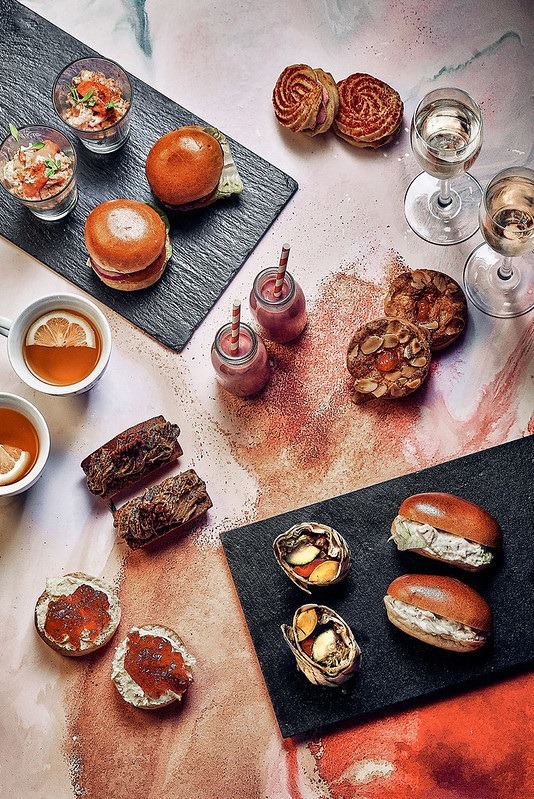 7 William Jessop Way, Liverpool L3 1QZ
Dine by Liverpool's stunning waterfront for an equally beautiful afternoon tea. You can choose from the classic cream tea or go for the whole Mal afternoon tea which includes everything from sandwiches, mini burgers, wraps, scones, cakes, fruit shakes and your choice of teas. You can even go all out and upgrade to their Champagne afternoon tea too.
Prices start from £27 with Champagne or a cocktail
Daily from 12 noon to 4pm.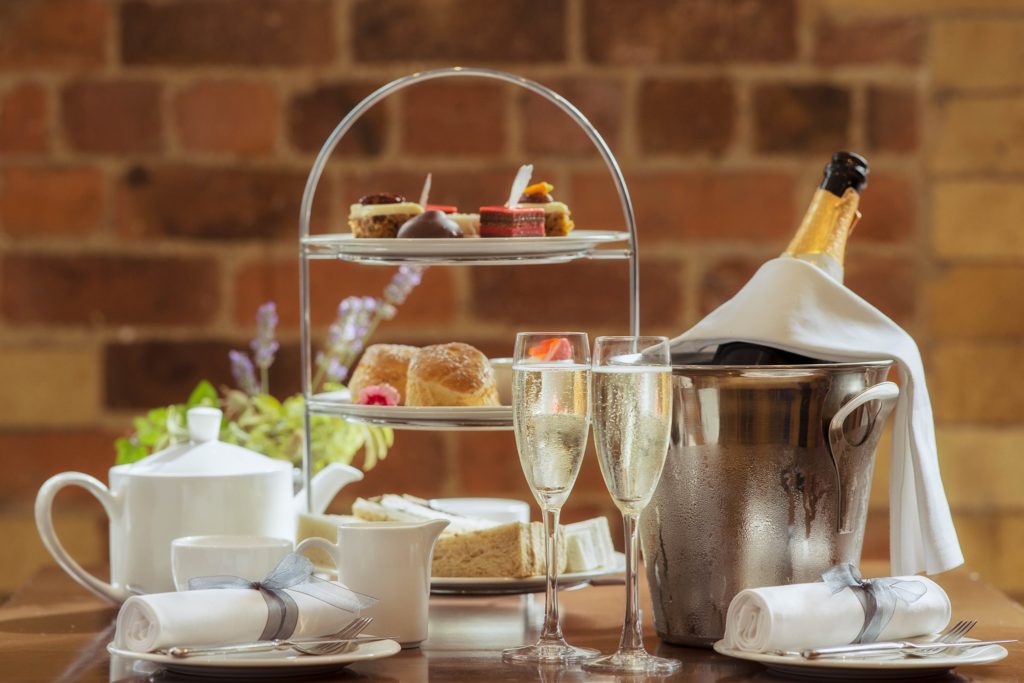 40 Hope Street L1 9DA
The London Carriage Works on Hope Street offer a classic array of freshly baked cakes, warm scones, finger sandwiches and a choice of speciality teas on their beautiful afternoon tea. If you're feeling particularly indulgent then why not add a glass of prosecco or champagne to ensure your afternoon at the London Carriage Works is extra special.
See website for prices.
Open daily 3-5.00pm.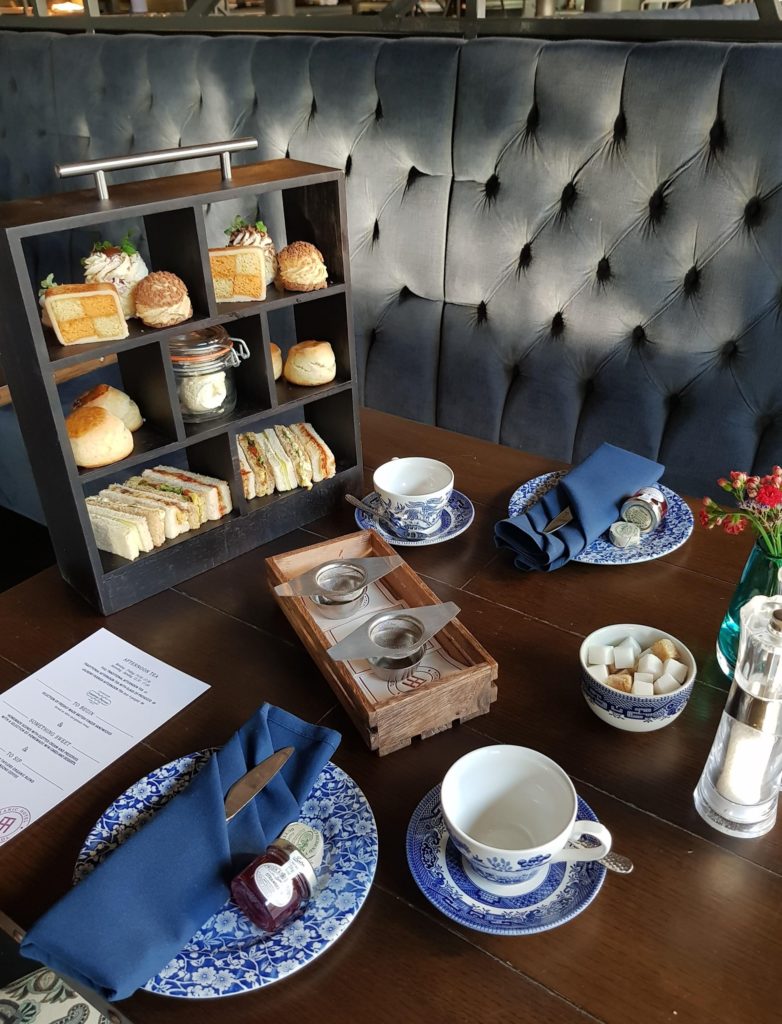 Stanley Dock, Regent Road, L3 0AN
Enjoy afternoon tea at Stanley's Bar and Grill at the Titanic Hotel for your next celebration. Alongside the beautiful afternoon tea which consists of finger sandwiches, homemade scones, desserts and speciality tea there are also incredible views out onto Stanley Dock.
£23 for classic afternoon tea, £27 with Prosecco, £32 with Champagne
Monday to Friday, 2pm to 5pm. Weekends 1pm-5pm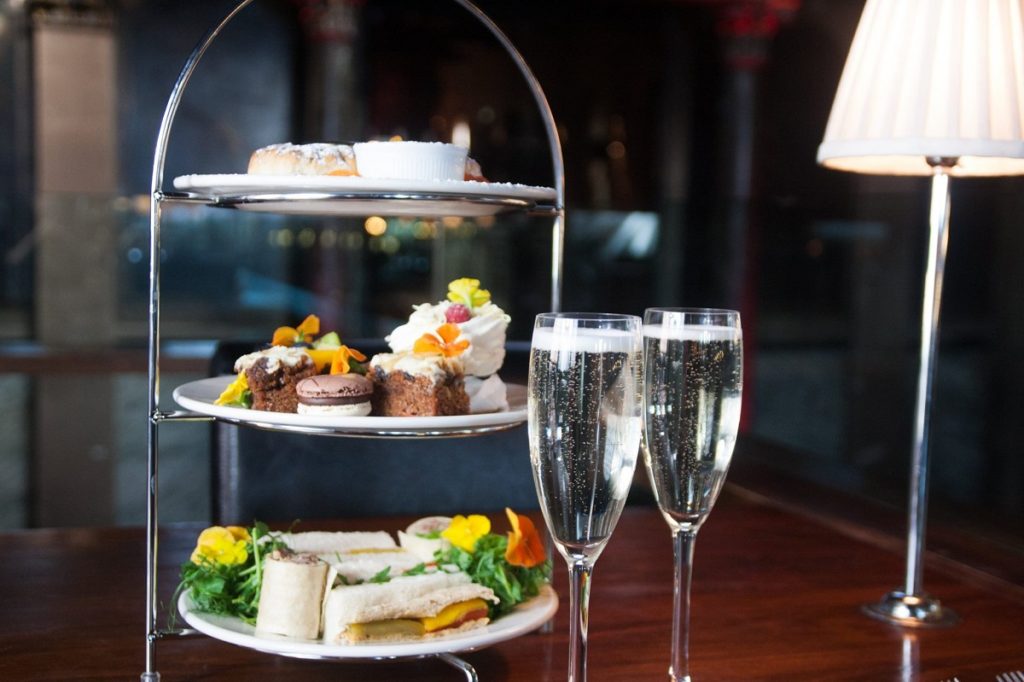 St Peter's Church, Seel Street, L1 4BH
The samba afternoon tea is as much about the fantastic entertainment on show as the tea. Whilst you eat and drink, prepare to be wowed by an amazing performance from the samba dancers! The food on offer has a twist, with sandwiches featuring fillings like Mediterranean vegetables and baba ganoush, as well as smoked salmon with lime and chilli crème fraiche.
See website for prices.
Every Saturday 2pm to 4pm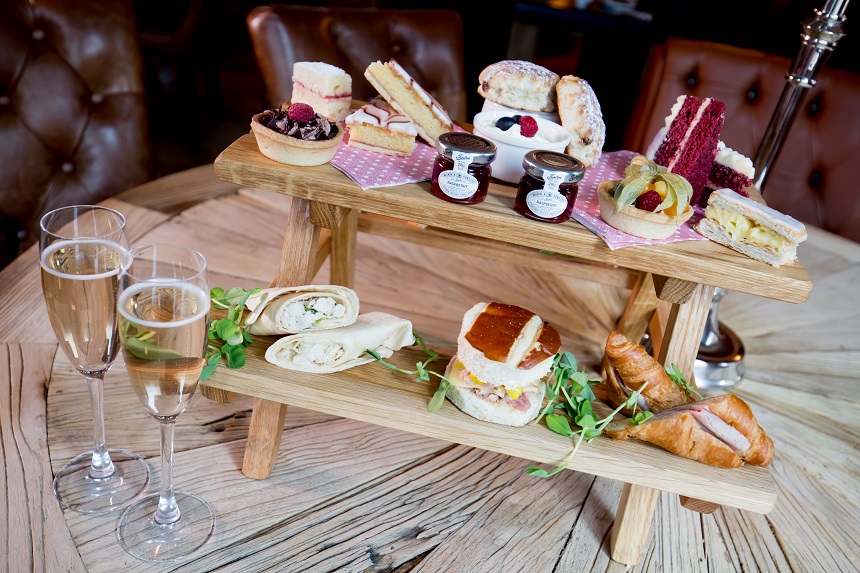 The Shankly Hotel, 60 Victoria Street, L1 6JD
If you love immaculate presentation then the afternoon tea served at the Shankly Hotel's Bastion Bar is a great choice. Served on a mini wooden picnic bench, the classic afternoon tea features finger sandwiches such as a chicken Caesar salad wrap, and a ham and mustard croissant. The top level of the picnic table is stuffed full of scones and cakes and all can be enjoyed alongside a glass of bubbly. The afternoon tea constantly changes themes.
£19.95 for classic, £24.95 with a glass of fizz
Served every day from 1.30pm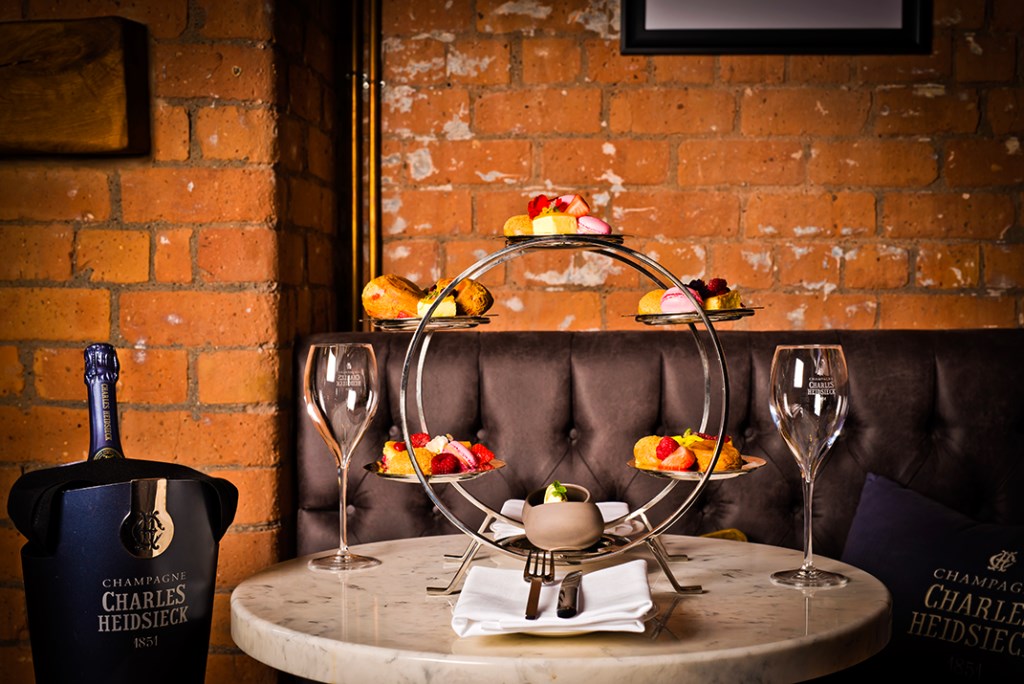 1 Sugnall Street, L7 7EB
The Art School serves one of Liverpool's finest afternoon teas in its underground area, The Cellars. Served on a steel Ferris wheel stand, the afternoon tea features some posh takes on traditional sandwiches such as a Loch Duart poached salmon creation with dill creme fraiche, cucumber and Keta caviar on rye bread. As well as freshly baked scones, sweet options include Earl Grey macarons. You have the choice to enjoy your afternoon feast with coffee or tea, Prosecco, or Champagne.
See website for prices
Served Tuesday to Saturday, 2pm to 4pm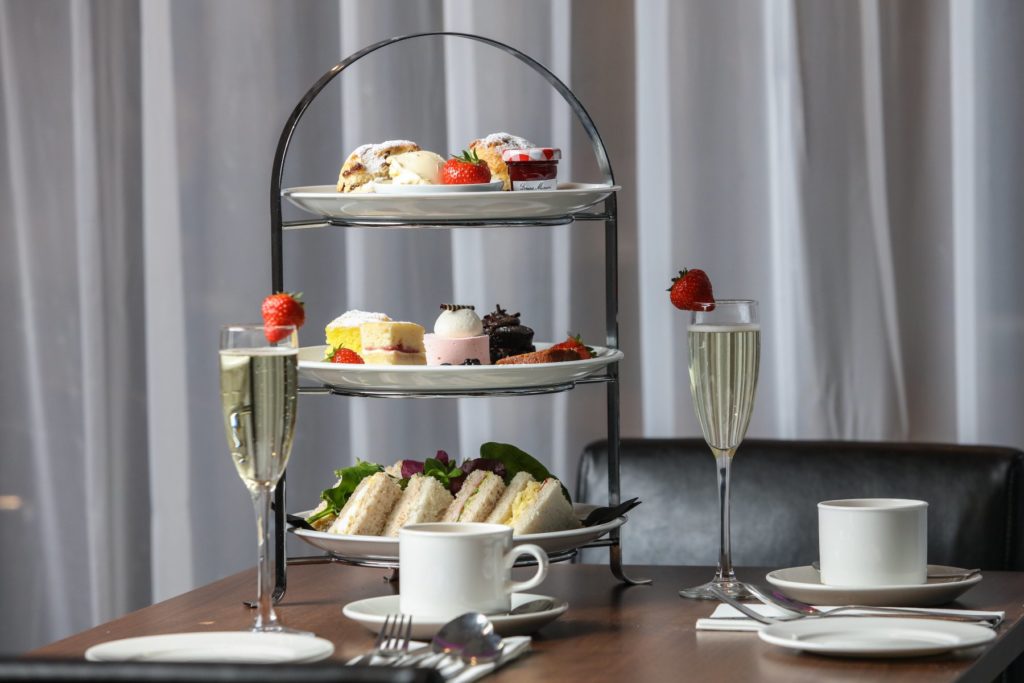 3 Thomas Steers Way, Liverpool, L1 8LW
The Traditional Afternoon Tea consists of a classic selection of finger sandwiches, Scone served with strawberry jam and clotted cream, a selection of cakes plus a selection of Twinings tea or cafetiere of Illy coffee
Price is £16.50 per person
If you fancy something slightly different in the warmer months, A perfect nod to The Beatles, The Strawberry Fields selection is available throughout August and includes four Strawberry Fields cocktails made with mouth-watering Beefeater Pink Gin, rose wine, strawberry puree, muddled with strawberry and mint and topped with lemonade. Enjoy a selection of sandwiches – egg and cress, cheese and pickle, tuna mayo and ham with mustard mayo – and fantastic selection of cakes. And, of course, no afternoon tea would be complete without traditional scones served with cream and jam.
Prices start at £16.50, add a glass of champagne for £25.
Served from 1-4.00pm.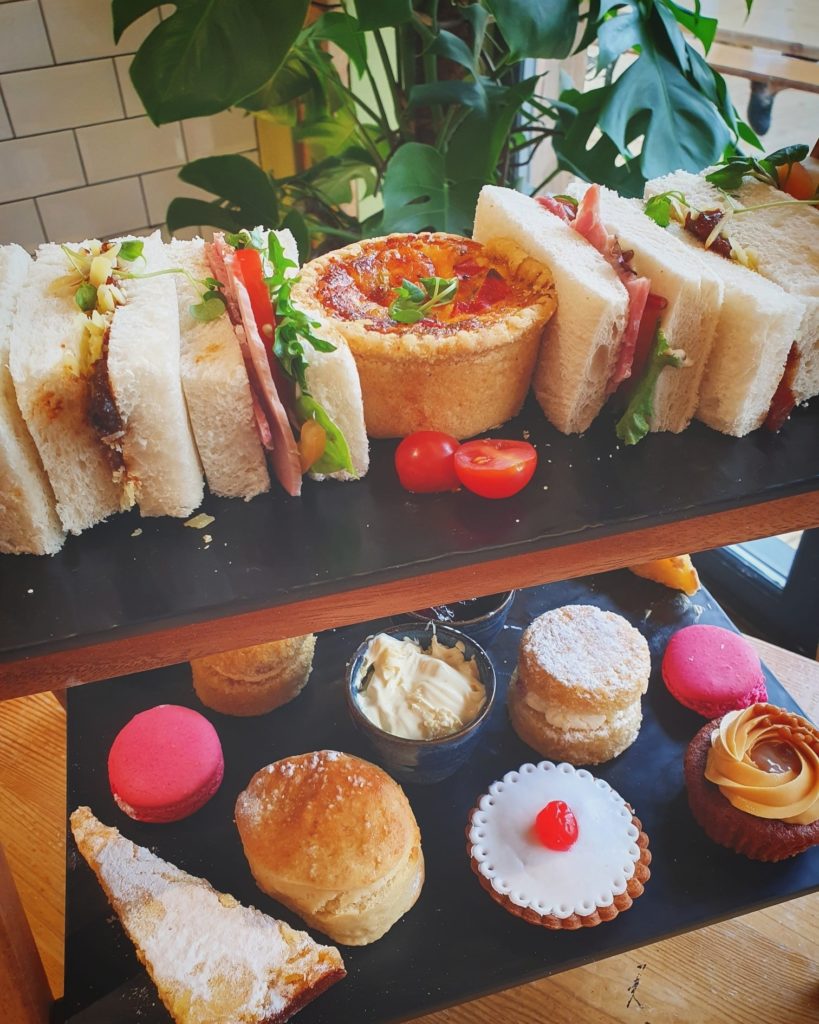 Old Clatterbridge Road, Bebington, Wirral, CH63 4JB
There's a collection of sandwiches, buns and savouries, and cakes and desserts to-die-for, all created with local ingredients and to be enjoyed with constantly flowing tea and coffee. You'll also find vegan, gluten-free and dairy-free options available.
Prices from £20 and £24 with a glass of fizz if you want an extra treat.
Available Thursday to Sunday 12 noon – 3pm.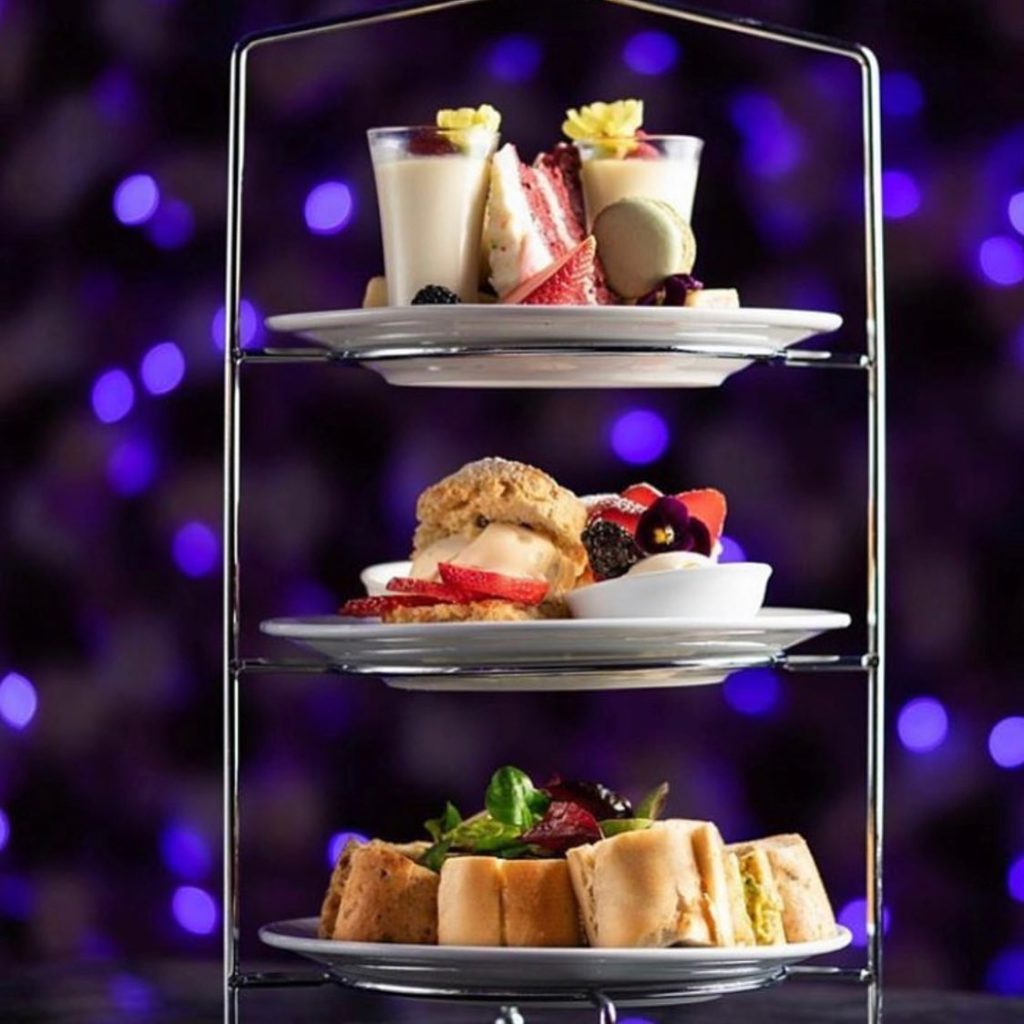 7-11 Sir Thomas Street Liverpool L1 6BW
Delight in a selection of sandwich rolls, homemade scone with jam, clotted cream and strawberries, and delicious cakes and desserts and a pot of loose leaf tea with 26 varieties to choose from.
Priced from £20 per person.
Saturday 12 noon – 8pm; Sunday 12 noon – 6pm.
Speke Hall Avenue, Speke, L24 1UX
After exploring the garden centre enjoy Dobbies' traditional afternoon tea. Indulge in a variety of finger sandwiches, selection of mini cakes, slices and strawberry tart, plain and fruit scones with jam and clotted cream, plus a pot of tea or filter coffee.
There's a vegan afternoon tea too, and a kids' afternoon tea.
Prices from £12.95 per person; kids tea £6.50 per child.
Served daily 12 noon -4.30pm.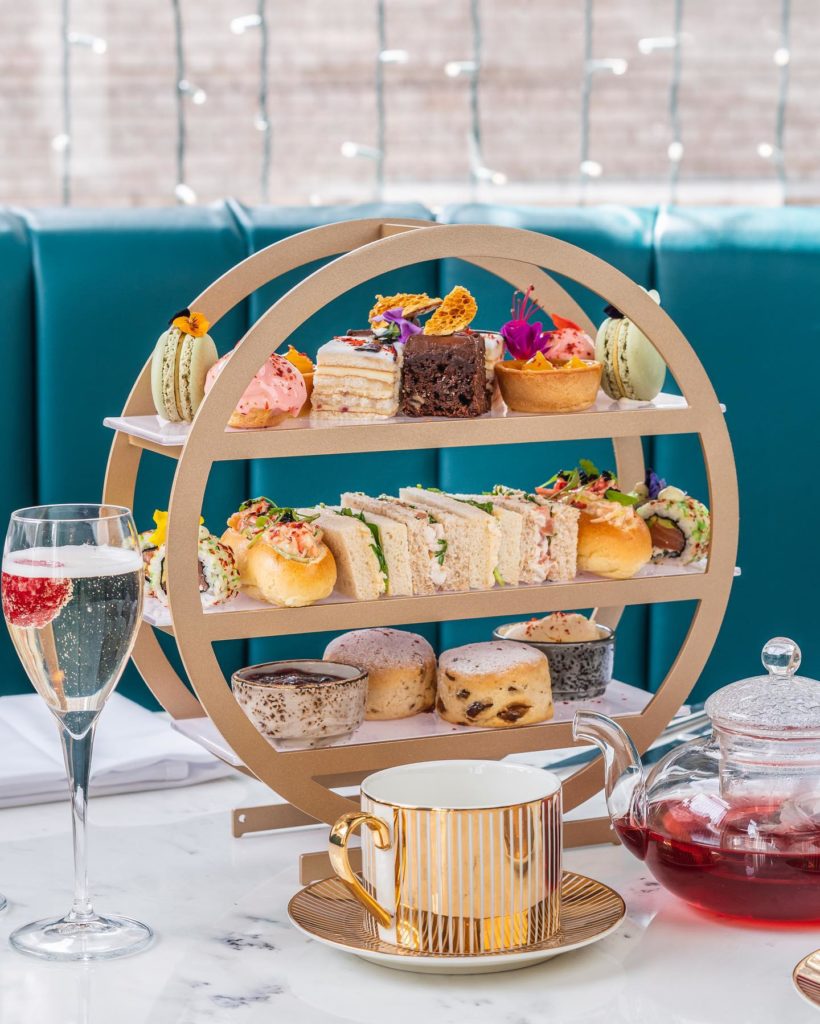 15 Victoria Street, Liverpool L2 5QS
Indulge in an afternoon tea of Asian flavours at Dash on Victoria Street. You will enjoy luxurious lobster rolls and smoked salmon sushi nori and also cherry blossom infused Choux buns, Pornstar martini tart and seasonal macarons.
Then warmly baked homemade scones served with a sweet jam and indulgent cream will finish your afternoon off perfectly. There is also a vegetarian menu.
Contact the restaurant for prices and opening times.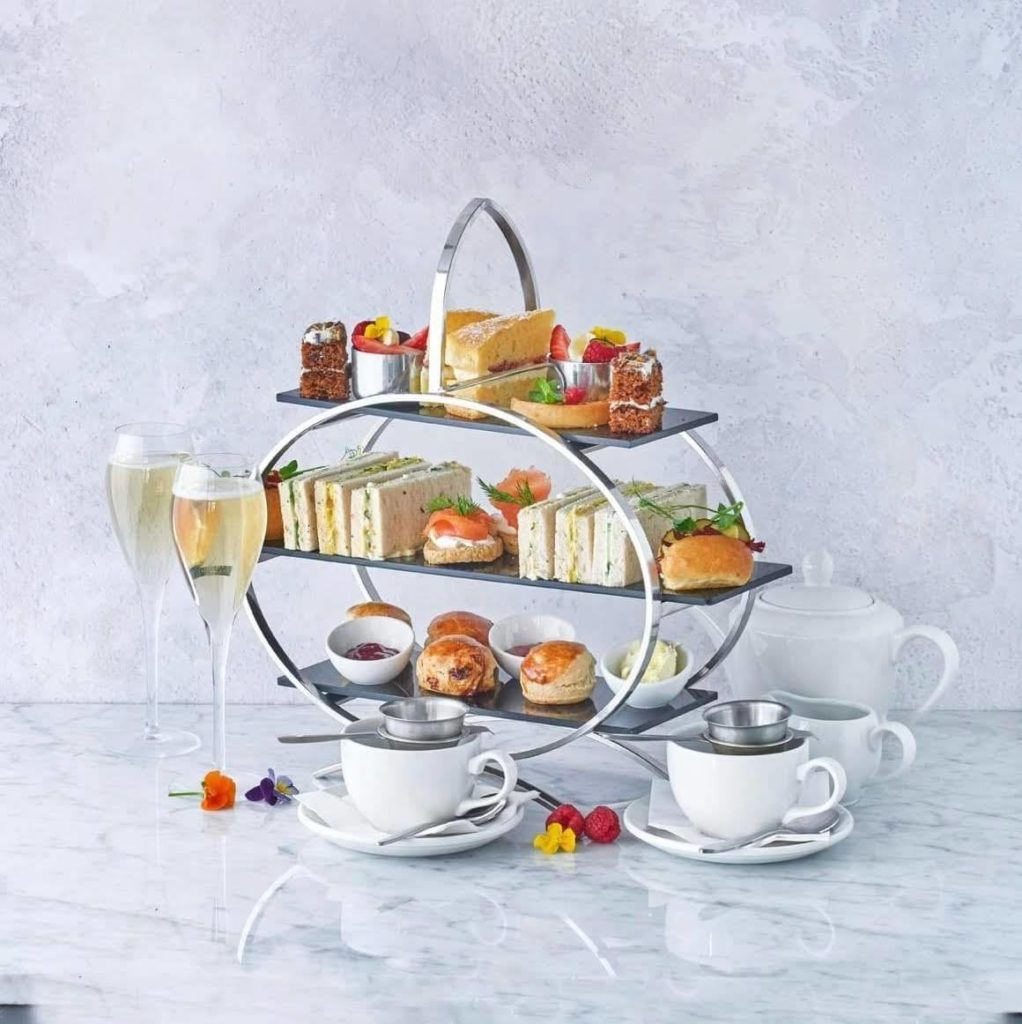 Unit 1 MSU7, Liverpool One, Liverpool, L1 3DN
Browns serve a delicious afternoon tea including a selection of mini brioche rolls and crostini, fruit scone with strawberry jam and clotted cream, a range of mini desserts, and a choice of loose leaf teas. There is an option to add a glass of Champagne or gin and tonic, if you're in an especially indulgent mood.
Prices from £18.50
Served daily from 2-6.00pm; Saturday 3-5.00pm.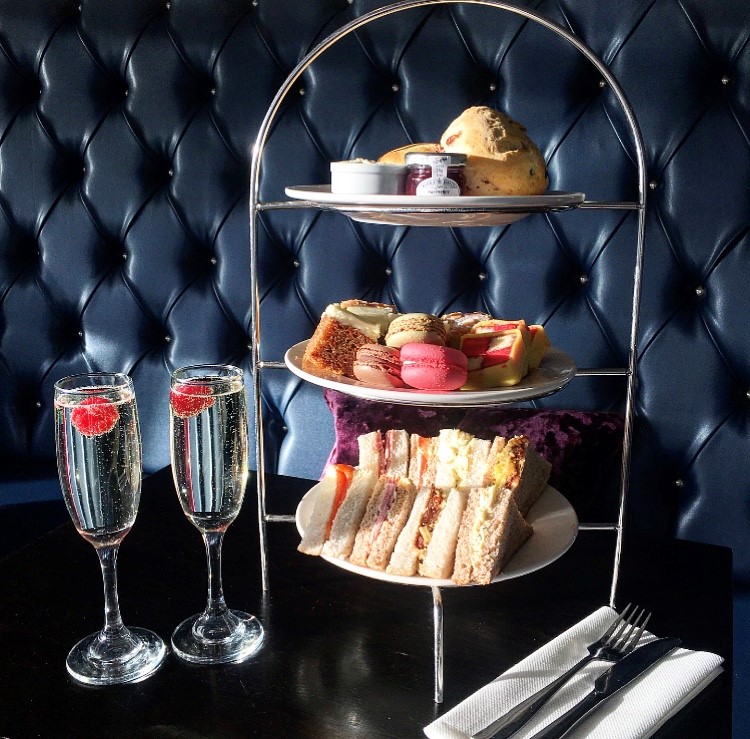 Southport Old Road, Formby, Southport, L37 0AB
Enjoy afternoon tea in The Fairway Grill, a sleek and stylish setting with a blue and copper colour scheme. The Fairway Grill features large windows, where you can view the maintained golf course as you indulge in a range of treats. Tuck into a selection of traditional finger sandwiches, scones with clotted cream and jam and a range of sweet treats.
Prices from £17.50 per person.
Served 12.30pm to 4.30pm Monday – Sunday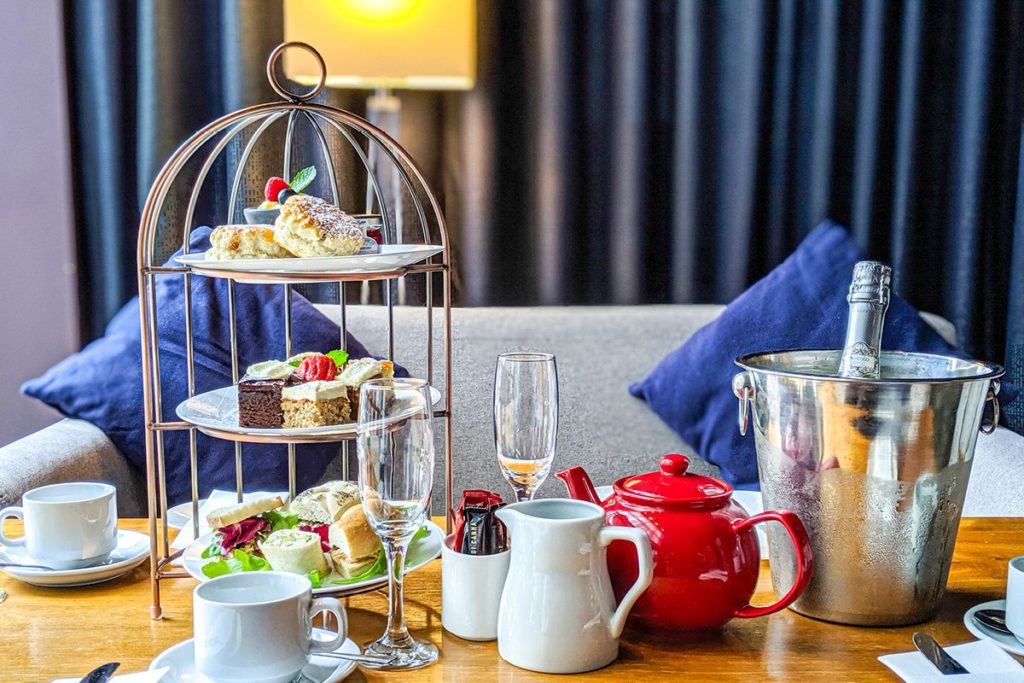 107 Old Hall Street, Liverpool, L3 9BD
Indulge in a spot of afternoon tea at the Radisson Blu, they have a mouth-watering selection of sweets, scones and savouries, all served in beautiful surroundings. Here you can enjoy quintessentially British finger sandwiches, freshly baked scones served with clotted cream and strawberries and a wonderful range of pastries and desserts to finish.
Prices from £10 add a glass of fizz for an extra £5.
Served 12 noon-4pm Monday – Sunday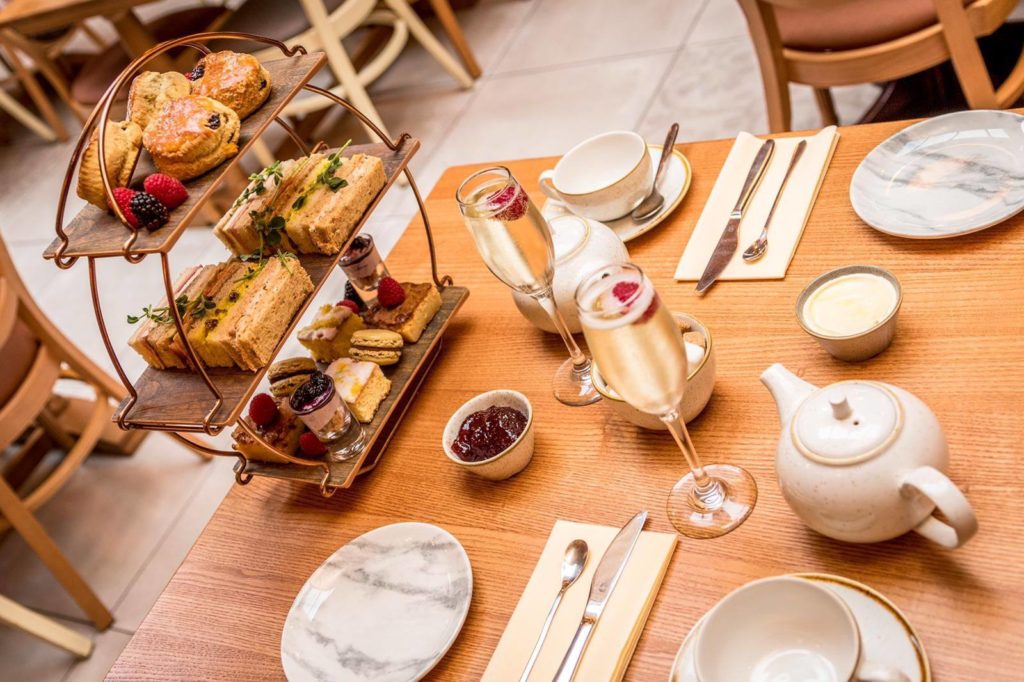 Allerton Road, Liverpool, L18 3JT
Set in a beautiful, tree-lined location in the suburbs of Liverpool, Allerton Manor offers afternoon tea with gorgeous views of the golf course. On the menu are delightful treats such as lemon drizzle cake and salted caramel blondie for you to enjoy.
Afternoon Tea is served in the Old Stables Restaurant, built on the former stable block and courtyard.
Priced at £27.50 with Champagne
Served 2pm to 4.30pm Monday – Sunday.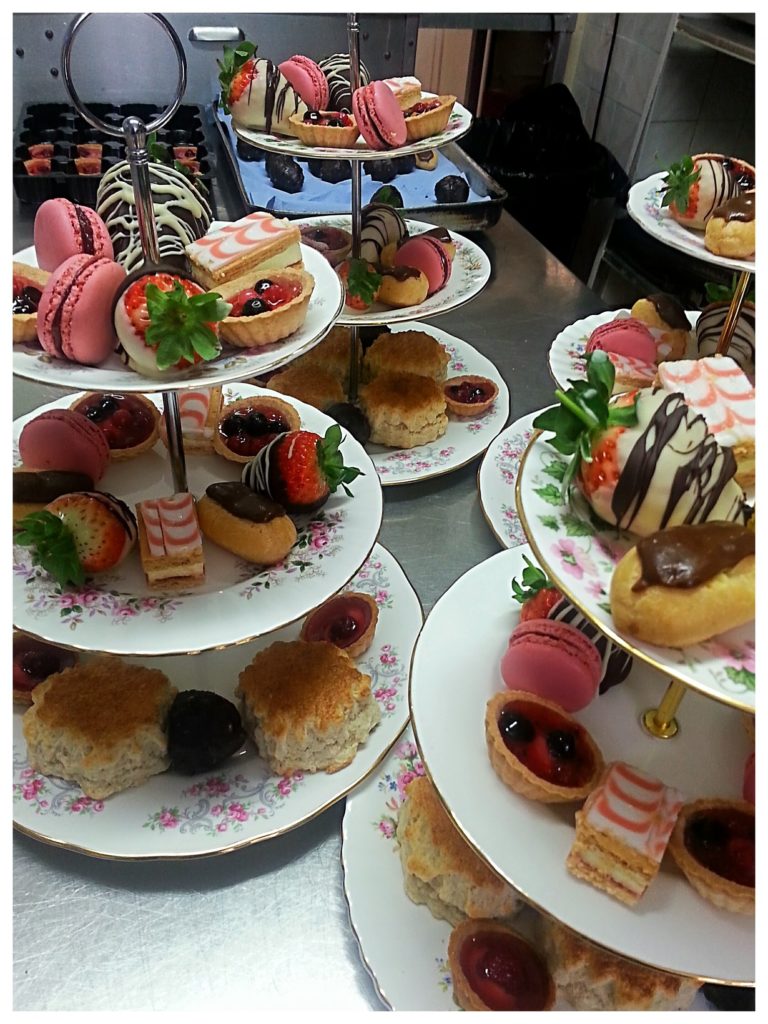 31 Shrewsbury Road, Prenton, CH43 2JB
Shrewsbury Lodge is the perfect place to enjoy an afternoon tea with speciality teas, and a luxury selection of delicate homemade finger sandwiches served on fresh wholemeal or white bread.
There are also freshly baked scones along with cakes, pastries and sweet treats.
Prices from £15.95 per person.
Served 12 noon to 5pm Monday – Sunday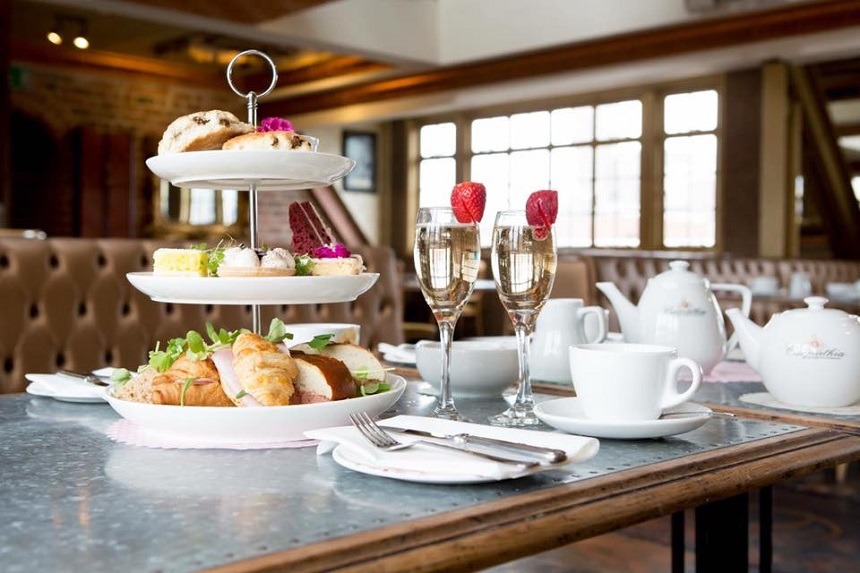 30 James Street, L2 7PQ
Served daily,this afternoon tea boasts one of the best views in the city. Tuck into delicate finger sandwiches, delightful sweet treats and, of course, a glass of fizz, in the rooftop restaurant at this luxurious hotel. Looking over the Albert Docks and Liverpool's iconic waterfront, the Carpathia Bar and Restaurant is the perfect spot. Look out for their themed afternoon teas.
Priced at £19.95 or £24.95 with Prosecco
Served daily 12 noon – 5pm.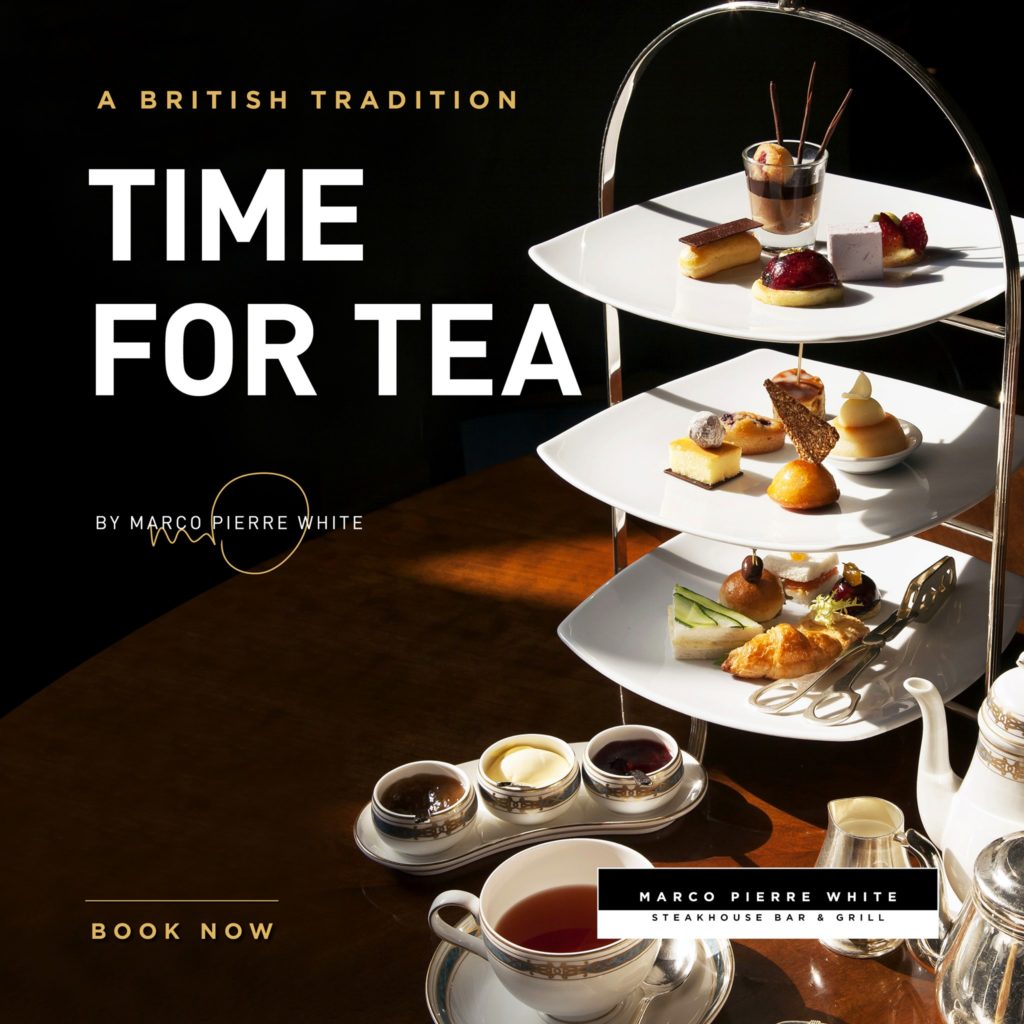 10 Chapel Street, Liverpool, L3 9AG
Enjoy a traditional afternoon tea at Marco Pierre White Steakhouse Bar and Grill, complete with savoury sandwiches, sweet treats including macarons and specially selected TeaPigs tea.
Prices start from £17.95 per person, gentlemen's and children's afternoon tea are also available.
Served daily 1-6pm.
7 Tower Gardens, Tower Building, The Strand Liverpool L3 1LG
Situated on the stunning waterfront, this popular historic pub has reinvented itself with just a touch of its former historic charm. Tuck into a delicious afternoon tea as you soak up the lively and inviting atmosphere.
You'll be served a scrumptious assortment of freshly-made finger sandwiches, a selection of classic English cakes and a pot of tea or coffee. Enjoy tea and cake with a friend in style with this delightfully indulgent experience.
Check website for Opening hours and prices.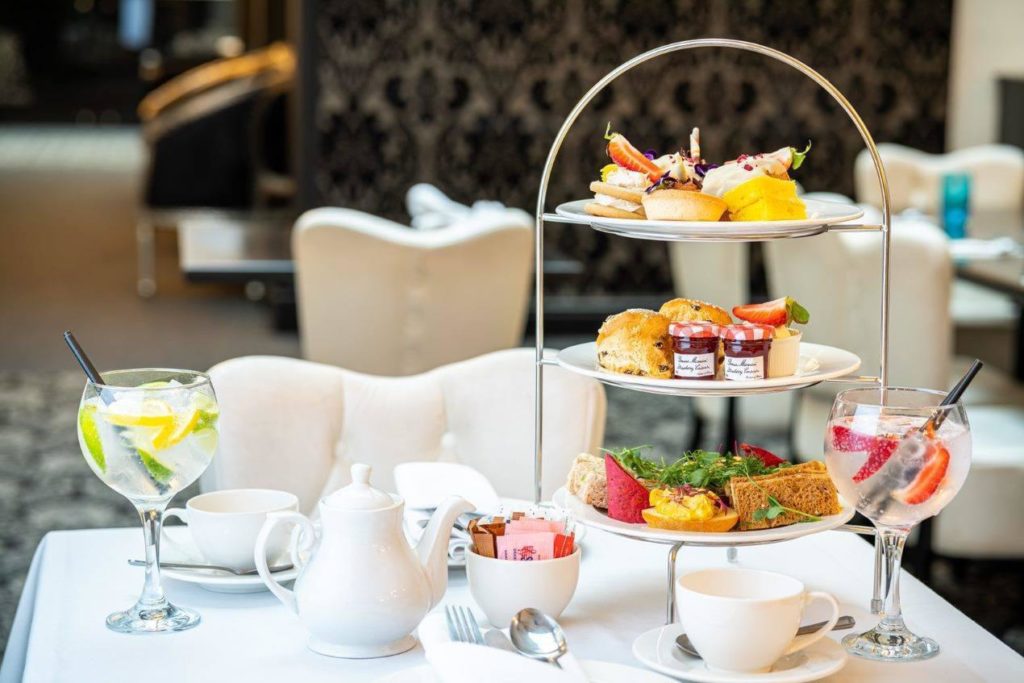 24 Hatton Garden, Liverpool, Merseyside L3 2AA
Is there anything better than a pot of tea and a stack of cakes? Check out the Afternoon Tea menu for a scrumptious deal, with various finger sandwiches including Roast Ham Finger Sandwich, Grain Mustard and Honey Mayo, Egg Mayonnaise and Smoked Applewood Cheese, Salmon and Crème Fraiche, Baby Spinach on Beetroot and Chia Wrap or maybe Coronation Chicken and Rocket on Brioche.
Followed by Mini Sticky Toffee Loaf Cake, Dulce Du Leche Cream, Lemon Meringue and Blueberry Eton Mess, Ginger Biscuit Crumb, Craquelin Choux Bun, Raspberry Crème Patissiere, Chambord Gel, Chocolate Mousse and Hazelnut Praline Tartlet, Strawberry, Shortbread, Vanilla Cream and Fresh Strawberries, and not forgetting homemade fruit scones with raspberry and strawberry jam and clotted cream.
With a selection of teas, including English Breakfast / Earl Grey / Green / Mint / Cranberry & Raspberry, or maybe a Espresso / Americano / Flat White / Macchiato / Latte / Cappuccino / Mocha or Hot Chocolate
From £18.95 per person, or add prosecco for an extra £5, champagne for £10 or a cocktail for £9.
See website for opening hours.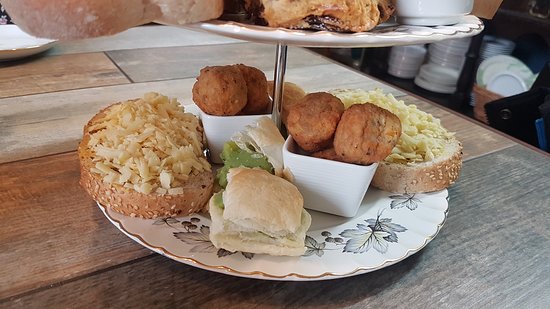 65a Norfolk St, Liverpool L1 0BE
Fodder offer a Scouse afternoon tea. A local take on a universal favourite, served on the best china in fodder's Parlour.
Enjoy a delicious selection of Liverpool flavours, including Scouse Balls, Pea-wack Puffs, Liverpool Judy, Wet Nelly, and of course freshly mined jam butties from Knotty Ash.
Afternoon tea for two £22.50
See website for opening times.
Have you discovered the place for your next Afternoon Tea ?
Check Out all of the Afternoon Tea Choices available throughout the UK.