Considering a themed Afternoon Tea but unsure which establishments offer afternoon tea with a theme and which are the best places to go.
We have compiled a list of the best themed afternoon teas, so if you are looking for the perfect afternoon tea with friends, a romantic valentines afternoon tea, a mothers day afternoon tea treat for your mum, a fathers day treat for your dad or just a special treat for yourself, check out:
Best Themed Afternoon Tea Near Me
Park Row, 77 Brewer St, Soho, London, W1F 9ZN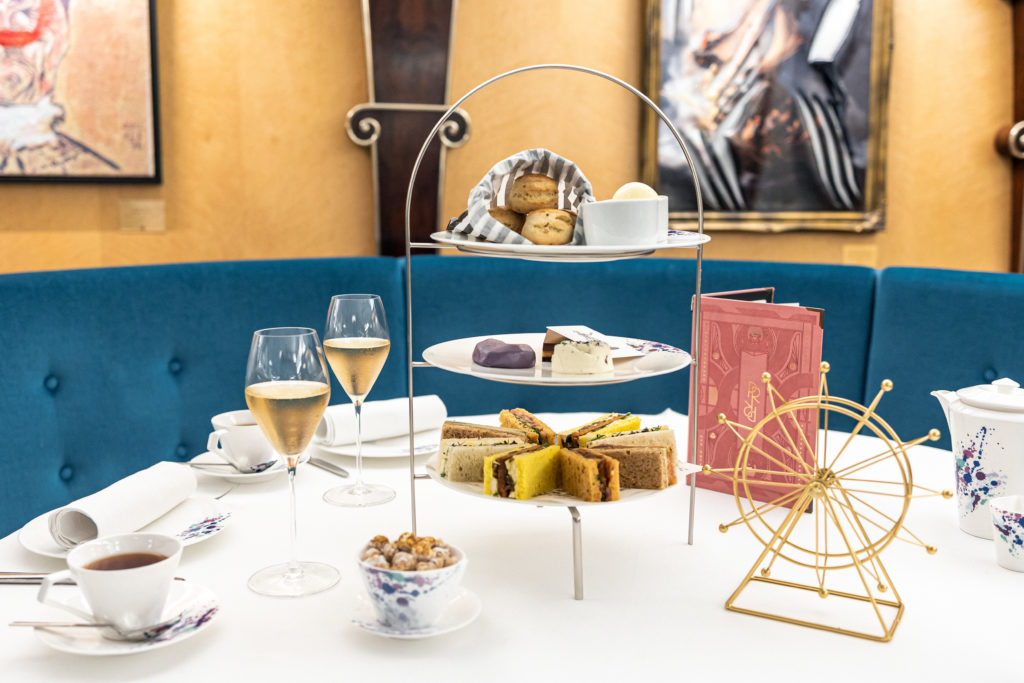 A new fun and immersive afternoon tea has launched at Park Row in the heart of London's theatreland based on the Amusement Mile fairground in Gotham City.
Once billed as the destination for families from Gotham's elite to the blue-collar working class, the Amusement Mile now faces permanent closure with rumours that the Clown Prince of Crime, also known as the Joker, has set up his base of operations there.
Park Row's Amusement Mile afternoon tea pays homage to this famous carnival location with a delectable menu guaranteed to put a smile on your face. The tea is available to book Thursday to Sunday and priced at £40 per person.
Created by Culinary Alchemist James Bulmer and the creative team at the Academy of Curiosity and Wonderment, you will start your tea at the fair with nitro popcorn and a selection of scrumptious sandwiches such as mulligatawny coronation chicken with hidden 'toast' and truffled egg, followed by freshly baked scones and homemade seasonal jam.
Finish with three wonderous Joker-inspired desserts such as chocolate and caramel torte, lychee and rose mousse and a vanilla and passionfruit parfait.
Toast your tea with a glass of chilled Laurent Perrier or have your cocktail poured from a painting, all set within the art-deco Grade-II listed surrounds of the Rogues Gallery.
In the most generous spirit of one Mr Wayne, Park Row guests can expect unlimited refills of sandwiches, scones and sweets along with top-ups of tea available upon request.
And for those DC fans looking to bring out their inner detective, there's a codebreaking mission to embark on – the lucky few who solve it are entered into a chance to win a meal for two at Park Row.
This is a tea for super special occasions or simply a decadent afternoon spent immersed in one of the most stunning restaurants in London.
Available 12-4pm Thursday to Saturday, Sunday 1pm-4pm.
32 London Bridge St, London SE1 9SG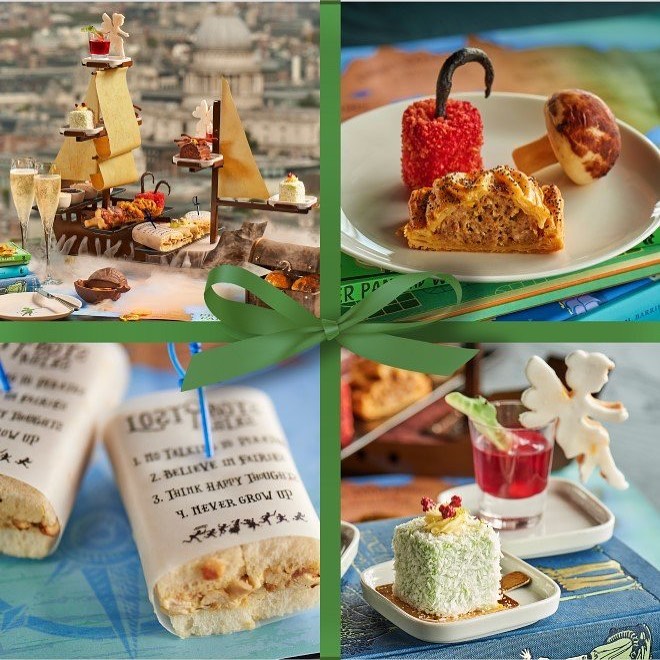 Peter Pan themed treats will be served on a custom-made tea stand inspired by Captain James Hook's Pirate Ship, the Jolly Roger.
To start, guests will enjoy a savoury selection of finger sandwiches, the 'Codfish' Captain Hook cod brandade croquette is named after Peter Pan's nickname for his nemesis. Warm scones will be hidden within a special treasure chest, accompanied by sweet apricot marmalade as well as coconut clotted cream.
Served Thursday – Sunday from 12.15 – 4.15pm
1 Aldwych, London WC2B 4BZ
Fizzy lifting drinks, snozzberry jam, chocolate swudge milkshake mixed by waterfall – it must be the Charlie and the Chocolate Factory afternoon tea at London's One Aldwych. The hotel is located in London's theatre land and the food on offer is magical!
From not-quite-as-it-seems salmon and beetroot macaron and juicy roast beef and horseradish, then there's fluffy candy floss and a box stacked high with cakes, sweets, marshmallows and creams. The drinks are equally as exciting with chocolate or lemon sherbet tea, juicing room mix or water pistol punch cocktails, or fizzy lifting Champagne.
The scones come with snozzberry jam and clotted cream – keeping everything in line with Roald Dahl's famous story.
Queen Elizabeth Olympic Park, 28 East Bay Lane, Here East, London E15 2GW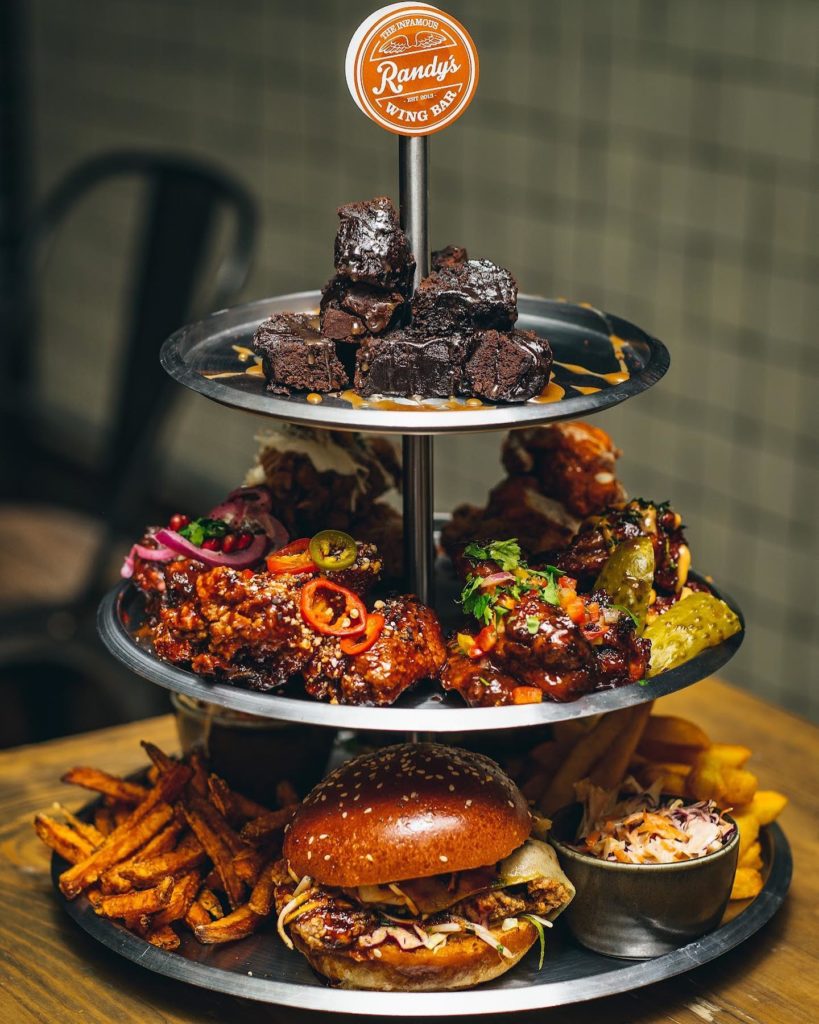 Randy's Wing Bar in Hackney Wick has created the ultimate afternoon tea for lovers of all things wings.
From Tuesday to Sunday 12 noon – 5.00pm
252 High Holborn, London, WC1V 7EN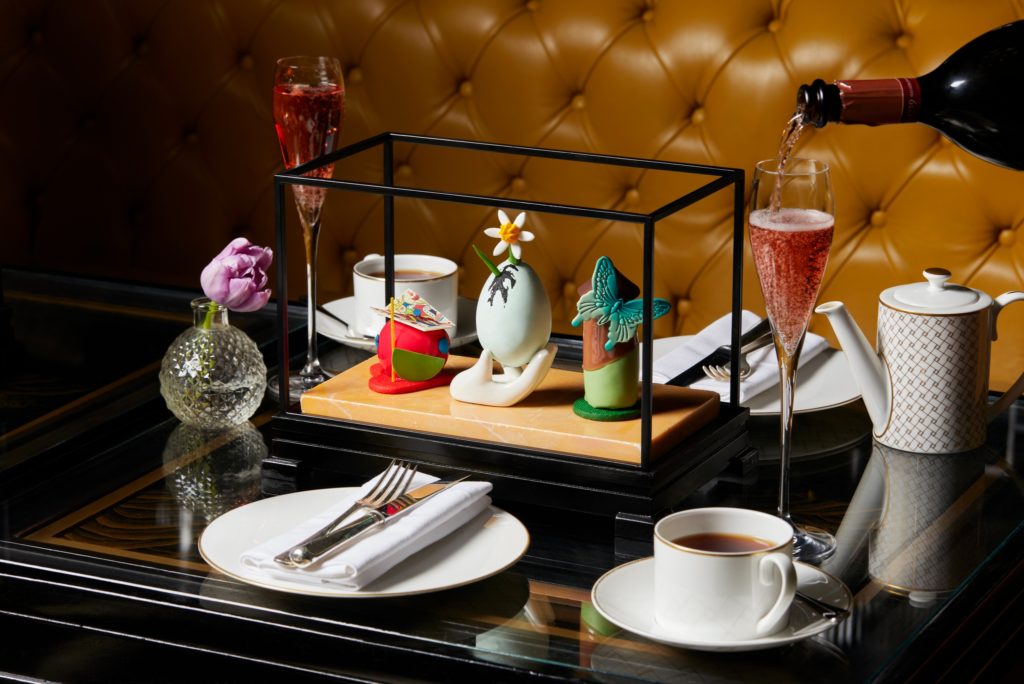 A visual feast of an afternoon tea inspired by a current London exhibition. Comprised of typically abstract-looking pastries.
Visit the website for reservations
109-113 Queen's Gate, Kensington, SW7 5LP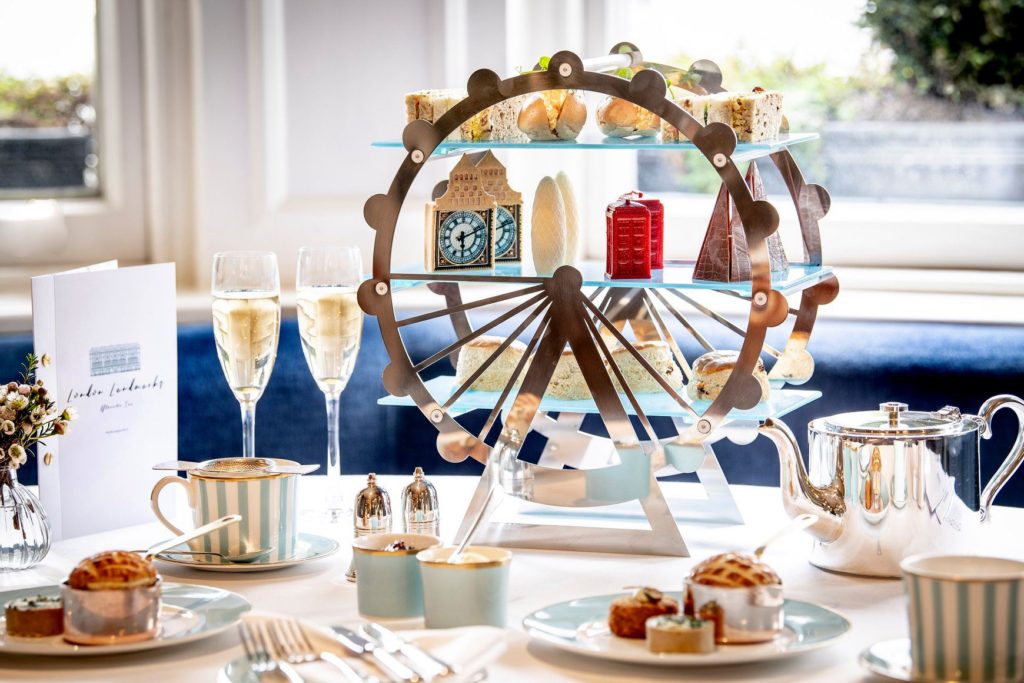 Taking inspiration from London's most recognisable and historic landmarks, Town House at The Kensington's London Landmarks Afternoon Tea leads diners on a tour of the capital's architectural feats and culinary traditions, with tributes to London's most famed structures.
Town House's new skyline of scones, sandwiches and sweets pays homage to the capital's iconic buildings and will be presented on a London Eye-inspired tea stand.
Visit the website for reservations and opening times
10 Harrington Road, London, SW7 3ER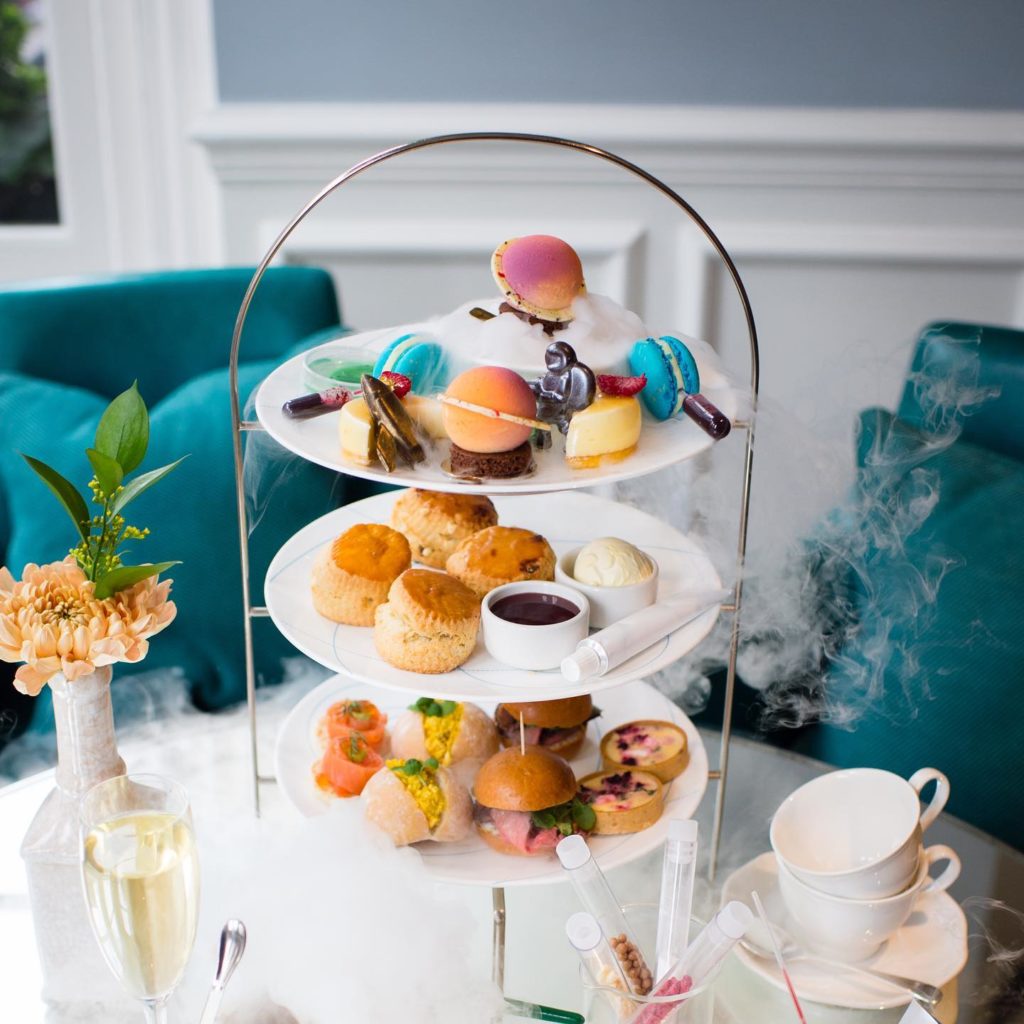 Taking inspiration from the nearby Science Museum, their afternoon tea arrives in a cloud of dry ice, under which you'll find marbled 'planet' macarons; astronaut-shaped chocolates; dinosaur biscuits to excavate from chocolate soil; and teapot-tails to boot.
Served Monday to Friday 1.00-5.30pm; Saturday and Sunday 12 noon – 6.30pm
Kings Cross, London N1C 4QL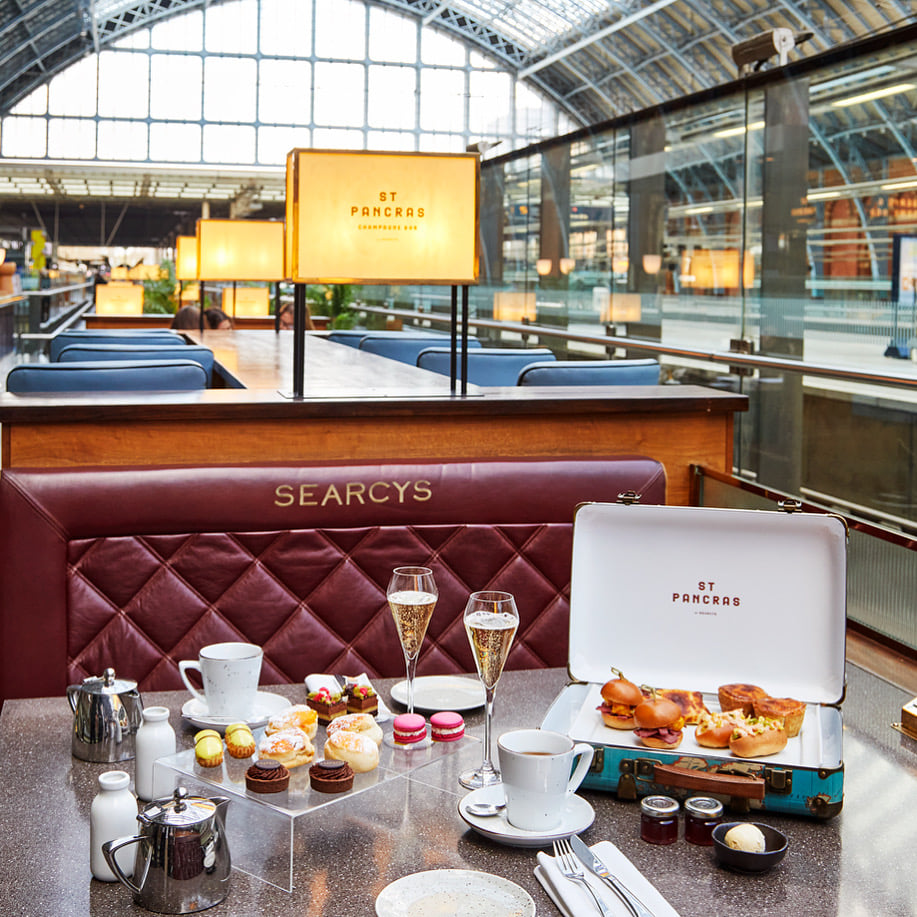 Served in a suitcase with a choice of tea and the option to upgrade to a glass of Veuve Clicquot.
The afternoon tea includes a selection of savouries, freshly baked scones served with strawberry preserve and clotted cream, along with decadent sweet treats including a Passion fruit éclair, Yuzu chocolate tart and Pistachio cherry slice.
Monday to Saturday 3.00-5.00pm; Sunday 3.00-4.30pm
15 Bury Street, SW1Y 6AL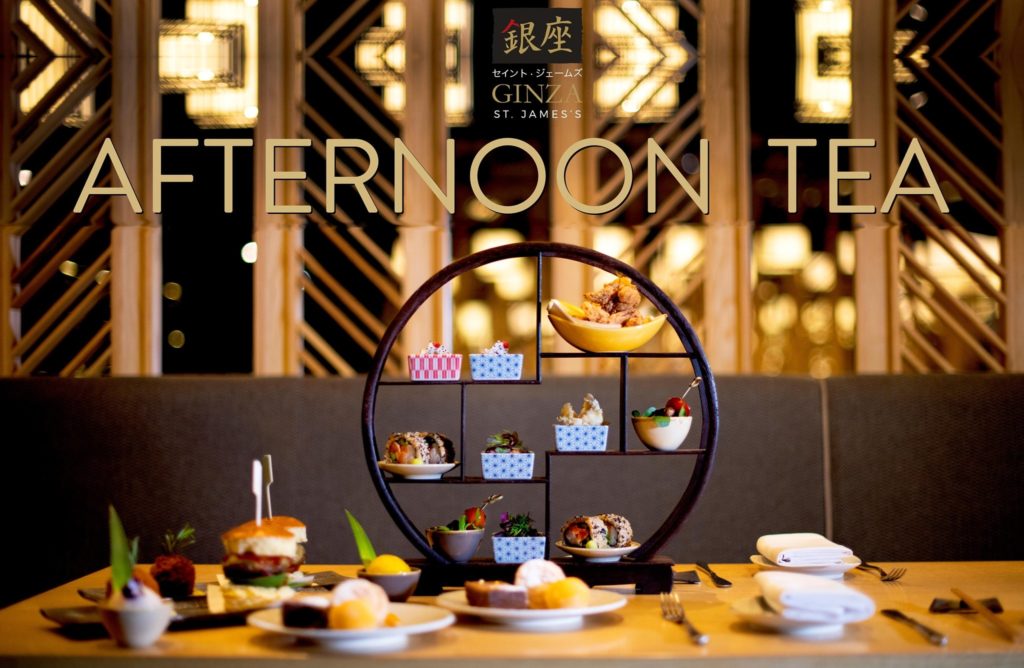 Enjoy a selection of mainly savoury bites, such as spider rolls, wagyu sliders, and crab croquettes, washed down with premium-grade green tea.
Afternoon tea takes place in the modern surrounds of the restaurant, with its sleek marble sushi bar, pale woods and monochrome furnishings.
Served Saturday – Sunday, 2.00pm – 4.00pm
28 Maiden Lane, Covent Garden, London, WC2E 7JS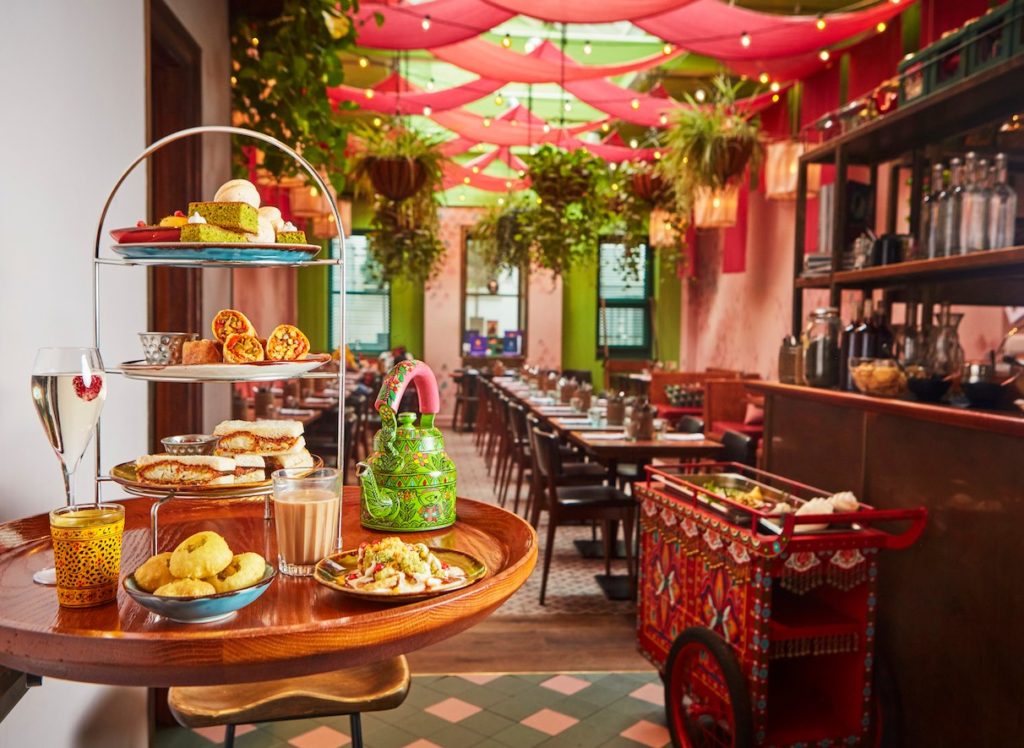 This is a colourful, Indian-inspired afternoon tea that includes sweet treats and wonderfully warming masala chai.
The bespoke menu has been created by legend of the culinary world, Vivek Singh, and Great British Bake Off star Tamal Ray.
Please visit the website for further details
21 New Globe Walk, Bankside, London SE1 9DT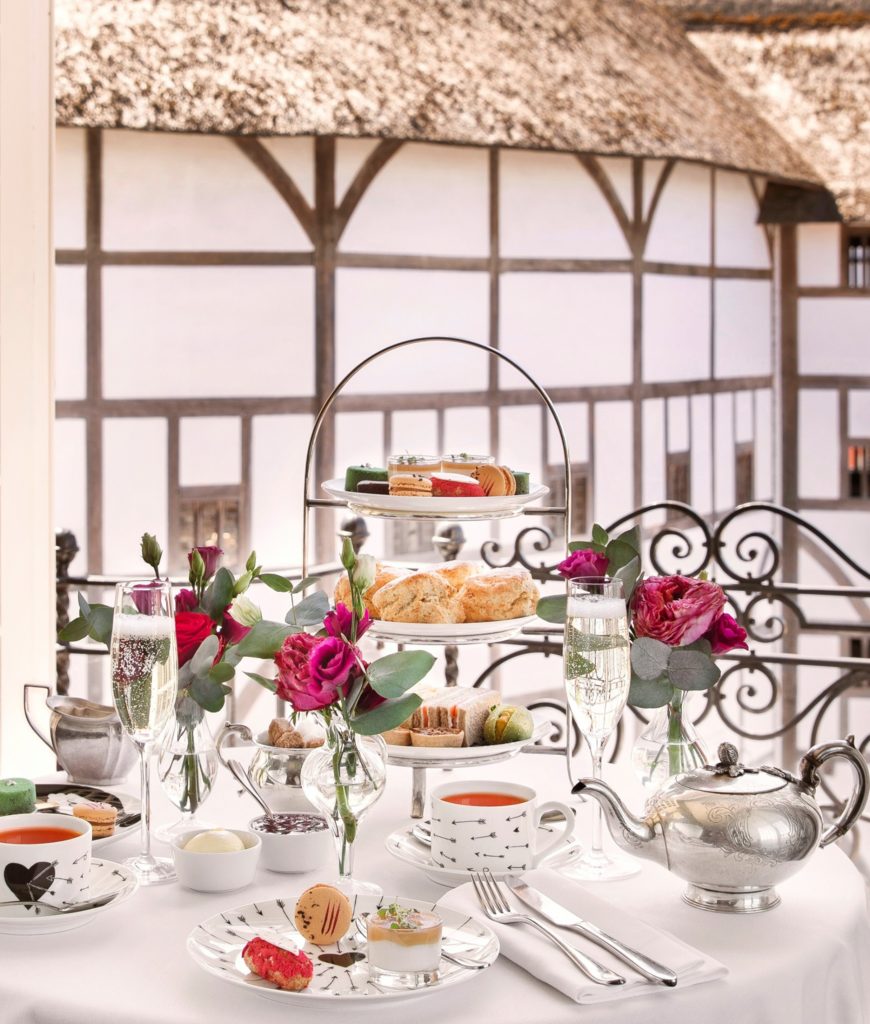 Adding a theatrical twist to traditional afternoon tea in London, Swan's 'Romeo and Juliet' afternoon tea is inspired by the beauty and lyricism of Shakespeare's great romantic tragedy.
Enjoy sweet treats such as a rose by any other name and under a medler tree with wonderful view.
Served Monday- Wednesday 12 noon – 5.00pm; Thursday to Saturday 12 noon – 6.00pm and Sunday 12 noon – 5.00pm
Stratton St, London W1J 8LT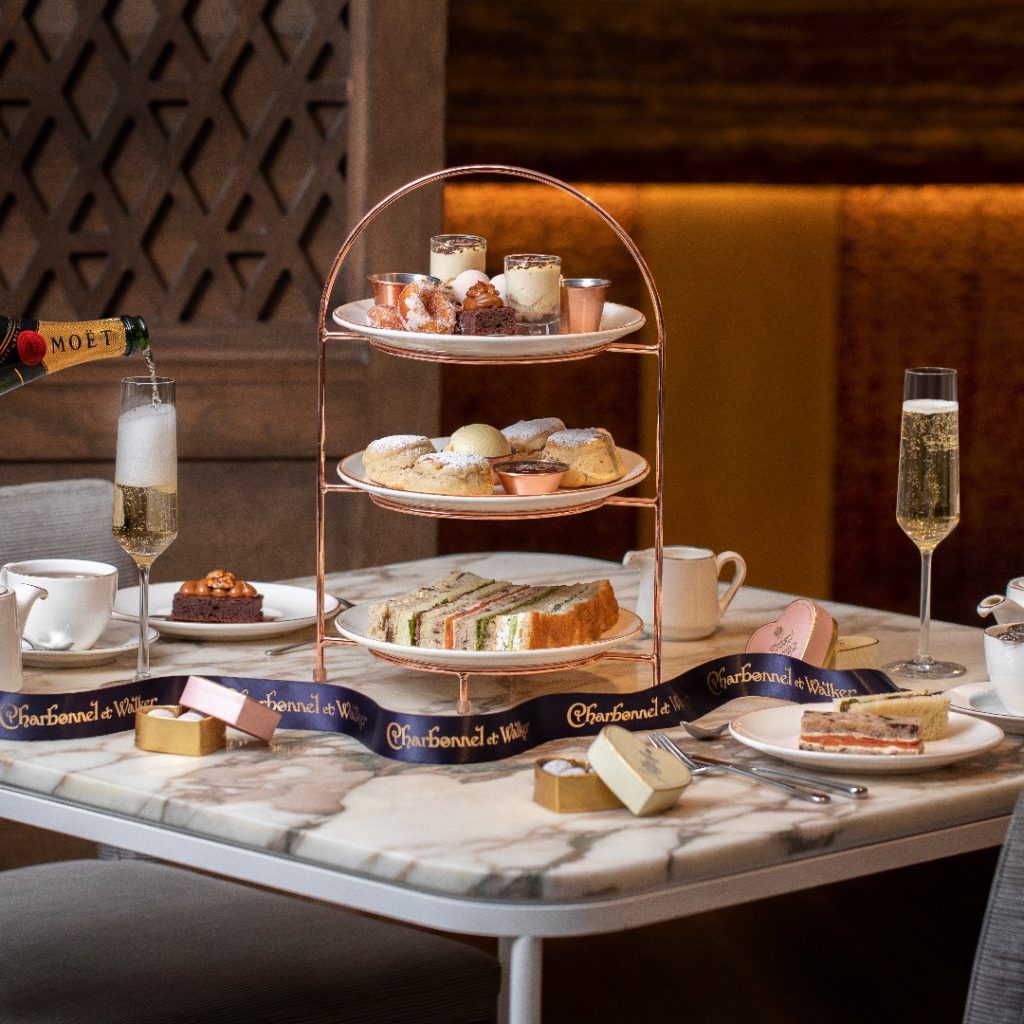 Find treats from chocolatiers Charbonnel et Walker as part of the sumptuous chocolate afternoon tea at May Fair Kitchen. Alongside traditional finger sandwiches, such as roast beef with horseradish and smoked salmon with cream cheese, you'll uncover chocolate truffles, tiramisu and doughnuts with chocolate sauce.
Served daily from 12.30 – 4.00pm
Coast Rd, Ballygalley, Larne BT40 2QZ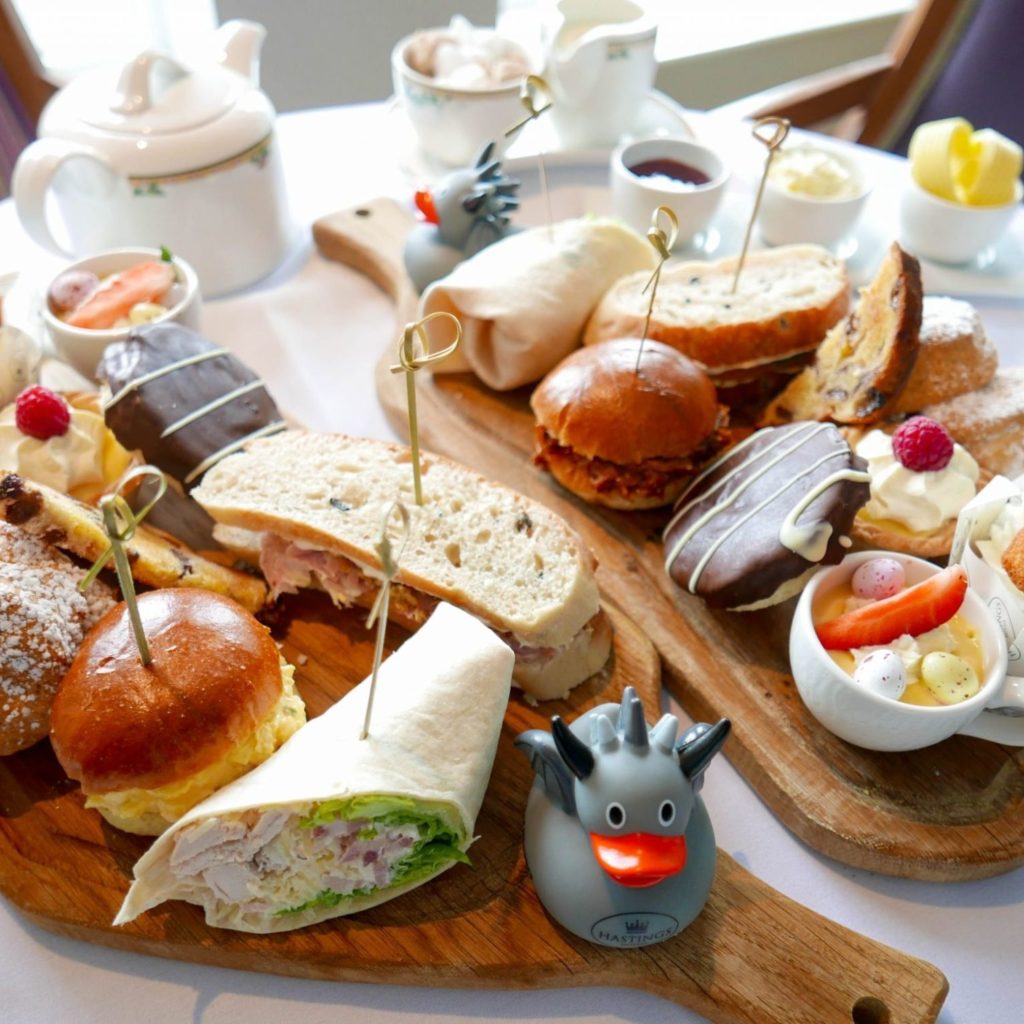 Ballygally Castle in Ireland's County Antrim is located amid some seriously dramatic scenery. So dramatic, in fact, that it's been used as a location in the hit TV series Game of Thrones.
With the food on the menu named after some of our favourite characters from the show like Jon Snow cakes, Arya's Madeleines and more guests are immersed in the wonderful world of Westeros.
Served Monday to Saturday 2.00-5.00pm; Sunday 3.00-5.00pm
Hotel Café Royal, 68 Regent Street , London, W1B 4DY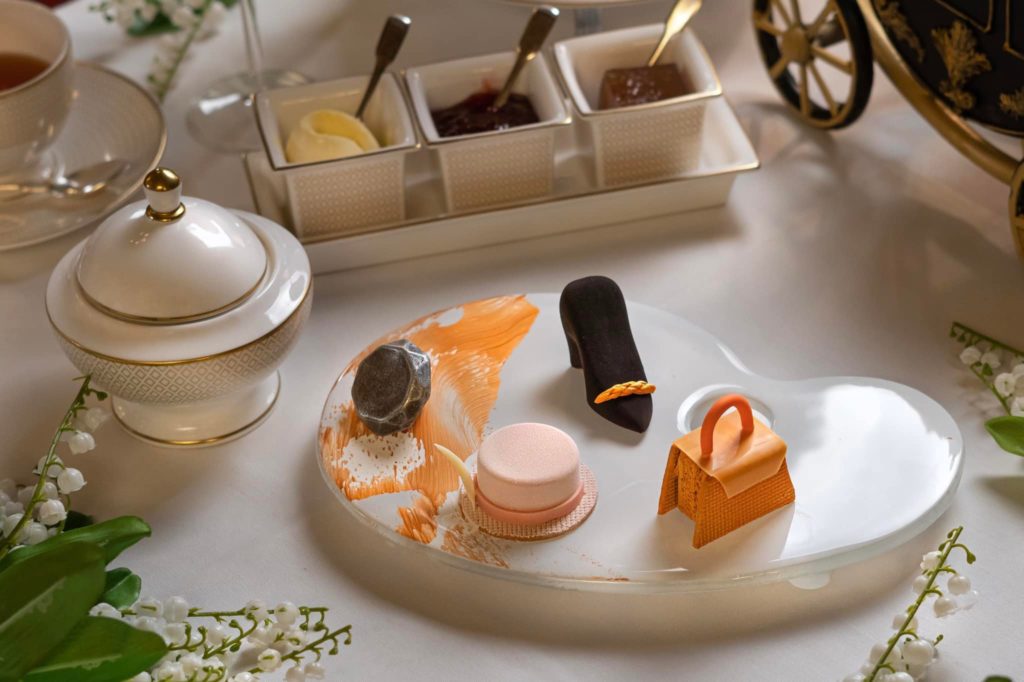 The hotel's gilded, ornate dining room is now named in honour of one of its most famous patrons; Oscar Wilde. Gloriously extravagant, with ceiling frescoes and golden crockery.
It's a fitting setting for their afternoon tea inspired by Queen Victoria – where you can enjoy coronation chicken sandwiches, miniature Victoria sponges, blancmange pastries and Victorian teas.
Visit the website for reservations and prices
11-14 Hanover Pl, London WC2E 9JP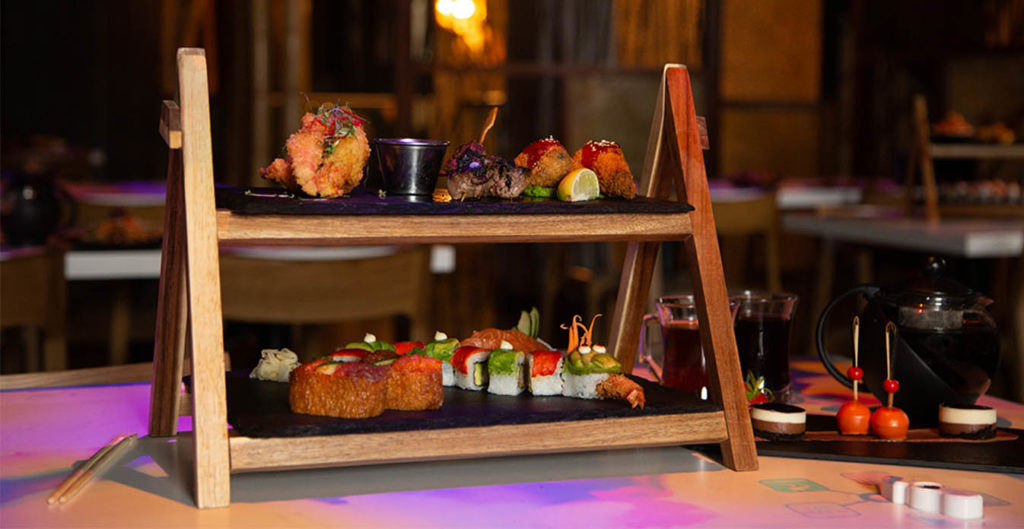 Make you tea extra special with an hour of bottomless fizz and tuck into an array of delights, crispy panko prawns, minted lamb & spring onion yakitori, chicken lollipops, inamo's signature Dragon Roll and more, with a separate vegetarian menu available.
On the sweet side, you'll be served fun and delicious passionfruit lollipops, mini white & dark chocolate mousse and more.
Sunday to Friday until 5.30pm. Visit the website for further details
321 Kingsland Rd, Dalston, London E8 4DL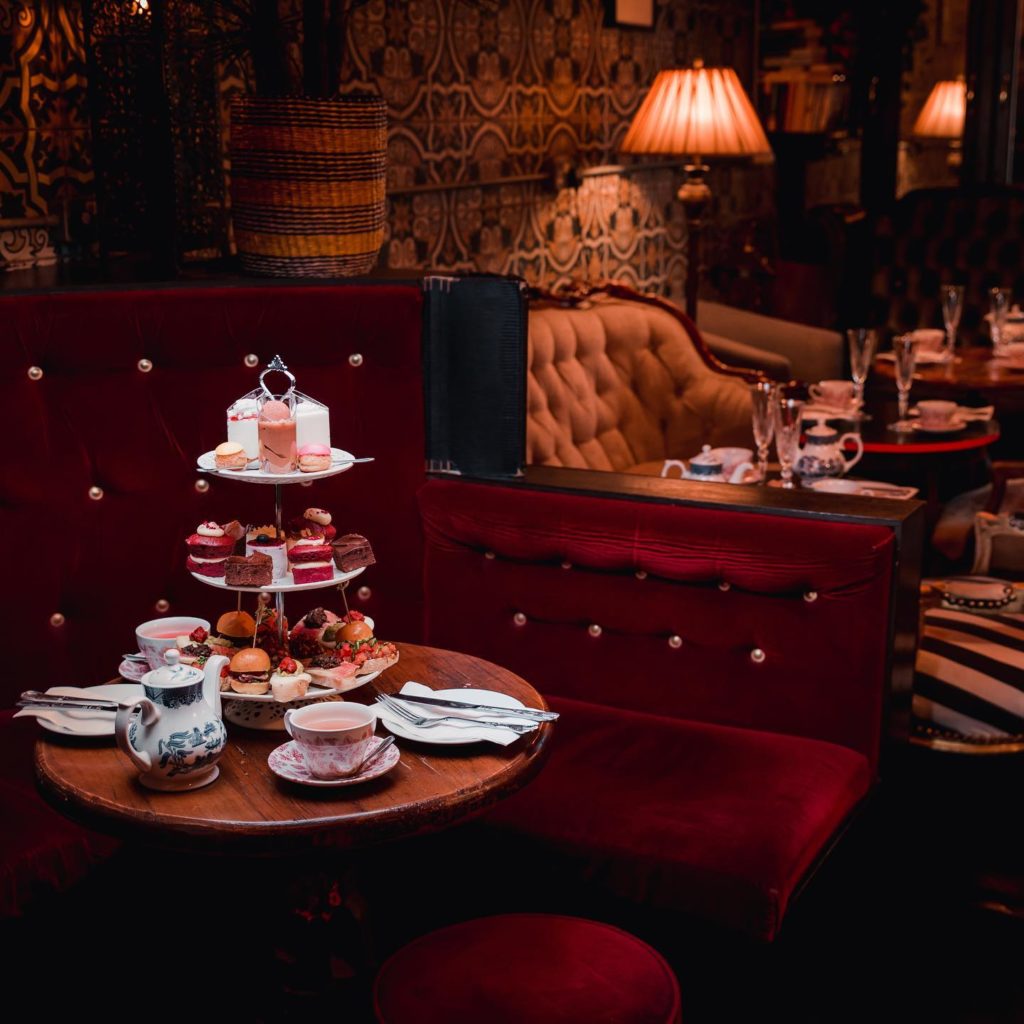 MAP Maison is a cute neighbourhood bar in Dalston full of floral touches and vintage furniture.
The East London spot serves up a quirky London afternoon tea in the form of cakes, pastries and the choice of either bubbles or one of their renowned cocktails.
Served daily 1.00-5.00pm
Doyle's Opticians, ground floor of the West 12 Shopping Centre, W12 8PP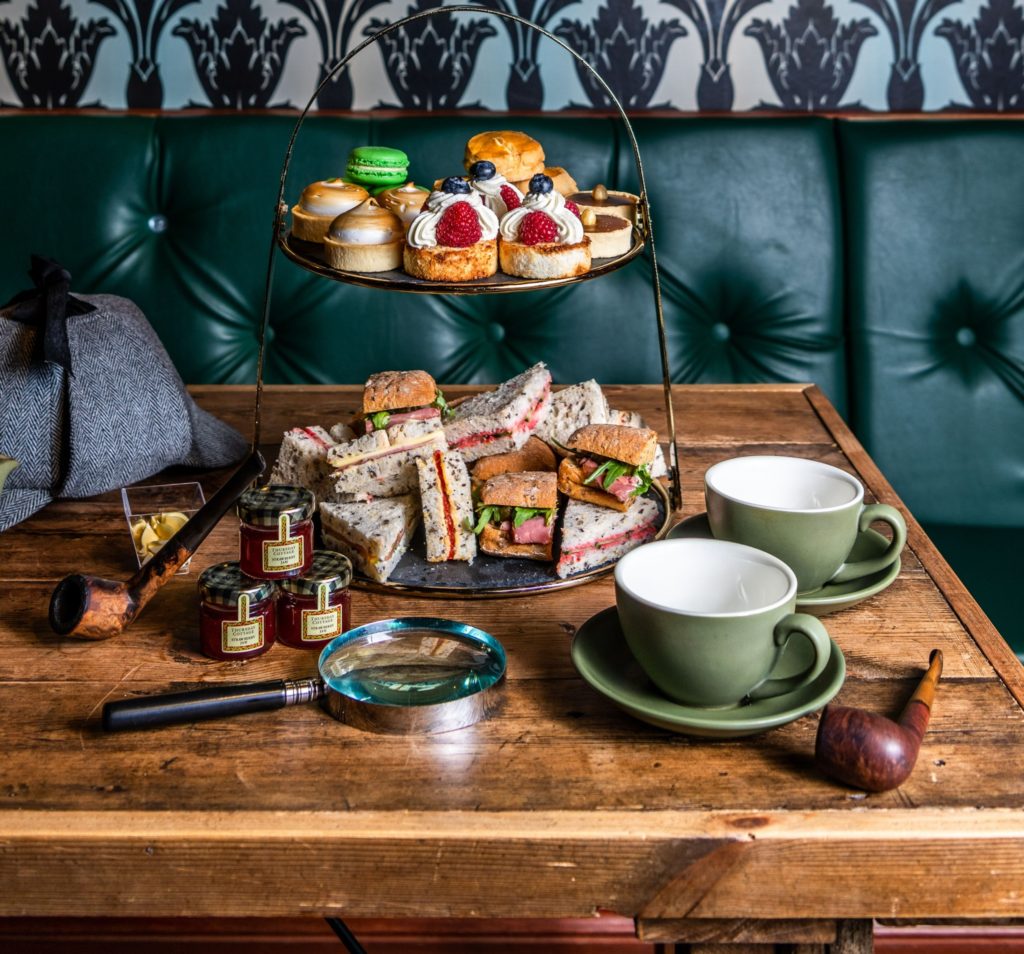 As well as the bar's cocktail experience where you'll solve puzzles in return for booze, The Mind Palace also serves up a Sherlock inspired afternoon tea.
Once you've solved the mini-mystery, you can tuck into a selection of freshly made sandwiches, scones served with cream and jam, and Sherlock-inspired sweet treats such as the 221B Brownie and a delicious Deerstalker Cookie.
Visit the website for further details of prices and how to book
74-76 Westbourne Grove, London W2 5SH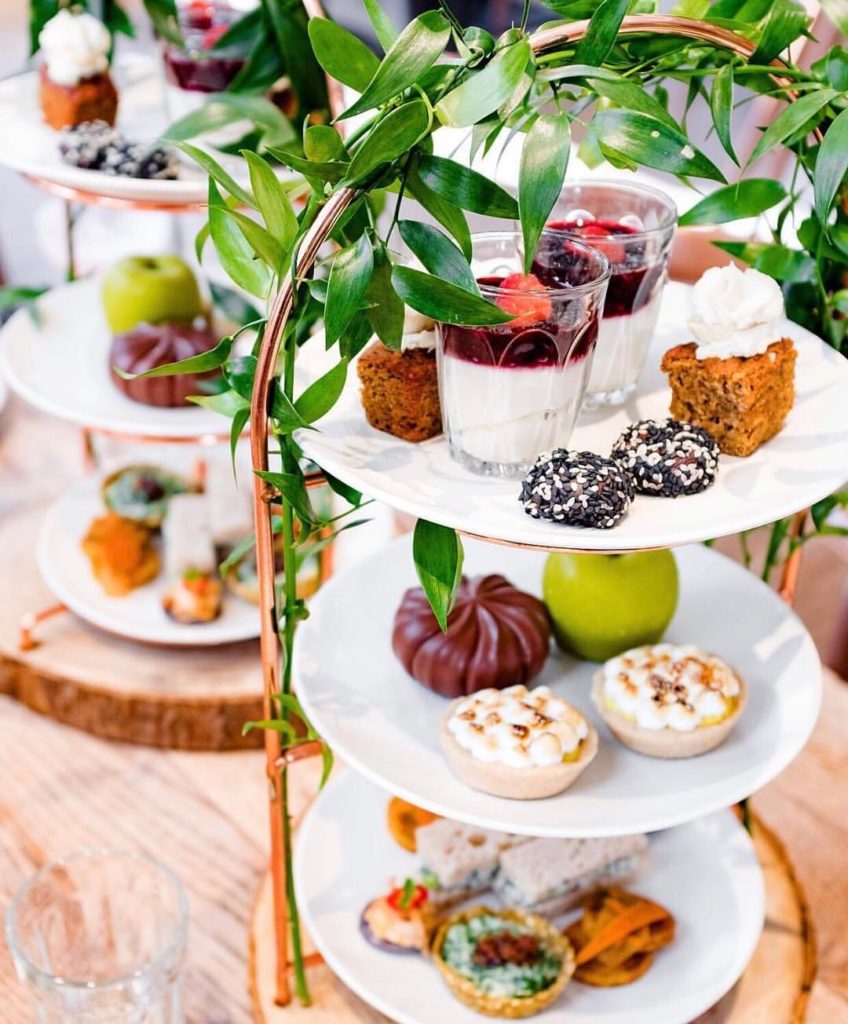 Not your usual afternoon tea in London, Farmacy bring you a dose of CBD, a relaxing experience with hints of CBD oil, get to know this unique eatery on a whole other level.
Visit the website for further details. Served Friday to Sunday from 4.00pm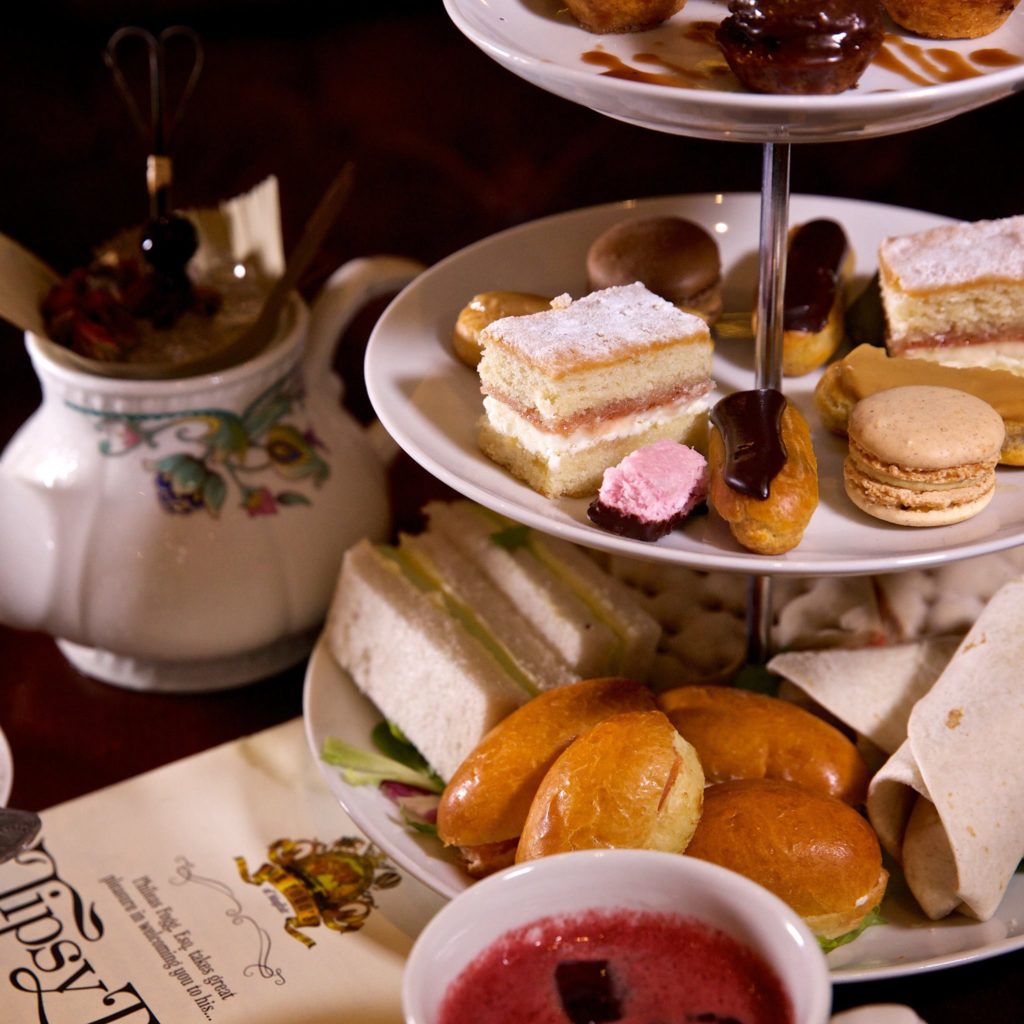 Mr. Fogg's (Mayfair, Fitzrovia, and Covent Garden) offer trays full of traditional sandwiches and cakes alongside not-so-traditional bottomless tea cocktails.
Something that will no doubt make the eccentric Victorian décor and all sorts of other weird and wonderfulness seem perfectly normal by the end.
Visit the website to select a venue
Victoria Coach Station or Trafalgar Square, London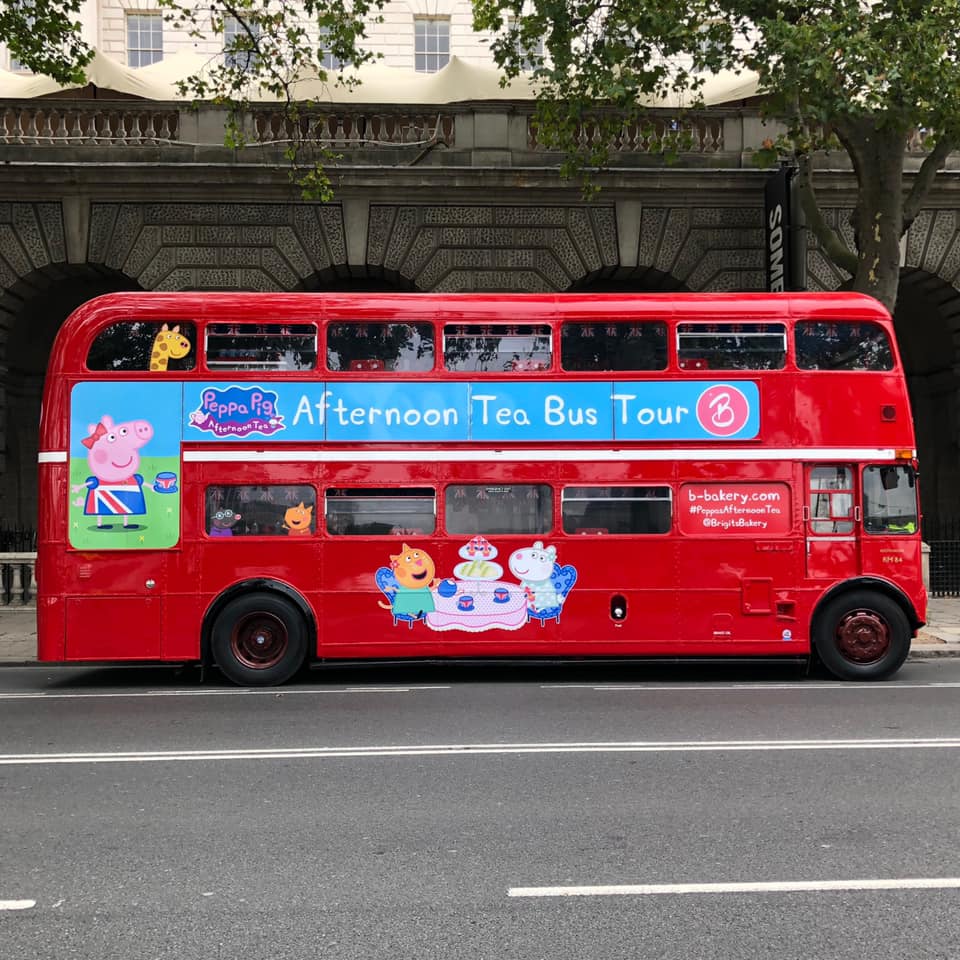 Treat your little ones to a special Peppa Pig Afternoon Tea Bus Tour.
You can enjoy many Peppa Pig themed treats such as a Grandpa Pig's Chicken & Tomato burger bun or Suzy Sheep's Chocolate Truffle Sprinkled with confetti.
Runs Thursday – Sundays
Various locations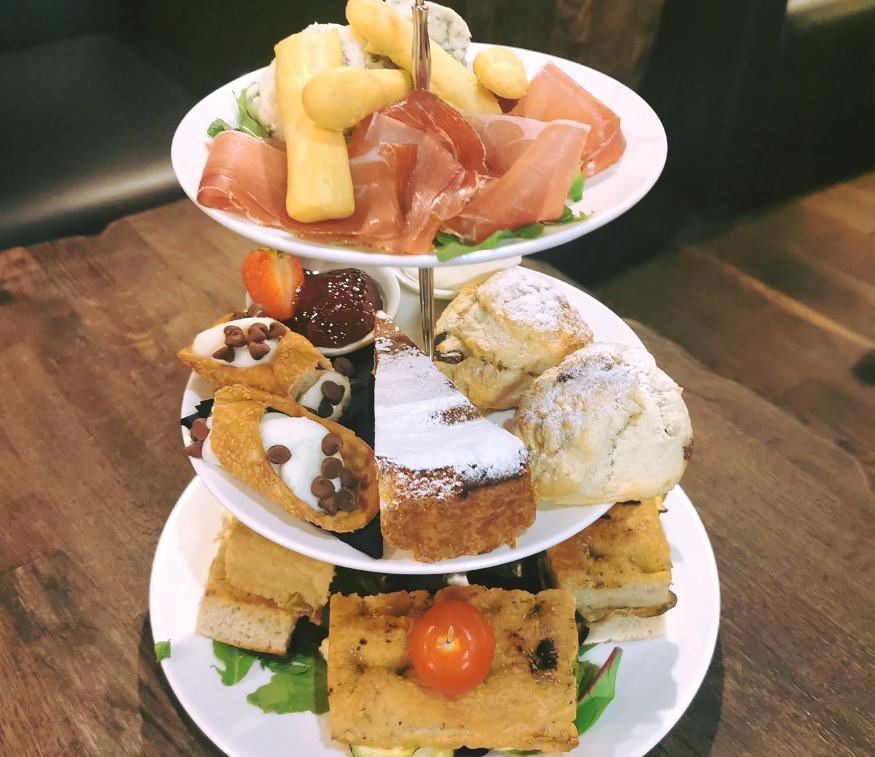 Delight in a traditional afternoon tea experience with a unique Italian inspired twist.
Tuck into a tempting array of sugar sweet nibbles and savoury delights at one of a range of Veeno Italian Wine Cafés dotted throughout the UK.
Visit the website for further details
13 Kingly Ct, Carnaby, London W1B 5PW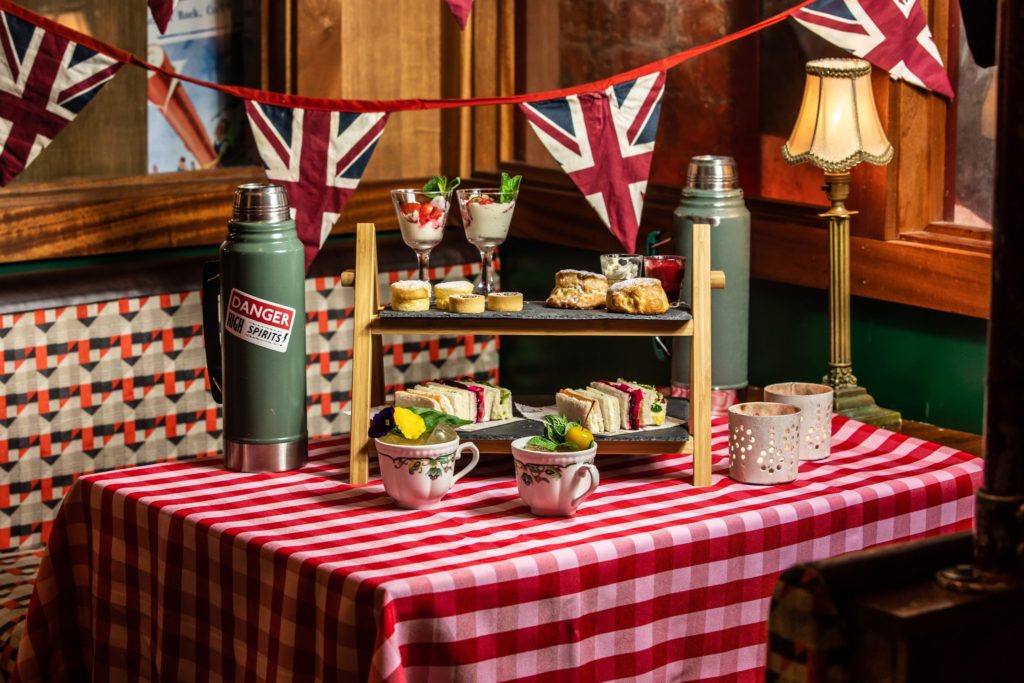 Visit the Cahoots Ticket Hall for some good ol' tipples and treats every Sunday!
Sit back and fill your boots with two spiffing cocktails made by The Captain's Top Scoundrels themselves, paired with a smashing slice of cake per guest – all while you enjoy the high spirits and swing of the Station.
Served Sunday 12 noon – 5.00pm
Victoria Gate, 3rd floor Rooftop, Leeds, LS2 7AU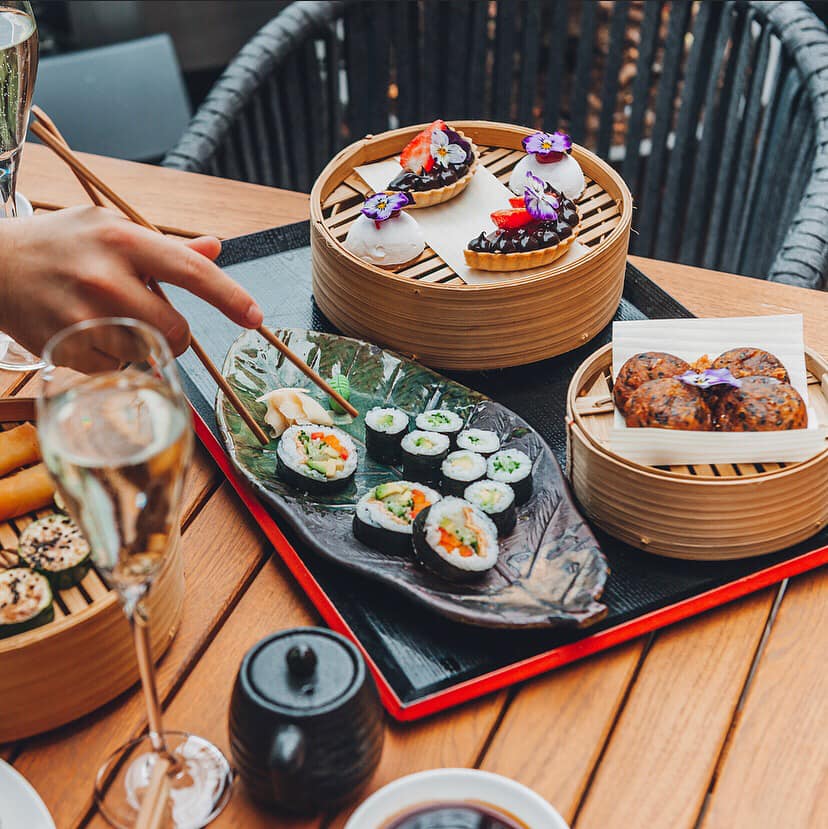 Enjoy a delicious Japanese Afternoon Tea, served with savoury dishes including sushi and sweet dishes and accompanied by a choice of teas.
Served Friday to Sunday from 12 noon – 2.30pm
21 Great Marlborough St, London W1F 7HL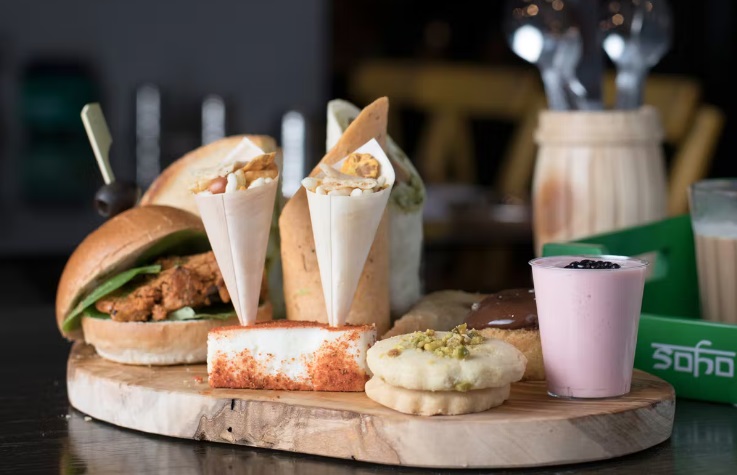 Get ready for an array of sweet and savoury delights with this Indian Afternoon Tea for two.
Located at the brand-new Soho Wala in the 5* Courthouse Hotel, you'll be surrounded by contemporary, vibrant décor, matching the exquisite food on offer.
Visit the website for further details
1 Adelaide Rd, Chalk Farm, London NW3 3QE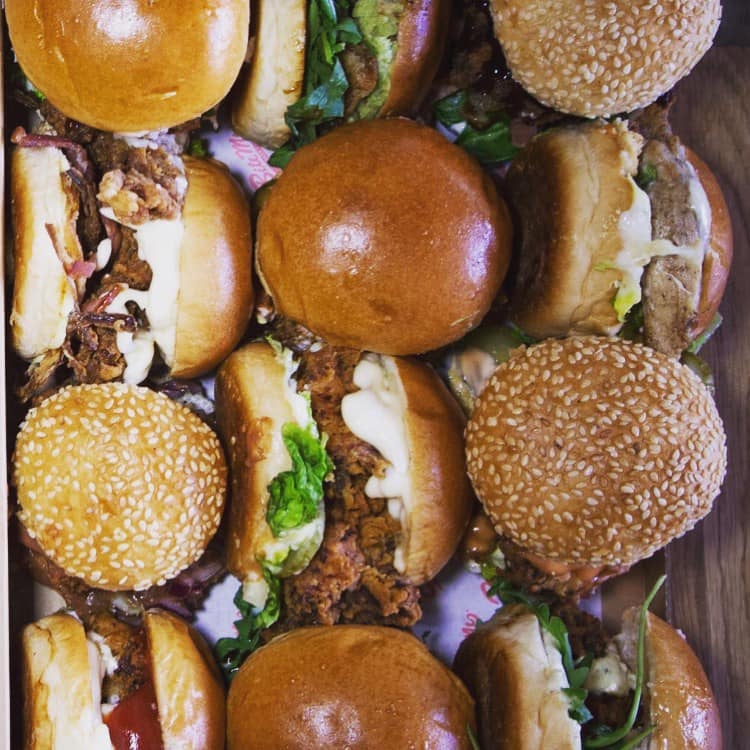 Traditional sandwiches and scones are out; enjoy six delicious mini burgers from the eclectic pick 'n' mix menu, homemade burger cupcakes and cakes (plus tea or coffee for two people)
Served Tuesday to Sunday from 12 noon – 6.00pm
593 Holloway Rd, Archway, London N19 4DJ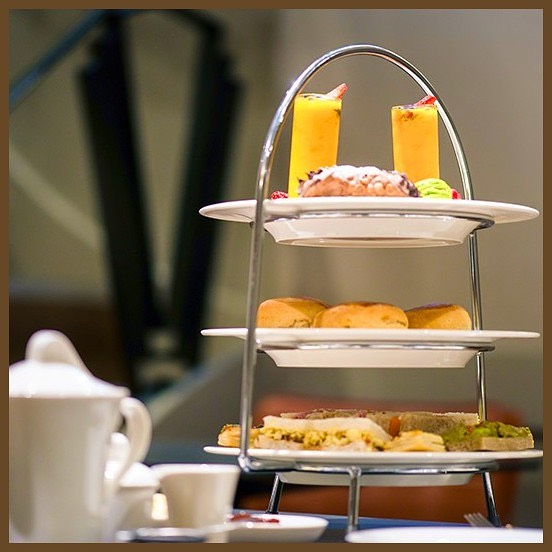 Relax and unwind with their incredible cats whilst indulging in artisan drinks, light bites or even better still treat yourself to an incredible afternoon tea.
Whiskers & Cream only uses the finest ingredients to ensure your afternoon tea is of the highest quality.
Visit the website for further details
43 Buckingham Palace Rd, London SW1W 0PP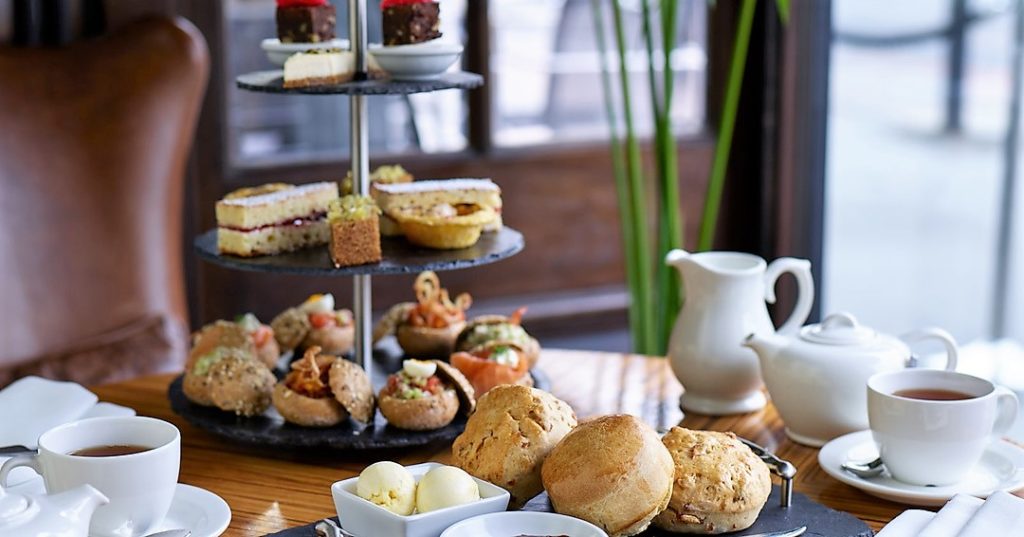 Afternoon tea consists of traditional and Amarula scones with clotted cream and jam, a selection of cakes and pastries, and a selection of sandwiches.
Visit the website for further details
22 Park Ln, London W1K 1BE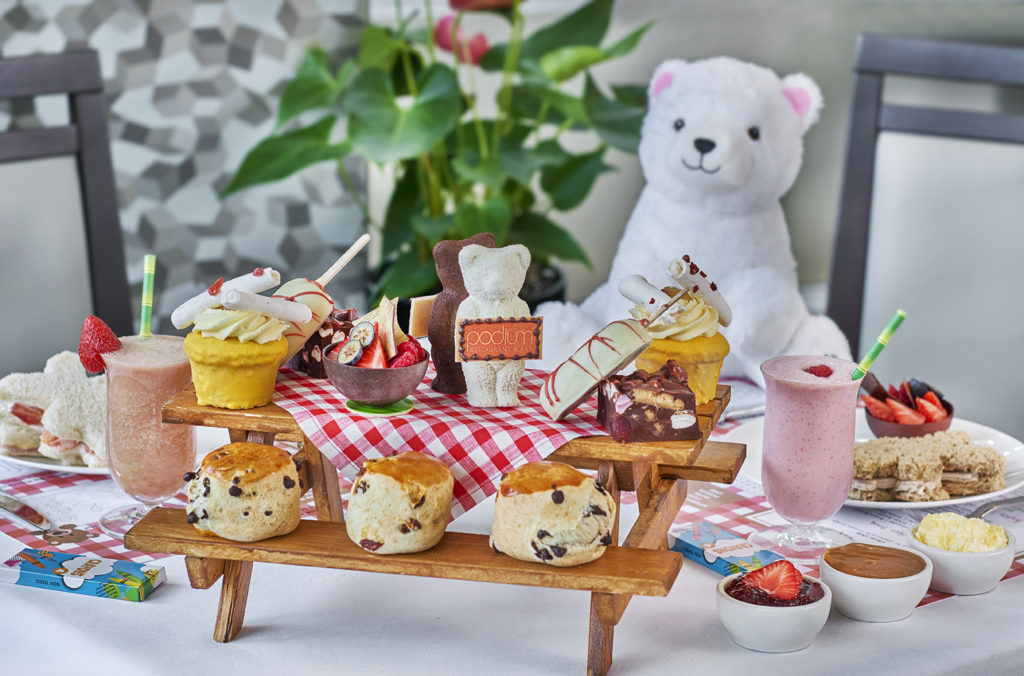 The menu is a whimsical world of sweet and savoury. Kids will love the teddy bear sandwiches, meringue mushroom, cake-pops, and miniature fancies—all accompanied by hot chocolate, milkshakes, smoothies, and more.
Served Friday to Sunday from 12.30pm to 5.00pm
43 Iffley Road, Oxford, OX4 1EA
Head to the Mad Hatter Oxford for a tipsy afternoon tea. This one certainly pulls out all of the stops with salmon sandwiches, savoury tarts and pastries, scones with clotted cream and jam and a cocktail in a quirky teapot to share.
This is available to both to eat in or take away, and with optional extras to make your day. Booking in advance is required via [email protected]
Visit the website for further details
24 William St, Herne Bay, Kent, CT6 5EQ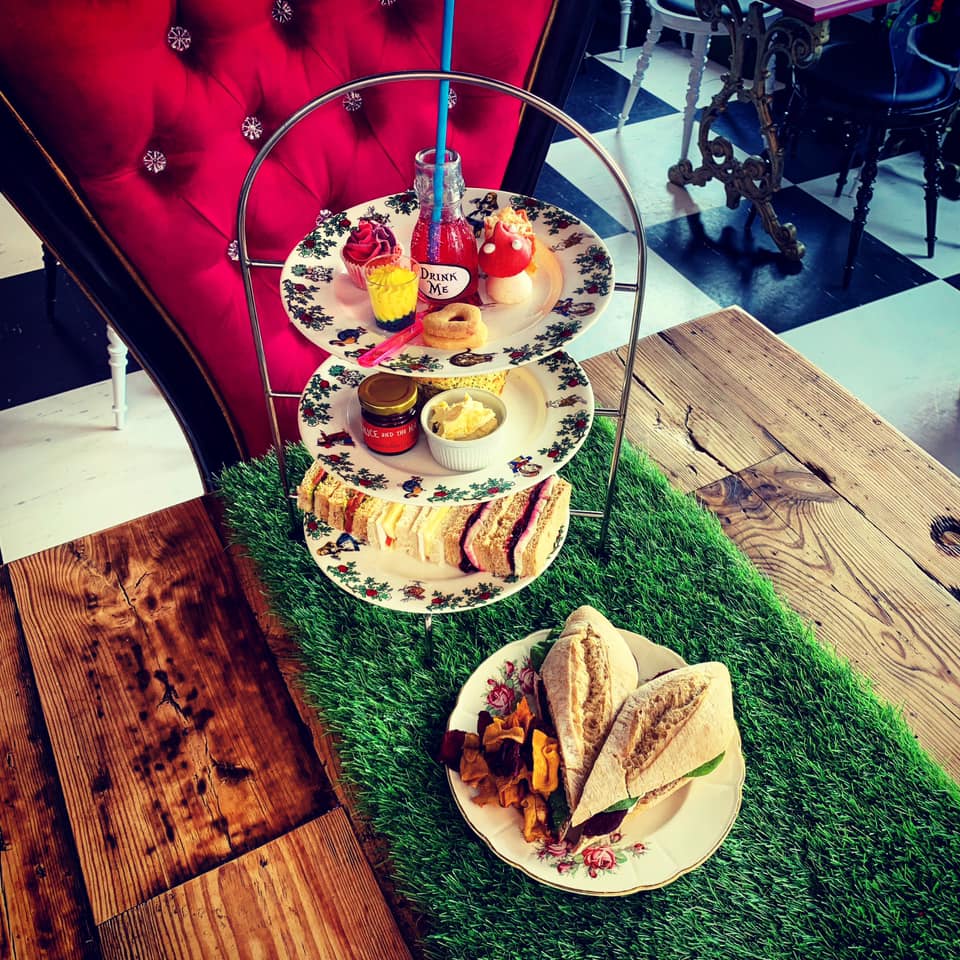 The 'Queen of Hearts' table is adorned with tea cup stools, a large throne for the 'special guest' and, of course, a large teapot.
Their aim is simply to be the best afternoon tea venue in Kent – the Hatter brings a food focus to "open book sandwiches",
For those who want a healthy choice with accompanying offerings of both specialist teas and coffees.
Enjoy bread and butterflies, scones, petit fours and a drink me potion!
Visit the website for further details
24 Egerton Gardens, London SW3 2DB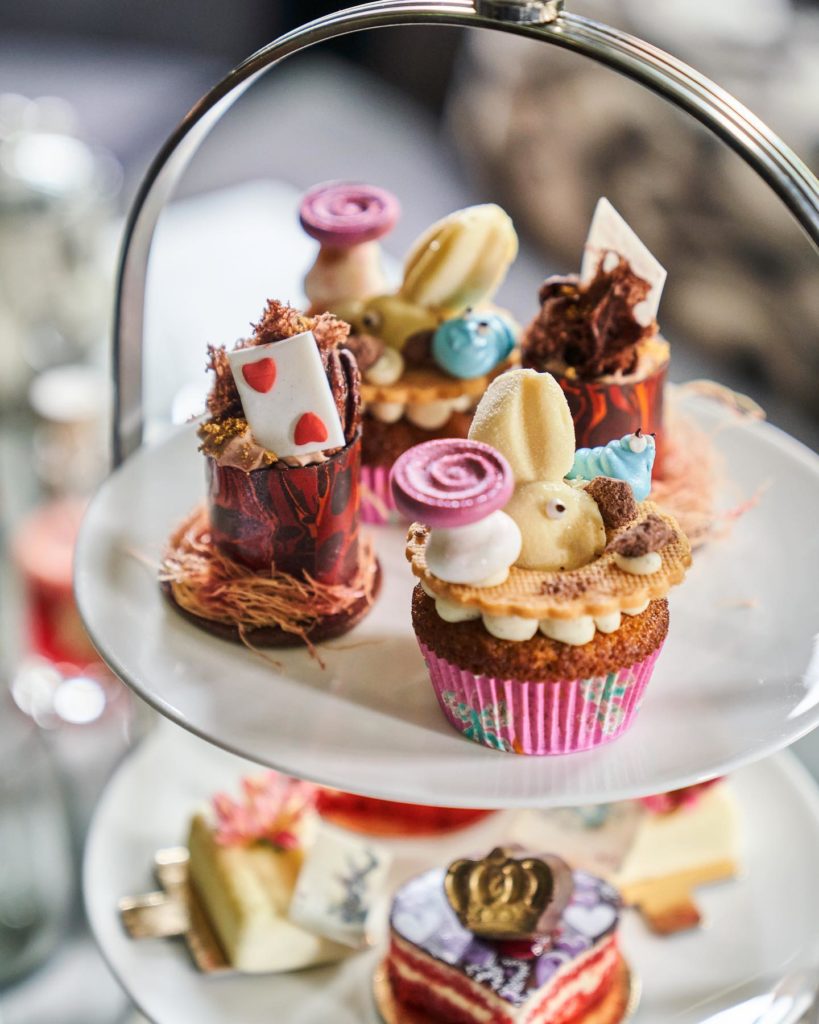 Designed to celebrate the V&A's Alice: Curioser and Curioser exhibition the Alice at The Franklin Afternoon Tea is an imaginative twist on what a modern-day Alice would want from an afternoon tea after she has taken a journey through Wonderland.
You'll enjoy a selection of sandwiches, themed cakes and scones.
Visit the website for further details
51 Buckingham Gate, SW1E 6BS London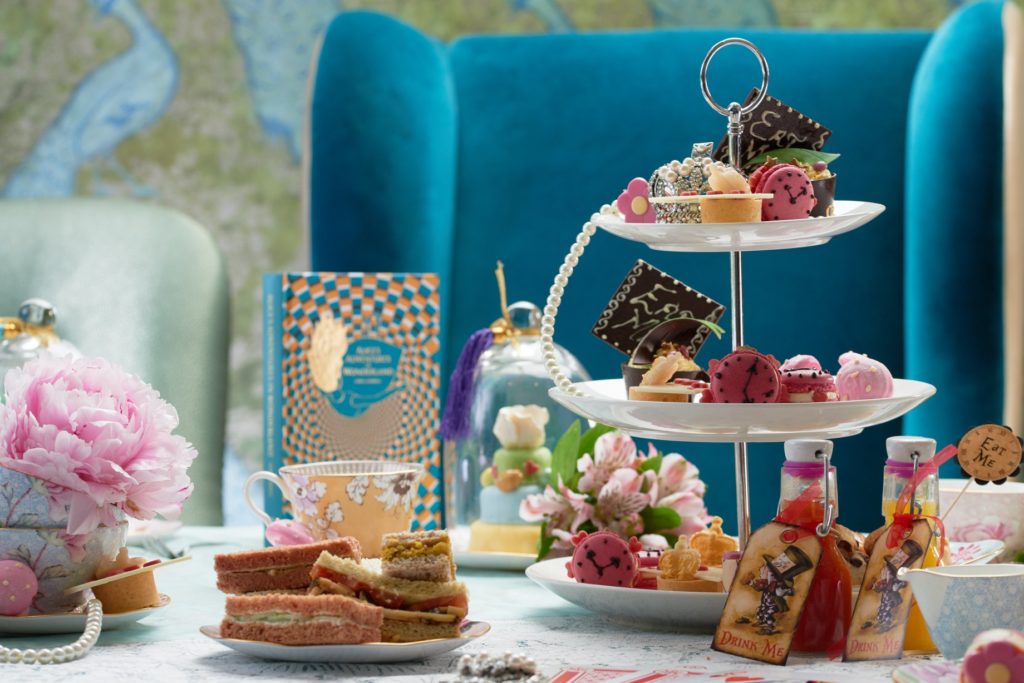 The brand-new Queen of Hearts Afternoon Tea features beautifully designed pastries and scrumptious savoury treats inspired by the foul-tempered monarch from the beloved children's classic Alice in Wonderland.
Some of the sweet temptations down the rabbit hole include Off With Their Heads – a delicious banana moelleux with a raspberry crémeux dress; Running Late – a strawberry pocket watch macaron, intrinsically decorated with milk chocolate piping; Checkmate – a redcurrant and chocolate Battenberg cake in the style of a classic checker board.
Vegetarian and vegan versions of the tea are also available upon request 48 hours in advance.
Visit the website for further details
19 South Street, Milnathort, Scotland, KY13 9XA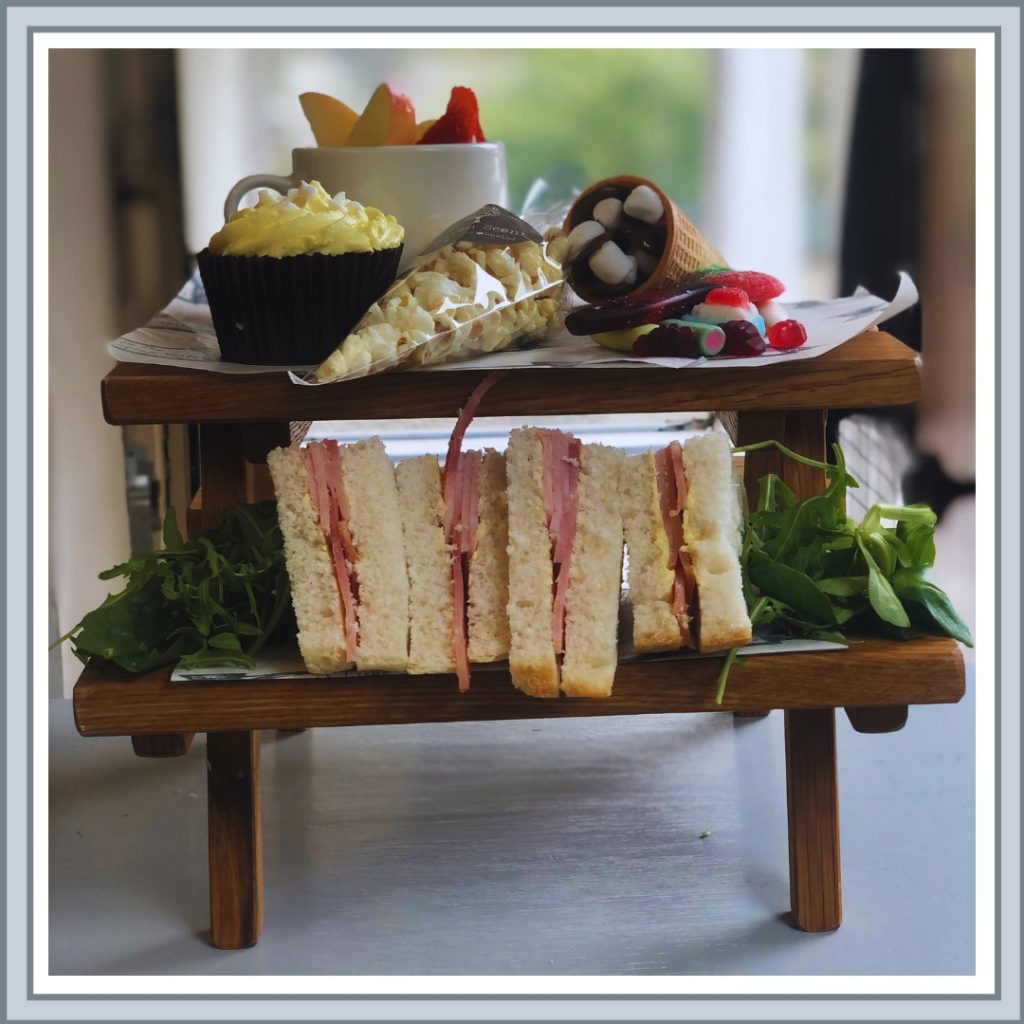 Heaven Scent is a thriving, award-winning catering and hospitality company in Scotland with a passion for delicious food and great value.
They are particularly well-known for their afternoon teas allowing you to choose your sandwich filling, tray bake and gateau to accompany the delicious scone, cream and jam and tasty macaron.
But for children there is a Willy Wonka inspired afternoon tea. There are cheese, ham, chicken mayo, houmous and cucumber or jam sandwiches.
A smores cone, chocolate chip cookie/mini crispie cake, fruit kebab, popcorn, sweets and a choice of mini milkshake, hot chocolate or a carton of juice.
Served every Friday, Saturday and Sunday from 2.00-4.00pm
35 Charles St, London W1J 5EB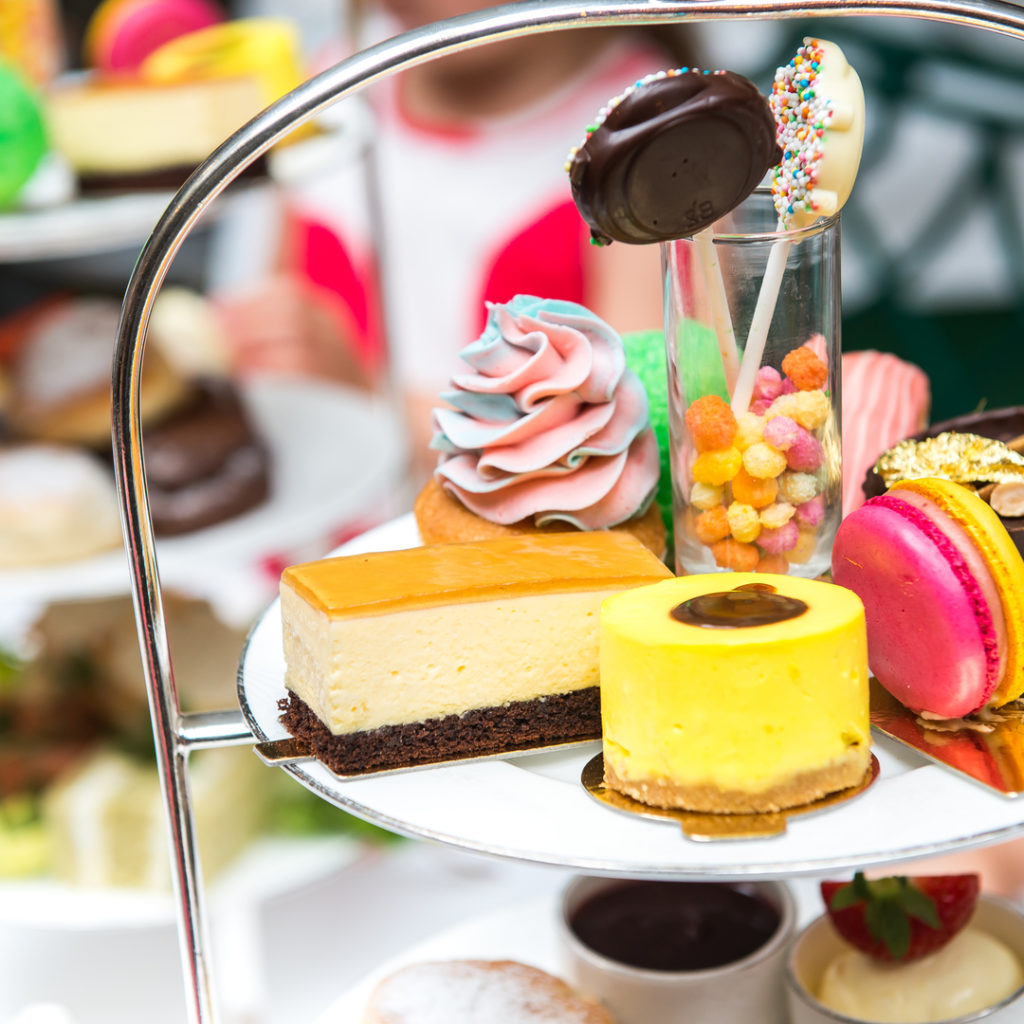 From the smoking pink lemonade, to the delicious sweetshop-themed cakes – The Chesterfield's whimsical afternoon tea is sure to bring you to a world of pure imagination.
Scrumptious chocolate scones and finger sandwiches are accompanied by an impressive tea list. The afternoon tea is suitable for Halal. There is also a children's option.
Children's Afternoon Tea – There's a selection of ham and cheese, chocolate, cucumber and cream cheese, egg mayonnaise and jam sandwiches; fruit and chocolate chip scones, clotted cream and strawberry jam; delicious pastries and delights, milkshake or tea.
Adults Afternoon Tea – Sandwiches include honey roast ham with cheddar cheese and tomato chutney; Scottish smoked salmon with chive cream cheese. Freshly baked chocolate chip scones served with Cornish clotted cream, homemade strawberry jam; Coca-Cola slice; Reece's peanut butter cup; Drumstick macaroon; Strawberry liquorice allsorts cheesecake; Blue raspberry and bubblegum battenberg; Giant jazzies!
Served Monday – Sunday from 12.30 – 5.30pm
20 Brewer Street, W1F 0SJ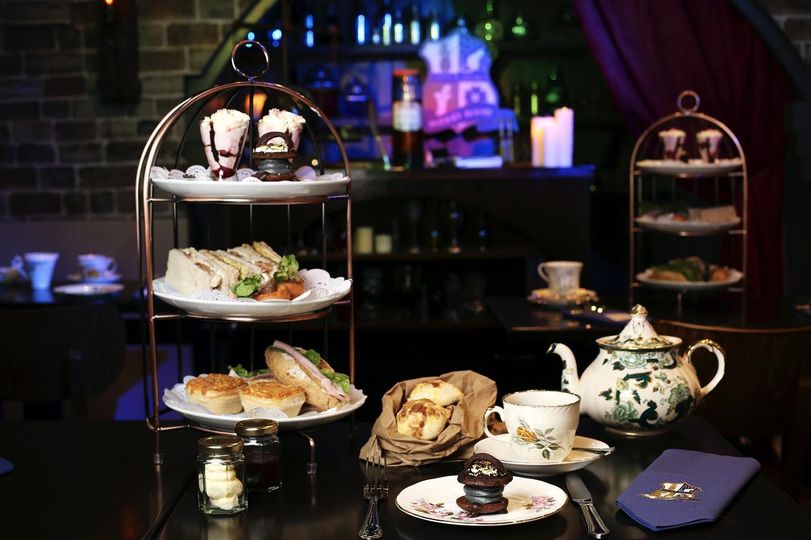 The potions master will arrive and take you on a spellbinding journey, mix your own potions and see it magically transform before you eat and drink your concoctions.
Yorkshire pudding, scones, butterscotch biscuits, sandwiches and the Galaxy Juice potion with hibiscus, passion fruit, and unicorn tear tea.
As well as offering a fantastic experience we have a wide range of different afternoon tea packages for you to choose from.
They have party packages that are suitable for eight years and above.
Visit the website for further details
35 – 39 St George's Dr, Pimlico, London SW1V 4DG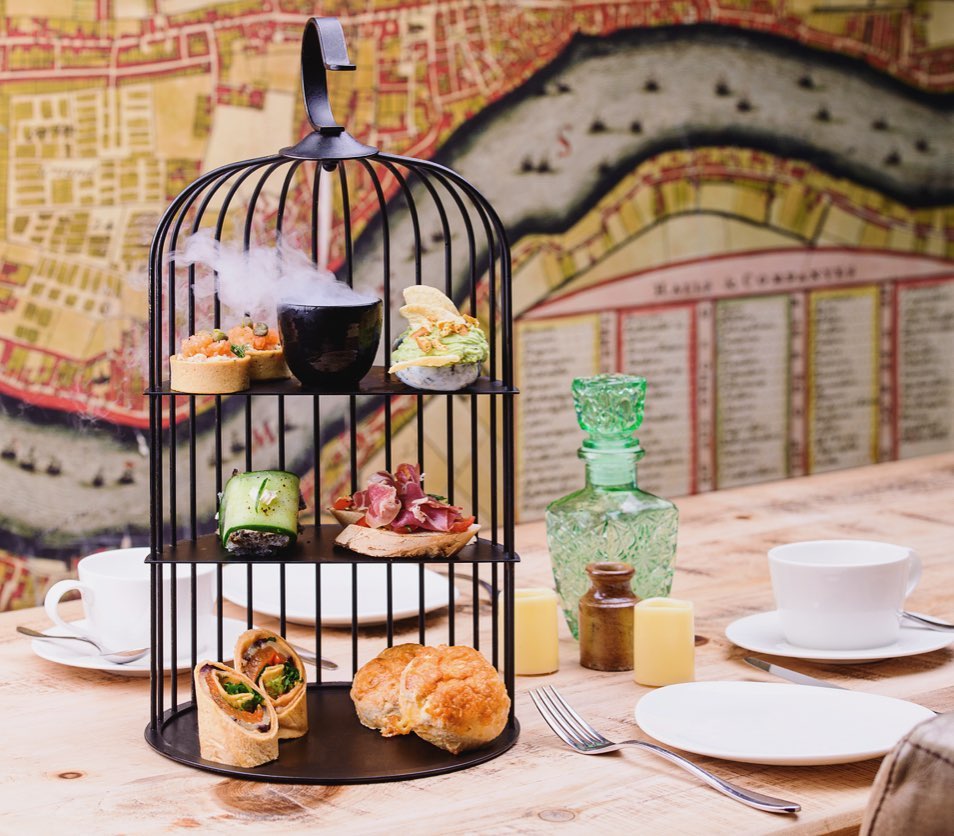 Venture down to the Pimlico Pantry of the Harry Potter themed Georgian House Hotel and take part in an immersive dining experience.
Enjoy a three-course afternoon tea filled with mystery and magic.
You can upgrade your wizard experience with bottomless bubbles or a cocktail made with a mix of frozen crystals, druid's water and ancient red fairy dust for a mystical moment you will never forget!
Available to book every Friday-Sunday
Warner Brothers Studio, Watford WD25 7LR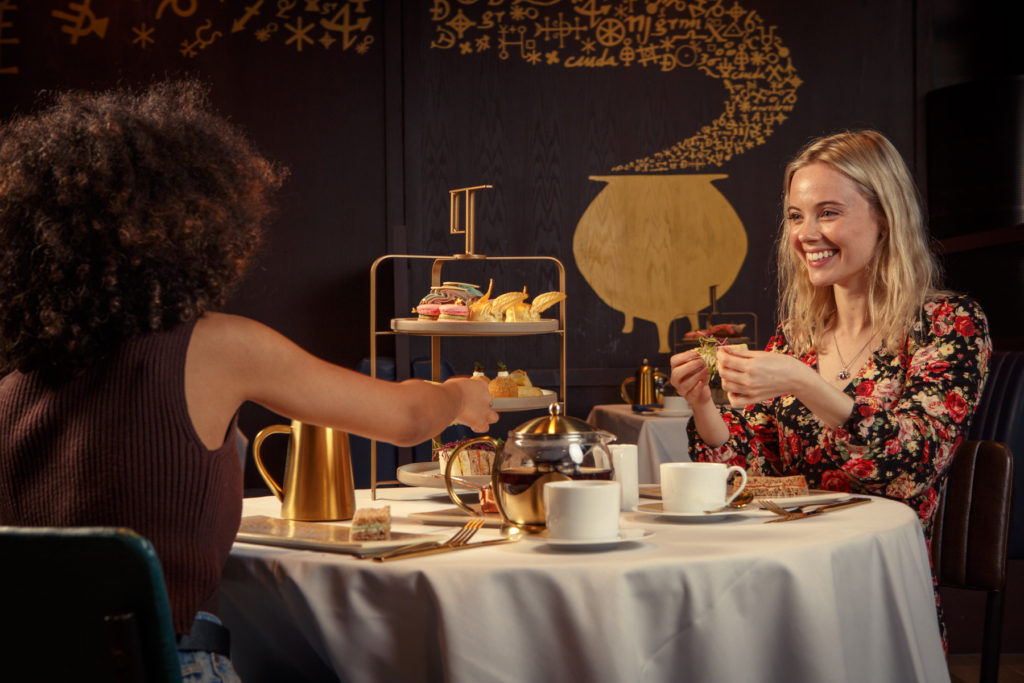 Get the whole magical experience with a studio tour and a refectory-style afternoon tea right on the premises. Stop by the Food Hall and enjoy an afternoon tea spread of finger sandwiches, mini Scotch eggs, and a brie and leek tart for savouries.
Sweets include scones, treacle tart and a take on Dumbledore's favourite sweet a lemon sherbet cupcake.
Visit the website for further details
57a Frederick St, Edinburgh EH2 1LH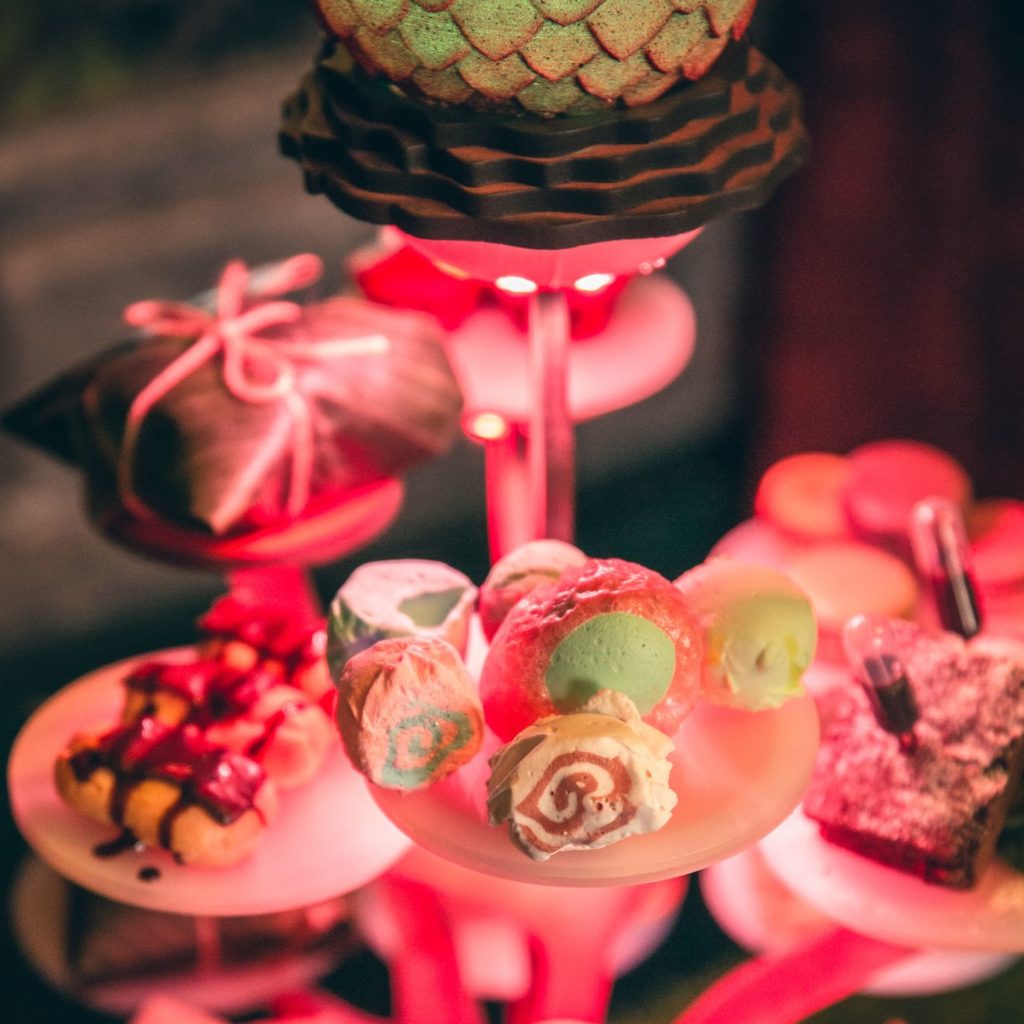 A bewitching afternoon tea experience where you use working magic wands to brew interactive teas and taste treats.
During your time with us you will brew two different types of interactive teas, the first of which focuses on transfiguration and second of which has been designed to encourage experimentation.
Your Wizard Afternoon Tea Experience includes a scone and a carefully curated selection of sandwitches, and desserts.
Visit the website for further details
Euston Road, NW1 2AR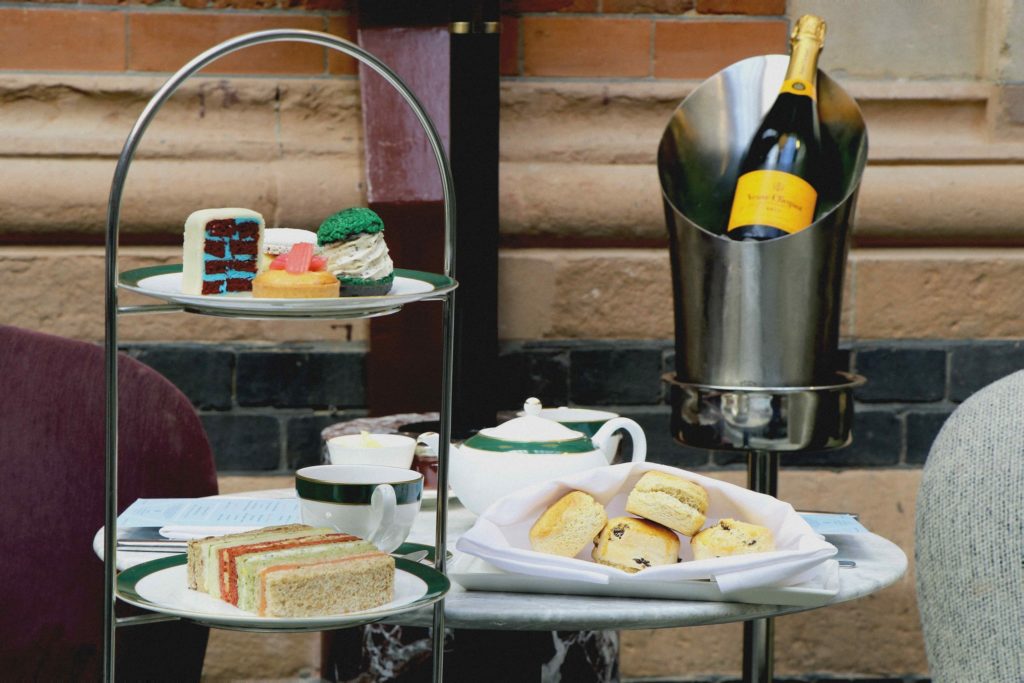 Visit one of the franchise's most famous locations, King's Cross station, where Harry caught the Hogwarts Express steam train from platform 9 ¾.
Enjoy afternoon tea in the Hansom Lounge at St Pancras Renaissance hotel in parts of the original rail station.
Visit the website for further details
The College, DH1 3EH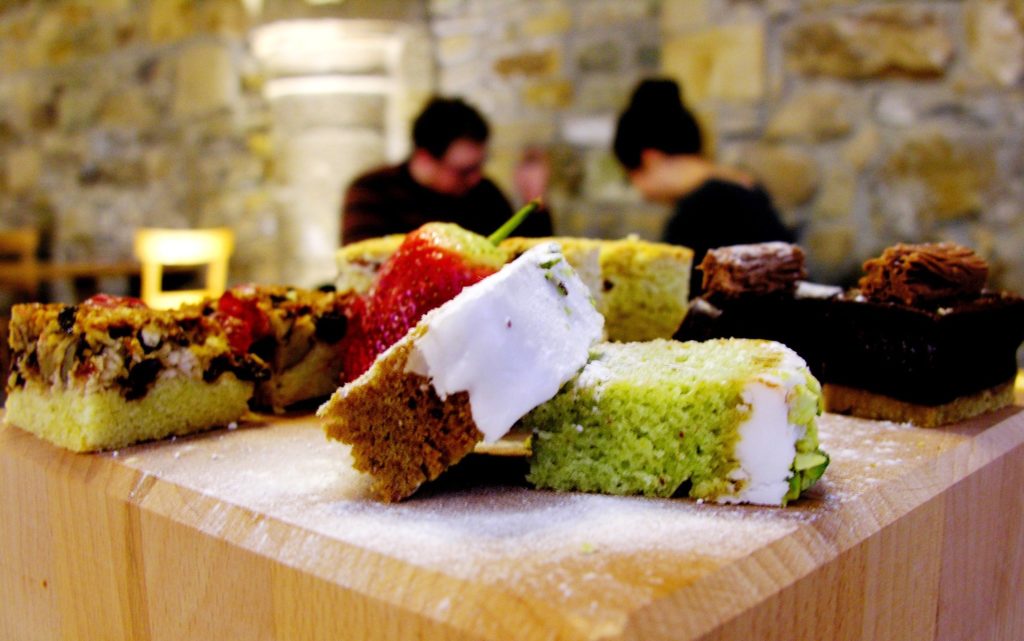 Durham Castle was used in many of the Hogwarts scenes.
You can enjoy a traditional selection of afternoon tea goodies including finger sandwiches, mini scones and homemade cakes in the Undercroft whilst enjoying the beautiful architecture.
Visit the website for further details
26 Greek Street, W1D 5DE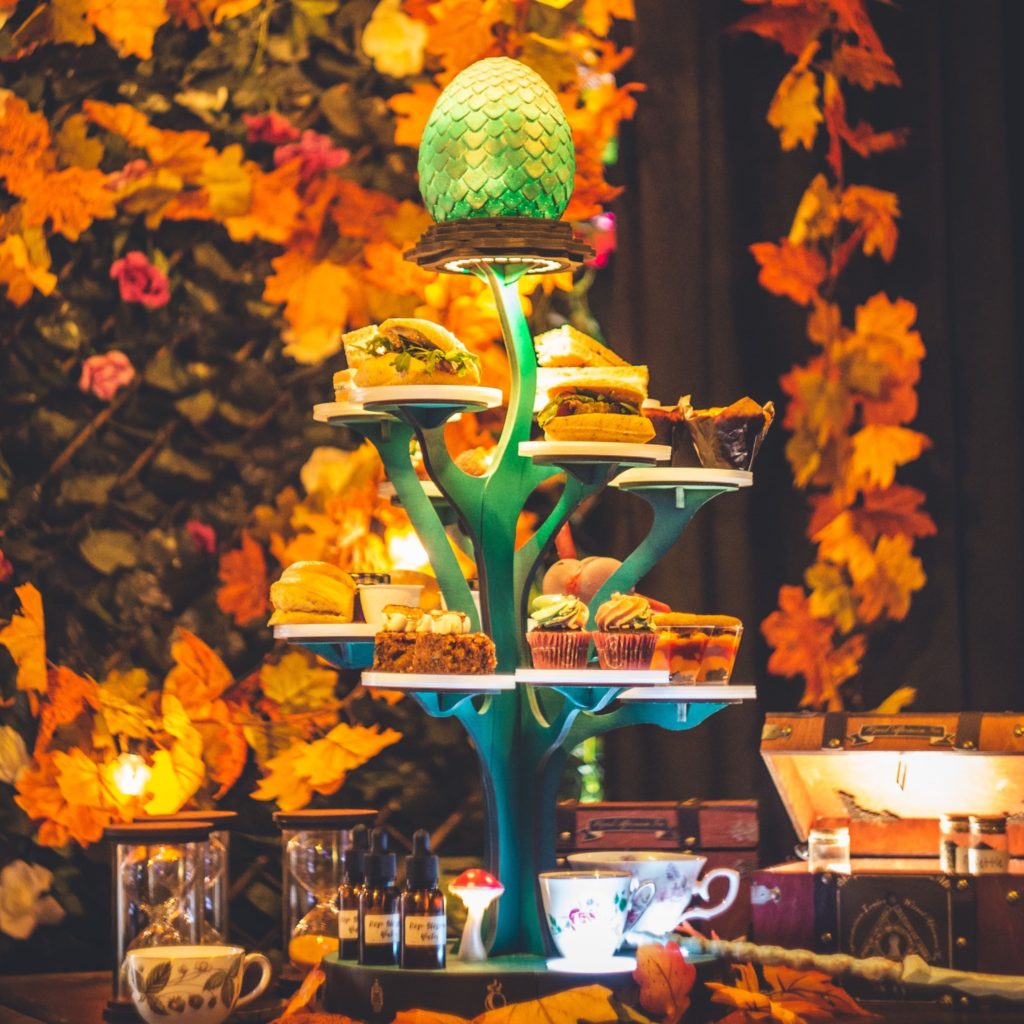 A bewitching afternoon tea experience where you use working magic wands to brew interactive teas and taste fantastical treats.
Wizard Afternoon Tea at the Wands & Wizard Exploratorium is a brand interactive tea-brewing experience where you step into the imagined worlds of your childhood through the subtle science of tea brewing, molecular gastronomy, and technology.
Visit the website for further details
The Dene, Hurstbourne Tarrant, Nr Andover, Hampshire SP11 0AS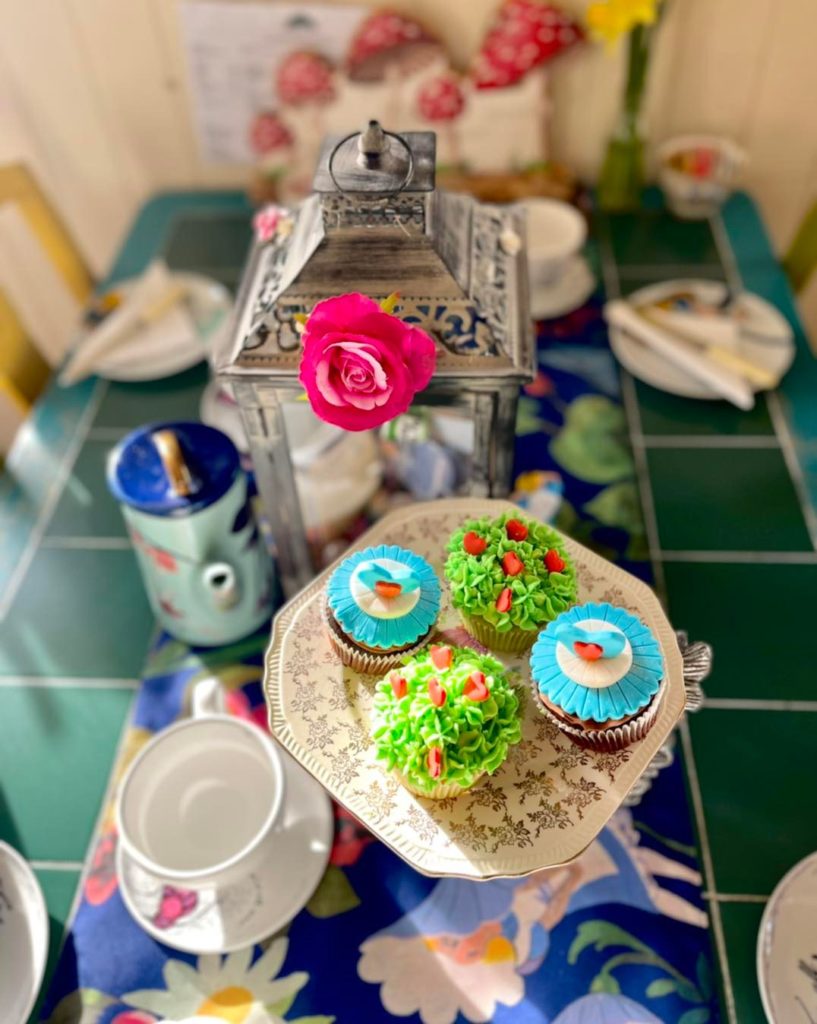 The Tea Cosy offer an number of themed selections of sandwiches, a fruit and plain scone with clotted cream and strawberry jam, themed cakes and biscuits, treats and unlimited tea, all in the setting of your favourite characters.
Choose from Beauty and The Beast, Alice in Wonderland or Harry Potter.
Visit the website for further details
New Park Manor, Lyndhurst Road, New Forest, SO42 7QH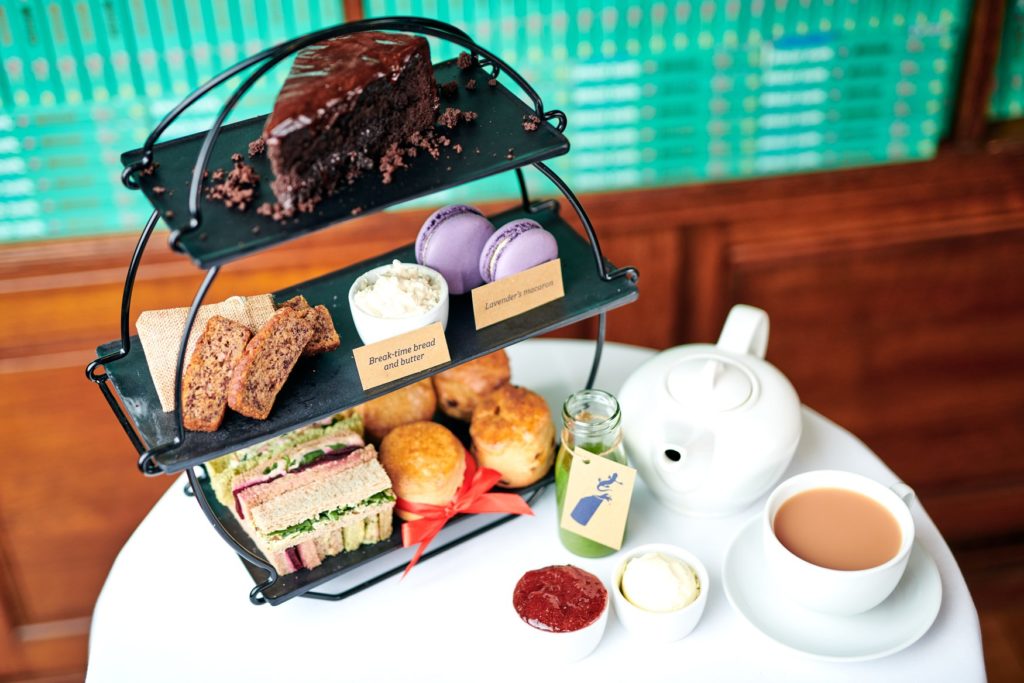 The much-loved, timeless tale of Matilda has been brought to life through words, screen, theatre and now food.
The story of a very small and very smart little girl who, through bravery, sheer determination, and a little help from her friends, overcomes the much bigger bullies in her life and changes her story for the better
For The Adults – The afternoon tea experience has been lovingly crafted to celebrate the magical foodie moments from the Matilda story, allowing you to share in all the surprise and delight of the tale together and create wonderful family memories.
Not to spoil the surprise, but they guarantee that the "Brucie chocolate cake" will be one to remember.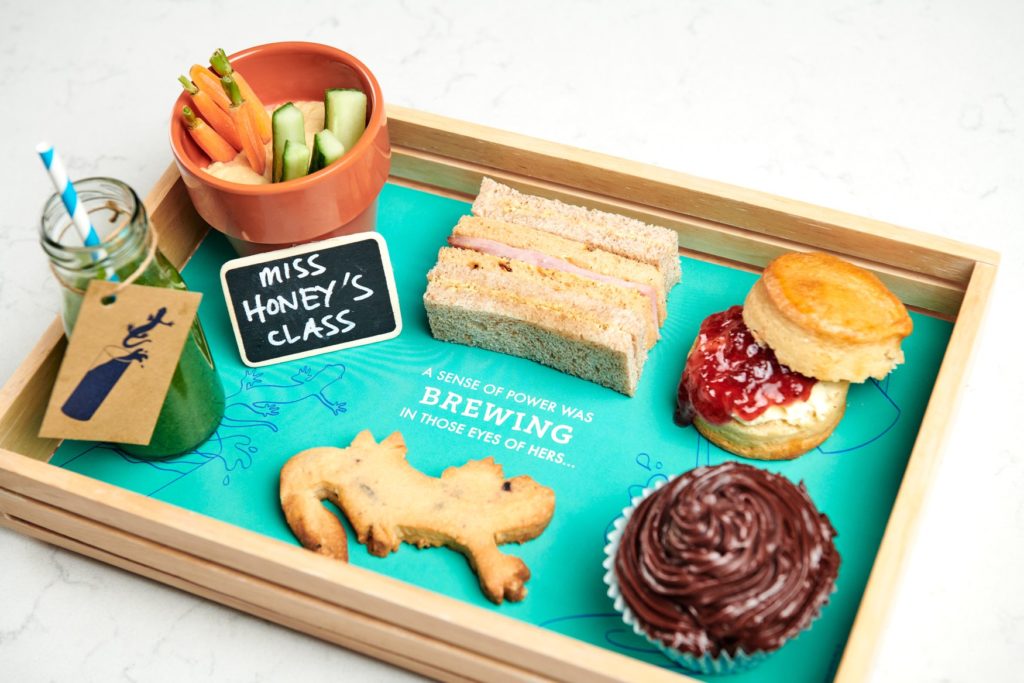 For The Youngsters – The creation of the children's afternoon tea is an experience to treasure featuring a selection of treats, inspired by Matilda's magical foodie moments.
The eagerly anticipated children's afternoon tea is served alongside Matilda themed activity sheets for children to enjoy during service, or to continue the experience at home.
71 Hampstead High St, London NW3 1QP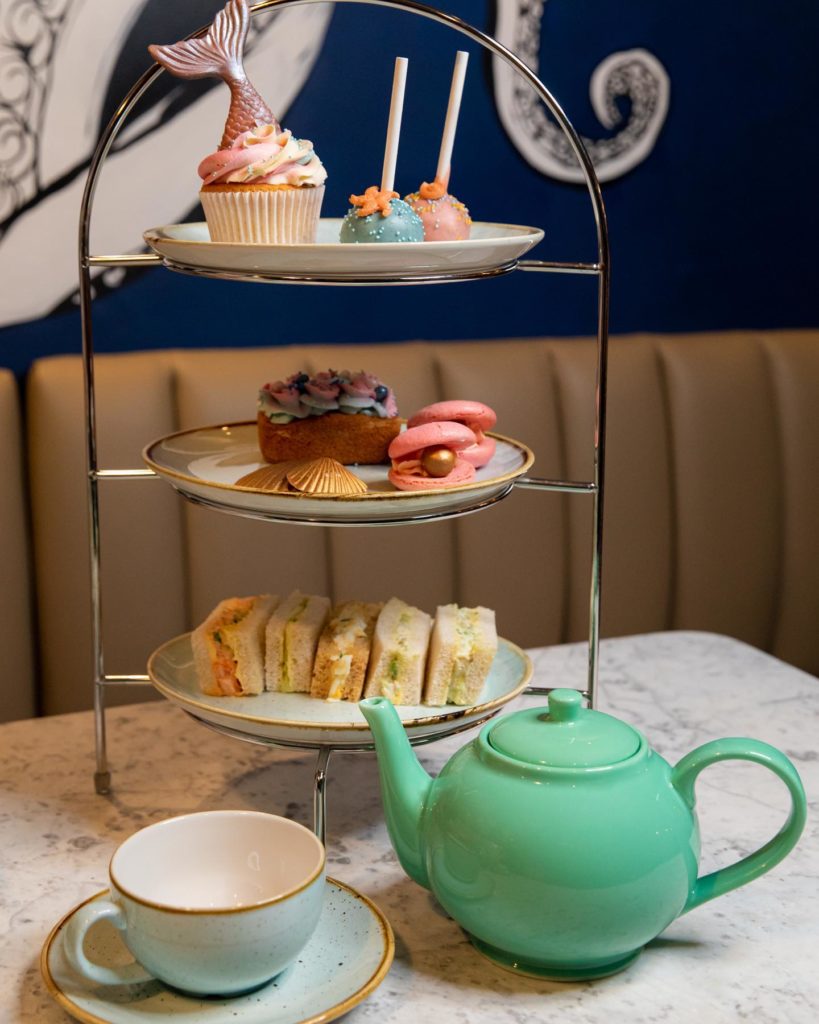 Take a trip undersea to Fish cafe afternoon tea. The cafe have teamed up with a top-end caterer to provide creative cakes to match their theme from the vanilla mermaid tail cupcakes to macaroons with hidden chocolate pearl.
Tea also Includes our favourites traditional finger sandwiches and homemade scones with Devonshire clotted cream.
Visit the website for opening times
Looking for a specific type of afternoon tea, check out all the themed afternoon teas