There are so many choices for Afternoon Tea, but you also don't have to leave your home to enjoy an Afternoon tea or Cream Tea, there are lots of companies that can provide you with an Afternoon Tea Hamper delivered directly to your door, for an Afternoon Tea at Home, just grab yourselves some plates, maybe a cake stand if you want to do it properly and enjoy your Afternoon Tea Hamper.
Send the gift of an English Afternoon cream tea. Enjoy one of the two fruit scones smeared with strawberry jam, and Devonshire clotted cream. Sip a cup of English tea with a slice of rich fruitcake topped with marzipan and white icing and Scottish all butter shortbread.
Priced at £27.50
This hamper contains a fine selection of new English teas, coffee, biscuits and jam
all presented in a wick effect keepsake hamper. The contents of this box is 100% vegetarian.
Priced at £24.99
The bakery made Victoria Sponge cake is filled with jam and buttercream and serves 8 people. Accompanying the cake is the components to create a cream tea, scone, jam amd clotted cream, vanilla fudge, all butter shortbread, oaty biscuits, and a pack of English tea.
Priced at £32.50
This hamper contains oaty biscuits, fruit cookies, and bite sized chocolate chip biscotti, plus English breakfast tea, a handmade block of vanilla fudge and chocolate pralines. This sweet treat makes a wonderful thank you and the basket tray can be reused as handy and decorative storage vessel.
Priced at £27.90
This stunning selection of afternoon tea delights contains a bottle of Prosecco accompanied with two giant fruit scones, Cornish clotted cream, traditional strawberry preserve, a tea caddy full of afternoon tea, a round whisky Dundee cake, a box of Belgian chocolates and a slider of gourmet fudge.
Priced at £59.00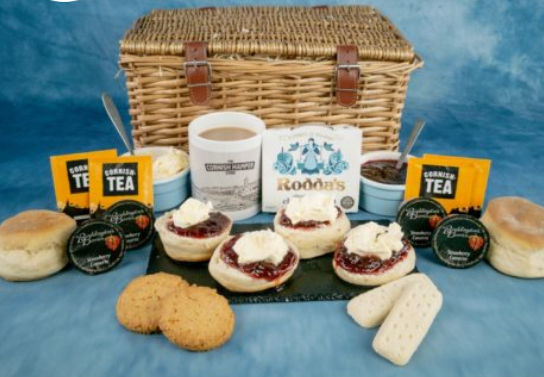 Enjoy a special treat with a delicious Cornish Cream Tea Hamper. Packed with some of Cornwall's finest food products source from all four corners of the county. Perfect for a Cornish alfresco afternoon tea treat to share with friends, ready-made picnics, or just enjoying in the garden with the family. There are plenty of options to choose from too, from classic to vegan.
Priced from £18.95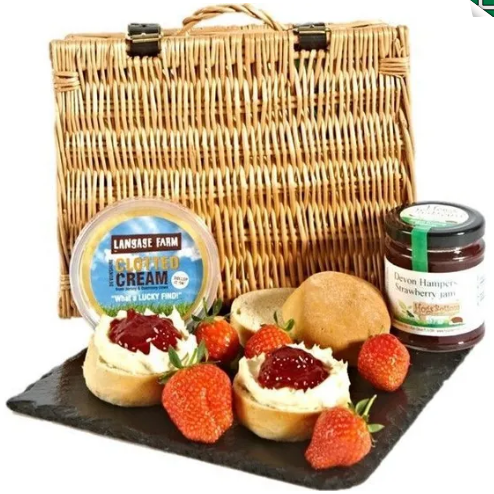 From strawberries, cream and scones to savoury treats and snacks, this selection of hampers is sure to suit your needs. These afternoon teas can be delivered across the UK. You can also personalise your selection of goodies for your very own hamper.
Priced from £13.95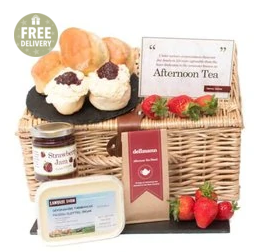 Delimann's Cream Teas & Afternoon Tea hampers are brimming over with the best West Country scones, awarding winning jams and clotted cream you can find. Enjoy Delimann Westcountry Tea and a box of Teonis handmade Strawberry shortbread. In addition to these delights are cupcakes too.
From £20.95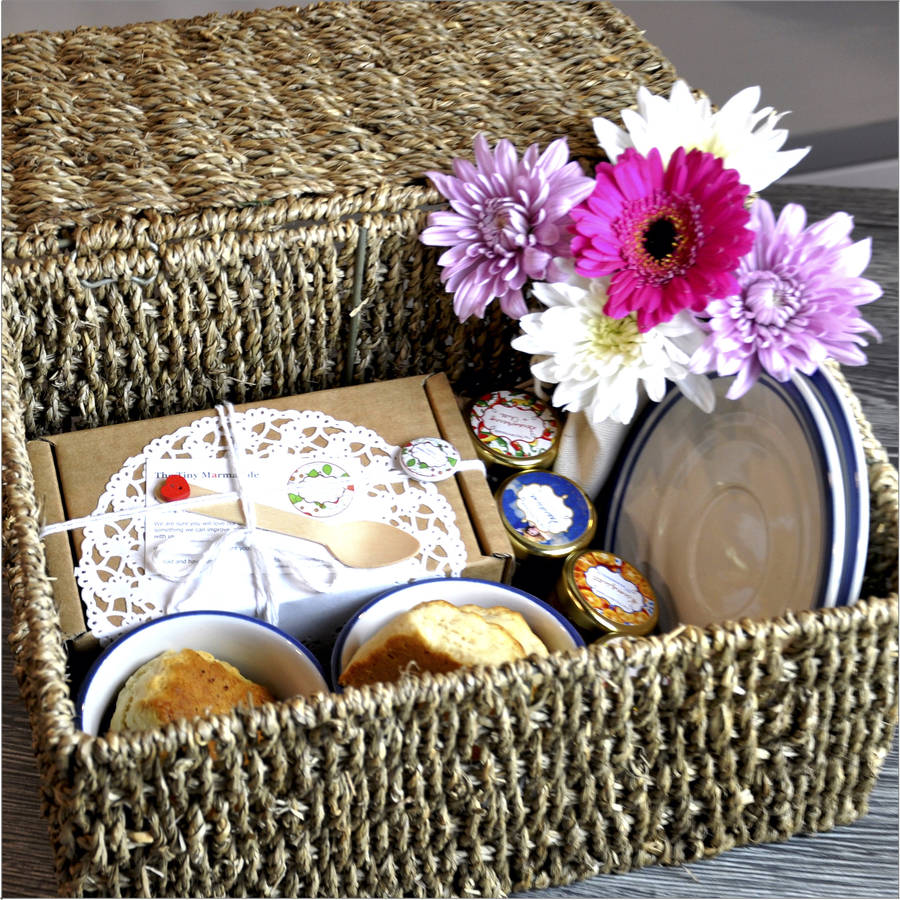 This lovely wrapped hamper includes a selection of tiny jam jars, scones, fair trade tea, chocolate and a tea set or mug for one, two or four.
Flavours include: mojito marmalade, pear and kiwi, raspberries gin and tonic, apricot and peppermint, wild strawberries and many more!
Priced at £55.00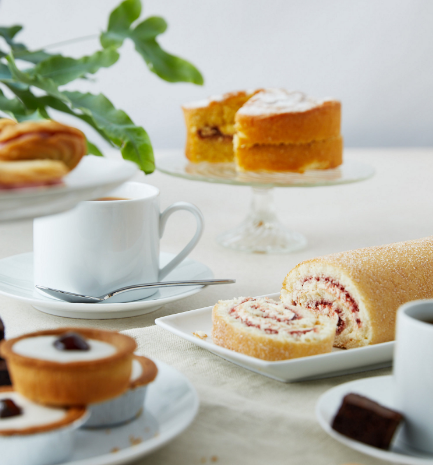 Enjoy a delicious selection of cakes, biscuits and sweet treats, along with classic ground coffee and Red label tea, there's everything you need to enjoy a delicious afternoon tea.
Priced at £20.00
Devon Heaven do a Prosecco afternoon tea hamper with scones by expert local chef Richard Hunt with strawberry jam and Langage Farm provide the thick Devonshire clotted cream, traditionally made from a herd of Jersey and Guernsey cows.
Priced at £55.00
From the simplest pairing of tea with jam and biscuits to an elegant hamper filled with loose leaf tea and fine bone china, there are many afternoon tea experiences for you to enjoy at home. Fortnum and Mason provide a whole host of luxurious hampers to suit all tastes.
Priced from £75.00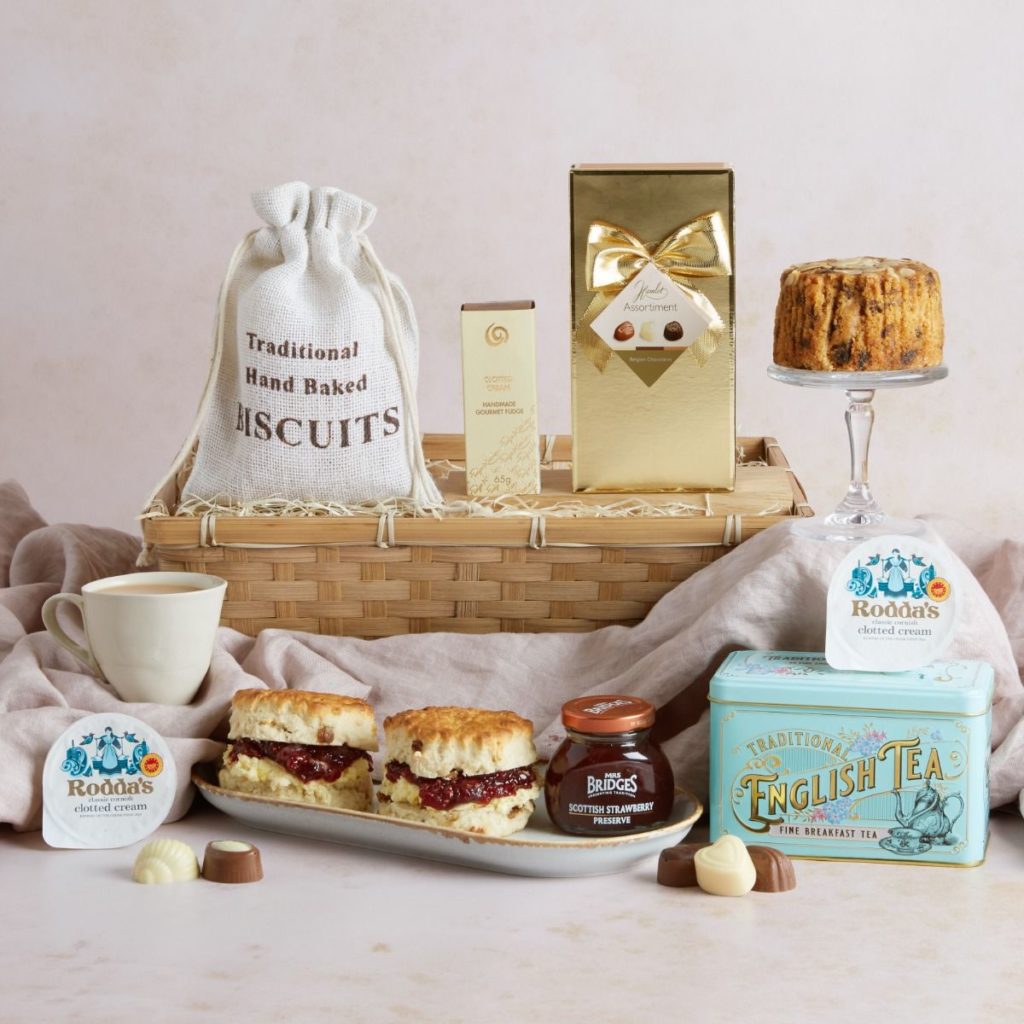 Add more than scones and cream, with chocolates, cakes, biscuits, and macarons, as well as aromatic teas from the finest producers. Enjoy afternoon tea indulgence in the comfort of your own home, from hampers.com.
Priced from £24.00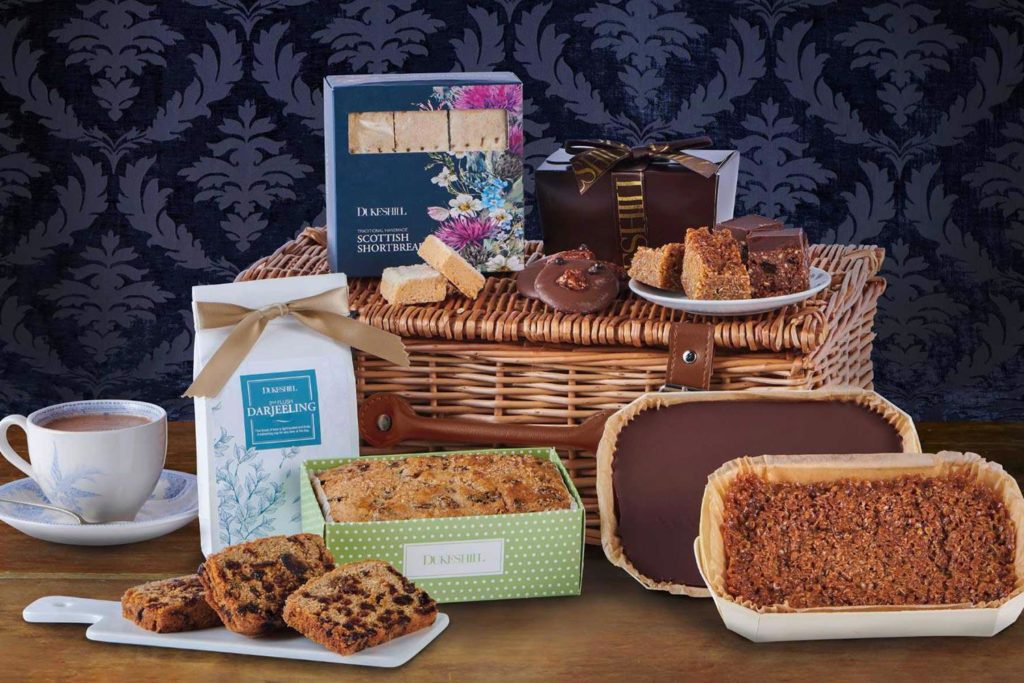 The Dukeshill Afternoon Tea hampers include a chocolate tiffin, Darjeeling Tea, Grandad's Light Fruit Loaf Cake, flapjacks, Scottish shortbread and mendiants. All presented in a lovely hamper.
Priced at £64.00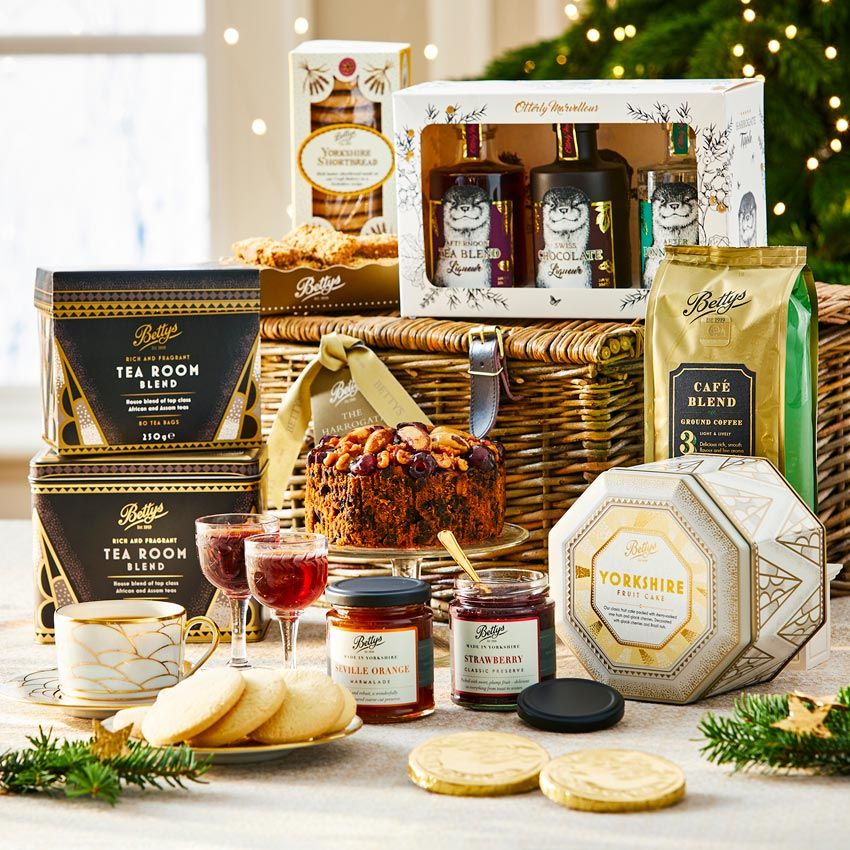 Give someone a Bettys luxury gift or hamper and they'll enjoy a selection of Bettys favourites. Bettys is famous for its Afternoon Tea; this is a simple way to gift a Bettys Afternoon Tea experience at home. Presented in a pretty gift box with designs by Emily Sutton, it comes packed with delicious, buttery scones full of plump sultanas, our classic Tea Room Blend tea, a tasty Yorkshire Tea Loaf, and a jar of Strawberry Preserve.
From £18.25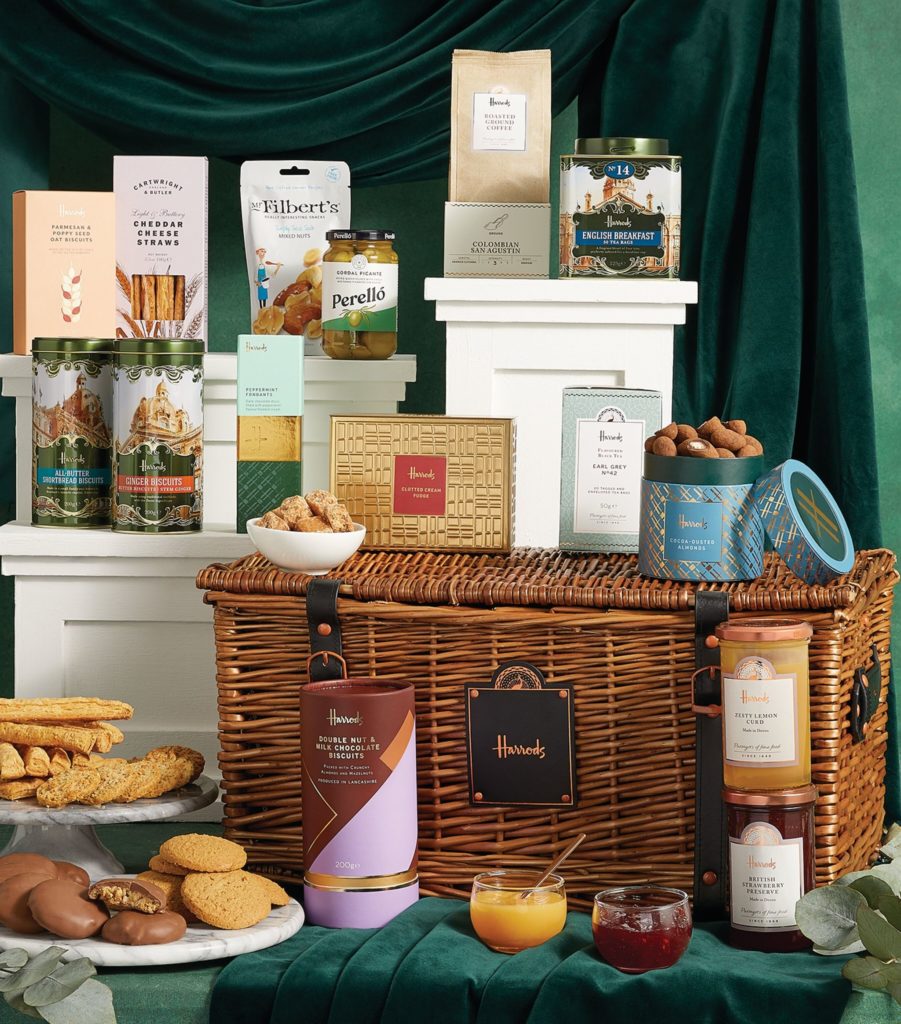 Every tastebud is sure to be enthralled by this luxury selection; it encompasses a myriad of flavours from the savoury warmth of cheddar cheese straws to the zing of lemon curd – a journey that your favourite gourmet will delight in.
Priced at £150.00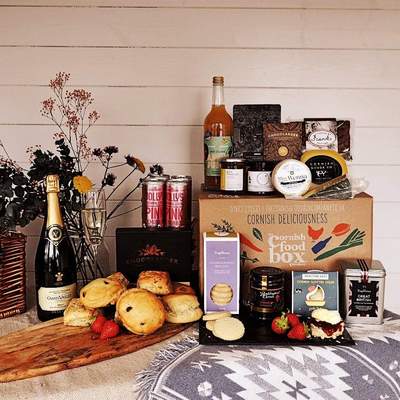 Naturally Cornish offer a range of hampers that bring together the very best Cornish produce. Every item is passionately made and has been grown, reared, caught or made in Cornwall, so it's completely seasonal and most importantly, local. These hampers are truly the ultimate in luxury packed with the very best Cornwall has to offer.
From £80.00
These delights come with a bamboo serving tray covered with chocolate biscuits, sultana scones, strawberry jam and clotted cream with a cherry and almond cake. There are a mix of Assam teabags and ground coffee to finish it all off.
From £66.00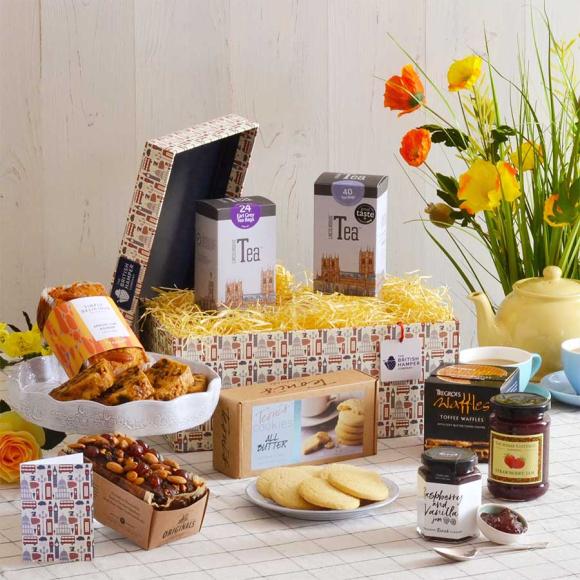 These luxury food hampers provide the essentials for enjoying a blissful afternoon tea. Steeped in history with unrelenting popularity, it has become a timeless, quintessentially British pastime. Choose from a large selection of hampers to suit your taste.
Priced from £40.97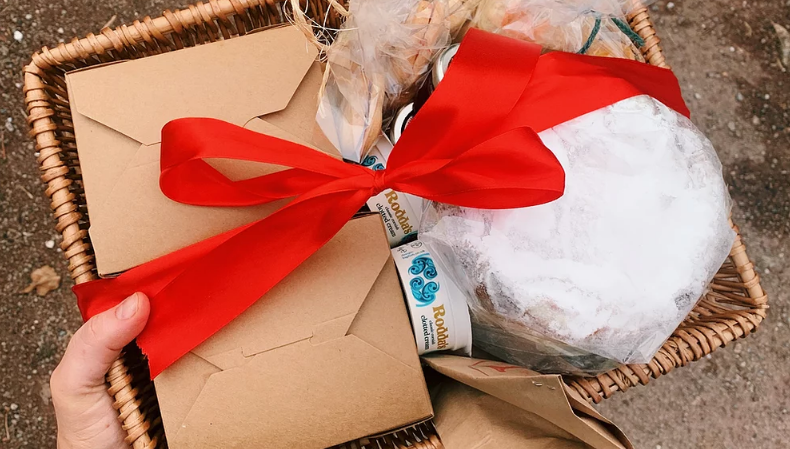 Juliets tea hampers include finger sandwiches, mini fruit and plain scones, with clotted cream and strawberry jam followed by vanilla sponge cake with berry compote and homemade biscuits. There is also a vegan option available.
Priced at £45.00 for two people
Afternoon Tea Hampers from the best Afternoon Tea Hampers artisan makers in the UK. There are many to choose from including classic, vegan, miniature and sweet treats. Have a good browse through, you'll be sure to find something.
Prices vary see the website for details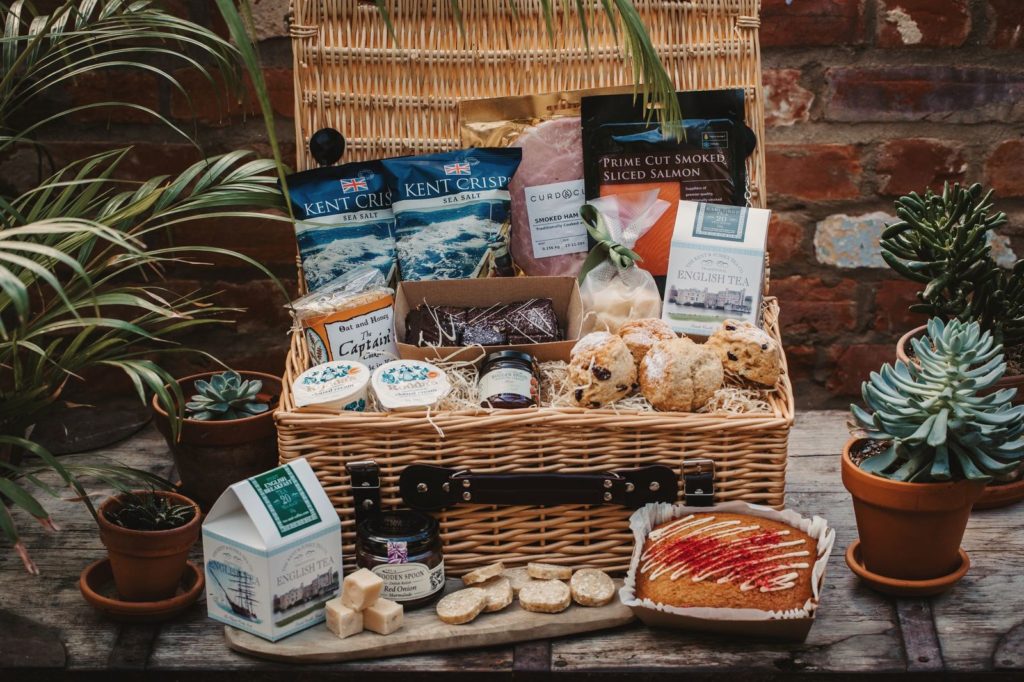 Send a parcel of joy packed with glorious food and drink to enjoy in comfort at home. Indulgent Afternoon tea Hampers are filled with delicious home baked goodies and local artisan produce packed in a Wicker Picnic Basket of excellent quality.
Prices vary visit the website for details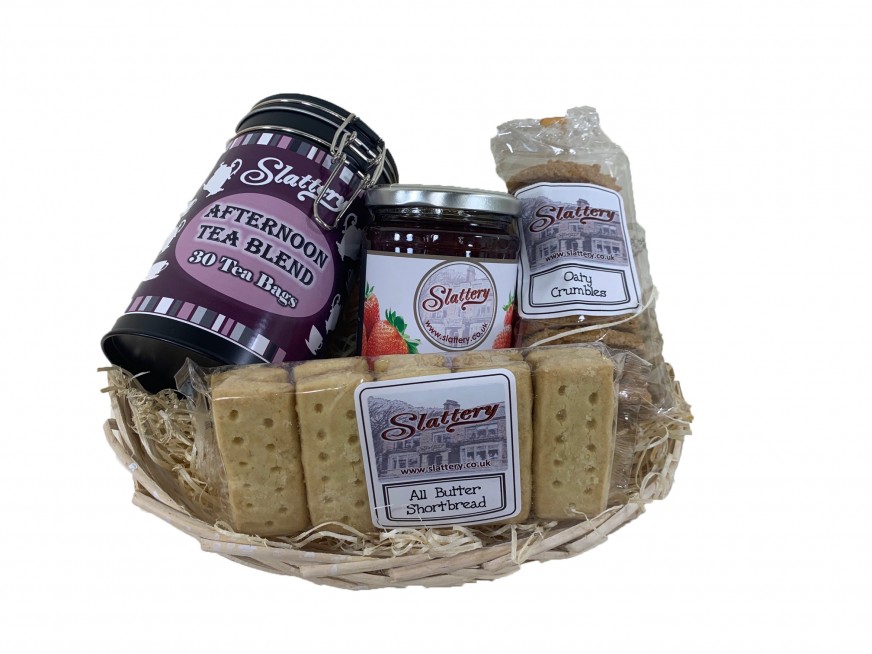 Slattery's afternoon treats hamper contains afternoon tea – tea bags, all butter shortbread, crumble biscuits and a jar of jam.
Priced at £17.50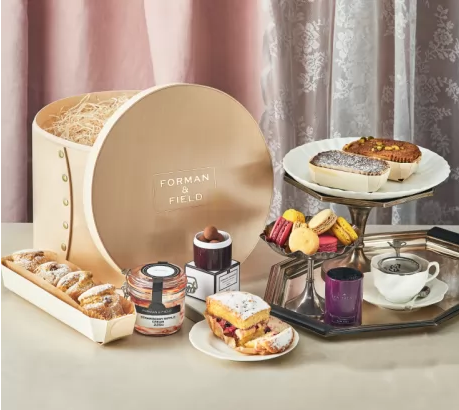 The Forman & Field Afternoon Tea hamper is jam-packed with treats, hand-picked from their finest sweet treats including a mini trio of their most popular cakes so that you can enjoy an indulgent Afternoon Tea. This comes presented in a beautiful wooden hat-box.
Priced at £86.95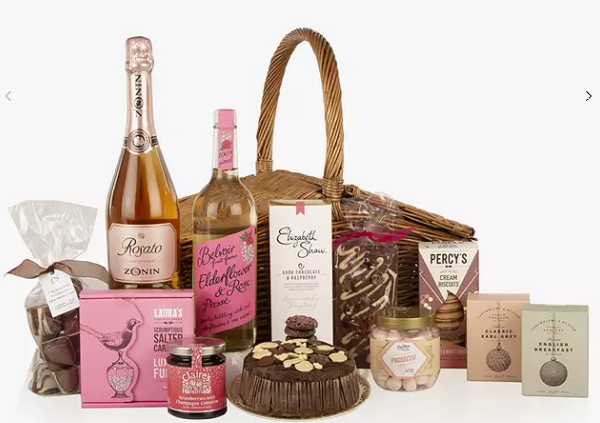 John Lewis provide the perfect, pink-themed summer gift hamper which contains a bottle of Brut Rosé, a light and refreshing elderflower and rose pressé and a selection of afternoon tea treats.
Priced at £100.00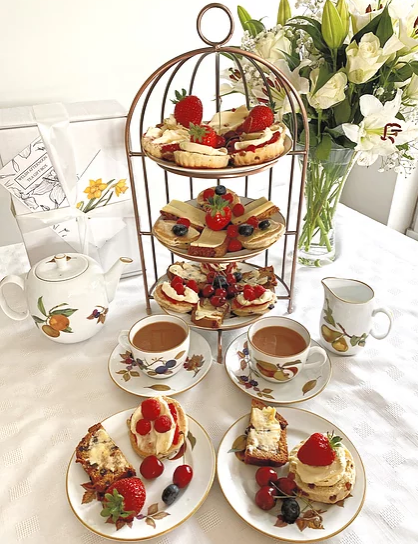 This luxurious Welsh fresh afternoon tea hamper includes Daffodil Welsh clotted cream and blueberry compote, fruited scones, Welsh cakes, bara brith fruit cake, Welsh salted butter and Welsh mature cheddar to serve with Welsh Fairtrade tea. Delicious!
Priced at £25.00