Considering a Children's Afternoon Tea but unsure which establishments offer children's afternoon tea and which are the best places to go.
We have compiled a list of the best childrens afternoon teas, so if you are looking for the perfect afternoon tea with family, a child's birthday treat , an after school treat for the kids, then check out:
Best Children's Afternoon Teas
Rothbury Rd, Longframlington, Morpeth NE65 8AE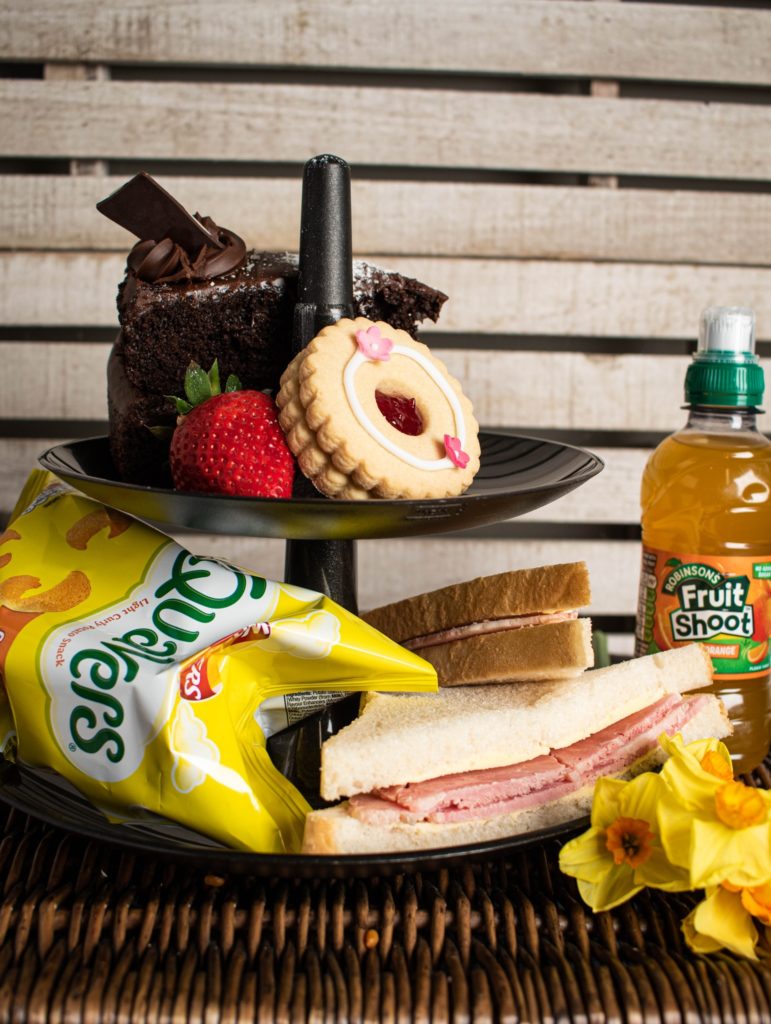 The Running Fox Bakery's children's afternoon tea includes a delicious sandwich, a savoury and sweet treat, and a packet of crisps and a drink of squash.
Walworth Rd, Darlington DL2 2LY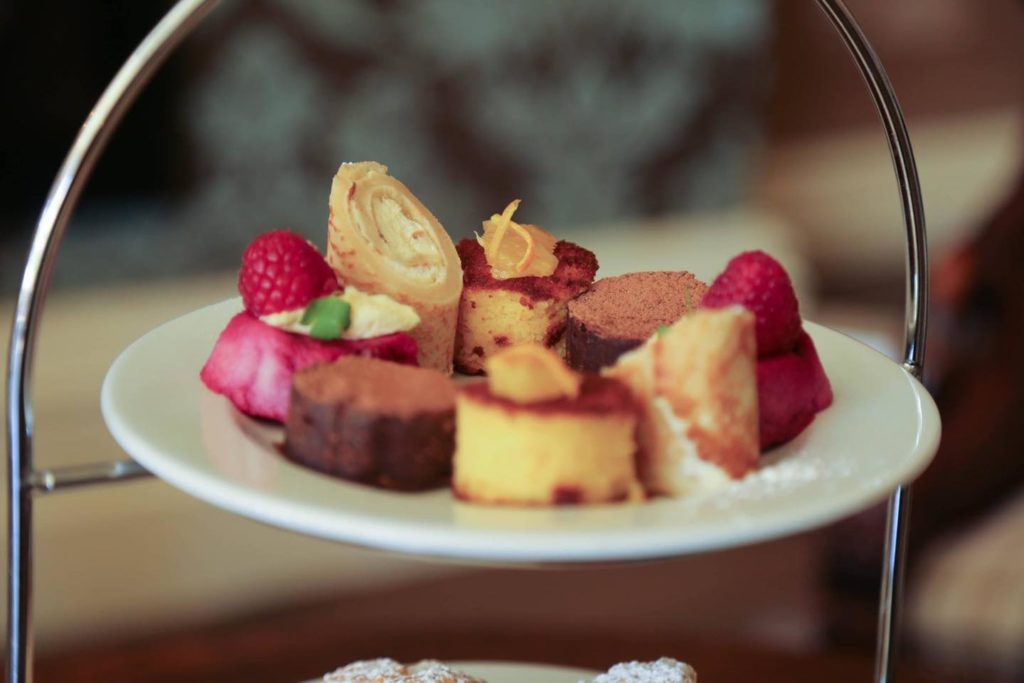 The children don't have to miss out as we offer a kiddies afternoon tea for under 10-year-olds.
We also offer a traditional cream tea which comprises of a pot of tea or coffee and a homemade scone with clotted cream and preserves, or a cheese scone with butter.
Visit the website for further details
164-166 Park View, Whitley Bay NE26 3QW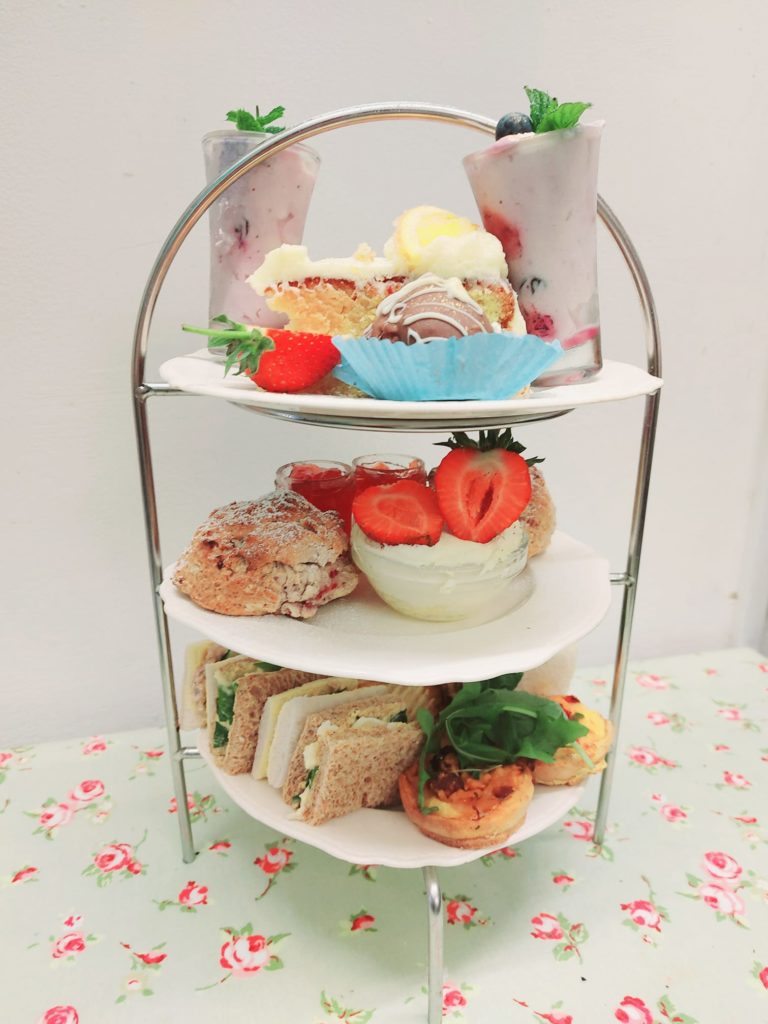 Children's Afternoon Tea at the Vintage Powder Rooms in Whitley Bay includes cheese and ham sandwiches, scones with jam and cream and a slice of cake.
Visit their Facebook page for further details
Hall Ln, Shincliffe, Durham DH1 2NG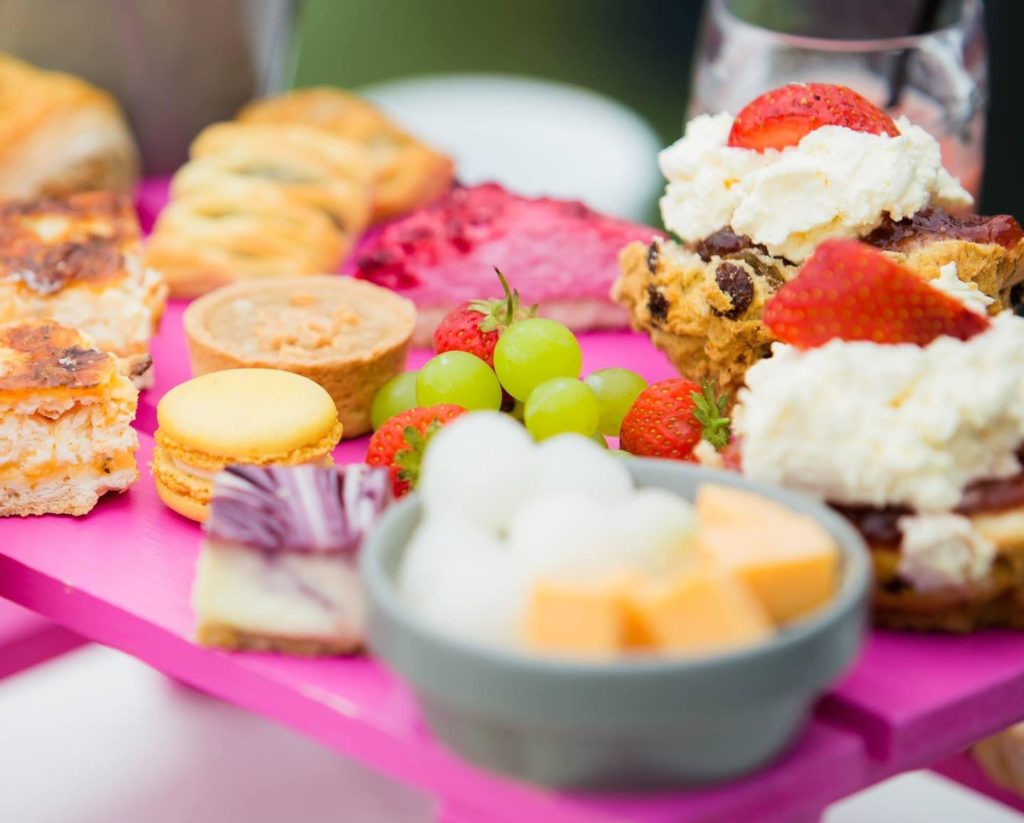 Enjoy a miniature afternoon tea served on fine china, just like the grown-ups! Enjoy finger sandwiches and sweet treats at Poplar Tree Garden Centre.
Visit the website for further details
3 North Terrace, Seaham SR7 7EU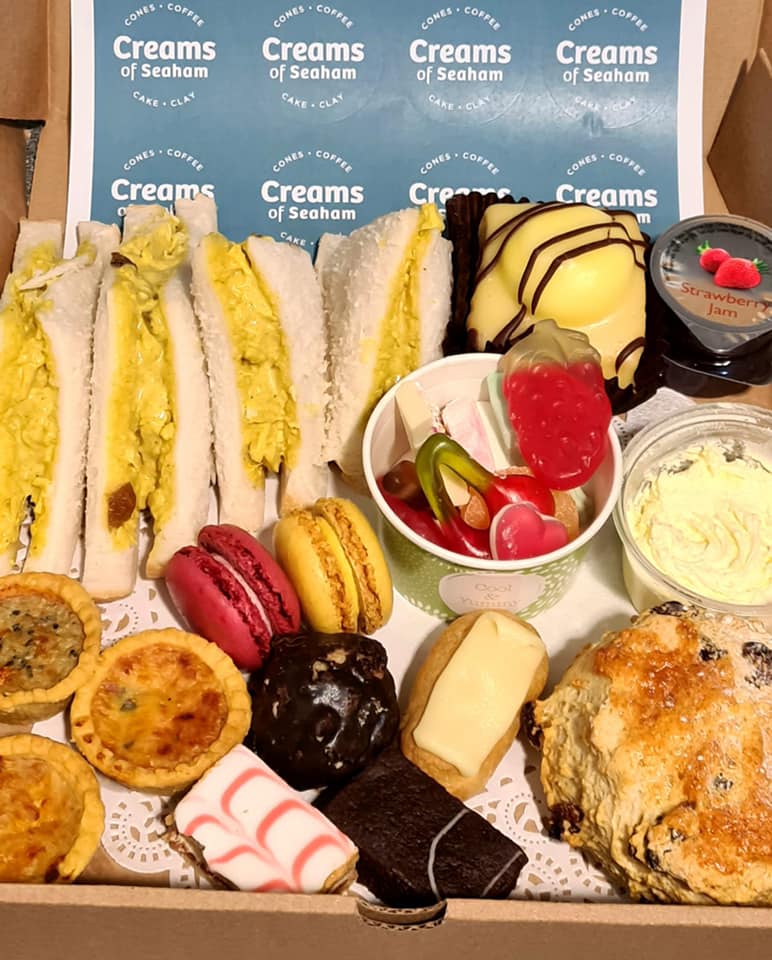 Creams of Seaham offer various themed afternoon teas throughout the year and boy do they look amazing!
Visit their Facebook page for further details
Podium Restaurant, 22 Park Lane, London, W1K 1BE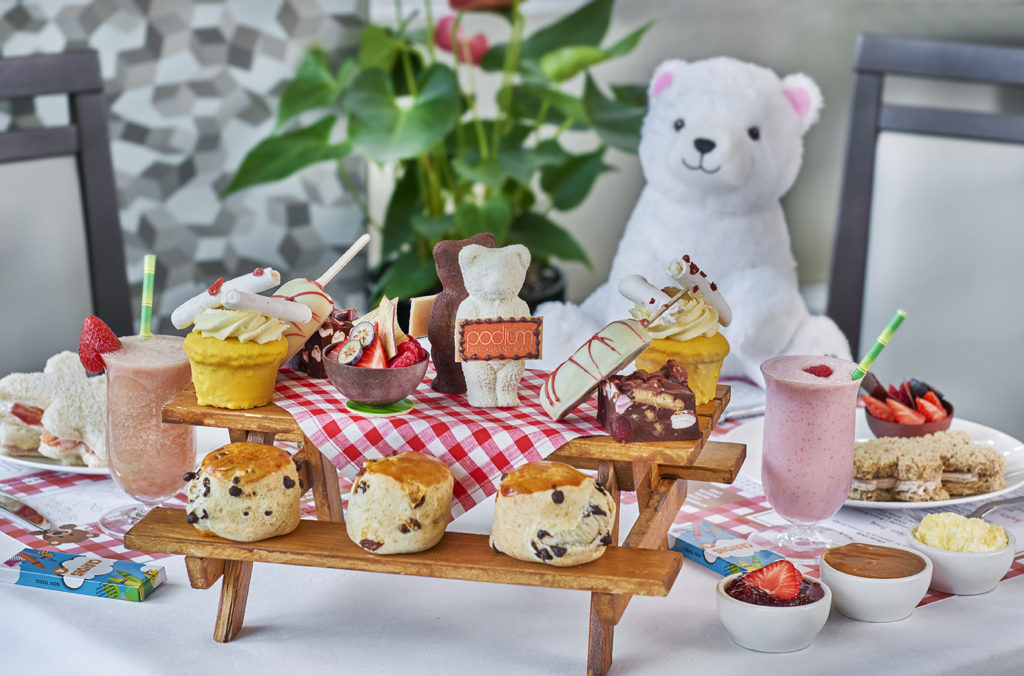 Head to Podium for bite-sized delicacies, sweet treats, and a teddy bear for every child.
The menu is a whimsical world of sweet and savoury.
Kids will love the teddy bear sandwiches, meringue mushroom, cake-pops, and miniature fancies—all accompanied by hot chocolate, milkshakes, smoothies, and more.
Served Friday, Saturday, and Sunday from 12.30pm to 5.00pm, last seating 4.30pm.
32 London Bridge St, London SE1 9SG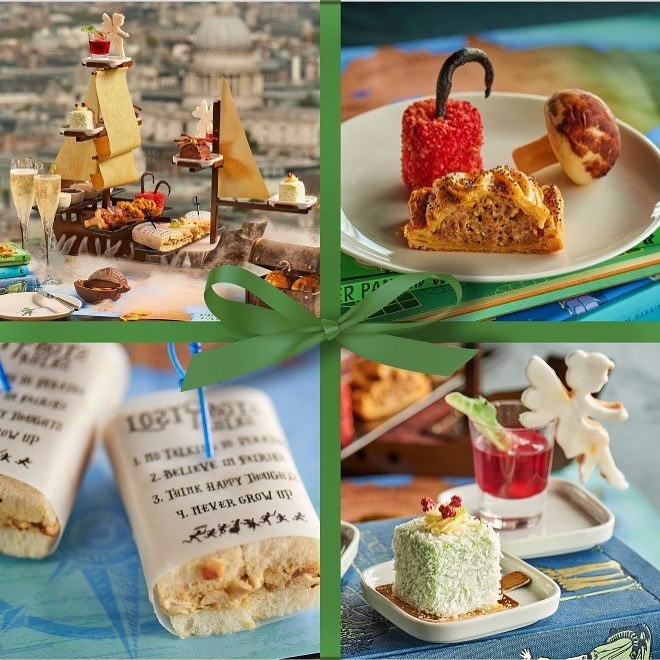 Peter Pan themed treats will be served on a custom-made tea stand inspired by Captain James Hook's Pirate Ship, the Jolly Roger.
To start, guests will enjoy a savoury selection of finger sandwiches, the 'Codfish' Captain Hook cod brandade croquette is named after Peter Pan's nickname for his nemesis.
Warm scones will be hidden within a special treasure chest, accompanied by sweet apricot marmalade as well as coconut clotted cream.
Served Thursday – Sunday from 12.15 – 4.15pm
1 Aldwych, London WC2B 4BZ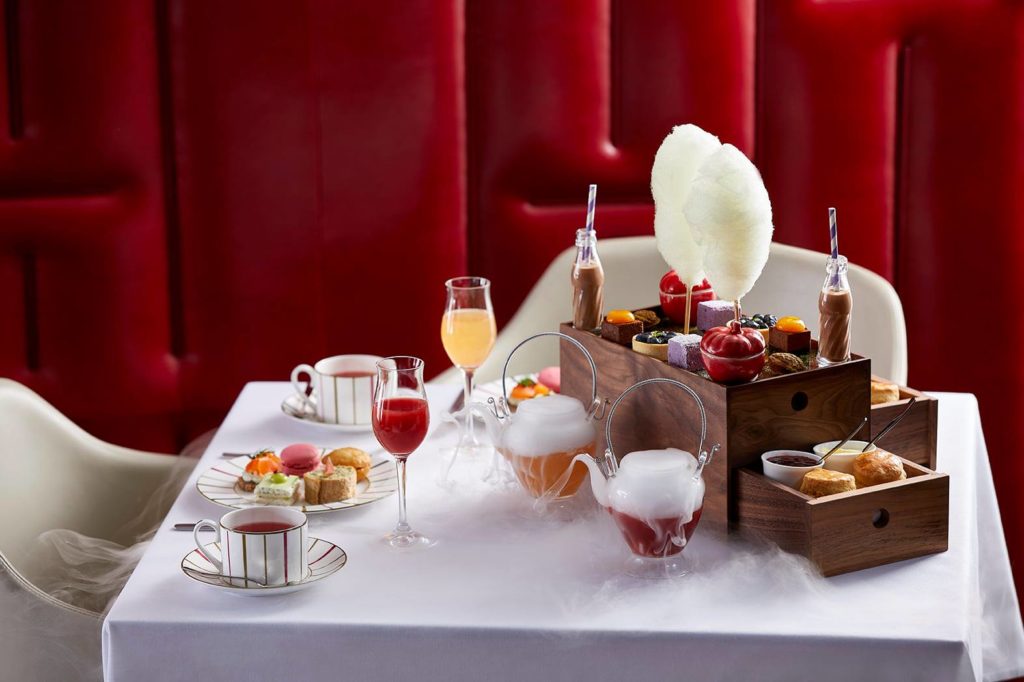 Fizzy lifting drinks, snozzberry jam, chocolate swudge milkshake mixed by waterfall – it must be the Charlie and the Chocolate Factory afternoon tea at London's One Aldwych.
The hotel is located in London's theatre land and the food on offer is magical! The scones come with snozzberry jam and clotted cream – keeping everything in line with Roald Dahl's famous story.
Visit the website for further details
350 King's Rd, Chelsea, London SW3 5UU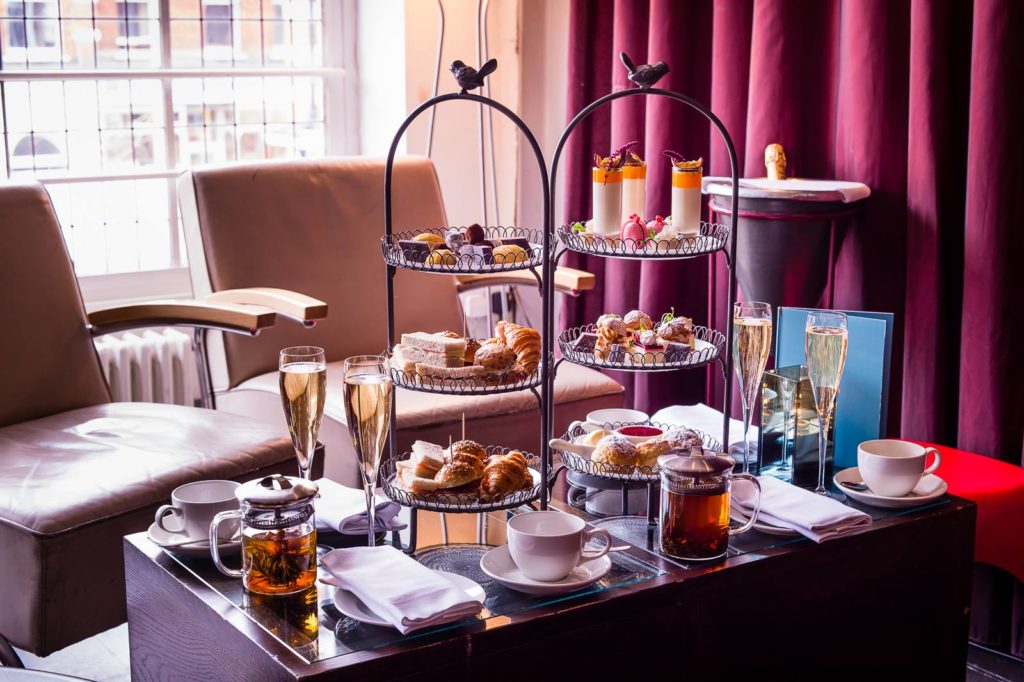 This London high tea may be tiny but its big on treats. Specially designed for kids, the menu includes savoury snacks such as cheese, ham and cucumber sandwiches. But trust us, you're going here for the sweet stuff.
That includes mini scones with jam and a Malteser milkshake topped with whipped cream and popping candy.
Served Monday to Friday 1.00pm – 3.00pm & Saturday – Sunday 3.00-4.30pm half terms only
10 Harrington Road, London, SW7 3ER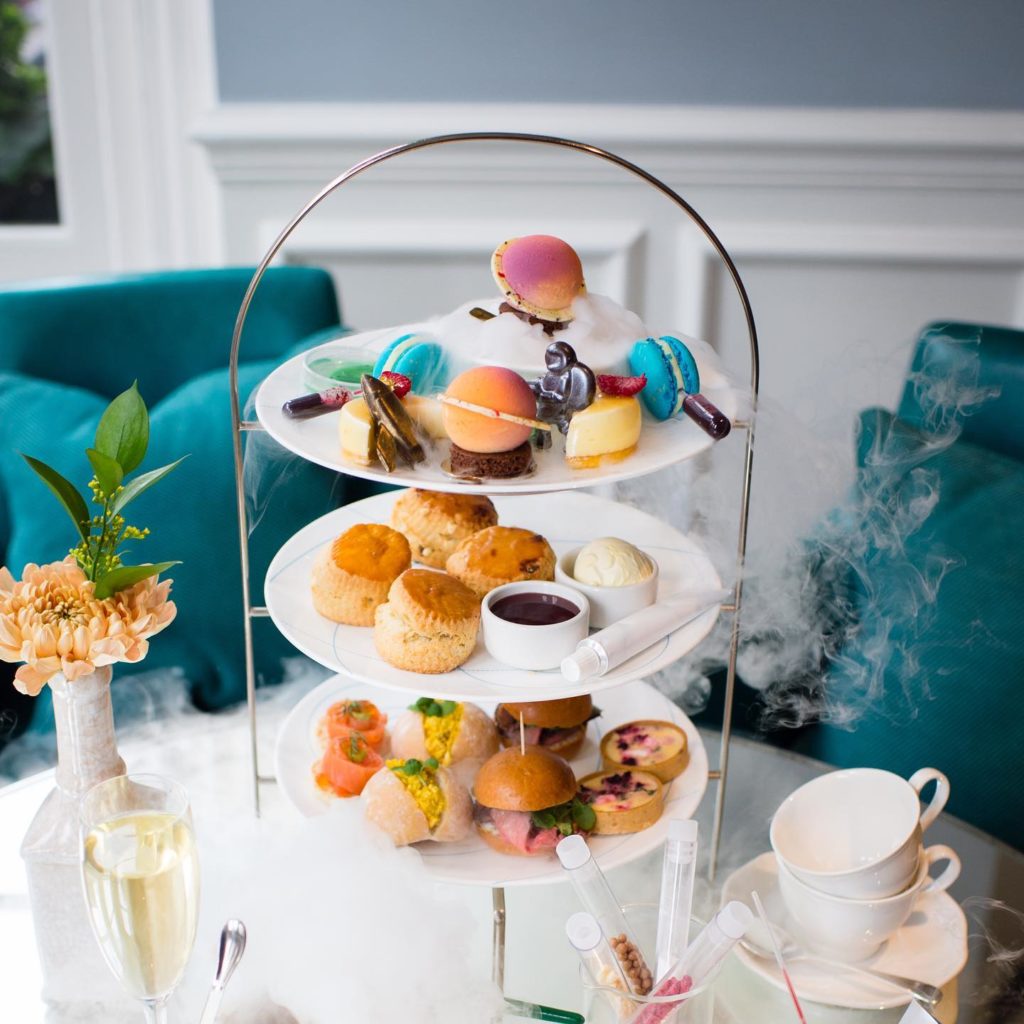 Served on brightly coloured themed rocket stands with very effective dry ice, the kids' Sci-Fi Tea offers mini hot dogs, rocket cheese straws and brioche and jam sandwiches. Finish your sci fi tea with a sampling of petri dish jellies, chocolate spacemen and crunchy edible fossils.
Served Monday – Friday 1.00-5.30pm & Saturday – Sunday 12noon – 6.30pm
35 Charles St, London W1J 5EB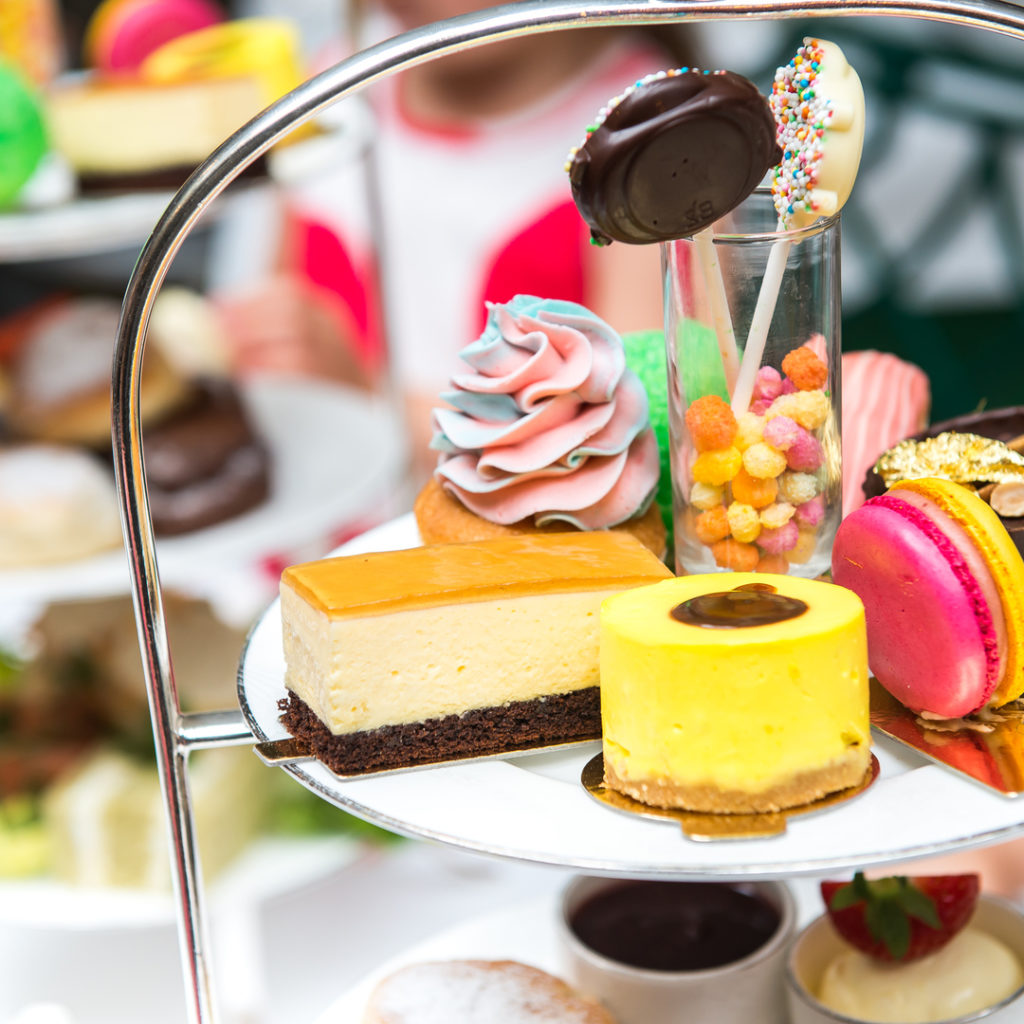 There's a selection of ham and cheese, chocolate, cucumber and cream cheese, egg mayonnaise and jam sandwiches; fruit and chocolate chip scones, clotted cream and strawberry jam; delicious pastries and delights, milkshake or tea.
Visit the website for further details
London, Guildford and Cobham, Surrey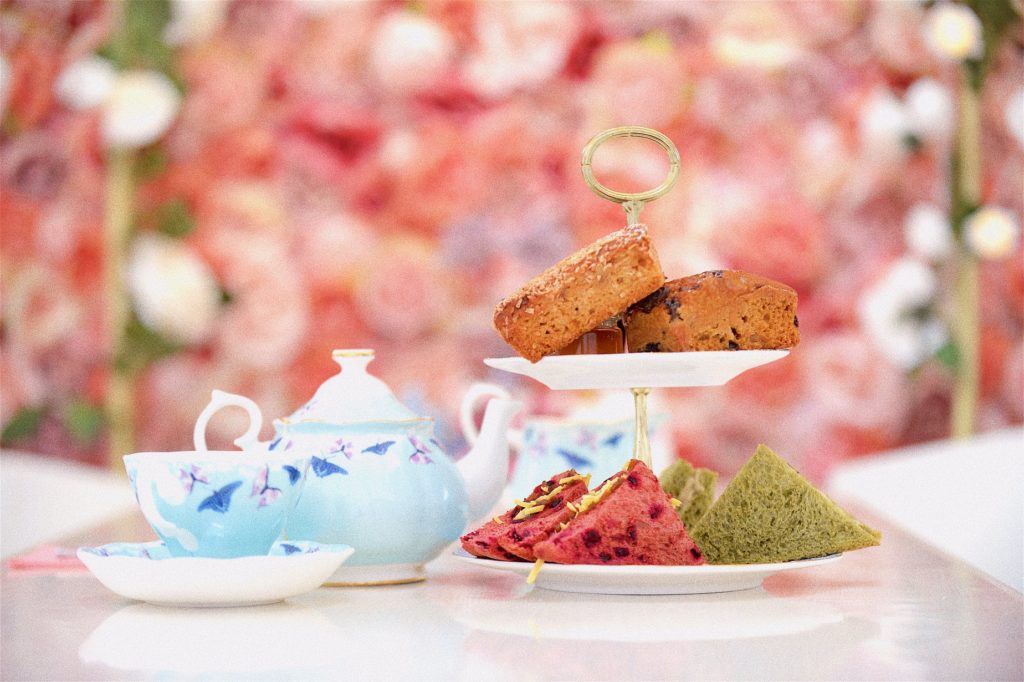 The Terrace is a British company with a growing chain of unique and quaint tea rooms. The company currently operates three branches in Central London and two in Surrey in the heart of the Surrey hills.
The golden vintage carriages are currently permanently in place in London, at House of Fraser Oxford Street and House of Fraser Victoria Street.
Here you can have afternoon tea with Cinderella in style.
Visit the website for further details
Victoria Coach Station or Trafalgar Square, London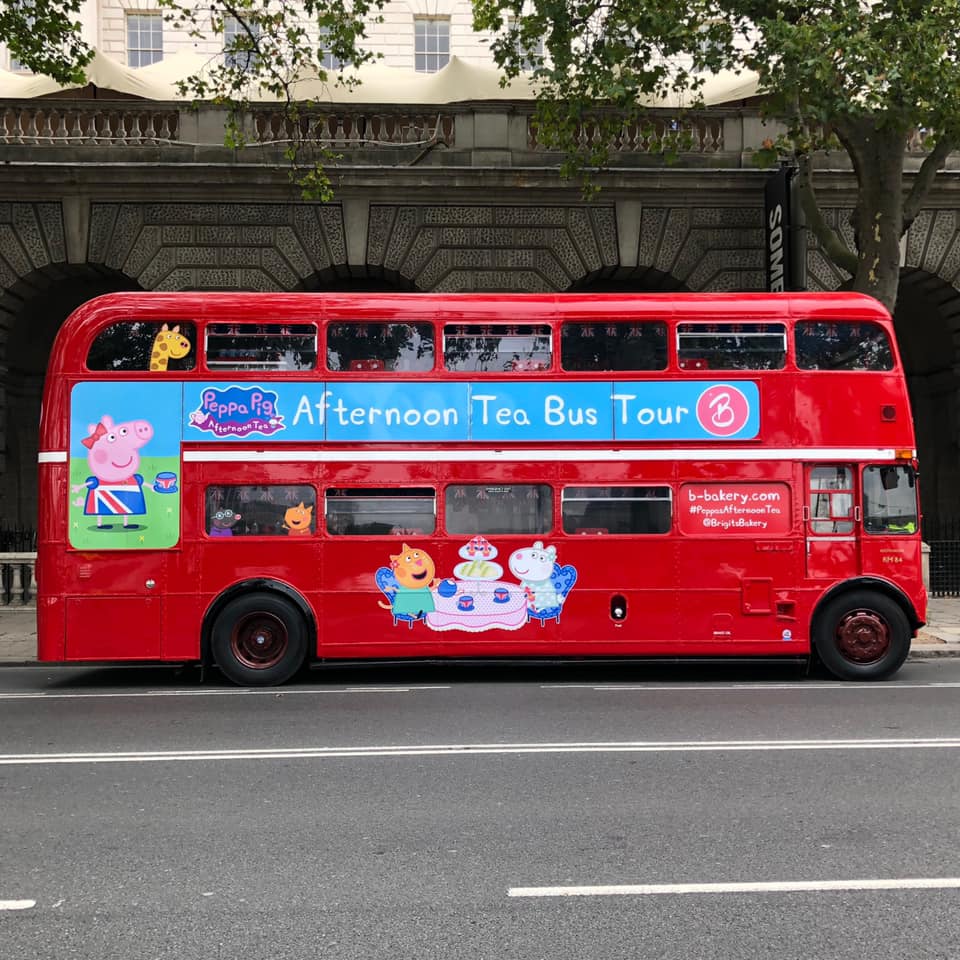 Treat your little ones to a special Peppa Pig Afternoon Tea Bus Tour. You can enjoy many Peppa Pig themed treats such as a Grandpa Pig's Chicken & Tomato burger bun or Suzy Sheep's Chocolate Truffle Sprinkled with confetti.
17-19 Egerton Terrace, London SW3 2BX.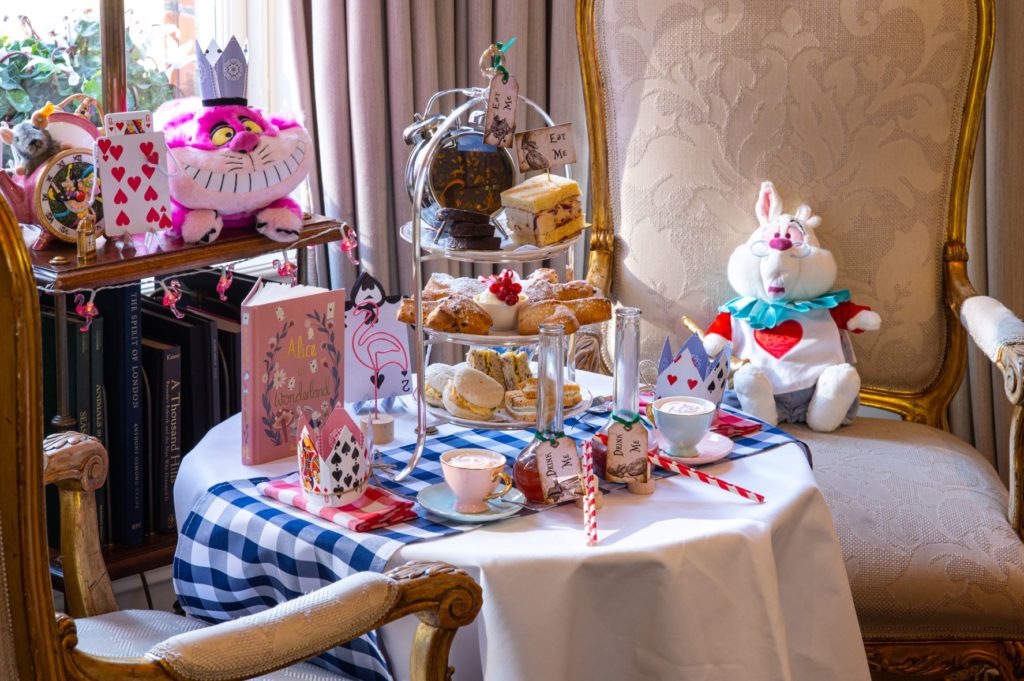 Children will enjoy a selection of sandwiches and freshly baked white rabbit scones, all accompanied by a choice of tea or hot chocolate.
The "Six O'Clock brownie" is a rich chocolate orange brownie, while the ice-cream sandwich combines three flavours, sandwiched between toasted brioche bread.
Visit the website for further details
26 Greek Street, W1D 5DE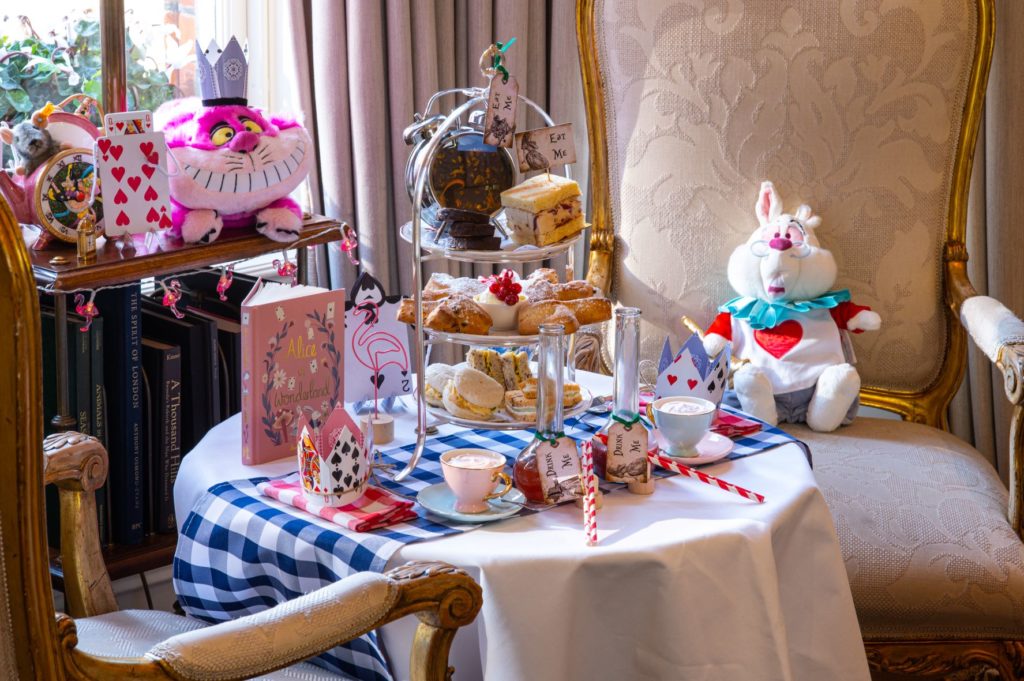 A bewitching afternoon tea experience where you use working magic wands to brew interactive teas and taste fantastical treats.
Wizard Afternoon Tea at the Wands & Wizard Exploratorium is a brand interactive tea-brewing experience where you step into the imagined worlds of your childhood through the subtle science of tea brewing, molecular gastronomy, and technology.
Visit the website for further details
50 Dearmans Pl, Chapel Wharf, Salford, Manchester M3 5LH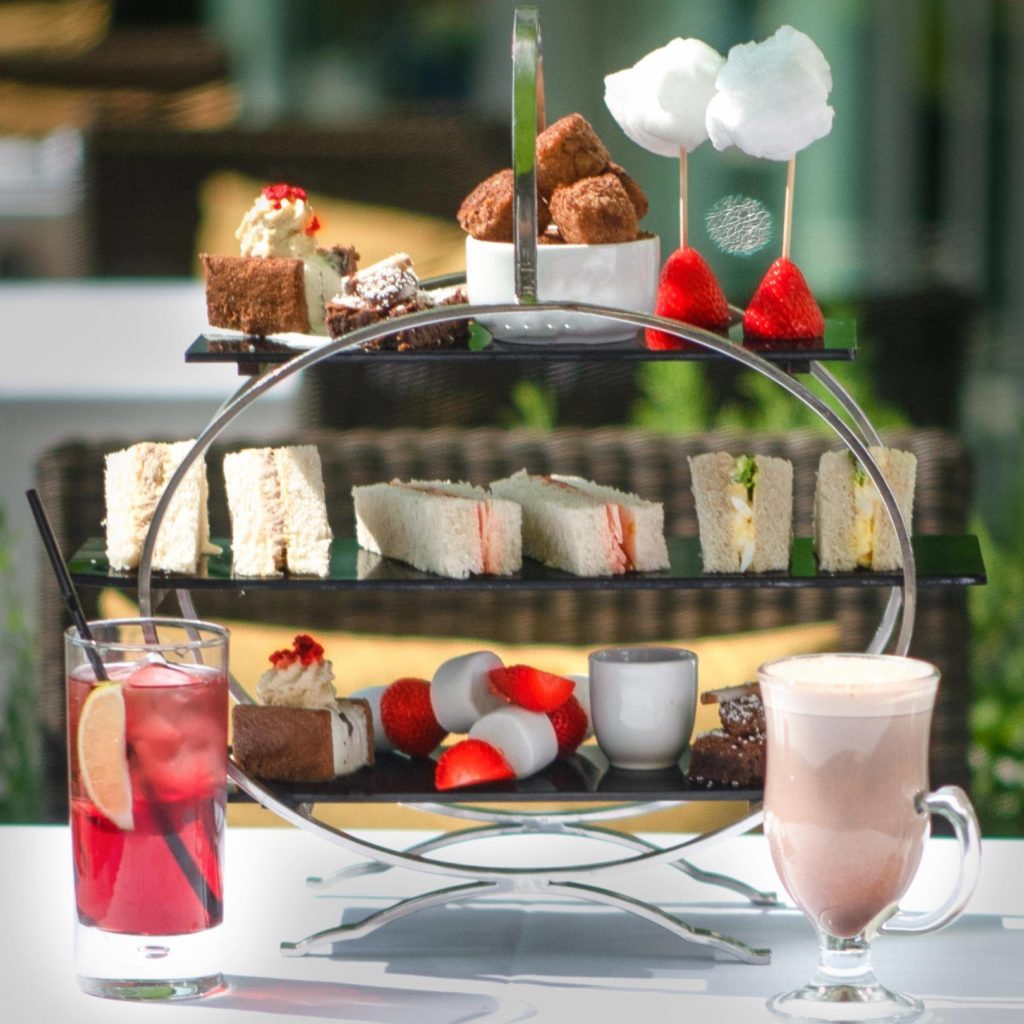 The children's afternoon tea at The Lowry Hotel includes a selection of sandwiches, homemade candyfloss, chocolate brownie, ice cream sandwich, warm doughnuts and a marshmallow skewer
Afternoon Tea bookings on Thursdays – Sundays
20 Brewer Street, W1F 0SJ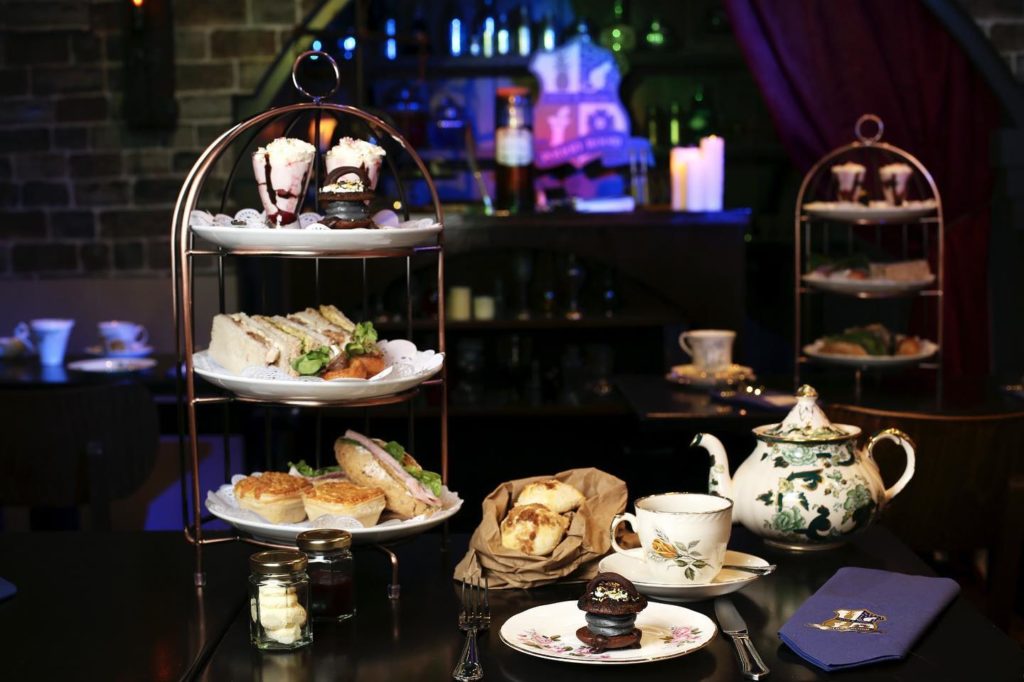 The potions master will arrive and take you on a spellbinding journey, mix your own potions and see it magically transform before you eat and drink your concoctions.
Yorkshire pudding, scones, butterscotch biscuits, sandwiches and the Galaxy Juice potion with hibiscus, passion fruit, and unicorn tear tea.
As well as offering a fantastic experience we have a wide range of different afternoon tea packages for you to choose from. They have party packages that are suitable for eight years and above.
Visit the website for further details
35 – 39 St George's Dr, Pimlico, London SW1V 4DG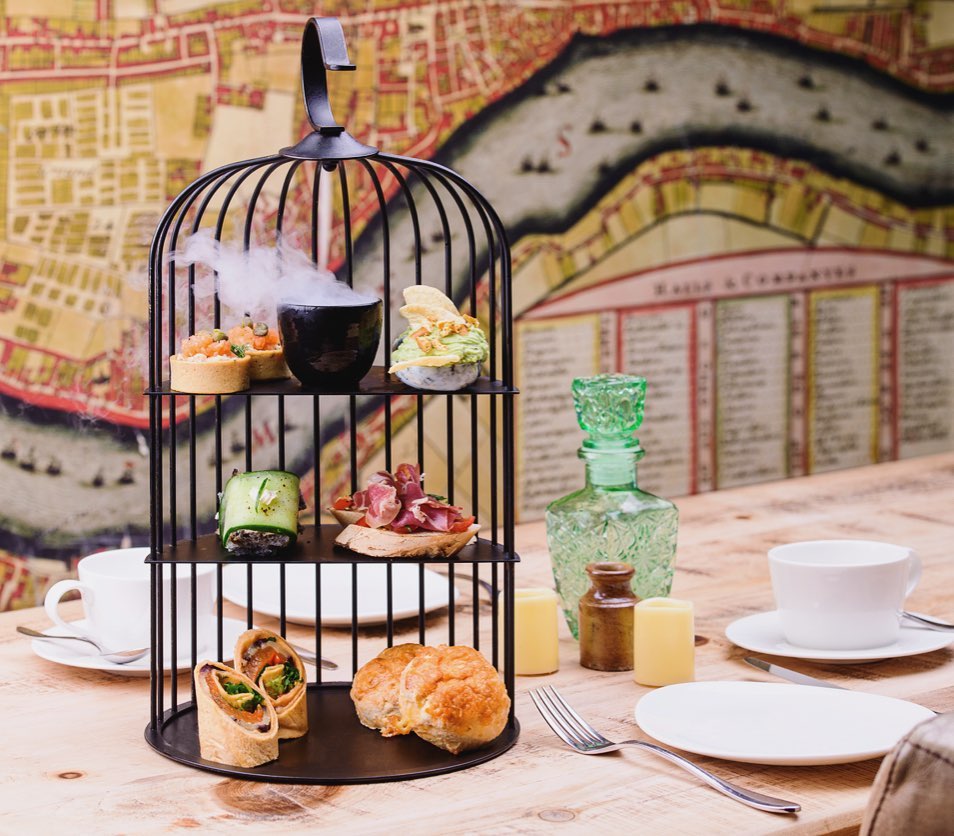 Venture down to the Pimlico Pantry of the Harry Potter themed Georgian House Hotel and take part in an immersive dining experience.
Enjoy a three-course afternoon tea filled with mystery and magic.
You can upgrade your wizard experience with bottomless bubbles or a cocktail made with a mix of frozen crystals, druid's water and ancient red fairy dust for a mystical moment you will never forget!
Available to book every Friday-Sunday
Warner Brothers Studio, Watford WD25 7LR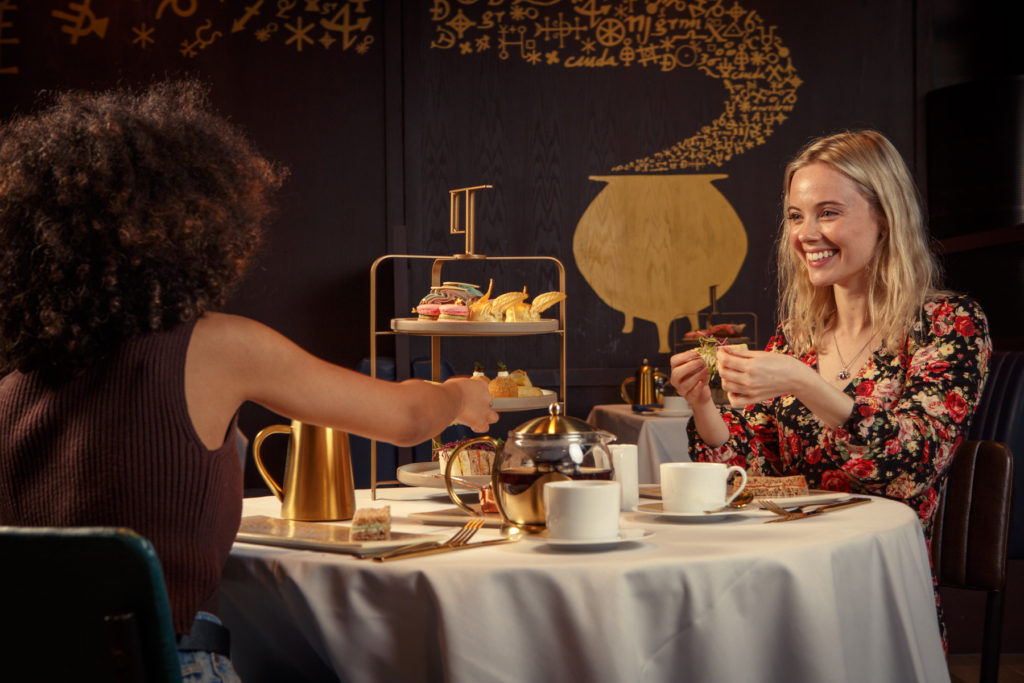 Get the whole magical experience with a studio tour and a refectory-style afternoon tea right on the premises.
Stop by the Food Hall and enjoy an afternoon tea spread of finger sandwiches, mini Scotch eggs, and a brie and leek tart for savouries.
Sweets include scones, treacle tart and a take on Dumbledore's favourite sweet a lemon sherbet cupcake.
Visit the website for further details
57a Frederick St, Edinburgh EH2 1LH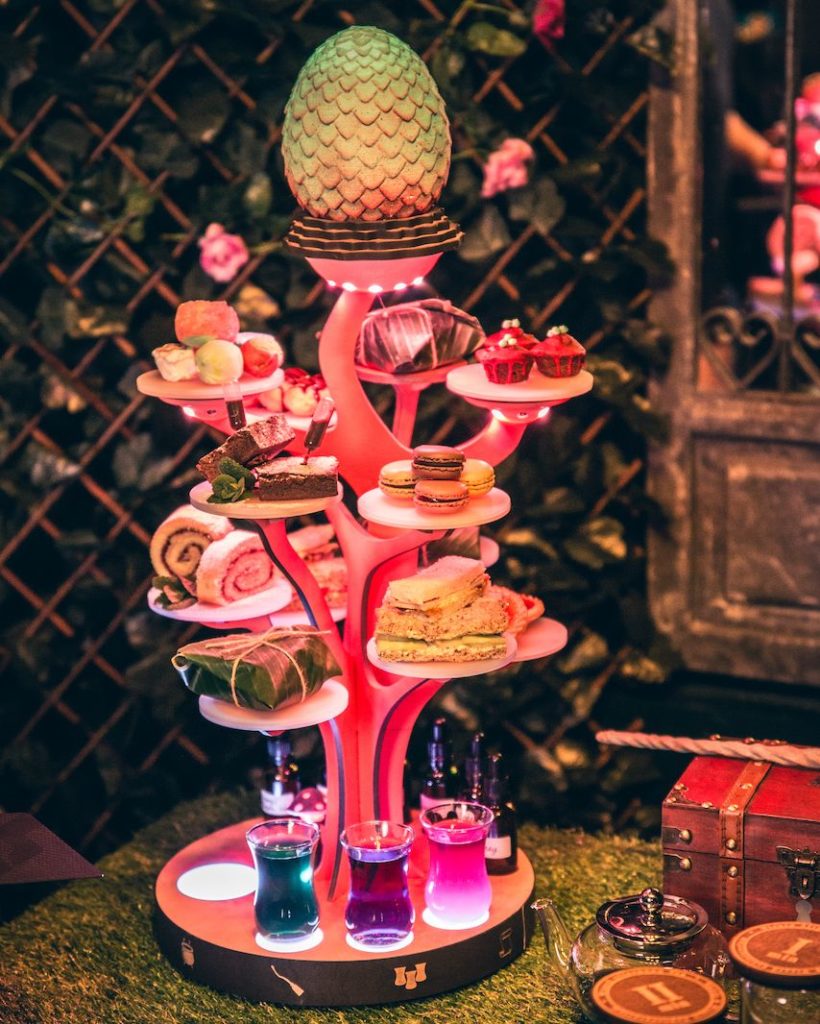 A bewitching afternoon tea experience where you use working magic wands to brew interactive teas and taste treats.
During your time with us you will brew two different types of interactive teas, the first of which focuses on transfiguration and second of which has been designed to encourage experimentation.
Your Wizard Afternoon Tea Experience includes a scone and a carefully curated selection of sandwitches, and desserts.
Visit the website for further details
181 Piccadilly, St. James's, London W1A 1ER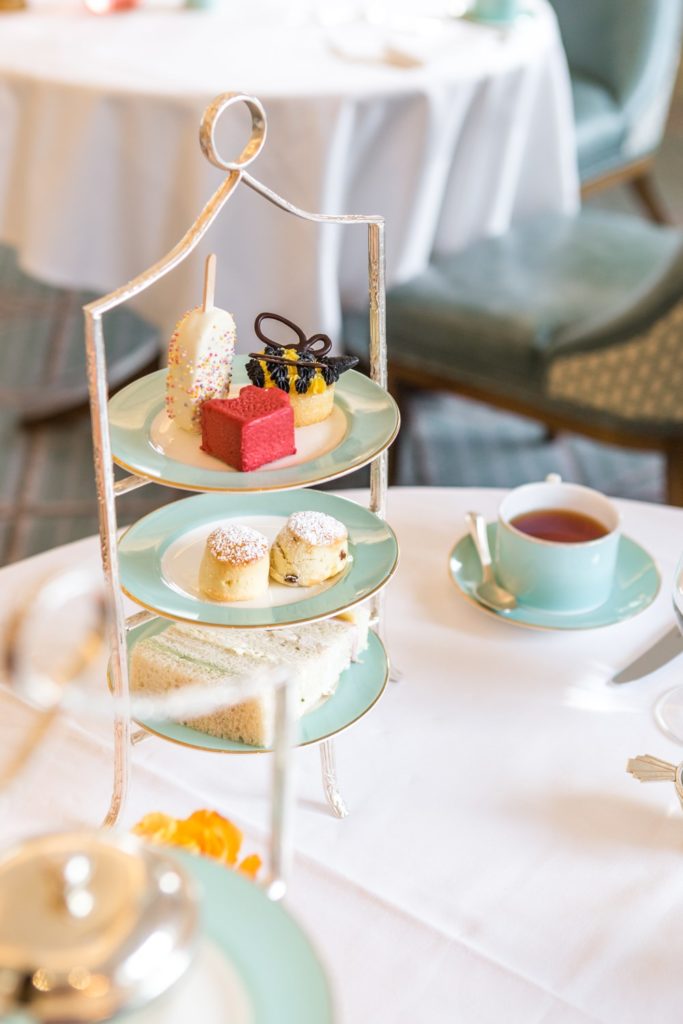 The children's afternoon tea has lots to offer with a variety of finger sandwiches, plain and fruit scones with Somerset clotted cream, lemon curd and strawberry jam, followed by some scrumptious bite-size sweets.
Don't miss the Jammy Dodger biscuit or the mini meringue.
Visit the website for further details
1, 3 Kensington Ct, London W8 5DL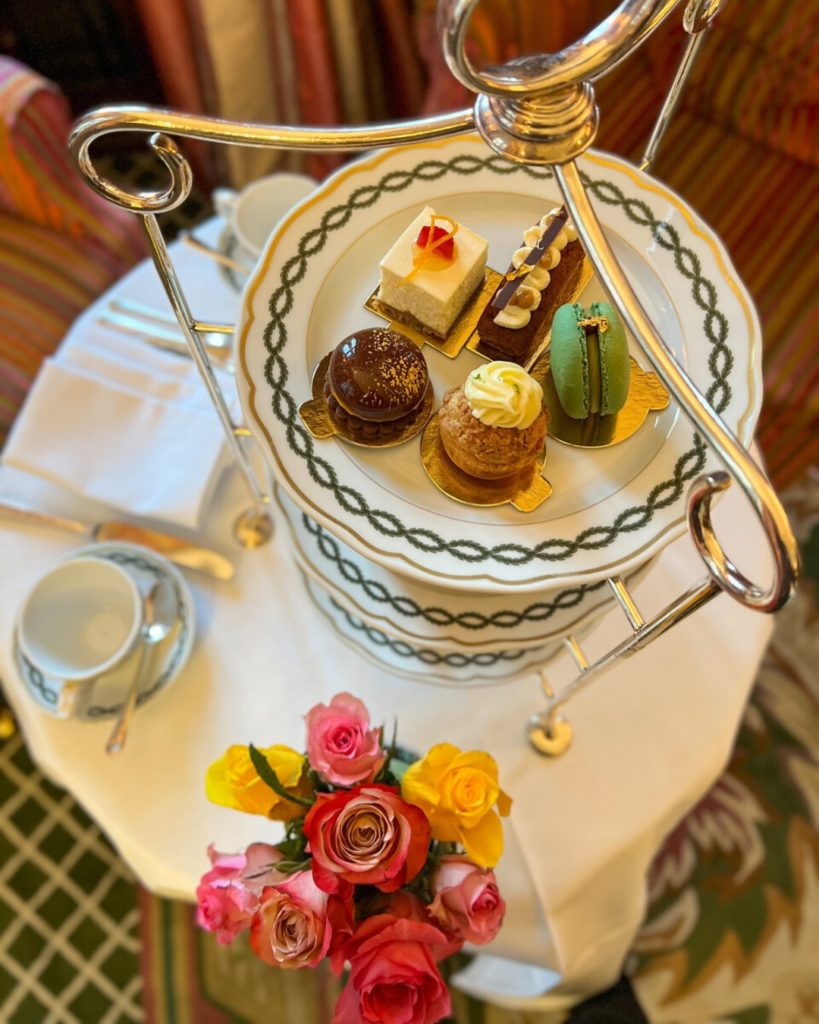 The elegant Milestone Hotel can be found opposite Kensington Palace and Gardens – afternoon tea includes a selection of finger sandwiches, freshly-baked scones with Devonshire clotted cream, preserves, French pastries and hot chocolate.
Served daily 1pm – 3.00pm, 3pm – 5.00pm & 5pm – 7.00pm
2 Caxton St, London SW1H 0QW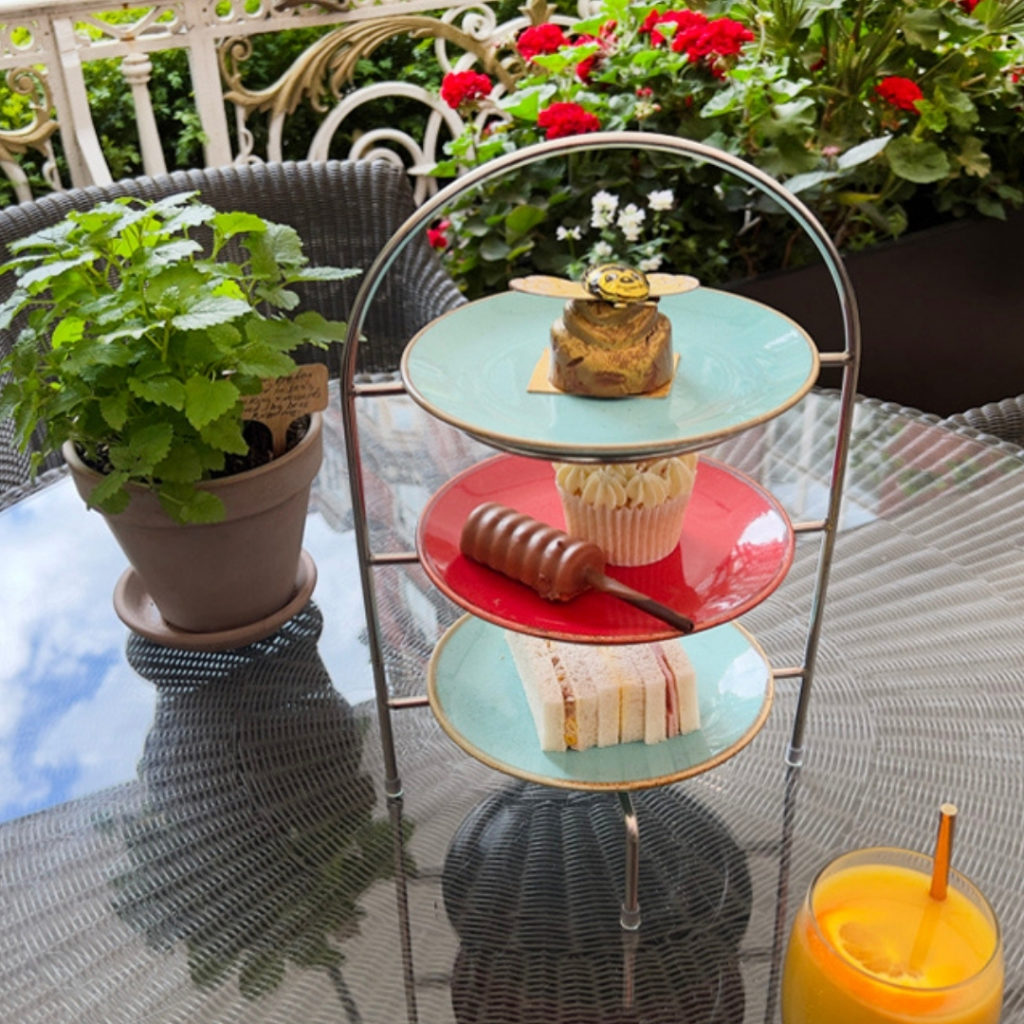 St. Ermin's Tea Lounge is open every weekend and during the school holidays, children can enjoy a variety of sandwiches, sweet treats and scones along with a glass of juice.
Served weekends and school holidays from 12 noon – 5.00pm
Waddesdon, Aylesbury HP18 0JH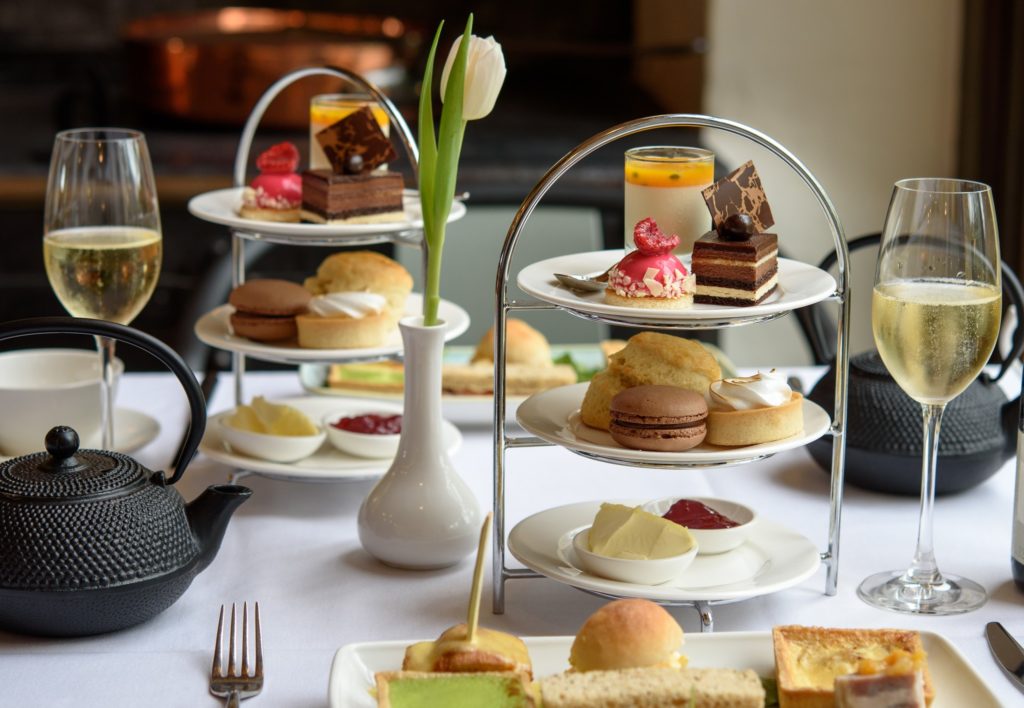 The menu has mini cheese burgers, sausage rolls and sandwiches as well as scones, cakes, marshmallows and jelly! Wash this down with a milkshake or a glass of juice.
Visit the website for further details
1 Parliament Street, Harrogate, HG1 2QU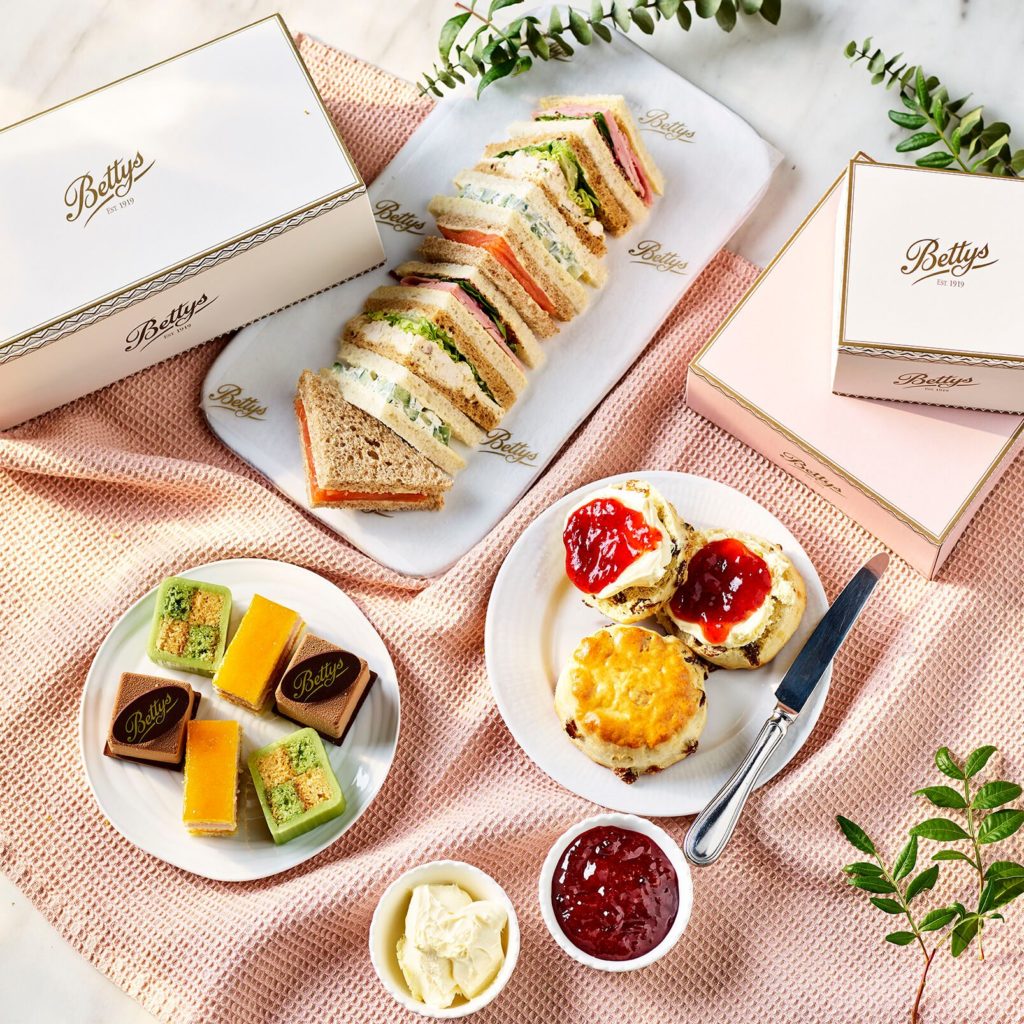 The children's Little Rascals menu includes a selection of child-friendly finger sandwiches with classic fillings the kids will love, as well as flavoured scones, macaroons and delicious cakes.
Visit the website for further details
160 Broad St, Birmingham B15 1DT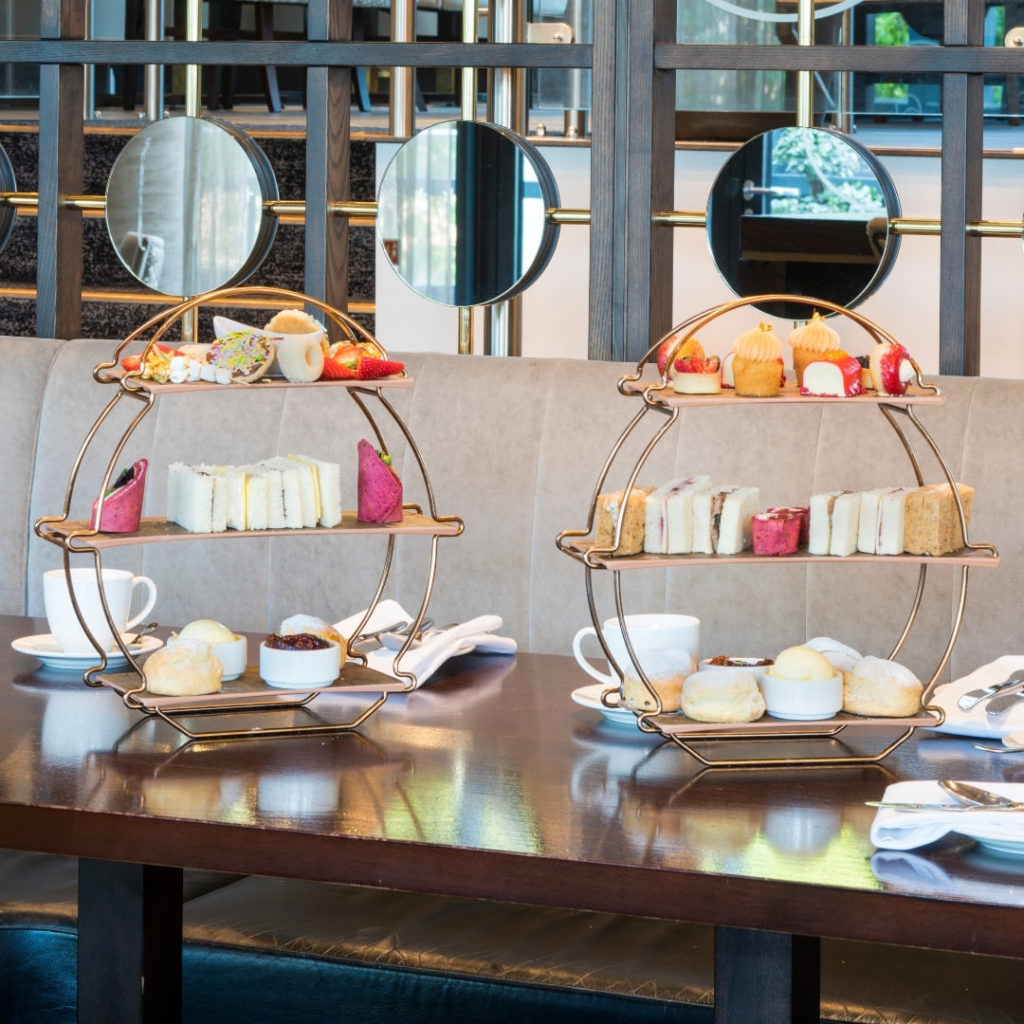 The delicious menu includes strawberry jam and cheese sandwiches, homemade scones with whipped cream and jam, and a selection of cakes such as chocolate brownie and fairy cakes.
Served daily 12 noon – 4.00pm
Station Rise, York YO1 6GD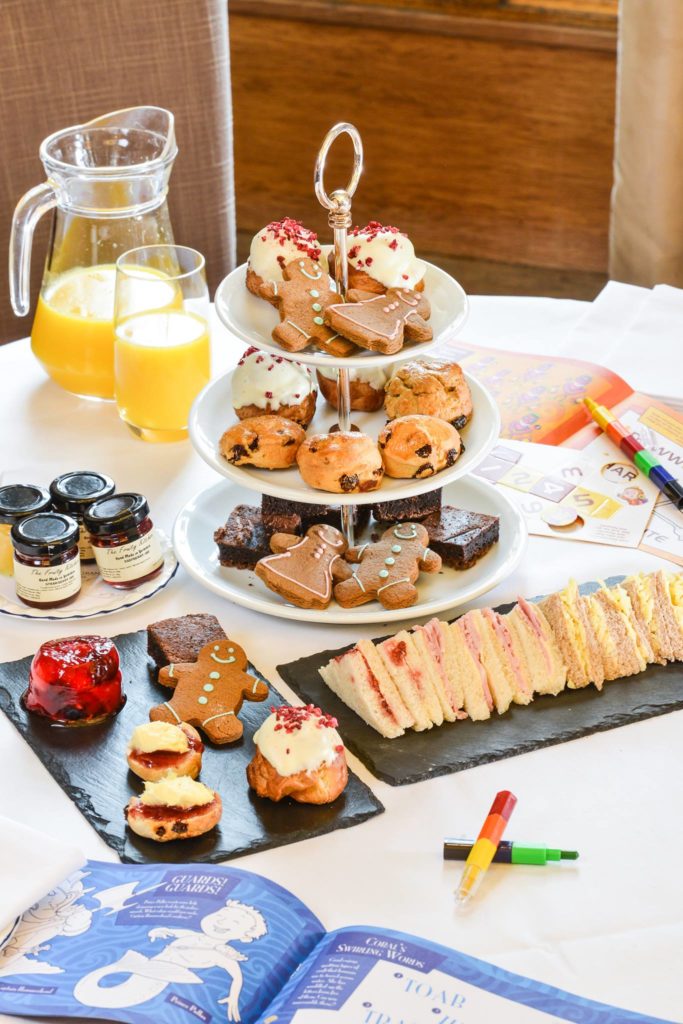 Sandwiches include classic favourites and there are scones, gingerbread people, jelly, cupcakes and brownies.
The kids afternoon tea also includes an activity pack to keep little ones entertained while you polish off your own treats!
Visit the website for further details
16 Peter St, Manchester M60 2DS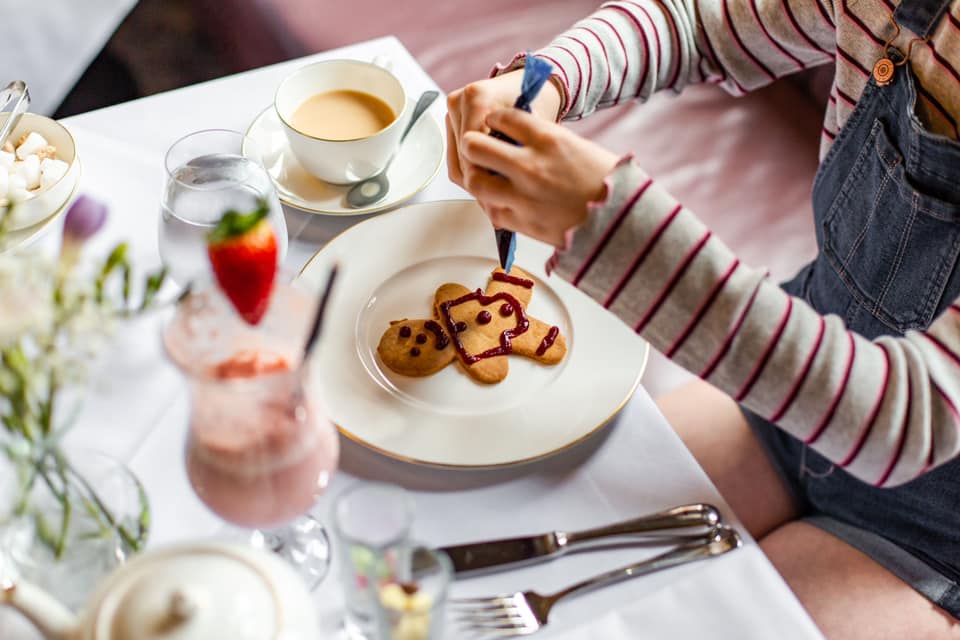 The kids afternoon tea starts with sandwiches and a fruit milkshake, then enjoy muffins, sweets, gingerbread people and a slice of intriguing watermelon pizza!
Visit the website for further details
71 Renfield St, Glasgow G2 1LP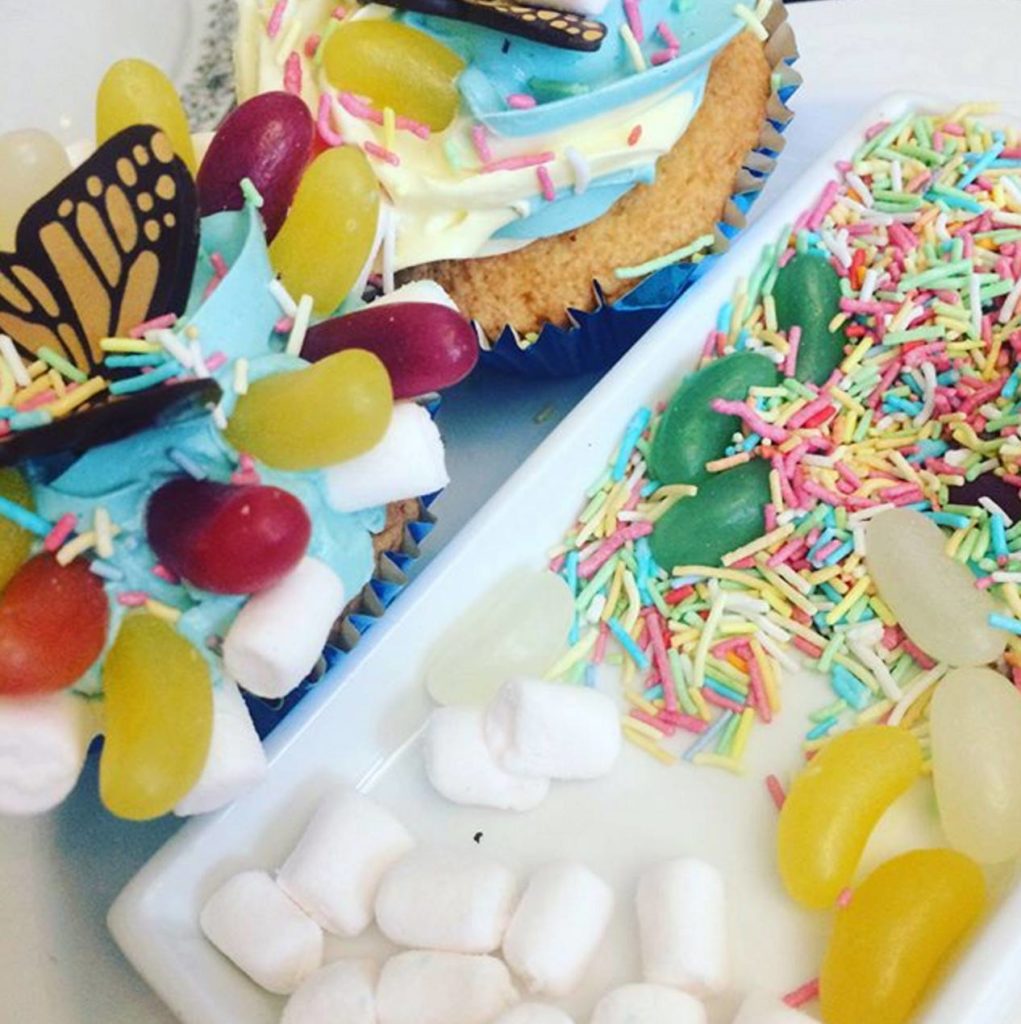 Kids will love the children's afternoon tea has a bottom tier of tasty sandwiches, a middle tier with a fresh fruit skewer and pancake with chocolate spread, then a top tier with caramel shortcake and decorate-your-own cupcake.
Served from 12 noon – 4.00pm
Wych Cross, Forest Row, East Grinstead RH18 5JR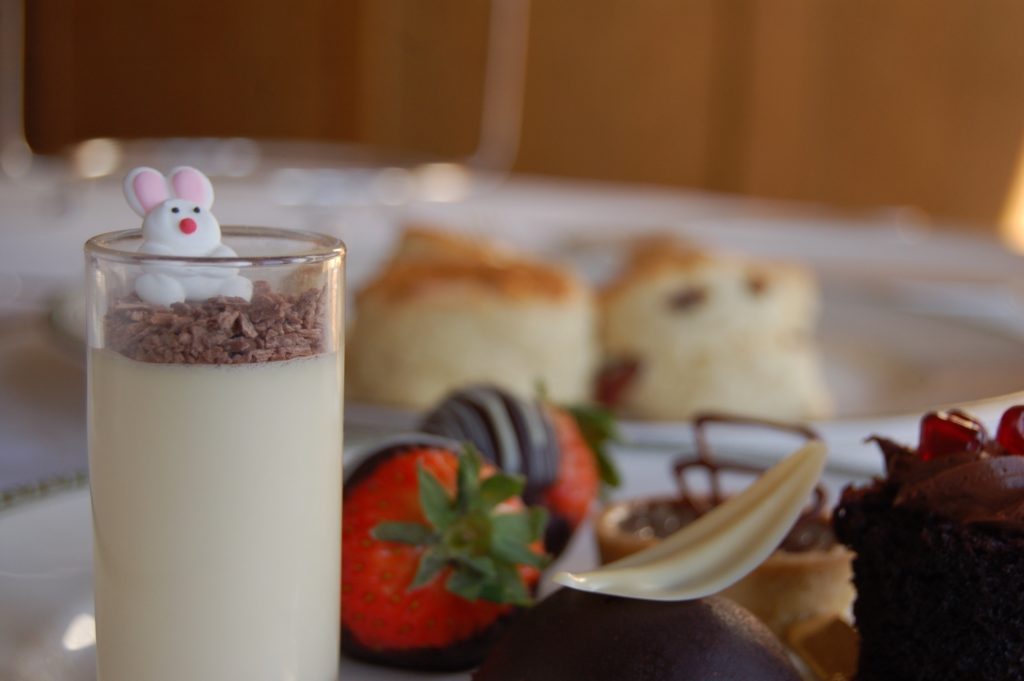 The Winnie the Pooh afternoon tea is bound to be a hit with younger guests.
They can tuck in to 'hunny' sandwiches, Rabbit's carrot sticks, Roo's fruit salad, Kanga's cupcake, Tigger's sponge, Owl's popped corn, and choose from milk or orange squash to drink.
Visit the website for further details
Brook Street, London, W1K 4HR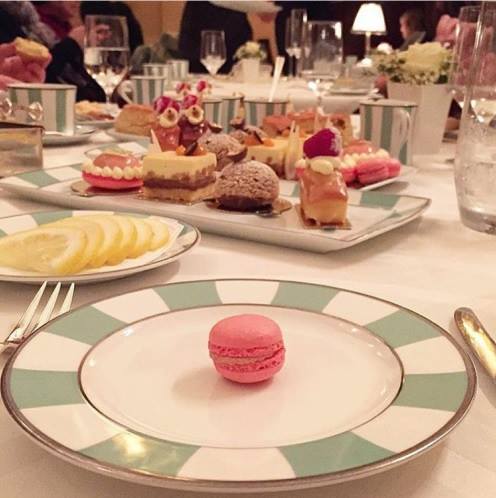 Afternoon tea at Claridge's is one of the more traditional high teas in London. A selection of sweet and savoury delights using seasonal British produce is served in the stunning Foyer & Reading Room.
Served daily from 2.45-5.30pm
50 Webb's Rd, London SW11 6SF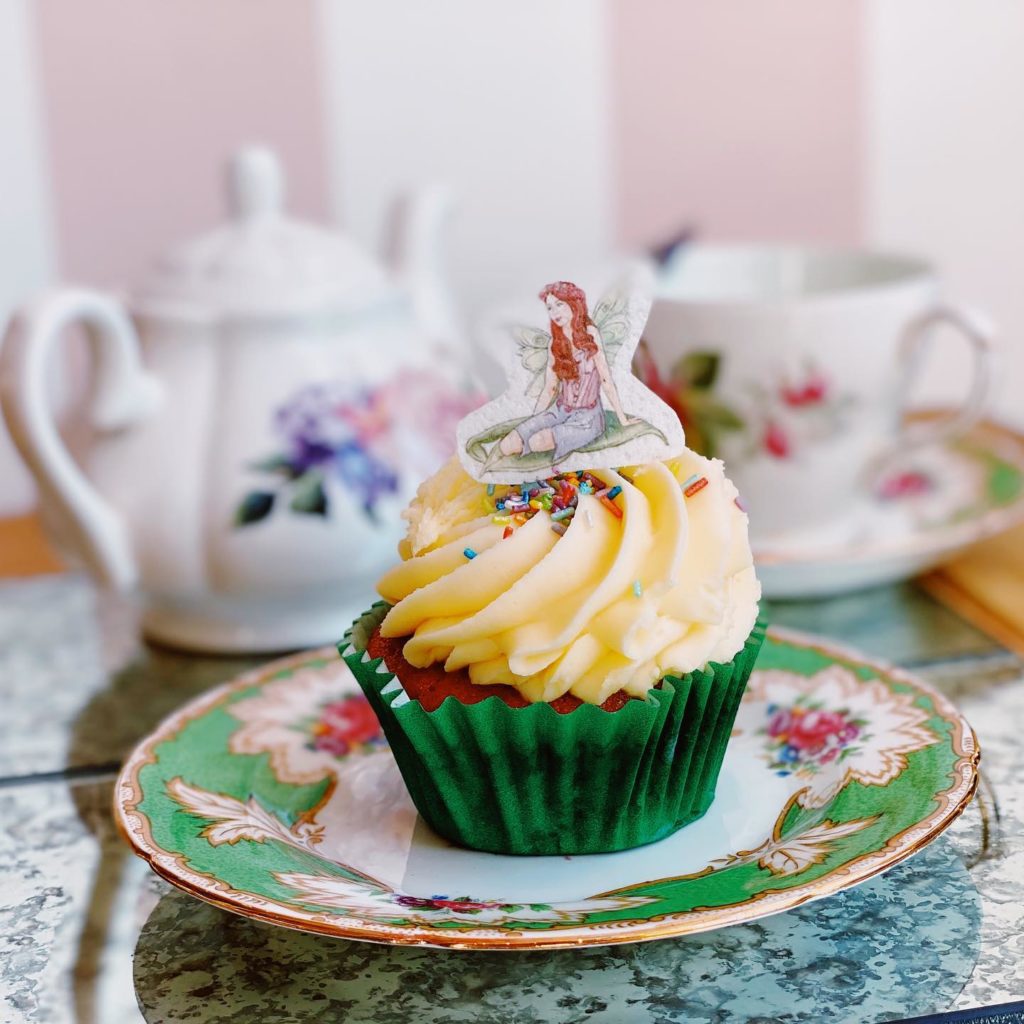 Sup a quaint afternoon tea in Battersea at The Fairy Tea Room.
Enjoy Unicorn Hot Chocolate inside the Fairy Den or sip Lavender Tea from vintage china cups at a rocking horse table.
Visit the website for further details
86-90 Park Lane, London, W1K 7TN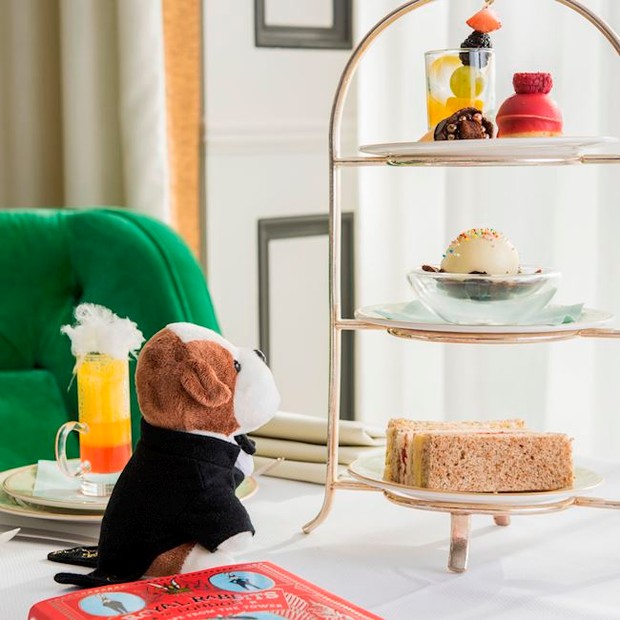 The Grosvenor Children's Afternoon Tea is an award-winning classic British experience, given a fun twist for little ones to delight in.
This enchanting children's tea features tiny sweet and savoury sandwiches followed by sweet bites which include fresh fruit skewers, a Victoria cupcake with raspberry filling and a miniature Knickerbocker Glory.
A toy 'Grosvenor' dog to take home completes the afternoon treat.
Visit the website for further details
New Park Manor, Lyndhurst Road, New Forest, SO42 7QH
The much-loved, timeless tale of Matilda has been brought to life through words, screen, theatre and now food.
The story of a very small and very smart little girl who, through bravery, sheer determination, and a little help from her friends, overcomes the much bigger bullies in her life and changes her story for the better. Available now.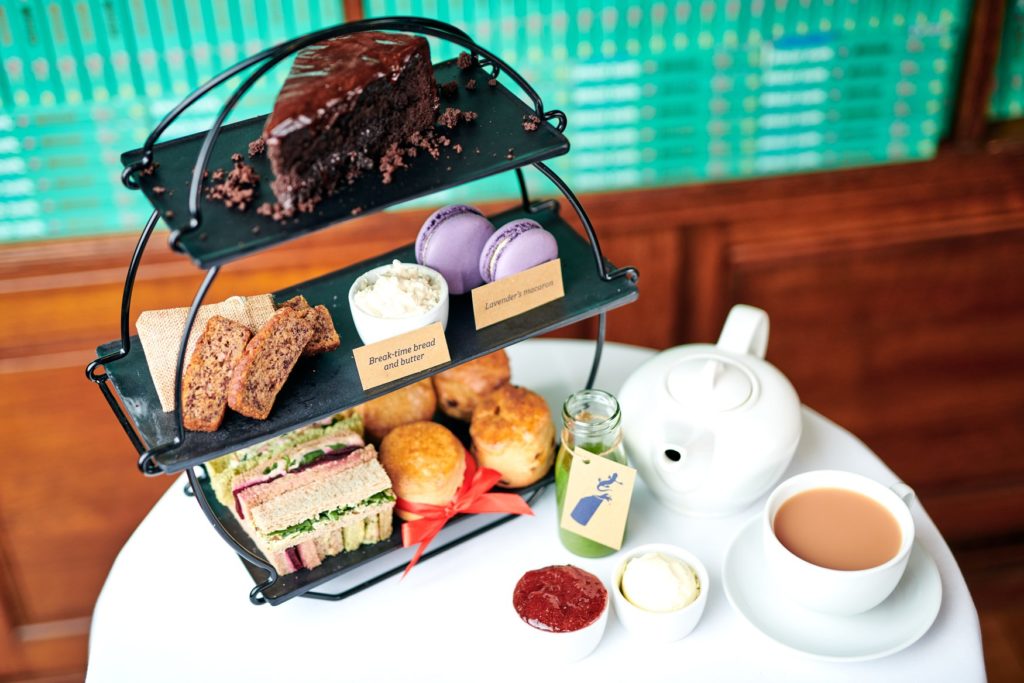 For The Adults – With our passion for food, our afternoon tea experience has been lovingly crafted to celebrate the magical foodie moments from the Matilda story, allowing you to share in all the surprise and delight of the tale together and create wonderful family memories.
We won't spoil the surprise, but we guarantee that the "Brucie chocolate cake" will be one to remember.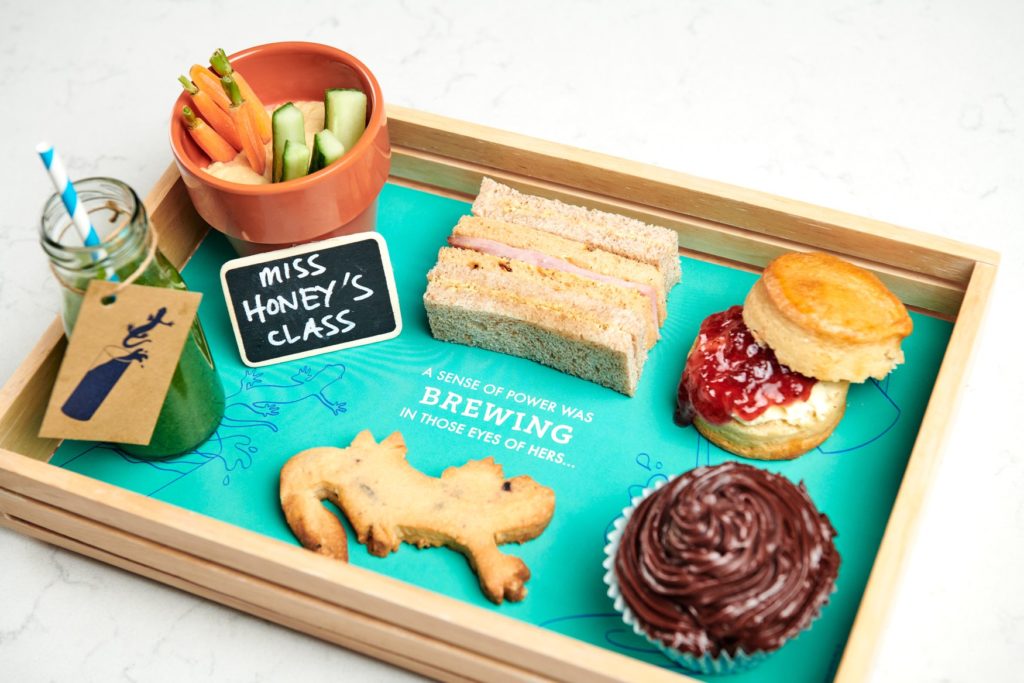 For The Youngsters – The creation of our children's afternoon tea is an experience to treasure featuring a selection of treats, inspired by Matilda's magical foodie moments.
Our eagerly anticipated children's afternoon tea is served alongside Matilda themed activity sheets for children to enjoy during service, or to continue the experience at home.
Visit the website for further details
100 Minories, London EC3N 1JY
Immerse yourself in the wizarding world as you feast on a selection of treats curated from the magical world of Harry Potter.
Indulge in a three tiered selection of delicious savoury sandwiches and indulgent sweet treats from the charming Sorting Hat carrot cake, salted caramel Golden Snitch to the infamous Butter Beer. All served with the Tower of London in the background.
Visit the website for further details
Looking for something different, check out these other Themed Afternoon Teas