Considering a Gentlemans Afternoon Tea but unsure which establishments offer a less sweet afternoon tea, and which are the best places to go.
We have compiled a list of the best Gentleman's afternoon tea available, however they're not just for men! So if you are looking for the perfect Gentlemans afternoon tea with friends, that prefer a little more savoury food, swapping finger sandwiches for burgers and scotch eggs, then check out:
22 Best Gentlemans Afternoon Teas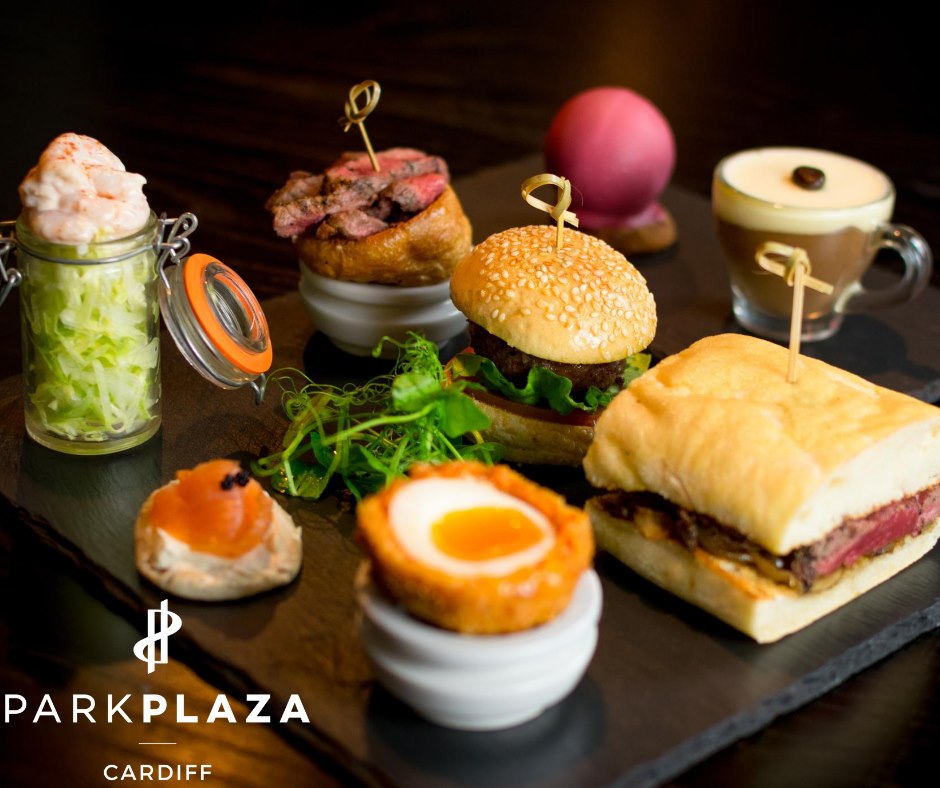 Park Plaza, Greyfriars Rd, Cardiff CF10 3AL
The Laguna Park Plaza Gentlemen's Afternoon Tea offers a twist on the traditional afternoon tea by swapping finger sandwiches for mini lamb burgers and scones and macaroons for Scotch eggs and Sirloin stuffed Yorkshire puddings. The perfect Gentleman's Afternoon Tea Cardiff
Served Monday to Friday from £21.95 per person
Saturday and Sunday from £23.95 per person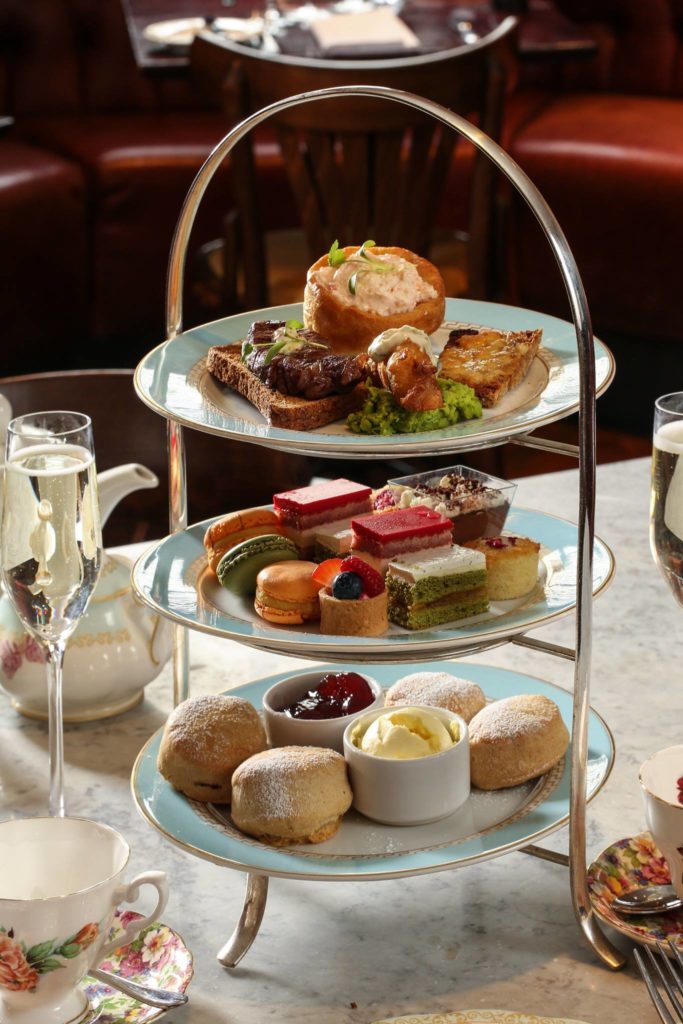 Mandeville Place, London W1U 2BE
With its luscious leather booths and refined menu of whisky cocktails, Reform Social & Grill provides a luxurious destination. The afternoon tea menu includes Welsh rarebit and fish fingers with tartar sauce. Completed by the classic combination of scones, clotted cream and jam, as well as a glass of bubbly. A great Gentleman's afternoon tea London.
Visit the website for further details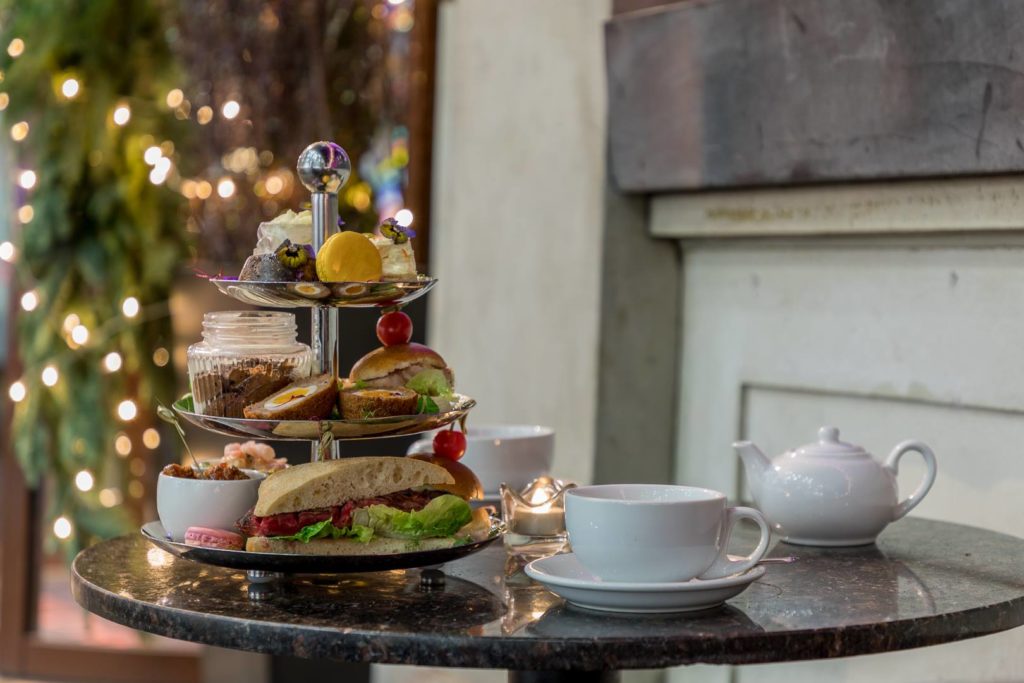 20 Warwick Street, Soho, London, W1B 5NF
The Sanctum Soho offers a delectable treat you'll make your way through oysters, huge steak sandwiches, burgers and baby-back ribs. Then if you've got any room left, rum and raisin scones! Another great Gentlemans afternoon tea London
£50.00 per person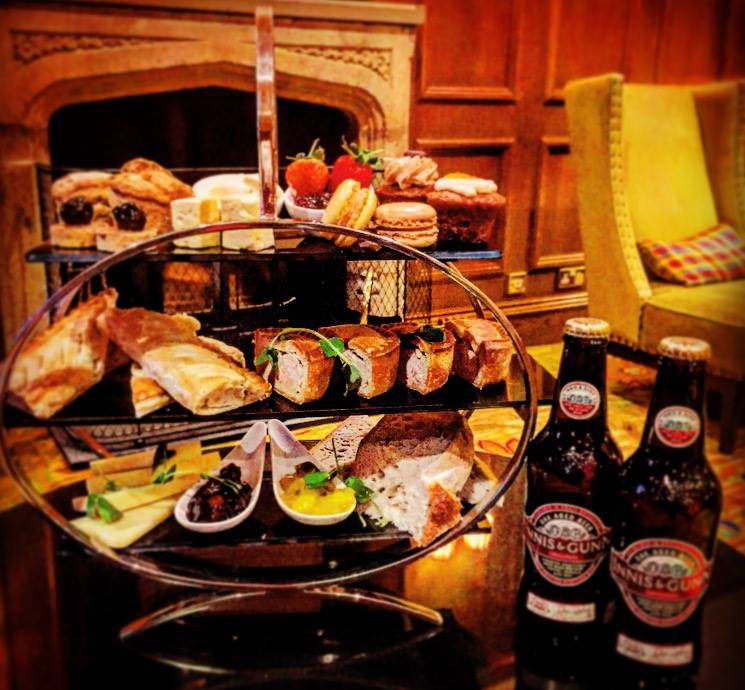 A71, Kirknewton, Edinburgh EH27 8EB
Break away from tradition with a gentlemen's afternoon tea for two at the 18th Century Dalmahoy Hotel near Edinburgh. This magnificent manor house is surrounded by acres of countryside, offering plenty of nearby golf courses. Tuck into sausage rolls, mini pork pies, tantalising Scottish cheese and chutney, delicious cakes and warm scones Served daily
Visit the website for further details about Gentlemans Afternoon Tea Edinburgh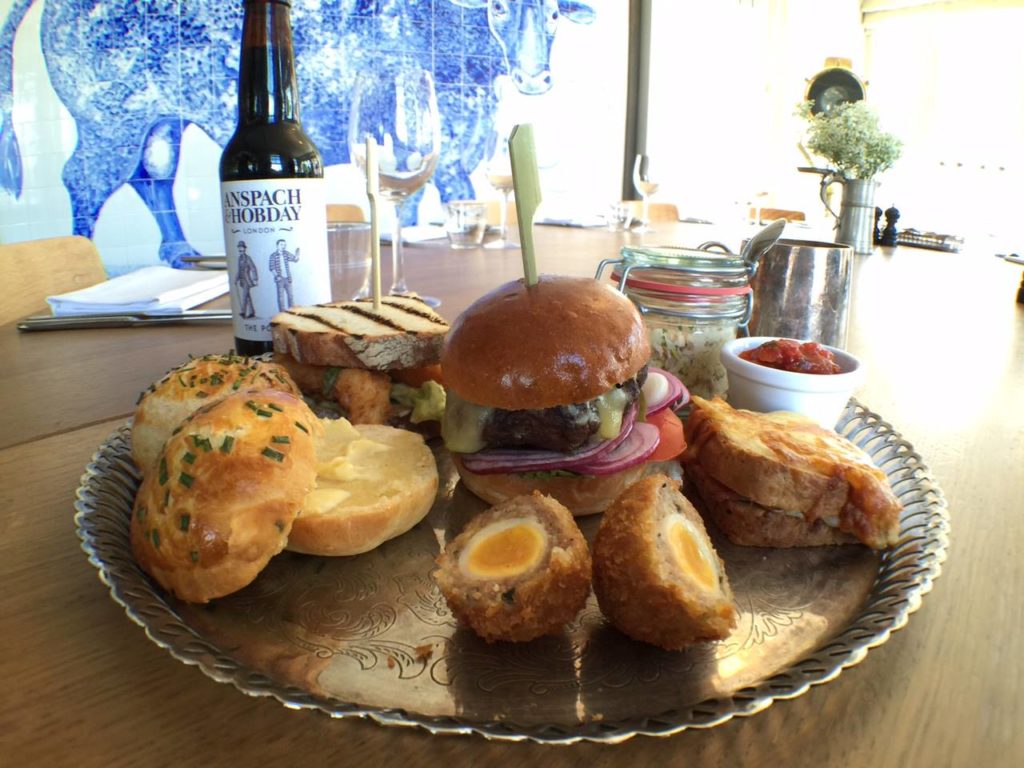 Swan Bar & Restaurant,21 New Globe Walk, Bankside, London SE1 9DT
Filled with moreish snacks and tasty bites, and perfect for those with a more savoury tooth try out Mr Falstaff's gentleman's afternoon tea. There's pulled Irish beef burger with beetroot crisps, Stilton cheese scones, fish and chips and Welsh rarebit.
From £32.50
Visit the website for opening times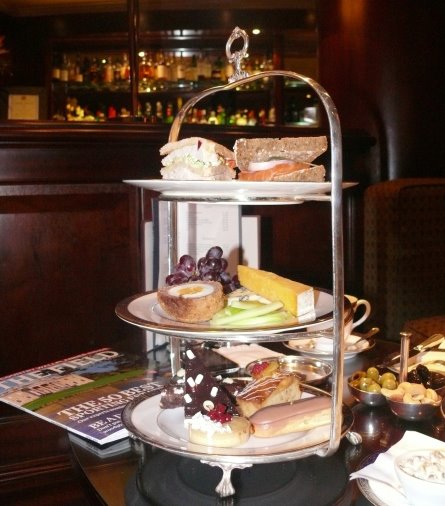 Eastgate, Chester, CH1 1LT
Gentleman's Afternoon Tea in The Arkle bar and Lounge is a heartier afternoon tea for both gentlemen and ladies! Enjoy coronation chicken on spiced curry bread, mango and yoghurt, French onion tart, scones, homemade pastries and tea or coffee.
£33.50 per person (£35 from 1st November 2021)
Served Wednesday to Sunday 12.30-4.30pm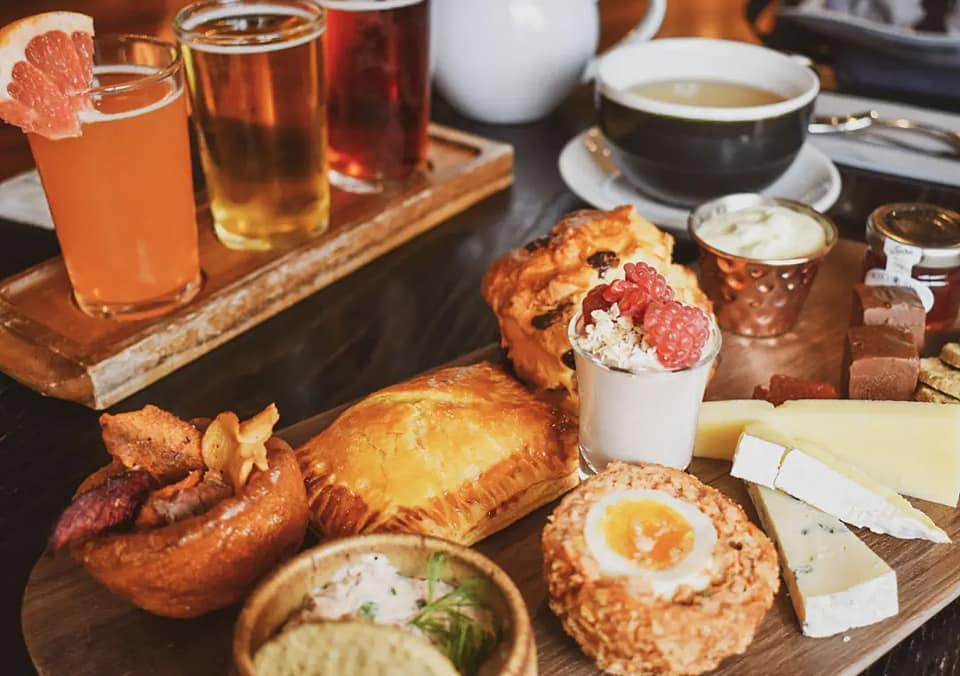 1A Market St, Edinburgh EH1 1DE
The Caffe and Bothy spaces make for a stylish backdrop to experience Brewhemia's famous Gentleman's Afternoon Tea. Enjoy homemade tarts, sausage rolls and filling sandwiches. Best enjoyed with a pot of tea served strong and a trio of delicious tank fresh beers.
Priced at £30.00
Served daily at 12 noon; 2.00pm or 4.00pm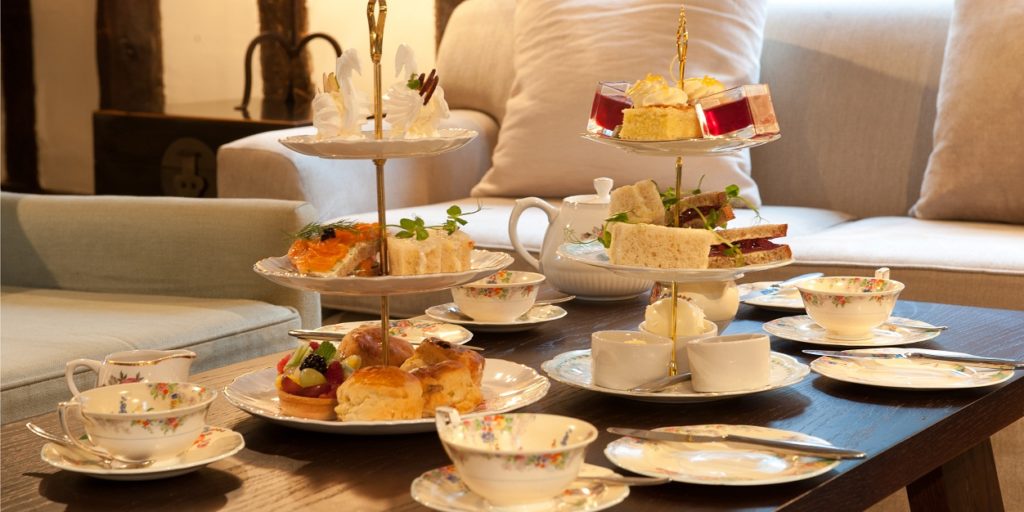 High St, Lavenham, Sudbury CO10 9QA
Begin with a selection of finger sandwiches, scones and Newby's Teas, but finish up with a further selection of savoury treats, idyllic for those without a sweet tooth! They can cater to coeliac diets, offering gluten- and dairy-free options.
Served daily from 2.30pm-4.00pm; Sunday 3.00pm-5.00pm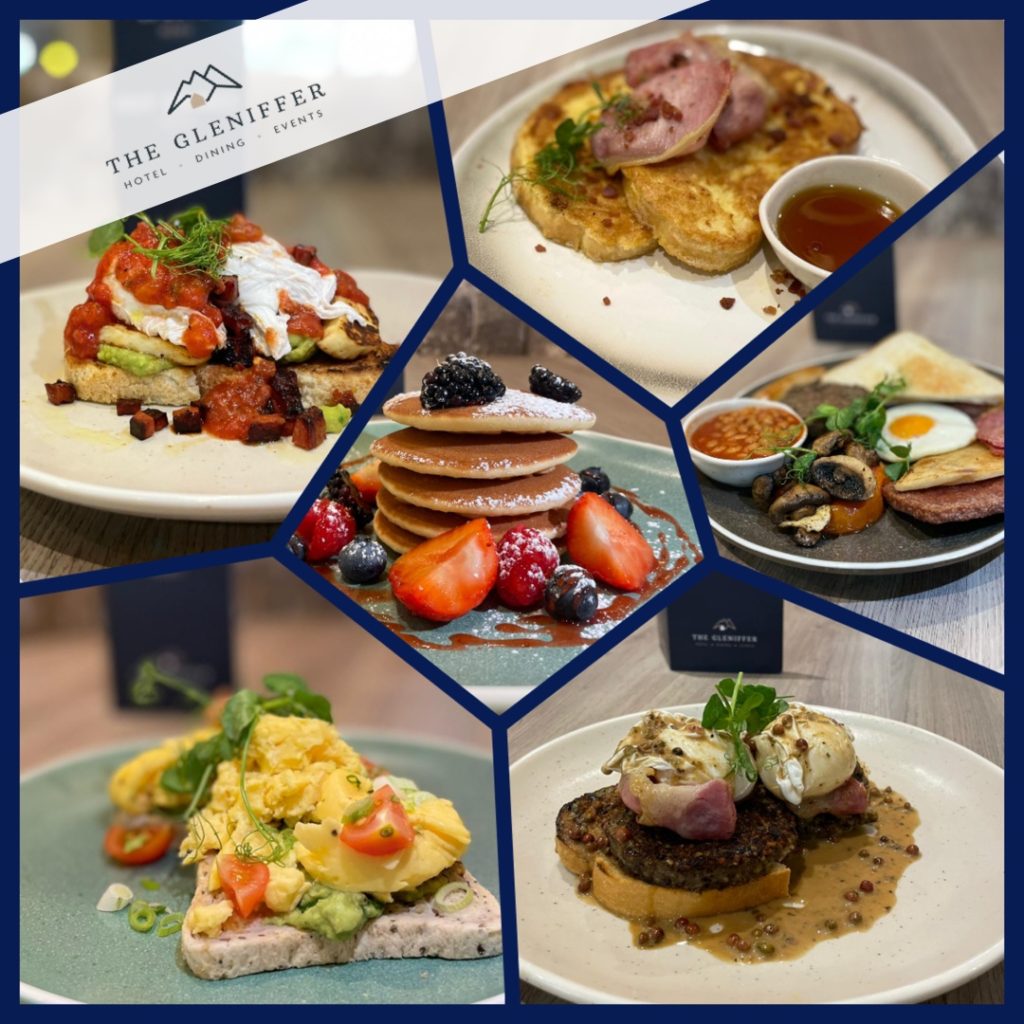 9 Glenburn Rd, Paisley PA2 8TA
You can expect a hearty, afternoon tea with sausage rolls, chunky sandwiches, and in-house-made steak and gravy pies. You'll then move on to a selection of cheeses and chutney, served with Scottish oatcakes – topped off with a refreshing beer, or whisky dram, of your choice.
From £29.00
Visit the website for further details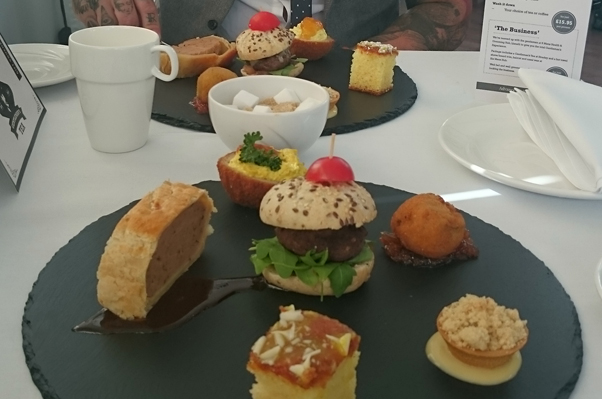 Furnace, Llanelli SA15 4HA
Indulge in a selection of manly treats both savoury and sweet, served with fresh tea or coffee. This is all cooked fresh on the day, so 24 hour advance booking is essential.
£16.95 per person
Served Friday to Sunday from 2.00pm-6.00pm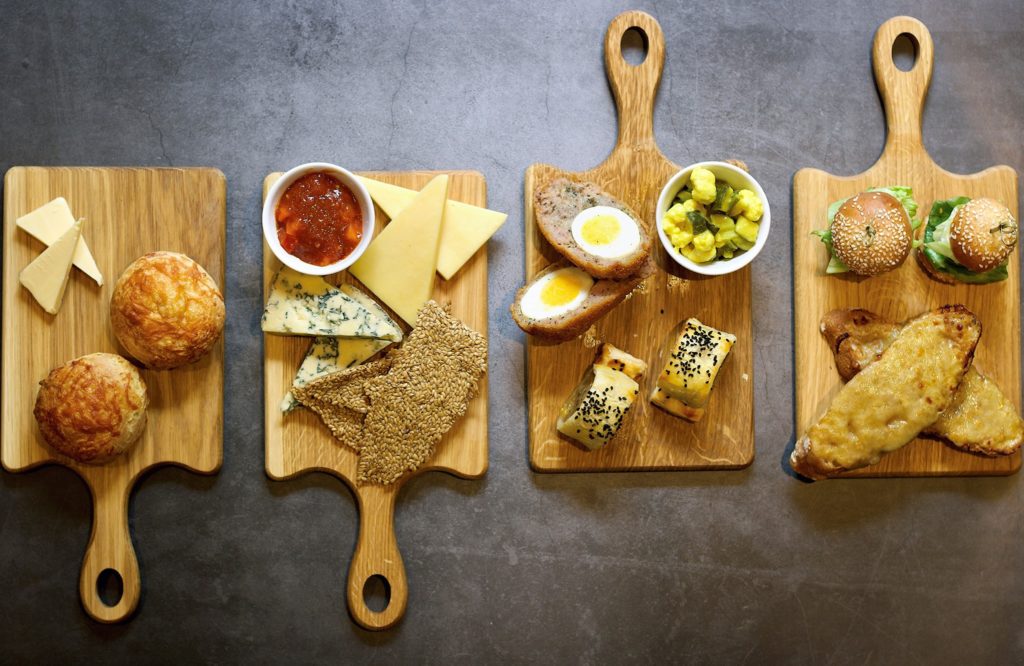 17-19 Egerton Terrace, London SW3 2BX
The Egerton House Hotel served you a pork scotch egg, mini beef burger, sausage roll with homemade piccalilli, Welsh rarebit, Goodwood cheddar and beauvale scones served with Cornish butter and a selection of locally sourced cheeses.
Priced at £60.00
Served Friday to Sunday at 2.00pm and 4.00pm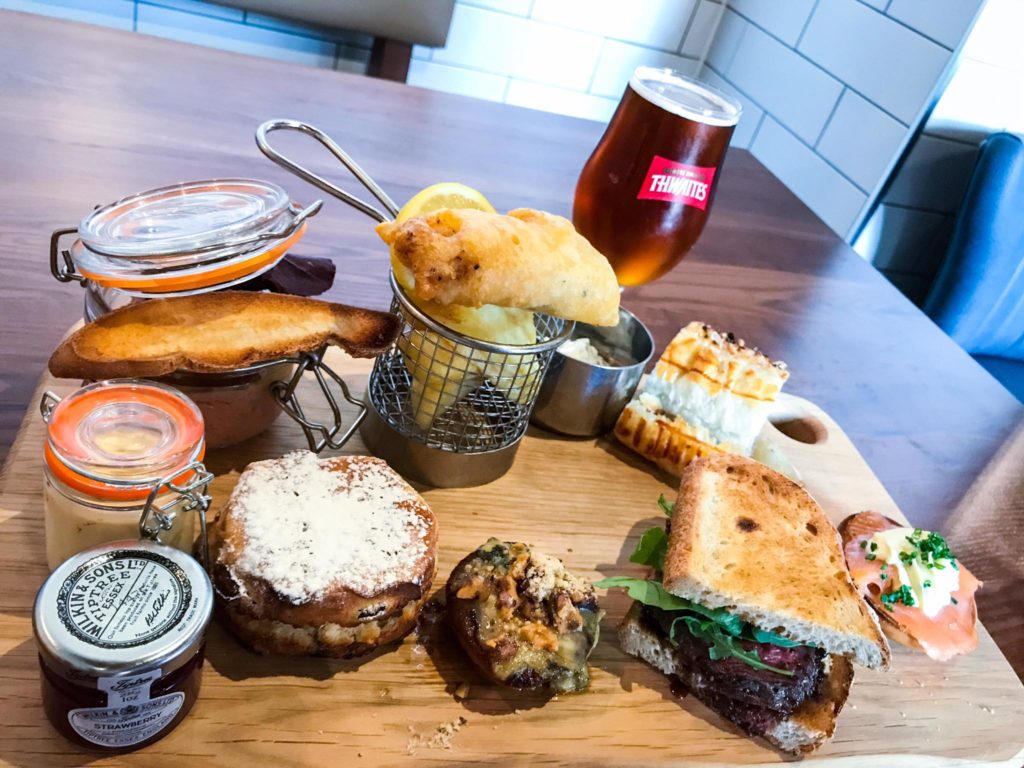 Aztec West, Almondsbury, Bristol BS32 4TS
At the Aztec Hotel there's smoked chicken blt, toasted sour dough Ham hock terrine, proper piccalilli, smoked sea salt croûte. Smoked bacon scotch egg, celeriac remoulade, Mini crab cake, basil mayonnaise, Mini beer battered fish and chips, homemade tartar sauce Outdoor reared pork sausage roll, Nigella seed, Bramley apple purée and ½ pint Thwaites Original ale!
Priced at £23.00
Served daily from 2.00pm-5.00pm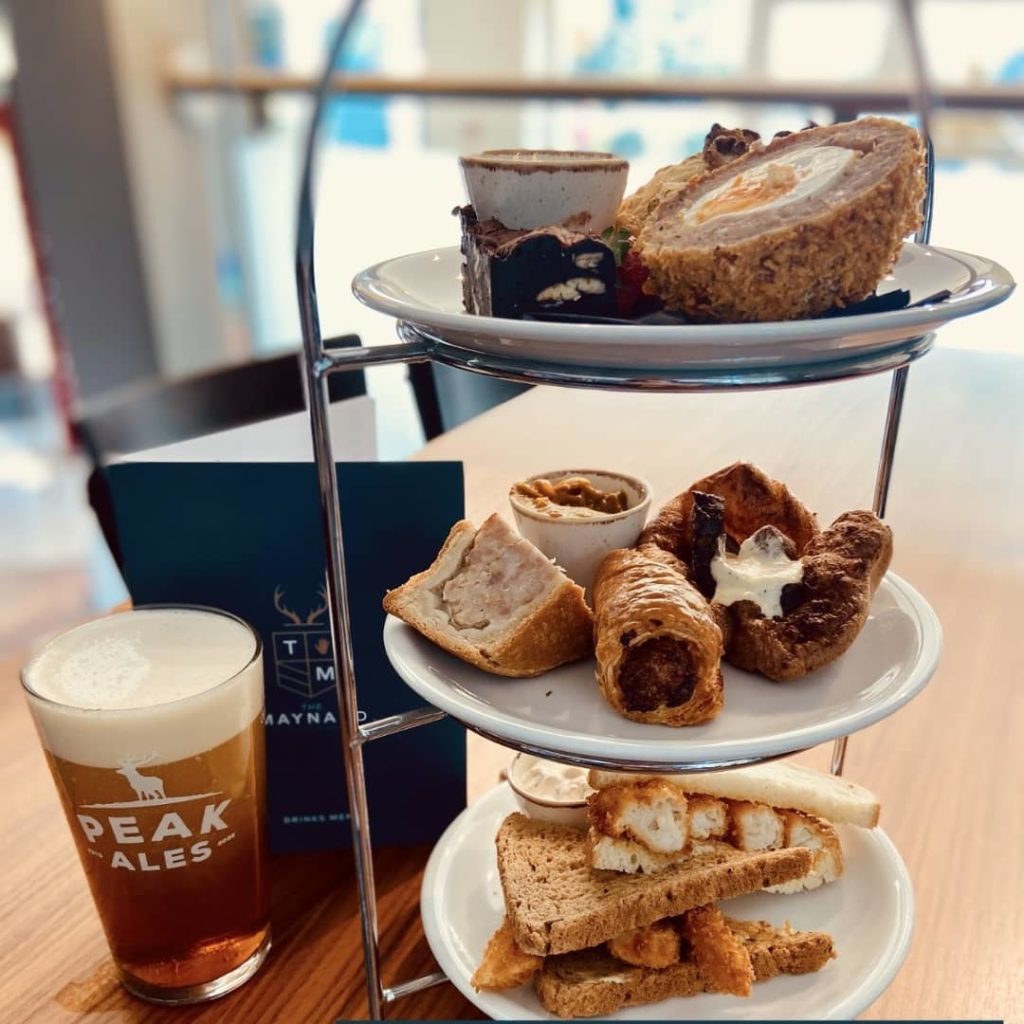 Main Road, Grindleford, Hope Valley, S32 2HE
The Gentleman's Afternoon Tea features bite-sized treats including fish finger butties with tartare sauce, The Ginger Butcher pork pie with piccalilli, Scotch egg, mini Yorkshire pudding with roast beef and horseradish, indulgent chocolate brownie all served with the option of a locally brewed pint of ale or lager or a glass of sparkling wine.
£25.95 including beer, lager or sparkling wine
Visit the website for further details
Parkgate Lock, Teddesley Rd, Penkridge, Stafford ST19 5RH
Not just for Gentleman, enjoy a 2 hour canal cruise, with a choice of unlimited tea or coffee and a selection of scotch eggs, sausage rolls, pork pies, Cornish pasty, crisps, mini sandwiches, pickled onions and a fruit scone with cream and jam.
Must be requested upon booking to avoid disappointment
Visit the website for further details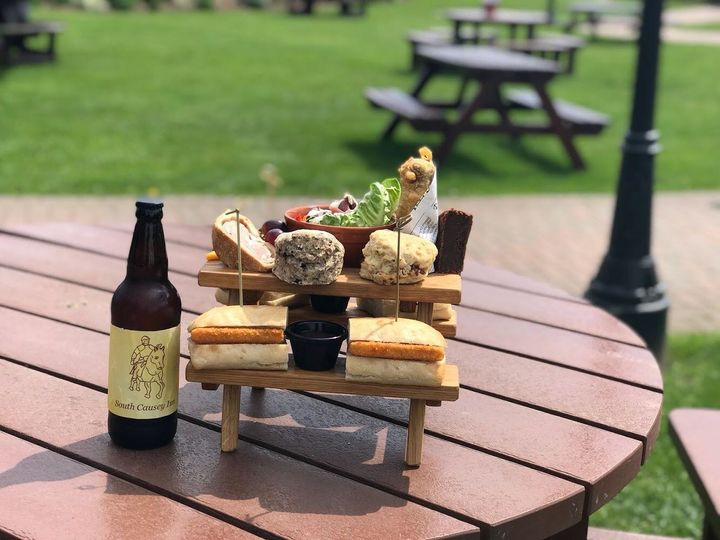 Beamish Burn Road, Stanley, Co. Durham, DH9 0LS
Enjoy a selection of wholesome 'picky' bites, crafted from the best seasonal ingredients and served alongside indulgent sweet treats and local cheese.
Choose to enjoy this twist on the traditional, with a hot cuppa, or a home-brewed
Causey Ale.
Visit the website for further details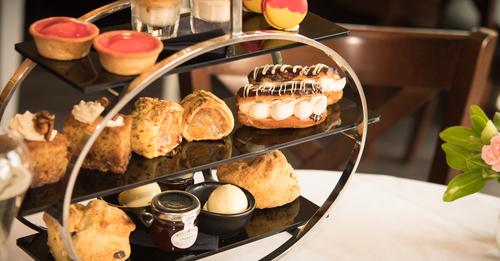 Glenside, Saltburn by the Sea TS12 1JS
The Gentleman's afternoon tea includes Gala pie with homemade piccalilli, Crispy egg with tartar, sausage roll, pickled baby beetroots, finger sandwiches, chips, cheese scone and tomato chutney and tea of coffee.
Priced at £23.50 Only available by pre-order
Visit the website for further details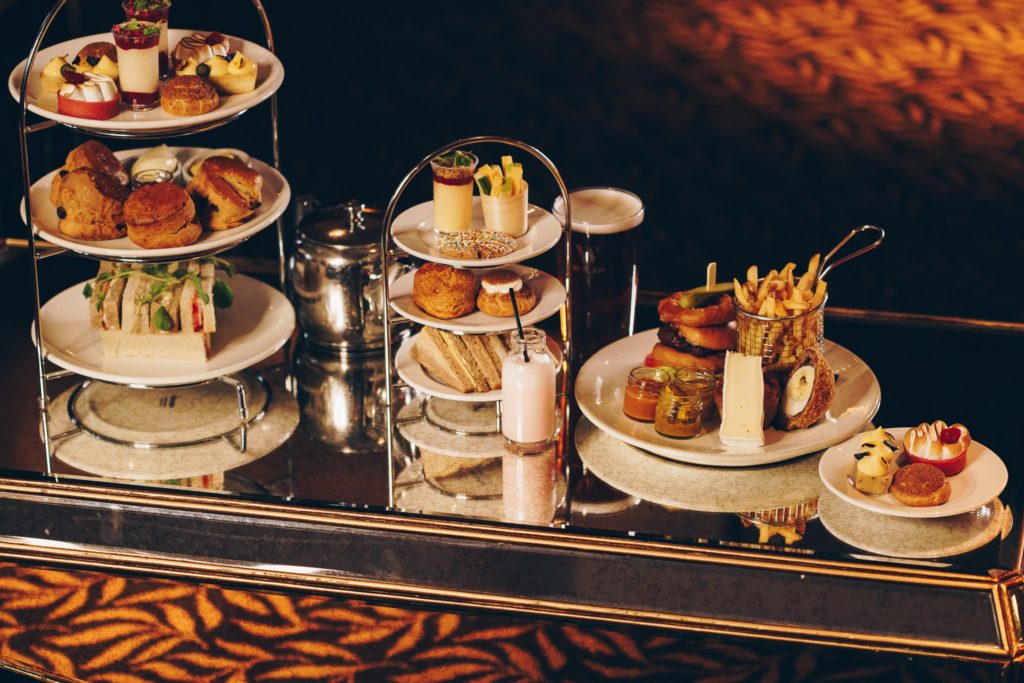 Castle Garth, Newcastle upon Tyne NE1 1RQ
Combining 1930s grandeur with contemporary elegance and luxury, this landmark hotel the Vermont Hotel offersarustic platter including scotch egg, Vermont burger, pork pie, cheese and fries served with tea or coffee.
Priced at £19.95
Served daily 1.00pm-4.00pm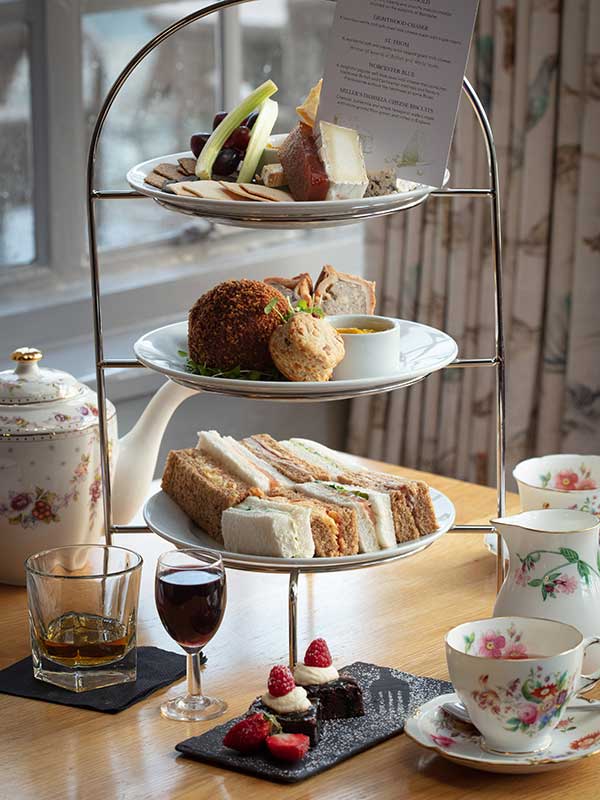 Bransford, Worcester, WR6 5JD
Enjoy a selection of finger sandwiches, homemade scotched egg, pork pie, smoked bacon and cheddar scones, cheddar & stilton wedges with grapes, celery, quince and crackers.
£16.50 per person
Visit the website for further details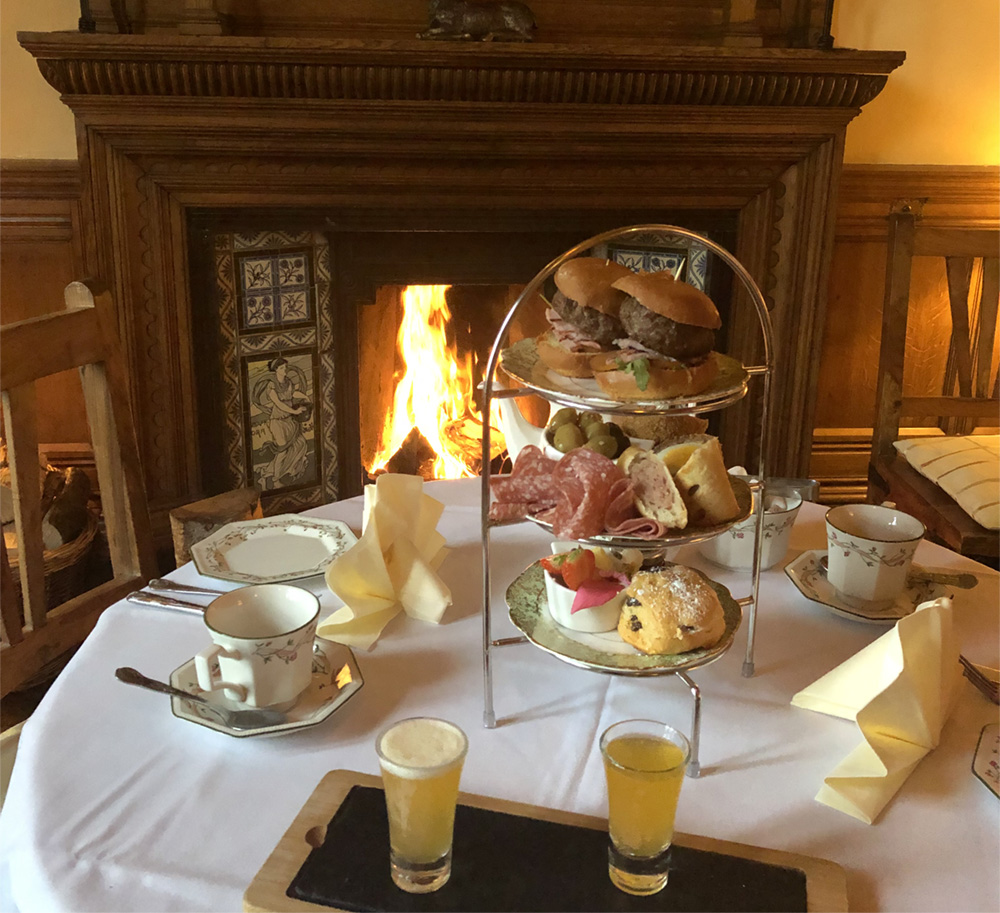 Mellington, Churchstoke, Powys SY15 6HX
Gentleman's afternoon tea, comes with home made Scotch egg, Mellington Sliders (which are small beef burgers), sausage roll, charcuterie, olives, fruit scone with clotted cream and a shot of locally brewed ale.
Visit the website for further details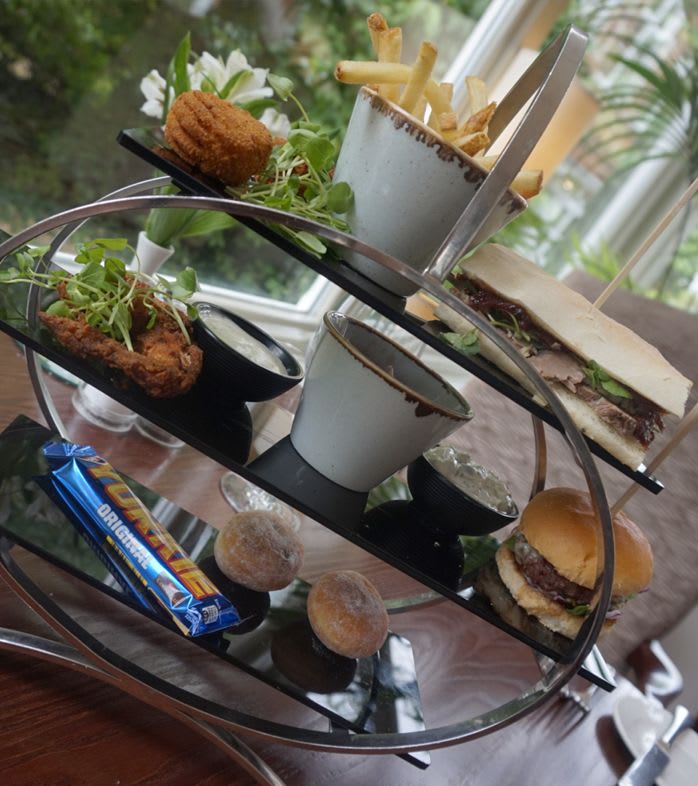 Lower Penkridge Rd, Acton Trussell, Stafford ST17 0RJ
Enjoy three servings of real ale of your choice from our cask and craft beers to wash down our snacks and savouries. Try out the mini cheese burger, sausage roll, scotch egg and hand cut chips. For a sweet treat there's a triple chocolate brownie.
Priced at £23.95
Visit the website for further details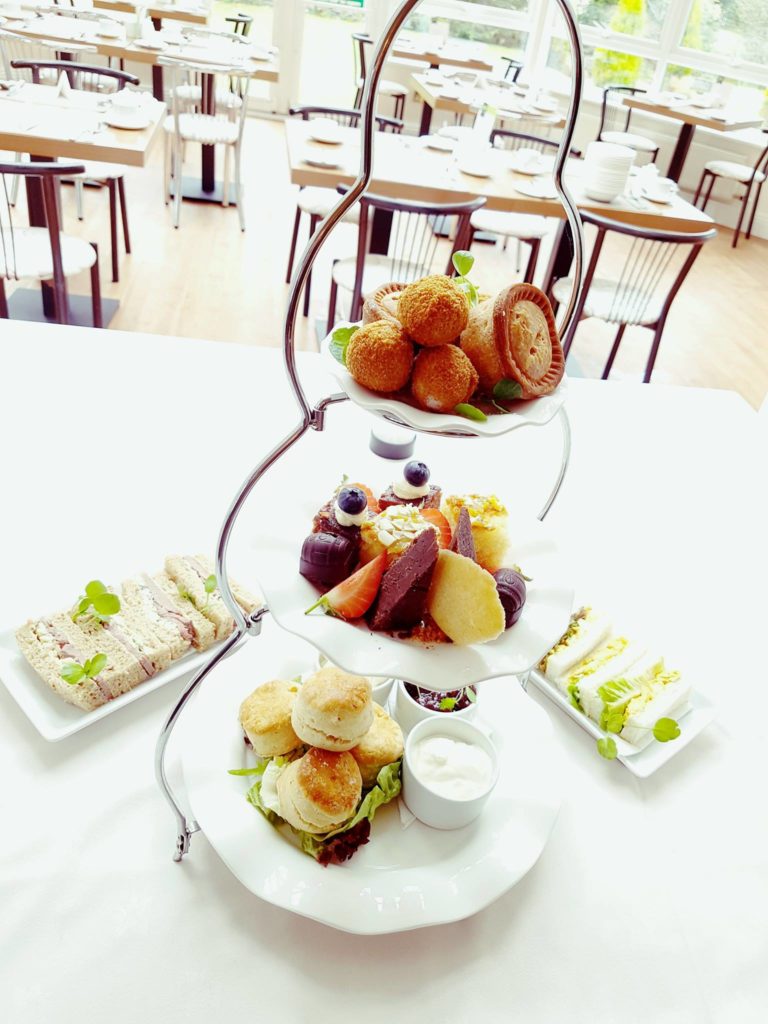 Bartley Road, Southampton, Hampshire, SO40 7GN
The Gentleman's afternoon tea consists of roast beef & creamy blue cheese, water cress, sweet curry sausage roll, cheese and bacon turn over, wedge of cheddar, marinated olives, pear and apple chutney, spiced red onion jam, cream cheese and chive, beer and bacon scones, white chocolate brownie, stout cake, and flap jack, tea or coffee.
Priced at £20.00 per person
Served daily from 2.00pm-5.00pm booking essential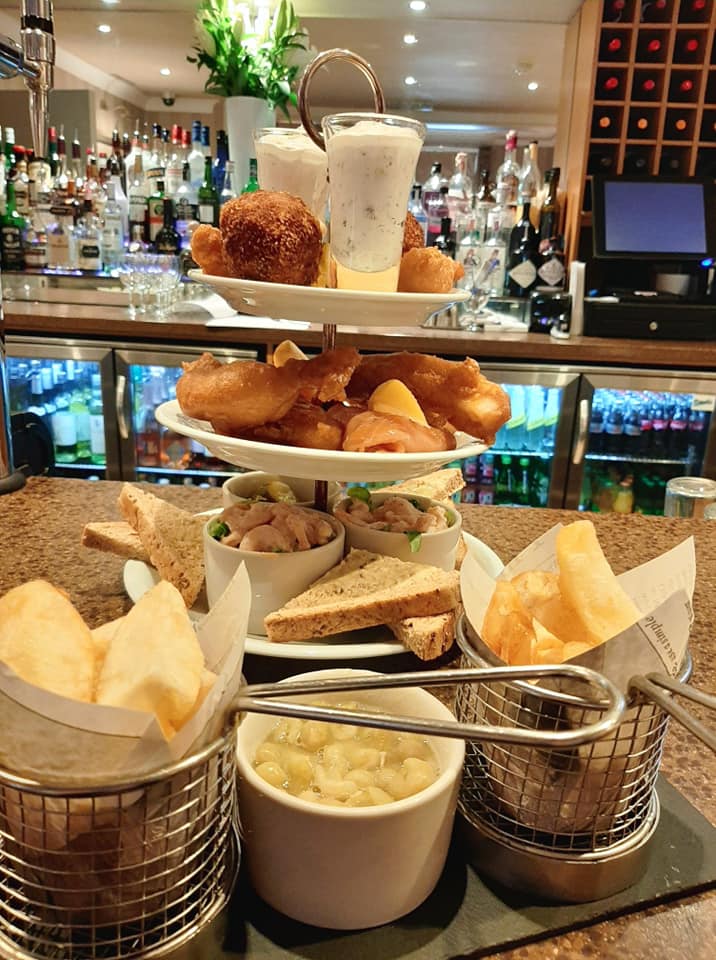 St Nicholas Cliff, Scarborough YO11 2ES
At Palm Court there's a selection of sandwiches, savoury cheese and bacon scones with cheddar cream and bacon jam, a mini prawn cocktail, homemade sausage roll, Glaves award-winning pork pie, Chefs Terrine with piccalilli and a
smoked haddock croquette. Served with your choice of tea or coffee.
Priced at £17.50 per person
Served daily from 12 noon – 5.00 pm
Looking for a afternoon tea in a specific area, check out UK Afternoon Teas