Lewis Carroll's Alice's Adventures in Wonderland, more commonly known as Alice in Wonderland, has been capturing imaginations since its initial publication in 1865. One of the best-loved scenes of Alice in Wonderland is the nonsensical Mad Hatters afternoon tea party. Holding a Mad Hatter's tea party is a great way to bring Alice in Wonderland to life in celebration of a friendship, a birthday, or an un-birthday.
Picking a Place for a Mad Hatter's Tea Party
Carroll described the Mad Hatter's tea party as being "set out under a tree in front of the house," so the ideal place to throw one would be outside in the backyard or a park surrounded by trees and gardens. However, a hall or function room could also be transformed by hanging giant, colorful pictures of trees on the walls and bringing in potted plants.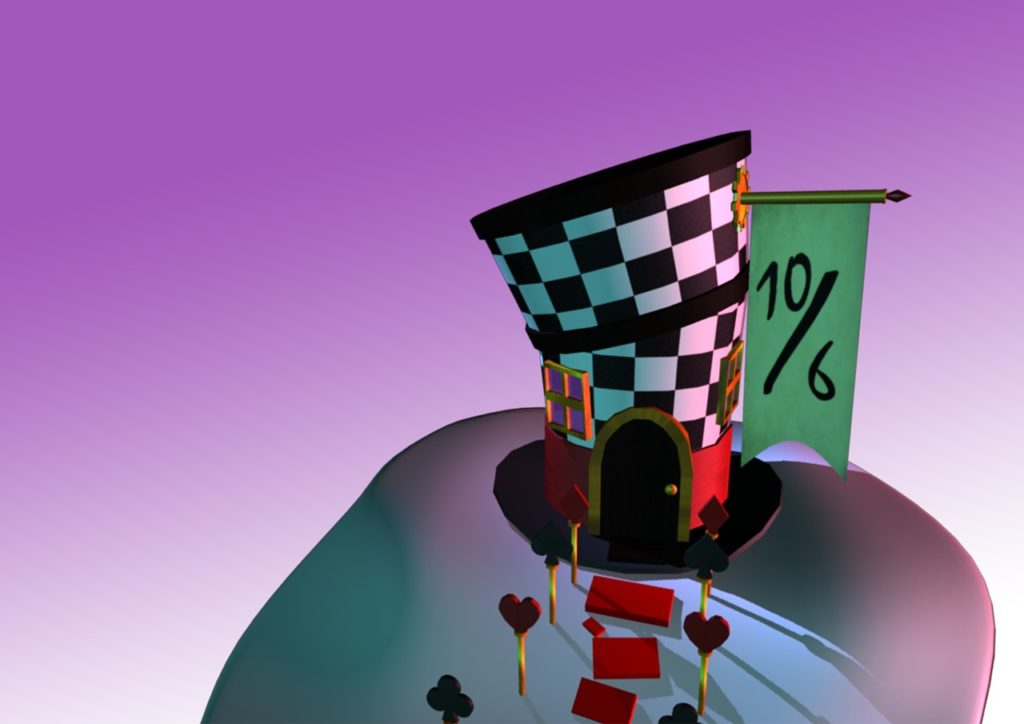 What's on the Menu at a Mad Hatter's Tea Party?
It goes without saying that tea should be served at a tea party. Offer an assortment of teas – earl grey, green tea, fruit, chai, and iced tea – in different teapots labeled with hand-written tea-bag tags. Have an assortment of mismatched cups and saucers for guests, ask family members to donate their old china or scour op-shops well in advance to build up a collection.
All manner of sweet and savory food should adorn the table, including oddly cut sandwiches (try cookie cutters), cupcakes, crumpets, scones, vegetable sticks, and mini-quiches. Label some foods with notes or icing instructing guests to 'Eat me.' Use jam sparingly, as it is ever so popular in Wonderland, and make cookies cut in unusual shapes such as those that appear on playing cards.
To madden things up, add a few unexpected foods such as jelly and mustard, and don't forget the butter!
Setting the Table in Wonderland
Use either one long table like Alice sat at in Wonderland, or have several smaller tables. Cover tables in a white table cloth and smatter them with mismatched cups, saucers, teapots, and cutlery. Glue together old plates in teetering piles to display food on.
Put flowers in some teapots and add unusual bits and pieces to the arrangements, such as cocktail umbrellas, pencils, teaspoons, and reading glasses.
Use mismatched chairs such as camping chairs, dining chairs, and lounge chairs. Sitting on objects that aren't chairs; for example, barrels, bits of log, and bean bags, will add to the chaos and fun.
Decorating the Rest of Wonderland
Extend Wonderland beyond the Mad Hatter's table by putting a Cheshire cat (or just a grin) in a tree, a caterpillar, and a smoke machine on a giant paper maché mushroom or rock and Tweedle-dee and Tweedle-dum hats poking over the top of the fence. Scatter cards, giant chess pieces, old keys, and broken clocks around the party and dress up the entry way so that it looks like a rabbit's hole.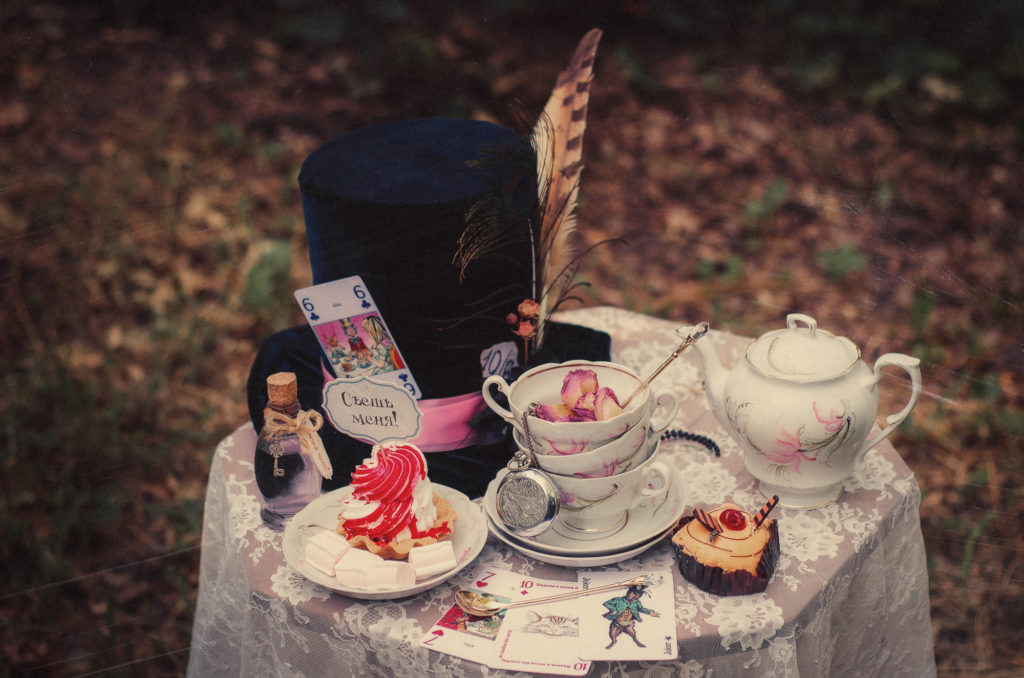 Playing Games like Alice did in Wonderland
What's a party without a few games? Put a Mad Hatter's twist on some old favorites by Playing "Trade places!" at the table instead of musical chairs, Pin the grin on the Cheshire Cat, Hide the White Rabbit's gloves and have guests look for them, and play fifty-two pick-up with prizes assigned to a particular card.
Lawn croquet, giant chess, and a flamingo ring toss would also go down well.
When it comes to holding a Mad Hatter's tea party, there are no rules; the sillier, the better. Remember, nothing needs to match, nothing needs to make sense, and everything should be fun.
Don't want to do your own Alice themed afternoon tea, check out these Alice in Wonderland Afternoon Tea choices